We all know tactical boots are tailor-made for the military, as they cover various terrains. But, have you ever thought how'll they fare in cold-snowy conditions?
Well, this is exactly what we're going to find out! Being a massive collector of Tactical Boots, I thought, why not share my knowledge and expertise on this life-saving footwear. And, since winter's fast approaching, I felt this was a perfect time.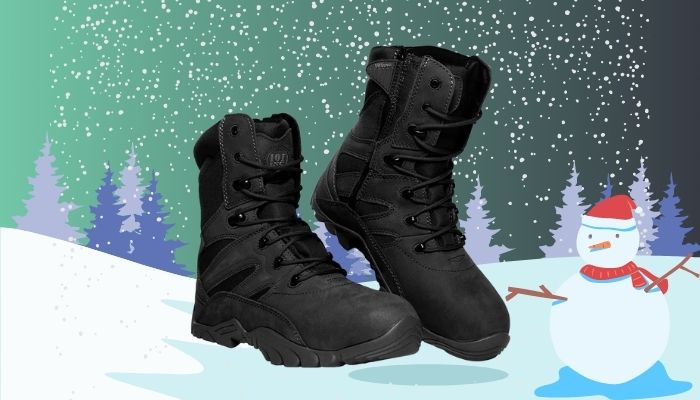 So, let's cut the chase and get to the point: Are Tactical Boots good for snow?
A huge yes, tactical boots are good for snow. In fact, they're more than good enough with all the features they're equipped with. Tactical boots ensure no melting snow seeps through to your feet. They're very well insulated, super comfortable. And, they provide excellent traction on snowy roads.
 Excited much? Well, I was too but there's more! Keep on reading to know it all.
Are Tactical Boots Good For Snow?- Answered
Tactical Boots: has military, paratroopers or special defence force written all over it. And, rightly so! They were especially made for soldiers who had to operate in harsh and extreme conditions.
And one of those extreme conditions is cold-snowy temperatures. So it makes perfect sense to use tactical boots in the snow. Civil use of tactical boots have become more popular than ever.
Tactical Boots are made using some distinct materials and possess features that sets them apart from other types of boots.
One thing that you must keep in mind is the fact that not all tactical boots can be used in snowy conditions.
There are alot of different types of tactical boots, made for different purposes. The ones you're looking to use in the winter are usually made of leather, mainly full-grain. Also, a combination of leather and synthetic is widely used.
You may also like Are Tactical Boots Slip-Resistant.
These materials possess natural waterproofing ability which prevents melting snow from seeping through to your feet; keeping your feet warm and dry in the process.
Apart from the material's waterproofing, they're equipped with an additional layer to prevent any form of liquid entering your feet.
Insulating layers are also embedded in winter tactical boots to ensure your feet are dry and crisp even in sub-zero temperatures. It's something you won't find in other form of tactical boots.
I'm sure you know what's a midsole, right? Well, tactical boots are equipped with midsoles usaully made of EVA or PU (Polyurethane) which gives you that extra comfort while ploughing through heavy snow. 
Winter's a dry season, in which the skin cracks can appear (especially in the heel arae) and do I even need to mention blisters?
Keeping that in mind, tactical boots are equipped with a specialized anti-microbial lining to prevent any form of infection or accumulation of bacteria.
You'll also love thefact that these footwear have high and thick collar to protect and keep your ankles warm. 
How can I forget about the outsoles? Arguably the most important feature! Tactical boots have rubber outsoles with distinct tread pattern, meant to provide you with traction even in the most slippery of conditions.
And last but certainly not the least, you'll love their durability. Tactical boots can survive decades of heavy usage, thanks to their specialized materials and waterproofing layers.
These are the factors that combine to make tactical boots one of the best footwear for snow.
Also read, what are Tactical Research Boots.
What Features Should You Have In Tactical Boots For Snow?
As I mentioned earlier, winter tactical boots are made different. They've unique features that makes them suitable for the snow. I've listed them explicitly so that you don't get your hands on the wrong footwear.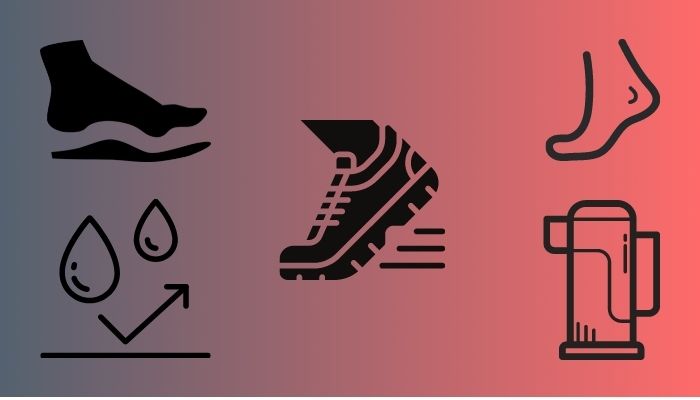 Here are the features you should have in tactical boots for snow: 
Waterproofing Lining
If you don't want cold-wet feet then get yourself tactical boots that are embedded with waterproof linings. You should look for the ones with GORE-TEX lining, these boots are waterproof and are quite breathable, which is exactly what you need.
Check out our separate post: Tactical Boots VS Work Boots Are Tactical Boots Good Work Boots.
Proper Insulation
What good is a pair of winter boots that aren't insulated? Choose tactical boots that are well insulated. You don't want frozen feet now, do you?
Well Cushioned midsole
What good is warmth without proper comfort? Get yourself tactical boots that have midsoles that provide proper cushioning. Midsoles made of EVA or PU are quite up forthe job.
Toe Protection
The snow has its fun part, then it has its not so fun part. You see, boulders or large-hard objects are often hidden in the snow. If you bump into one of those things,then the first victim will be your toes. Therefore, your tactical boots should have composite toe.
Also read, Are 5.11 Tactical Boots Any Good.
Good Fit
Fit is an essential part of the tactical boots princeples. No, matter the type of tactical boots you must ensure custom fit. If you can ensure it, only then you'll get the true feel of these fascinating footwear.
Snow-proof Outsole
Snow roads/terrains are the worst! You get no grips and slip is your best friend (the one you don't deserve). To prevent unwanted injuries, get yourself tactical boots that have rubber outsoles with tread patterns fit for the snow.
Quick-dry Technology
Landed in a puddle or a body melted snow? This when the quick-dry technology comes to your rescue. With it at your disposal, you'll have dry boots in a very short time. So, choose the ones with this innovation.
Antimicrobial sock lining
Since the winter's a dry season, there's a very high chance you'll have cracked heels, foot pain or even blisters. And, the bacteria present will turn on the heat. Therefore, make sure the tactical boots you buy are equipped with this special liner.
Thick and High Collar
Walking through cold-dense snow is no easy task. Therefore, you'll need tactical boots with thick and high collar. This particular features hugs your with protection and warmth. Usually most of them have it, so choose the ones that are ready to protect you against the snow.
Read more on How Should Tactical Boots Fit.
Are All Tactical Boots Good For Snow?
No, not all tactical boots are good for snow. For snowy conditions, you'll need boots with proper waterproofing, insulation, antimicrobial sock liner, etc. Tanker boots or jumper boots won't be able to offer the same protection since they're built differently.
All tactical boots have some features in common, but that doesn't mean all of them are suitable for the snow.
Let's take for example, jungle boots; they're made using a special type of canvas material that's quick drying and doesn't hold moisture for long. If the wearer has to go through muddy swamps or wet marsh lands then it's suitable.
Similarly, tanker boots are made for soldiers who operate tanks. You'll see they don't have any kind of laces, it was designed in that way so that the laces wouldn't interfere with any moving parts inside the tank.
They're perfect if you're operating heavy machinery or ploughig your way across thick vegetations.
On the other hand, you'll need jump boots if you're into parachute landings. They're designed to keep your feet, knees and ankles safe while landing. Although it may seem quite smooth on the television, but trust me it's quite rough.
Which Tactical Boots Are Good For Snow?
Now that you know, not all of them are good for snow. It's time to know which ones are! There are mainly two types of tactical boots that are suitable in this condition. The one being All purpose tactical boots, AKA Standard Issue Boots and the other being Winter Tactical Boots.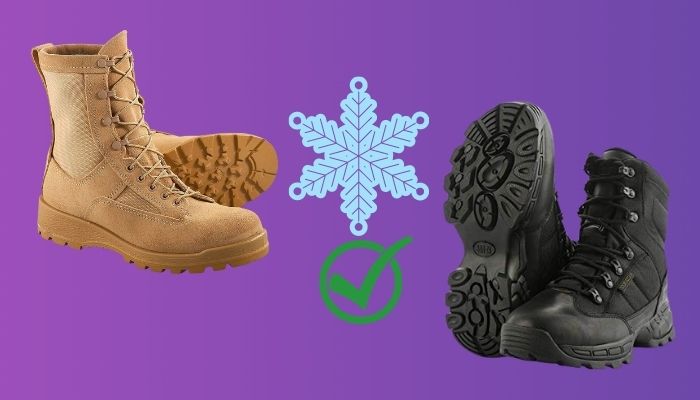 Standard Issue Boots
Surprisingly, these are the most common form of tactical boots you'll come across. They're waterproof, slip-resistant, have synthetic or hard leather upper, and soft soles.
They're very popular for their versatility, and can be used on all types of terrains including snow. They're also equipped with a good level of insulation which will keep your feet warm in colder temperatures.
Winter Tactical Boots
I think you can already guess by their name, the purpose they're made for.They'll keep your feet crisp and warm even in minus temperatures as they're equipped with plenty of insulation.
They're 100% waterproof, you what that means. And, they've wide outer soles, which allows you to spread your weight adequately across the surface of the snow to prevent you from sinking.
Which Tactical Are Not Good For Snow?
You see,tactical boots come in all shapes and sizes and for different purpose (ofcourse!). I can say apart the ones you just read about, all of them are not suitable.
But, there're ones which come close to that for the snow. Just so you don't get confused, I've made a list of tactical boots that aren't up for the job.
Here are the tactical boots that are not good for snow:
Jump boots
Tanker boots
Jungle boots
Desert boots
Are Tactical Boots Good For Snow?-Pros And Cons
Everything has its positives and its negatives. While I've waxed lyrical about winter tactical boots throughout this article, why not get familiar with their negatives as well?
Here are the pros and cons for winter tactical boots:
| Pros | Cons |
| --- | --- |
| Does not require a break-in period | More expensive than other boots |
| Super comfy | Relatively heavier than other boots |
| Offers complete protection | Comparatively less breathable due to the compact construction |
| Provides adequate warmth | |
| Offers excellent traction on snowy surfaces | |
Parting Thoughts
Tactical boots are one of the best winter boots you'll ever come across, they've to be the right ones of-course. They might a bit pricier than other boots,but one good investment and you'll get decades of service.
If you ask me, I'm a huge fan and a collector so I've spoken from personal experience. Yes, there are downsides but the upsides way overshadow the down ones.
Becareful while buying your winter tactical boots. Keep an on the knockoffs cos one tiny mistake can be very costly.
That's all from me today. Do let me know if I've missed anything significant, I'd love your insights as well. Take care