Clarks Desert Boots are a versatile yet comfortable pair of boots.
But however lovely they may seem, if you don't maintain them properly they will slowly but surely lose their charm.
First things first, you have to clean your Clarks boots in order to maintain their quality. But unfortunately, most people don't know how to clean them properly.
Don't worry, in this guide I have explained in detail the steps to clean your Clarks boots. But first, you have to understand the kind of leather that your boots are made of before you start cleaning them.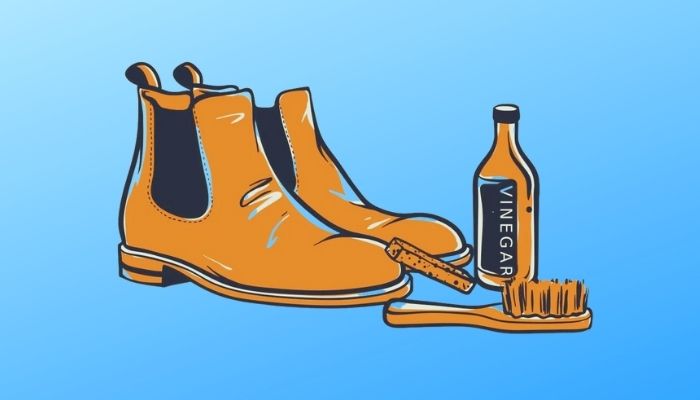 How To Clean Clarks Desert Boots (All Types)
Before you start cleaning your Clarks boots you must have the necessary equipment. 
However, the equipment you need depends on the type of leather your Clarks Boots is made of.
Clarks desert boots are generally made using two types of leather: Beeswax leather or suede leather.
Beeswax Desert Boots
Clarks beeswax leather boots are famous for their smooth and shiny exterior. 
The Beeswax leather used to manufacture these boots can go for quite some time before they need restoring. This is because they contain high amounts of fats and oils in the structure.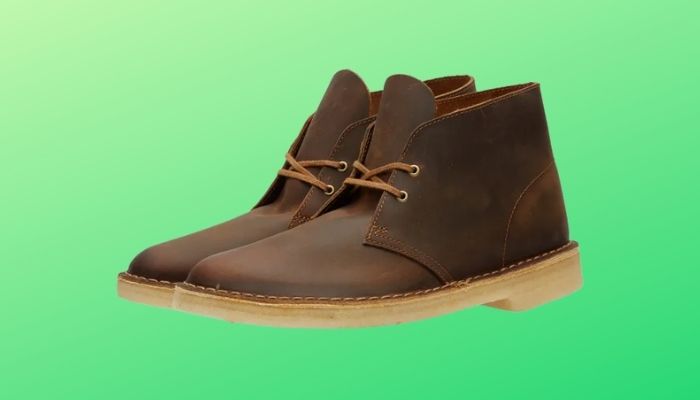 As this leather ages, it oxidizes over time and develops an impressive patina. If you clean them properly, you will still be able to maintain that rugged patina effect.
Check out our separate post: Are Clarks Wallabees Waterproof
Tools Needed To Clean Beeswax Boots:
Cleaning Towels or Rags

Soft Bristle Brush

Leather Oil or Balm

Saddle Soap
You probably have most of these items at home. But if you don't, you can find them at the nearest convenience store and that too at a reasonable price.
If your Clarks Desert boots are made of Beeswax leather then it is a great news because that means they don't need cleaning much often.
Cleaning them every 6 months is a good practice to maintain the brilliance of the leather as well as keep them from cracking or staining.
Here're the steps To Clean Clarks Beeswax Leather Desert Boots:
Step 1: Using the soft bristle brush, brush off your boots
The first step is to remove all excess dust and particles from your boots. 
First, knock them together to get rid of all excess dirt. Then brush over the boots to get rid of any particles that are left.
Also read, Geox Vs Clarks
Step 2: Rub the saddle soap over your boots
Once the boots have been effectively dusted, remove the shoelaces so that you can clean the bots properly.
Take the tin of saddle soap and fill it with hot (not warm) water.
Take a cleaning rag and lather a small amount of saddle soap by dipping and rubbing the rag on the saddle soap.
Now take the dampened part of the rag and rub it on your boots in small circular motions. Make sure that you have rubbed and lathered the boot completely.
Step 3: Remove the lather
Take a dry rag and wipe it over your boots to get the lather off. Completely remove the saddle soap from over your boots by wiping the entirety of the boots a few times.
Step 4: Dry out the boots
Once you have removed all the lather from your boots, dry them out in case there is some water or wet areas left on the boot. 
Once all this is one, your Clarks desert boots should start looking pretty decent already. However, an important step is still left.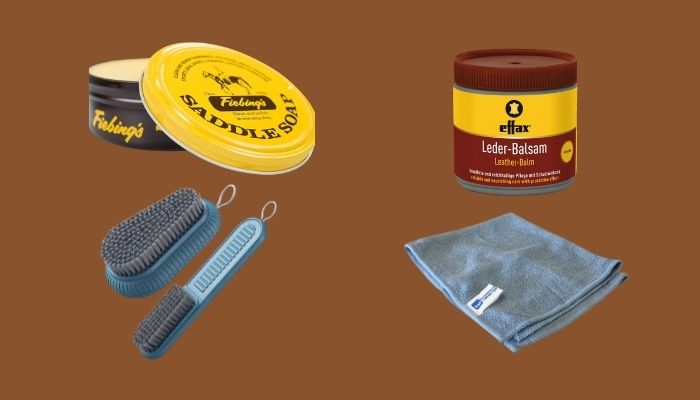 Go through our epic guide on Clark Desert Boot Sizing
Step 5: Apply the leather balm 
Take a dry rag and apply a leather balm of your choice all over the beeswax boots.
Rub on the balm in small circular motions, and make sure you cover the entire boot.
This balm will help restore all the fat and oil that your boots have lost over time. It will rejuvenate the leather, and before you know it, you boots will be good as new. 
Step 6: Buff and dry
After going through with the entire process, take the soft bristle brush and run it over your beeswax boots. 
This makes sure that the balm has spread evenly over the boots.
Now, keep your boots out and let them dry for around half an hour before trying them on again.
And with that, you are done cleaning your Beeswax Clarks Desert Boots.
Follow our guide on How To Clean Ostrich Boots
Suede Desert Boots
If your Clarks desert boots are made of suede, you can easily clean them the same way you clean any other suede boots that you own.
The suede leather provides a cool look and they are quite sturdy as well. However, you will need some tools to clean them properly.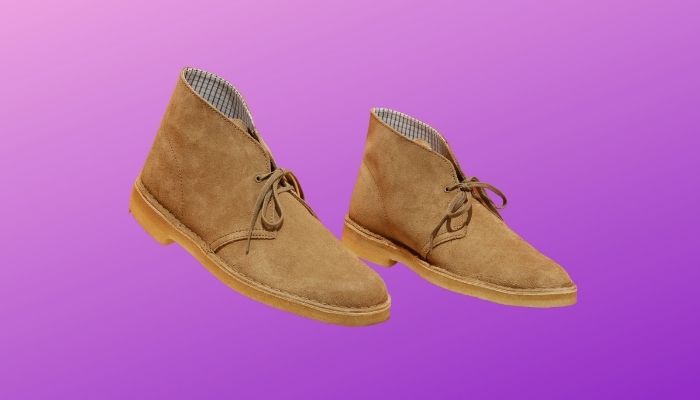 Tools Needed To Clean Suede Boots:
Suede brush

Suede eraser

Cleaning towels or rags
Optional:
Suede cleaning solution

Suede protector
You may not have all the tools needed to take care of your suede boots, but they are quite cheap and you will find them at your nearest convenience store. 
The suede brush and eraser are a must to keep your boots looking fresh and new. 
However, the cleaning solution and protector for suede are optional – in case you want to take special care of your boots and increase their longevity.
So, without further ado, let's get to cleaning your suede desert boots.
If you thought the beeswax boots were easy to clean, this is going to be a piece of cake in comparison because they are so easy to take care of and maintain.
Related guide: How To Clean The Bottom Of Shoes To Return Them
Here're the steps To Clean Clarks Suede Desert Boots:
Step 1: Get rid of all excess dirt
First and foremost you need to remove all excess dirt from your boots for which you have to knock them together.
Use a rag or brush to remove any dirt particles that may be sticking to the boots after knocking them together.
Step 2: Use the suede brush
Take a suede brush and run in over your boots a few times, covering the entire boot. This will help restore the knap evenly.
Make sure you brush the boot in one direction only.
Make sure that the same direction is followed for both the boots because you don't want the knap to look different on your two feet.
Once you are done with this step, you will notice that your boots look impressive already.
Read more on how to Clean Faux Suede Shoes
Step 3: Use the suede eraser
These erasers are commonly made of crepe rubber, which is the same material that has been used for making the soles of your boots.
If there is any stain or dirt visible on your suede boots, rub the eraser over that area in small circular motions. 
The eraser works by picking up and dirt that is stuck to the suede fabric. 
Once you have erased any visible stain or dirt front the boots, the area may look a bit hazy. Take your suede brush and run it over your boots again to restore the knap.
If all the stains are gone then great. But if not, try repeating steps 2 and 3 again.
If your suede desert boots are still not satisfactorily clean then it is time for you to try the next step.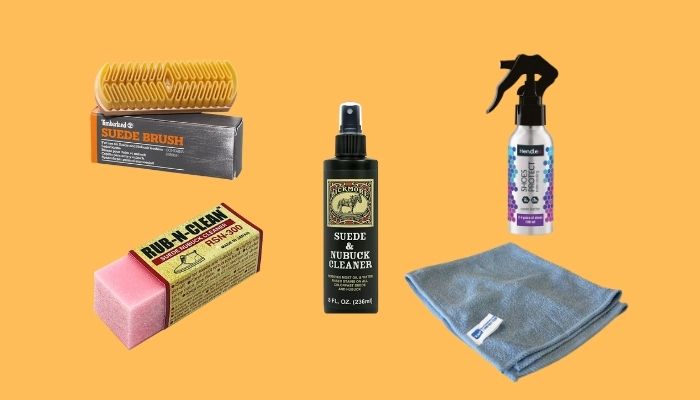 Step 4: Use the suede cleaning solution
Spray on little amounts of the cleaning solution on the stained areas of the boot and let it sit for around 20 minutes. 
Then repeat steps 2 and 3 again to get the desired result.
Step 5: Use the suede protector
To make the most out of the cleaning that you just did (and also protect the suede fabric), apply the suede protector solution over your suede desert boots. 
Once you mist the liquid over your boots, let it dry out for a few hours before you try on your boots again.
You may also like to read: Clean Boots With Saddle Soap
Conclusion
Your Clarks desert boots – and any other shoes or boots that you own – are an investment, and using the right tools to care for them will help you get the most out of those items.
I hope this guide has been helpful for you. If you have any questions or suggestions, please leave them in the comments below.