Are Clarks Wallabees capable of keeping up with you on wet terrains? Are they sufficiently waterproof to keep your feet dry?
Let's find out in this article.
After spending infinite hours researching and reading reviews regarding Clarks Wallabees' waterproof feature, I have finally gathered enough information to address all of your questions about Clarks Wallabees' waterproofing ability.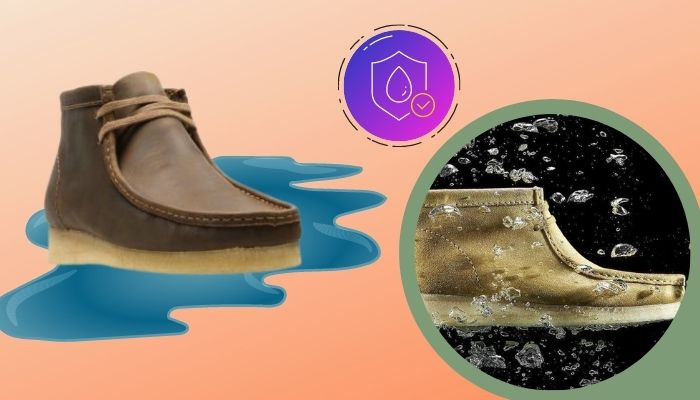 So, to address the original question, are Clarks Wallabees waterproof?
Yes, Clarks Wallabees are 100% waterproof. Clarks' earlier versions were just water-resistant, but the new Clarks Wallabees contain GORE-TEX liners and water-resistant uppers that provide maximum protection against water and keep the feet dry and crisp.
If you want to know more about Clarks Wallabees and its waterproof features, make sure to read the full article.
Are Clarks Wallabees Waterproof?| Answered
Clarks Wallabees come in leather, suede, and canvas uppers, with the leather ones having natural water-resistant properties and the suede and canvas ones being treated to be water-resistant.
Clarks shoes originally only featured waterproof liners, not uppers, which is why they are prone to water stains.
Water stains are difficult to remove from shoes, and the uppers can sometimes take up so much water that the shoes break apart.
As a result, Clarks has integrated a number of waterproof technologies into their shoes.
In their new Wallabees shoes, Clarks employs both water-resistant liners and uppers.
Not only are the uppers and lining waterproof, but the soles of the Clarks Wallabees are as well, so there is no risk of water getting into the shoes.
True, Clarks Wallabees are waterproof, but if you walk in deep water, it is obvious that water will enter through the opening of the shoes and drench both your feet and the shoes.
Follow our guide on Geox Vs Clarks
What Makes Clarks Wallabees Waterproof?
Clarks Wallabees have a number of features and technology that help them withstand water.
The leather Wallabees have inherent water-resistance qualities, whilst the suede and canvas Wallabees have water-resistant treatment, allowing the uppers to resist water while remaining stain-free.
However, the GORE-TEX membrane is the key contributor to waterproof Clarks Wallabees.
GORE-TEX is a thin layer of expanded polytetrafluoroethylene (ePTFE) attached to outer fabrics and linings. It has more than a billion holes per square centimeter, which is 20,000 times smaller than a drop of water.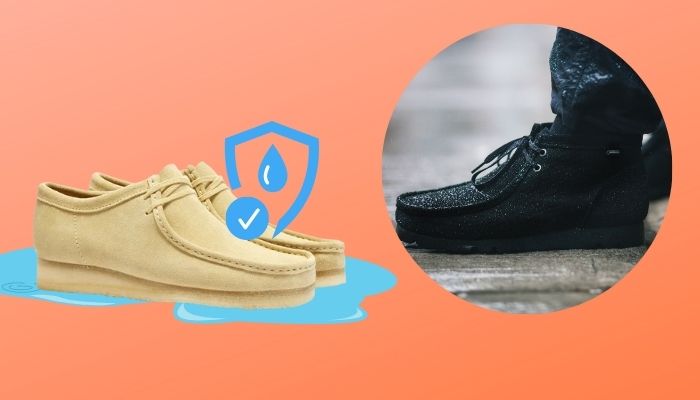 Because water cannot enter through these tiny holes, the Wallabees are water-resistant.
Check out our separate post: Clark Desert Boot Sizing
Can You Wear Clarks Wallabees In The Rain?
Yes, you can wear Clarks Wallabees in the rain. Water will not be able to penetrate the shoes due to their water-resistant top and Gore-Tex inner, and they will not have any watermarks too. As a result, you may wear the Clarks Wallabees in the rain without getting your feet wet.
Because GORE-TEX has billions of pores that are smaller than a drop of rain, there is no risk of your shoes becoming wet, so your feet stay dry and crisp even in heavy rain.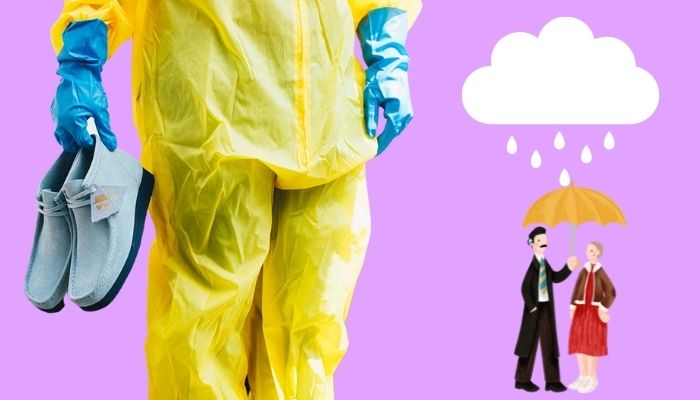 Furthermore, the water-resistant top acts as a barrier against water and prevent water from being absorbed into the fabric.
Read more on how to Clean Clarks Desert Boots
Can You Wear Clarks Wallabees In The Snow?
Yes, you can wear Clarks Wallabees in the snow. The shoes include a GORE-TEX liner and a water-resistant upper to keep your feet dry in any weather, even snow. The insulating properties of the GORE-TEX lining keep the feet warm and toasty no matter how cold it gets outdoors.
Clarks' initial designs were not made for snowy days since they couldn't withstand the freezing temperatures.
Clarks Wallabees are now available in new variants that are designed to withstand icy, snowy, and wet conditions.
Clarks Wallabees are great for wearing in all sorts of weather due to their combination of water-resistant tops and waterproof membranes.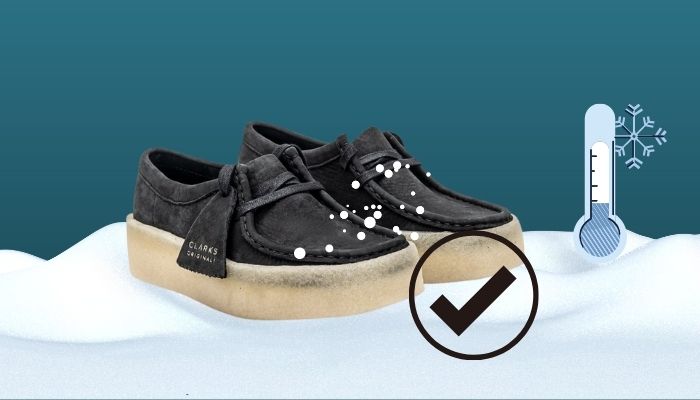 Choose the GORE-TEX liners with insulated technology if you want to wear Clarks Wallabees in the snow since your feet will be protected and toasty from the rigors of the snow.
Furthermore, Clarks Wallabees have a thick, rugged Vibram sole that is both sturdy and anti-slip, ensuring that you will not slip regardless of how slick the surface is.
Follow our guide on how to Clean and Care Your Clark Desert Boots
Are All Clarks Shoes Waterproof?
No, not all Clarks shoes are waterproof. Clarks with a GORE-TEX membrane and water-resistant uppers are the only ones that are waterproof and capable of keeping the feet dry and breathable. Water will penetrate the shoes in less than a minute if the shoes do not have a waterproof membrane.
Clarks offers a wide choice of footwear for all types of weather.
To get the most out of your shoes, choose the ones that are most appropriate for the weather.
If you want to buy waterproof Clarks shoes, go to their website, click the technology option, and then select the GORE-TEX feature; there, you will find all of the shoes and boots that are fully waterproof.
Check out our epic guide on How To Clean HOKA Shoes
How To Waterproof Clarks Shoes?
If you want to wear Clarks shoes that offer the best water resistance, go for their waterproof shoes.
But what if you've already invested in Clarks' shoes that aren't waterproof? Can't you wear them in rain or snow?
Yes, you can wear them since there are simple ways to waterproof Clarks' shoes, and they just require a few products and techniques.
If your Clarks are made of suede, avoid putting water on them since water will damage the material.
Check out my new post Sno Seal VS Obenauf's
So, here are the easy steps to waterproof Clarks shoes:
To remove dirt and debris, use a suede brush to brush the shoes thoroughly.
If your shoes contain stains, use a suede eraser to remove them.
Purchase waterproof spray that suits the fabric of your shoes. It's essential to match the waterproof spray to the shoe material, or the fabric will be stained.
Apply a layer of water repellent to the shoes' surface. Pay special attention to the regions where the shoes bend the most.
Do not saturate the shoes with too much product; instead, build up the layer if you think it's necessary.
Let the shoes dry completely in a well-ventilated place.
Once the shoes dry, buff them with a suede brush.
How To Care For Clarks Wallabees?
You must take care of Clarks Wallabees if you want them to last a long time and keep in good shape. According to a study, shoe maintenance and cleaning extends the life of the shoes.
Here are the tips to follow to care for Clarks Wallabees:
Once a month, deep clean the shoes to keep them functioning correctly.
Brush the shoes after each usage to prevent dirt from accumulating.
If the shoes become wet, make sure they are completely dry before wearing them.
Instead of using heating equipment to dry the shoes, place them in a cool, dry location to dry.
It's good practice to use a waterproof spray on the shoes even if they are waterproof; this gives double protection against water.
You may also like to read: Clean White Mesh Shoes
Conclusion
Clarks' shoes have progressed tremendously. Clarks didn't miss an opportunity to wow us, from simple shoes to shoes with advanced features and innovations.
Clarks shoes include all of the features you're looking for, whether waterproofness, breathability, flexibility, or comfort.
If you're looking for waterproof shoes, check out Clarks. I can tell you that they will not let you down.
This ends today's discussion. I'll be back soon with a fresh article chock-full of important information. Till then, stay safe.