When it comes to shoes and footwear, Puma and Skechers are two top brands that everyone knows. Many people are loyal customers of these brands and love to claim that the brand of their choice is the best.
However, making such bold claims does not make any brand better than the other. Instead, proper research, intensive market review, and countless customer surveys will give you a more accurate winner.
And I have done all this to get you the most reliable answer to this question:
Skechers Vs. Puma – which one is the brand that you should get?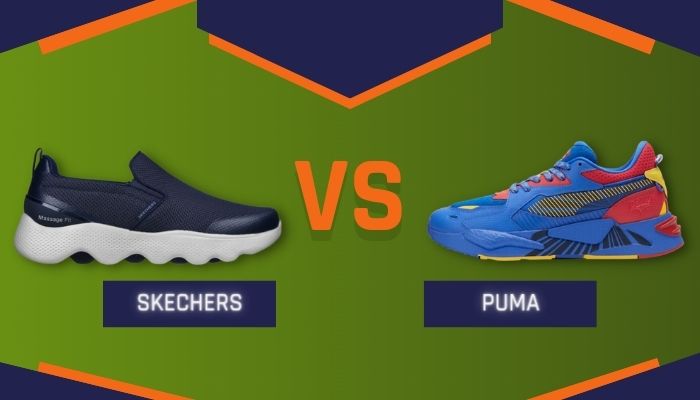 Which One Should You Get?
When comparing between two top brands, a lot of factors need to be taken into consideration.
When comparing style, fashion, comfort, support, and flexibility, Skechers takes the crown.
So, between Skechers and Puma, Skechers is the better option – in my opinion, and in the opinion of thousands of customers who have tried and tested both Skechers and Puma.
So, if you are confused about which brand you should get your new pair of shoes from then I would highly recommend that you get yourself a pair of super comfy and stylish Skechers.
Why is Skechers a better option than puma, you ask? Well, I will be answering just that in the next part.
Hence, to know all about their similarities, differences, and why one brand is better than the other, read this article till the very end. I am sure you will be able to make an informed buying decision afterwards!
Follow our guide to know Can You Wear Socks With Skechers GO-Walk
Why Should You Get Skechers Over Puma?
Pin-pointing a single reason why Skechers is better than Puma is going to be tough as a lot of factors play a role in the decision making process.
But don't worry, I have gathered all the information for you.
So, what makes Skechers better than Puma? The reasons are as below: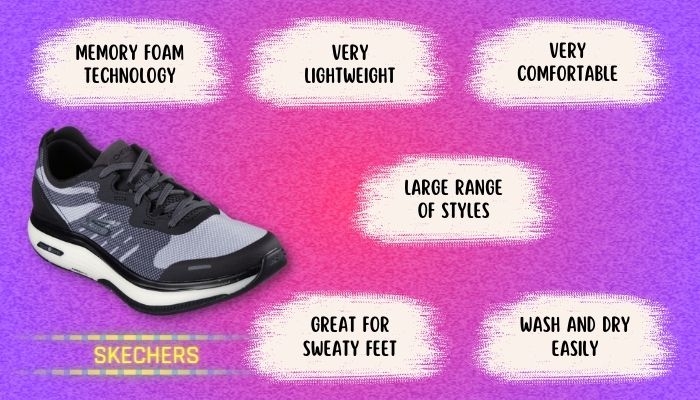 Skechers Have Memory Foam Technology
One excellent feature of Skechers is the memory foam technology, which is absent in case of Puma.
The memory foam provides additional cushioning. As the memory foam is sensitive to pressure and temperature, it molds around the contours of your feet, which provides added comfort.
Skechers shoes also provide adequate arch support, owing to the added cushioning, that prevents your feet from wearing out fast.
This memory foam also generates a cloud-like walking sensation, which makes walking more pleasurable even if you have to remain in your shoe for several hours.
Hence, the comfort and pleasure of using Skechers are going to be unmatched.
Even though Puma and the EVA foam technology is also comfortable, it cannot compete with the memory foam technology of Skechers.
Also, follow our guide on How To Wash Skechers Memory Foam Shoes
Skechers Are Very Lightweight
Sometimes Puma shoes can be a little on the heavy side, however, Skechers are very lightweight and easy to wear and carry.
Skechers are light and feature an underlying cushioning system, so you do not have to worry about the weight of your shoes weighing you down when walking or jogging in them.
They are also quite airy due to tiny holes allowing air circulation inside the shoe – a feature that helps keep your feet dry.
Skechers Are Very Comfortable
Skechers shoes are highly comfortable.
They do not compromise with comfort and the technologies incorporated into their shoes make them very pleasurable to wear.
Even though Puma shoes are also comfortable, the comfort provided by Skechers makes them wearable for longer hours and literally any occasion!
Check out our separate post Crocs Vs. Skechers
Skechers Come In A Large Range Of Styles
While Puma produces shoes that are more on the athletic side, Skechers manufactures shoes of a  wide range of styles, focusing on fashion and variation.
If you want less of a sporty look and more of a casual or everyday wear shoe then Skechers is the way to go.
They provide fashionable and comfortable shoes that are great in quality and durable.
They produce a range of different styles for people of all ages and gender. Whether you are a man, woman, or child they have shoes covered for you.
Skechers Are Great For Sweaty Feet
As I have mentioned above, Skechers shoes have an airy effect due to the tiny holes that allow air circulation inside the shoes.
Due to this, Skechers are ideal for sweaty feet because they keep the feet dry and prevent the buildup of moisture, and bacterial and fungal growth.
They also provide a tight grip on the feet, making the experience of walking in them more comfortable.
Skechers Shoes Wash And Dry Easily
As compared to running shoes produced by other companies, including puma, shoes manufactured by Skechers are much easier to wash and dry.
You can wash them the same way you wash your running shoes, but drying them is the best part as they dry really quick and easy. In fact, you can air dry them within a few hours whereas you would have to leave your washed shoes from Puma overnight to dry completely.
Also read, Are Jelly Shoes Good For Your Feet
What Are The Similarities Between Skechers And Puma
When comparing shoes between two brands, it is important to know both the similarities and differences of their shoes. This will help you make an informed decision when it comes to purchasing new shoes.
So, to help you out, I have included the similarities between Puma and Skechers below.
Both Are Good Quality Shoes
Both the brands, Puma and Skechers, produce high quality shoes that are comfortable and durable.
Their shoes have an excellent reputation, and that is not without a reason. Their shoes are supportive, comfortable, and highly durable.
Puma footwear is not only fashionable but also comfy. It caters to athletes and their needs by tailoring its products to their specific requirements.
Skechers, on the other contrary, is ideal for everyday wear and gives the wearer comfort, sturdiness, support, and a distinct style.
If you have injured feet, then the comfort that Skechers provide is going to be excellent for you and your feet.
Read more on How To Improve Grip Of Your Badminton Shoes
Both Are Simple, Yet Fashionable
When it comes to selecting footwear, the majority of the time, people like me and you focus on appearance and aesthetics first. We want a pair of shoes that is appealing to the sight before we look into the cost and functionality.
This is only natural. And the great news is that both Puma and Skechers manufacture highly fashionable and brand specific designs.
Their shoes aren't glamorous or glossy, instead, they produce standard, tasteful designs that are simple yet classy.
Both Shoes Can Be Worn In All Seasons
Both Puma and Skechers are extremely versatile brands. Shoes manufactured by them can be worn throughout the year.
Although they may be worn in any climate, the cold is where they truly shine because of their ability to both keep your feet toasty, comfortable, and dry.
So, regardless of the weather in the area that you live in, you can wear your Skechers or Puma without any worry or hesitation.
Also, follow our guide to know Affordable Alternatives To Stan Smith
What Are The Differences Between Skechers And Puma
Now that you know the similarities between the brands, what are the differences between the shoes produced by Skechers and Puma?
I have mentioned the prime differences in their shoes for you below.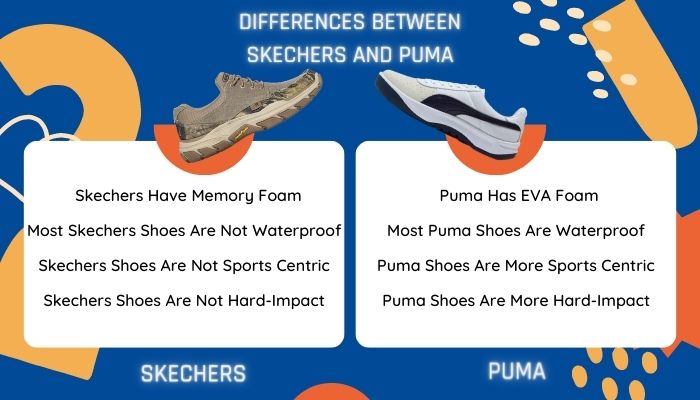 Skechers Have Memory Foam But Puma Has EVA Foam
Skechers have memory foam technology while Puma has EVA or rubber foam technology.
The memory foam is more comfortable, softer, and adds more cushioning.
It will give you the feeling of walking in clouds as the memory foam molds around the contours of your feet.
On the other hand, the EVA foam in Puma shoes protects your feet from harsh surfaces and weather and ensures that your performance is not affected by the outside conditions.
Even though it is not as comfortable as memory foam, it suffices in case of comfort and focuses more on protection.
Most Puma Shoes Are Waterproof While Skechers Are Not
Puma shoes are 100% water resistant, so you can wear them during any weather, whether it is raining or snowing, without worrying about getting stains on your precious shoes.
Skechers shoes, on the other hand, are not water resistant. This means there is a chance that they will get wet or get stains from watery liquids.
However, even though Skechers are not waterproof, a spray protectant spray can easily fix that problem.
If you are worried that your Skechers will get wet or stains, then you can simply spray a water protectant spray on your Skechers before heading out so that they don't get stained or become wet.
Check out the 7 Best Shoes for Delivery Drivers
Puma Shoes Are More Sports Centric Than Skechers
Puma is a sports-centric brand. They produce athletic footwear that empowers players to perform to the best of their abilities in their chosen sport.
They have one-of-a-kind sneakers that come highly recommended for everyone who participates in sporting activities or is obsessed with physical fitness. It is ideal for anyone whose primary aim, rather than appearing stylish initially, is to maintain their physical fitness.
On the other hand, Skechers is not sport-centric, and cover a wide range of different outlooks and functionalities. Skechers does have its own line of sports boots; however, those shoes are designed more for fashion than for performance.
Skechers have shoes designed for a variety of uses, including sports, school, work, excursions, social gatherings, and so on.
Puma Shoes Are More Hard-Impact Than Skechers
Footwear by Skechers is not designed to withstand high impact or strenuous activity. Due to the fact that it is flexible and spongy, it does not support the ligaments, joints, and muscles in the feet, which makes it possible for sprains and strains to form on the feet.
To prevent unwanted injuries, it is best to not wear Skechers for high impact, strenuous activities.
Puma boots, on the other hand, are excellent for use on hard floors and allow for extended periods of standing or jogging, depending on the activity. It was constructed to withstand severe impact and use on rough surfaces.
So, footwear by Puma can be worn for hard impact and strenuous activities with minimized chances of sprains and other foot injuries.
Check out our other post Shoes Similar To Rockport
FAQs
Where Is The Origin Of Skechers?
Skechers was founded in 1992 by Robert Greenberg and the origin of the company is in The United States of America. Their headquarters is located in Manhattan Beach, California. However, today Skechers is a multinational company with stores all over the globe. Skechers has over 3,000 outlets spanning across 170 countries.
Where Is The Origin Of Puma?
Puma was founded in 1924 by two brothers, Rudolf Dassler and Adolf Dassler. However, in 1948, the brothers decided to part ways. While Rudolf maintained ownership of Puma, Adolf Dassler went on to start Adidas. The company originated in Germany and is headquartered in Herzogenaurach, Bavaria. Nonetheless, Puma now has more than 700 stores spanning across120 countries.
Conclusion
Shoes are your feet's best friend. They protect and comfort your feet, support your body, and add the fashion quotient to your look. So, choosing the right footwear is very important.
Now, while both Puma and Skechers are excellent brands, I would recommend that you get Skechers because they are more versatile and comfortable.
I hope this article has helped you make the right buying decision. If you have any feedback or queries, leave them in the comments below.