When it comes to buying footwear, people often get confused about which brand to go for.
This is especially true when the brands and well-known and already in your head. That's when you face difficulties coming to a rational decision and picking between the two.
Today, I will be helping you with exactly that regarding two very popular brands: Crocs and Skechers. Which one is the better option for you?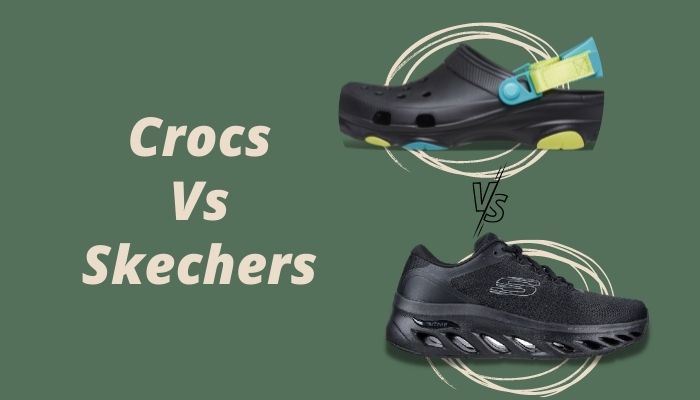 Between Crocs and Skechers, Skechers are more functional, versatile, and fashionable. Crocs, on the other hand, are more comfortable and relaxing for the wearer. If you are into sports or workouts, you should go for Skechers. If you want shoes to lounge in and relax, you should go for Crocs.
To make the purchasing decision easier for you, I have gathered all the necessary information that you will need when choosing between the two brands, so just keep reading, my friend.
Why Do Customers Love Skechers?
Crocs are now riding a wave of popularity among teenagers. The company is playing on the nostalgia for the 1990s as well as the shoe's image of being an "ugly" shoe.
But that is not the sole reason for their popularity; ever since they resurfaced in recent years, people have been loving how comfortable Crocs are.
They are just cushiony soft, and so relaxing that people can't get enough of them.
The comfort comes from their patented material used to make their shoes, called Croslite, which molds to the shape of your feet once you wear it for a while.
Besides that, many celebrities have been donning Crocs, taking away the "ugly" image and making them the new cool shoes.
The brand has also collaborated with some big celebrities like Post Malone, Ruby Rose, Diplo, and more, further boosting their popularity.
Also, follow our guide to know Dansko Vs Crocs: Who Is The Winner.
Why Do Customers Love Crocs?
Skechers used to be the thing back in the 90s.
They were first developed to be an exceptionally comfortable footwear alternative, and many of the brand's current styles continue to have engineered bottoms that are intended to keep feet feeling good.
However, this was not the only factor that contributed to the shoes' success; rather, the quirky and unique designs that they featured were largely responsible for their popularity.
Skechers is known for producing high-quality footwear that is both affordable and comfortable, and people just love that.
Over the years they have collaborated with many celebrities like Nick Jonas, Demi Lovato, Julianne Hough, and many more, which further boosted their popularity.
Follow our guide on how to Spot Fake Vs. Real Crocs.
What Are The Similarities Between Crocs And Skechers?
Now that you know why people love these brands, let's talk about their similarities and differences.
Knowing the similarities between two brands when trying to choose one of them is very important as it helps you make an informed decision about their products.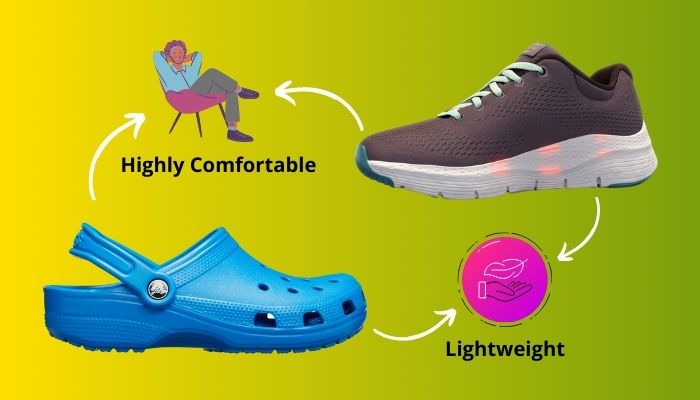 So, what are the similarities between Crocs and Skechers shoes?
They are as below.
Check out our epic guide on how to Make Crocs Shiny Again.
They Are Both Highly Comfortable
When it comes to comfort, none of these two brands disappoint.
Shoes by both Crocs and Skechers are incredibly comfortable. Customers have given reviews about wearing them for hours on without feeling any kind of discomfort in their feet.
Skechers are excellent for your feet since they are intended to cushion the impact of walking or running while also minimizing discomfort and fatigue.
Skechers have flexible soles that flex and bends with your feet when you are walking and give light support when you are standing still.
Follow our guide to know Are Crocs Unisex.
Crocs are also very comfortable, and it is one of the main reasons behind their massive popularity.
People choose to wear Crocs because they give the feet a sensation of being massaged and ventilated, which allows users to get through a long day of activity without experiencing any aches or blisters.
This is made possible by the brand's innovative technology, which is called Croslite, and it is composed of a soft, shock-absorbing foam resin that molds to the shape of the feet of the wearer.
They Are Both Lightweight
When it comes to producing lightweight shoes, again both these brands are excellent.
Skechers sneakers and sportswear are so much more comfortable and lightweight than those of their competitors, this gives them an upper hand over their competition.
For Skechers, the flexibility of the soles is the aspect that stands out the most here.
The sole of most Skechers is made of flexible synthetic material and has "energy return foams," which function similarly to feathers, and lighter shoes like these can help you get a better push-off as you run.
Crocs are also very comfortable, weighing around 300 to 450 grams, making them an excellent lightweight footwear option for daily use, both indoors and outdoors.
What Are The Differences Between Crocs And Skechers?
Now you know the similarities between shoes produced by these two brands. So, besides the obvious differences in their appearance, what are the other differences between them?
Knowing the differences is the key to understanding what each brand has to provide, so you can choose which one suits your needs better.
Below, I have mentioned their differences for you.
Skechers Are More Athletic
Unlike crocs which are designed to be worn at home as well as outside with comfort being the top priority, Skechers are designed keeping sports in mind.
They are more athletic shoes, shoes that provide you the support, comfort, and protection needed to go to the gym or participate in certain sports.
They make shoes that prioritize easing out your movement and regular activities, primarily outdoor activities.
Crocs Are More Comfortable
When you compare the comfort that you get from Skechers versus the comfort you get from crocs, you will realize the drastic difference.
While both their shoes are highly comfortable, the purpose of the crocs is to provide you comfort, while the purpose of Skechers is to aid you with comfort, protection, and all thing relevant while running or walking.
So, over time, your Skechers are bound to get rugged, rub in the wrong places, or just not be as comfortable. You can't possibly lounge all day at home while wearing your Skechers.
But that's not the case for Crocs, as you can literally wear them at home while doing all your regular activities.
Crocs will not hold your feet within them, instead, you'll get the room to move around your feet and let them simply relax.
Skechers Provide More Protection
Skechers are built to provide comfort and protection, especially while walking or running. This is not the case for Crocs.
The build, shape, support, and design of Skechers shoes is such that it provides the wearer with adequate protection, so you will not have to worry about getting your feet scratched or hurt while wearing them.
Skechers Have Memory Foam And Crocs Have Croslite
One major difference between these brands is the type of foam used.
While Skechers use different types of memory foam to produce their shoes, Crocs use Croslite material, which is patented by the company.
Now, the different types of memory foams used by Skchehers have advantages of their own, some are padded, so they are sturdier, while some are sensitive, which means they provide extra cushioning.
However, when compared, Croslite is much more comfortable than these memory foams. Croslite is softer, more elastic, and bouncier than other memory foam soles.
Skechers Have Greater Variation In Design Than Crocs
If you want different designs and variations, in that case, Skechers takes the lead.
While Crocs have a few variations in design, most of their footwear are clogs or sandals.
On the other hand, Skechers has an array of different, fun designs that you can choose from. Their range of footwear is rich and vibrant, and they have something that will suit every taste.
So, regardless of your age or gender, you are more likely to find something that suits your taste from Skechers than from Crocs.
Skechers Are More Fashionable In The Long Run
When it comes to fashion, it is safe to say that both these brands are very fashionable and trendy now.
But what about in the long run?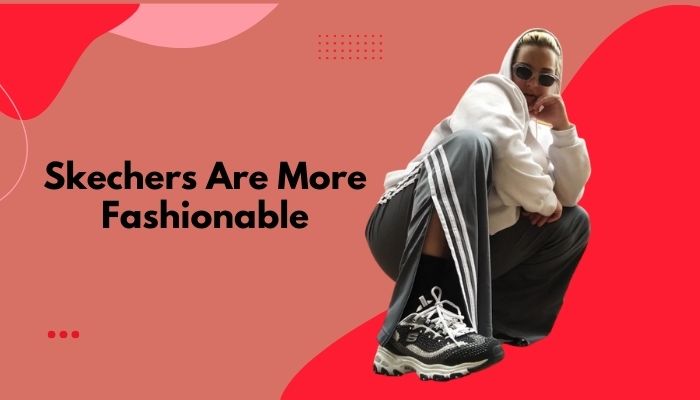 To be honest, while Crocs, being the "ugly" shoes, have gathered immense popularity in recent years, this will not sustain.
Instead, sneakers and sportswear are something that will always remain in fashion and always be cool.
So, if you compare both these brands, Skechers is more fashionable now, and it will be more fashionable and trendy in the long run.
Crocs Vs. Skechers: Which One Should You Get?
Now that you know all about the similarities and differences between the shoes of these brands – which one should you buy?
Now, given the features of the footwear of each brand, I have a suggestion for you.
If you are into sports, walking, or running, then you should go for Skechers. This will give you adequate support, protection, and comfort. It is also the more fashionable alternative between the two brands.
However, if you are planning to lounge in your new shoes, wear them around the house, or just stroll around in them, then Crocs are the ones you should go for.
They are more relaxed and spacious and do not constrict your feet to a certain posture.
Depending on your needs, you should get the one that suits you best.
Conclusion
Between Skechers and Crocs, both are great brands that produce highly comfortable and lightweight shoes. So, whichever you pick, it is going to be a good footwear experience.
However, depending on how and where you were them, you should decide which one to go for.
Which Skechers go more with activewear, Crocs are more relaxed and laid back.
So, choose wisely!
Don't forget to let me know which one you have decided to buy in the comments below.