To sell the rare or sold-out sneaker you have in your possession, the first online store you look for is GOAT. the process may seem overwhelming but believe me, it is not.
To make your life a lot easier, I'm gonna show you how you can sell shoes on Goat, and what type of strategy you need to follow for a smooth sale!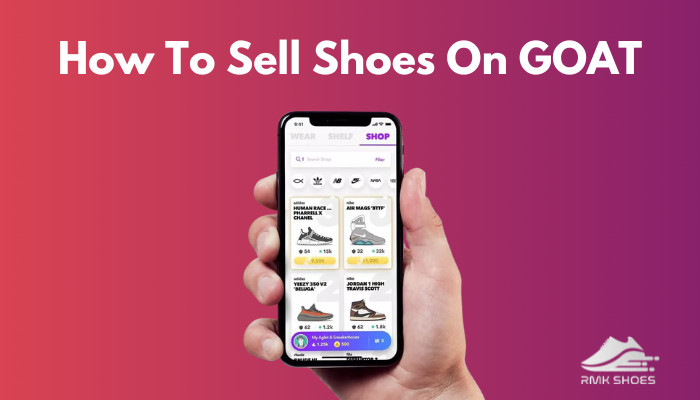 So, sit tight and read this step-by-step beginner-friendly guide on how to sell shoes on GOAT!
How To Sell Sneakers On GOAT?
Use the Goat app to earn some cash by selling the shoes that are rotting in your closet in very good condition. In this way, you can connect with thousands of buyers around the globe.
Let's see the process of how you can sell shoes on Goat:
Downloading Goat App
The first thing you need to do to sell your shoes is to download the app. After that, on the homepage, you will find the Sell button. Click on it.
The app will give you directions on how to submit your sell request. Then fill out a form and answer certain questions like your original name, phone number, address etc.
After that, click the Continue button. Goat will also collect your return address.
Once you go through all the required information, click the Submit button. When your request is approved, you will receive a notification from Goat.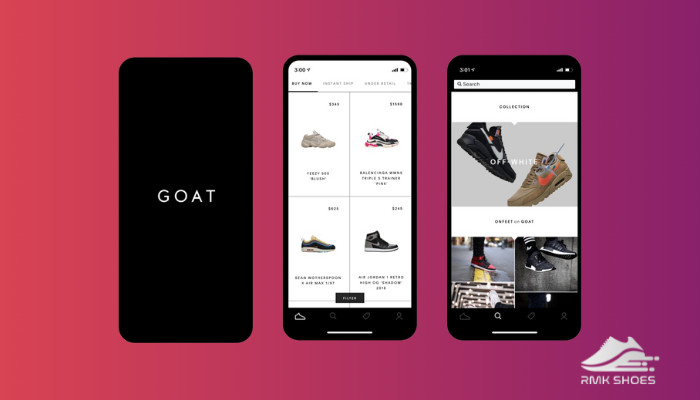 Listing Your Products on GOAT
After your account is approved, tap the Sell button to start your selling process.
Look for the SKU option, and there, enter your product's state, quality and relevant multiple pictures. Your listing is complete. Now let's move on to the next step.
Shipping The Product
When you finish your listing process, sit and wait until any purchase approval comes. The app will contact you as soon as someone decides to buy your shoes.
I got my purchase approval 10 days after listing, so be patient your's might take less time.
GOAT will verify your sneaker before sending them to the buyer, so you have to send them to the shipping address they will provide you.
Getting Payment From Selling on GOAT
The most exciting part of selling comes when you get the payment, no matter how small the amount is!
And Goat understands how anxious you can get, so they are prompt to make you happy. After your sale is confirmed, Goat will cut their fee and directly transfer the amount to your personal account.
You can cash the money through PayPal.
Check out our separate post to know the difference between GOAT vs. STOCKX.
3 Easy Ways To Quickly Sell Your Shoes On Goat
You can sell your shoes at your desired price and quite easily. There is a misconception that the selling process on Goat is lengthy, but it's not true. Once you know the ways, it's a smooth ride.
Here are 3  easy ways to sell your shoes quickly on Goat:
Setting A Proper Price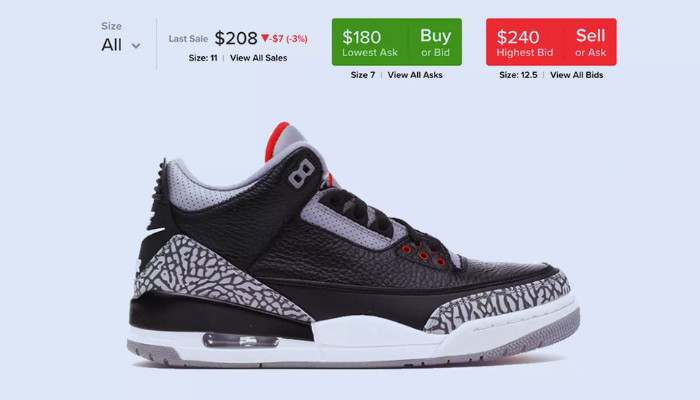 To have quicker sales, you have to set a proper price range for your sneakers. Having set a medium range, one of my friends got her first sale the next day he listed!
So, set your price wisely.
Proper Listing Of Image
The image is what attracts the customers first. So, take clear pictures for your listing. It will draw more attention towards your sneakers.
Write A Better Description
After seeing your product picture, whoever is interested in buying will look at the descriptions you provided. Proper description boosts your selling chances.
Read more to know does AJIO sell original Nike products.
How To Ship Your Shoes After Selling On Goat
You need to ship your sold shoes to Goat to be verified and sent to your buyer. You need to follow several steps to ship the product.
This is how you can ship your product after selling:
After receiving the prepaid shipping label, pack your shoebox in a cardboard box with bubble wrap.
Never send your sneakers with only the shoebox.
To avoid any shipping delay, use the prepaid shipping label.
Without the shipping label, Goat will not take any responsibility if your product gets damaged or missing.
For multiple orders, ship each item separately.
If you are reusing the cardboard box, remove all the warnings, labels and stickers.
Drop the package off at any of the listed official courier services within 3 business days. ( Monday- Saturday)
After dropping off, your package mark Dropped Off in the app.
Until Goat receives your package, keep a scanned receipt copy.
Ship from a location within the country referenced in your return address. For example, if your return address is located within the UK, your package needs to come from the UK.
Can You Sell Used Shoes On Goat?
Yes, you can sell used shoes via Goat. Once you go through the listing and a bit longer approval process, you are good to go. You can charge according to your demand. And if the shoe is a limited edition, it's your day.
There is no doubt that even used sneakers are in demand. If you find an old model of Nike Air Max, whether it is used or not is not going to make a difference.
The main fact is it's a rare pair.
Another unique thing about Goat is they clean tour sneakers, so even if it's second-hand, your customer will get an authentic and clean shoe.
Follow our guide on why doesn't StockX sell Revenge X Storm.
How Long Does It Take To Sell Shoes On Goat?
Typically it may take 2 to 3 days to complete the whole process. It also depends on how much time you take to source and list your shoe. Then a couple of days to get the approval from Goat stuff.
Finally, after the listing is done, it's up to the customers to contact you.
Let's see the approximate time for each step:
Collecting Shoes
Collecting your shoes from a retailer or wholesale shop can take one day, but when you have your sneaker at home, you don't need to waste the whole day.
Taking Picture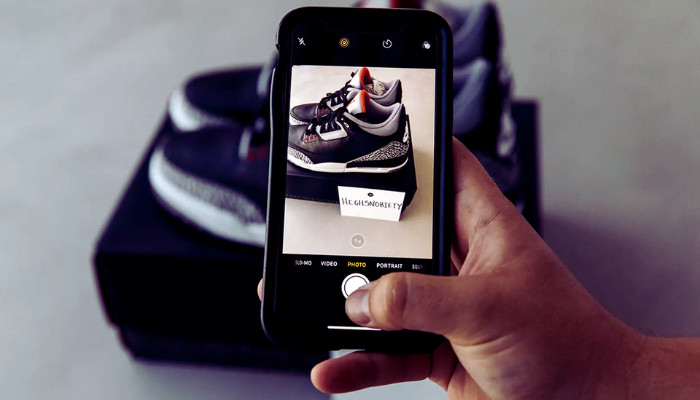 To sell your product, you have to take a picture of it via the Goat app. It may take 2 to 3 minutes.
If you go for setting a photo setup, it gonna take more than 3 minutes.
Providing Information
You must provide additional information about your sneaker to stay transparent to your customers. You need to take a photo if there are any scratches on your product.
This whole process can take 2 to 3 minutes.
Getting Approval
After everything is done, there comes approval from Goat. The authentication team takes time to go through every piece of information you provide, which may take up to 7 days.
Many get their approval within 3 days also, so keep busy until they get back to you via email.
Can You Sell Shoes On GOAT Without Box?
Yes, once your sneakers are listed, you can sell them with or without boxes. Unlike Stockx, there are no hard and fast rules that you have to send your shoes in a box.
But to maintain your shoe quality and protect them from damage throughout the shipping process, sending your shoes in a box is ideal.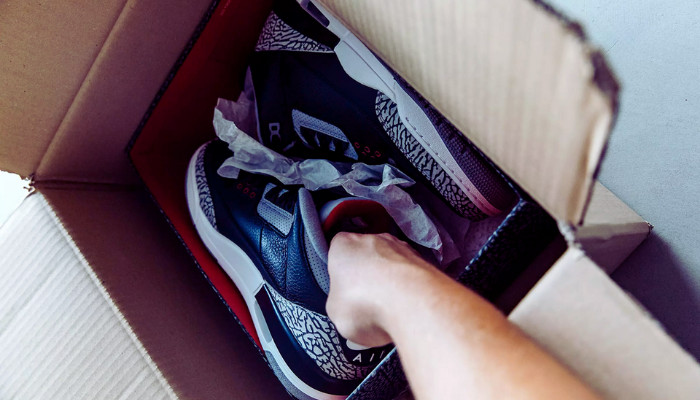 Another plus point of selling sneakers through Goat is they clean your shoes before sending them to costumes. So, a box will keep them neat and clean.
Pros And Cons Of Selling Shoes On Goat
With the help of the Goat app, the selling process became very easy and quick. You can list your product from anywhere in the world. But there are a few obstacles too.
You also need to understand the return policy to understand better how the selling process works.
Here Are The Pros And Cons Of Selling Shoes On Goat:
Selling Shoes On Goat
Pros
»

Quick selling process.

»

Easy payment process.

»

Proper authentication.

»

You can sell sneakers without a box.

»

Original product guarantee.
Cons
»

Takes time to get selling approval.

»

Verifies small batches of sellers.
Go through our epic guide to know does DSW sell Birkenstocks.
FAQ
How Does GOAT Verify Our Product?
Once you send your shoe to Goat, they check the information on the list you provided with the product as a verification process. To ensure the quality of your sneaker, they will double-check for sure.
How Does GOAT Ship Your Shoes To The Customers?
When you send Goat your sold item, they double-check if everything is ok. After authentication, they send the products to the customer. It's the same for each and every product.
How Will You Get Your Payment After Selling on GOAT?
After your sale is confirmed, you will get credits on your account. Then you need to go to the app and go to the sell tab, then the Credit, and finally to the Cash-out.
The cash will transfer to your bank account, or you can cash through PayPal.
Final Words
To sell unique and top-class sneakers, GOAT is a reliable platform, and the process is also very easy, even for a newcomer.
From downloading to listing your shoe and then waiting for them to be sold, the whole process is very easy, and I think I discussed every knock and cranny to make the procedure even easier.
For more information, comment below.