When it comes to the perfect entry-level boot, Red Wing and Wolverine 1000 miles are the most popular pairs so far in America.
Recently, debates about which one of these is the best, has drawn more attention than ever because of social media.
Both of these boots are from America's most reputed brands. At the same time, their quality, materials, and price are quite up-to-date and similar too.
So, when you have to choose a pair from these two work boots, it's quite a hassle for sure.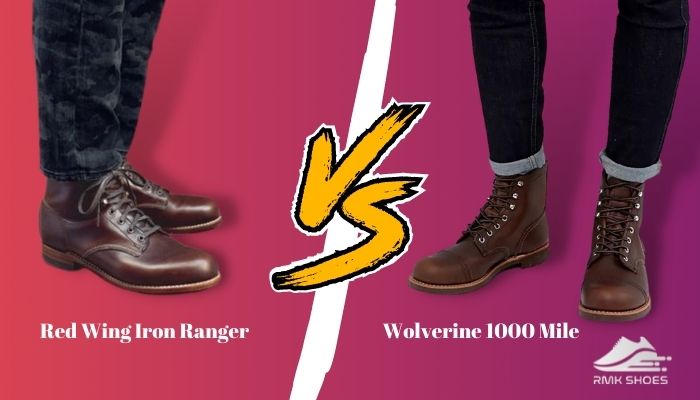 In this article, I am going to solve your confusion, and you will step a bit closer to your solution gradually.
So, Keep reading till the end, and you will find your desired boots.
Check out our separate post on Wolverine Buccaneer VS Raider
Red Wing Iron Ranger Vs Wolverine 1000 Mile: A Quick Overview
Both 1000 Miles and Iron Ranger work boots have their individual qualities, and they are one of a kind.
Let's find out more details about these two boots:
Red Wing Iron Ranger
The most demanded work boot has its own specialties to stand out.  With thick, sturdy leather, these are a versatile choice.
The full grain oil-tanned leather makes Iron Rangers long-lasting. Even after reconditioning the leather quite a few times, users were shocked to see the result. They maintained the previous quality intact.
These rugged boots have high polish hooks, cap tow and detailed contrast triple stitching. Red Wing boots are made with traditional crafting techniques. Iron Rangers have a super powerful foothold, and the stability is out of question. In the summer of 2018, Red Wing changed the soles from cork to Vibram for all of their models.
They are on the market for a long time and still are maintaining their popularity with grace and comfort.
Wolverine 1000 Mile
If you are in for a versatile pair, Wolverine is your perfect fit. It serves both work and dressy looks at the same time.
With no toe cap and less triple stitching, 1000 miles have 270- degree Goodyear welt construction for easy re-soling and their midsole is made out of cork. The eyelids are more subdued.
The leather and sole of these models do not fall apart before 1000 miles of walking. The upper layer is made out of Vibram heel and leather as well.
The overall construction and design make these less unique and eye-catching. This feature is allowing you to pair these up with any button-down and pants.
Follow our guide on How Long Do Wolverine Boots Last
The Main Differences Between Red Wing Iron Ranger And  Wolverine 1000 mile
Both Iron Ranger and 1000 Miles have their own specialties. And these specific features are making them so desirable among shoe lovers.
Let's see the main difference among these boots:
Cap toe
This is such a feature that is loved by so many users is an extra piece of leather that covers the toe box and gives extra protection around your toe and, at the same time, elevates the look.
The classic Iron Rangers have a cap toe, and this elevates the look more gracefully.  On the other hand, in most 1000 Miles, you will find this feature only in some versions.
You will not get any kind of advantage because of cap toe its more like a choice. Wolverine boots have a sleek look, and that has made them more versatile.
Vibram Mini- lug sole
Iron rangers have Vibram Mini-lug soles. And because of that, it has more grip while using. So if the weather around you tends to be wilder, Iron Ranger is your friend
Meanwhile, 1000 Miles doesn't have this feature. They have butyl-treated leather soles, and for leather shoes, this is an excellent quality. But on a wet surface, these will slip easily. After a couple of weeks, Wolverine boots become more grippy.
If you are in for the look of 1000 Miles, you can go for it as it will gain more grip eventually, but it will not be much suitable for rainy weather.
You may also like to read: Red Wing vs Thursday Boots
Design
In terms of design, both Iron Ranger and 1000 Miles are unique on their own. Iron Rangers have a more complex look to it with the cap toe and super long tuflan laces. They represent more complex looks and are casual heritage work boots.
For Wolverine boots, they are cleaner and looks sophisticated. They also have metal shoe holes, metal eyelets but the leather is different. The upper of 1000 Miles are more flexible but it tends to crease more easily.
Break in period
This is another significant quality for any kind of boots. In this section Wolverine 1000 Mile has more benefits but for Iron Ranger they are more hard to break in.
Most users have voted for 1000 miles as they they are easy to use from the beginning. They started to break quite easily and for thus its more comfortable form the start.
But for Iron Rangers its a different story. Owners have said they had blisters for weeks before the boots started to break in, after that it was much smoother to use.
Price
Both of these boots are on the pricier side. But even they are quite similar in this sector Iron Rangers are sure to the winners.
In Red Wings official and in Amazon these sell for around 350$. This price can be a little different on Nordstrom. The main advantage is that they often are on sales and you can buy them for 300$ in Amazon.
In case of 1000 Miles, their range is around 385$ on the official brand site. It is much cheaper on Amazon anywhere in between 320$ to 360$. But its rare to buy these bad boys under 320$.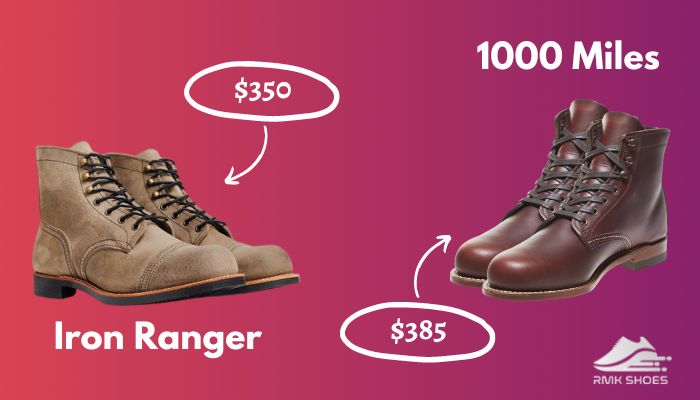 Follow our guide to know Red Wing VS Caterpillar:Who Makes The Best Boots?
Pros And Cons Of Wolverine 1000 Mile And Red Wing Iron Ranger
So far, you have learned the information you will need here. I am going to specify more details that will work to your advantage in future.
Wolverine 1000 Mile
Pros
»

The leather of Wolverine boot is rich, oily, and super rugged.

»

1000 mile has a classic design that is lovable.

»

The boot has a durable Vibram heel on the upper.

»

Sturdy and reasonable Goodyear welt construction.

»

These are quite easy to clean.
Cons
»

The leather sole of Wolverine 1000 is slippery during the wet season

»

Wolverine boots lack shank
Iron Ranger
Pros
»

Iron Rangers are durable with the full grain leather

»

It is oil, water and dirt resistant to some point

»

Iron Ranger is suitable for any surface as it has Vibram mini rug sole.

»

Boots from Red Wing are easy to clean.

»

People like the rugged style most.
Cons
»

Iron rangers take time to break in

»

Many users don't like a sturdy toe cap.

»

Taugh break in period
Check out our separate post: Red Wing Boots Sizing Guide
Let's Check Out The Similarities Of Red Wing Iron Ranger And  Wolverine 1000 mile
Along with many differences these shoes have soome similar standard features. Here i am going to talk details about them.
Fit And Sizing
In case of fitting and proper size both Wolverine and Iron Ranger are offering similar service.
For Iron Rangers if you are buying personally, try one or half size smaller than your true size. I have seen reviews that said the exact same about the size. And as you are buying from shops you must try them on to fit your sizing.
The same goes for Wolerine 1000 too. But if you are buying online first try them on inside the house before going out. Both of these brands offer return policis strictly.
Sole
Wolverine 1000 Miles and Red Wing Iron Rangers have leather sole. The type of leather can be different but they have similar materials for sole.
Also, follow our epic guide to know Red Wing Boots vs. Georgia Boots: Which Is The Best For You?
Features Of Wolverine 1000 mile
1000 Miles has their own features to offer that are loved all over.
The Top Knotch Features
The top feathers of 1000 Miles are given below:
Wolverine 1000 Miles's whole design and construction is handcrafted. It is designed to be less eye-catching, and you can wear them casually too.
The leather of these boots comes from Horween leather company. The leather shines without any polish as they have a high level of grease.
The Goodyear welt construction makes them very durable, flexible and easy to re-sole.
Wolverine 1000 features waxed laces. These laces are made from short-weaved cotton. You will find various colors of lace options, and they do not disintegrate that easily. These make your shoes more appealing.
The soles of Wolverine have three layers, and these layers are molded perfectly in a design that supports your arch. The outsole features a Vibram heel for better traction.
Features Of Red Wing Iron Ranger
Red Wing Iron Rangers are reining, so decades for their top class qualities and users are enjoying these till nowadays.
Follow our guide to know Red Wing vs Irish Setter
The Top Notch Features
Let's take a look at the top class feature that Iron Ranger is offering:
The outsole of Iron Rangers are made out of Vibram 430 mini-lug which will ensure your ultimate comfort. These resist oil and any kind of marking. The leather insole are also breathable.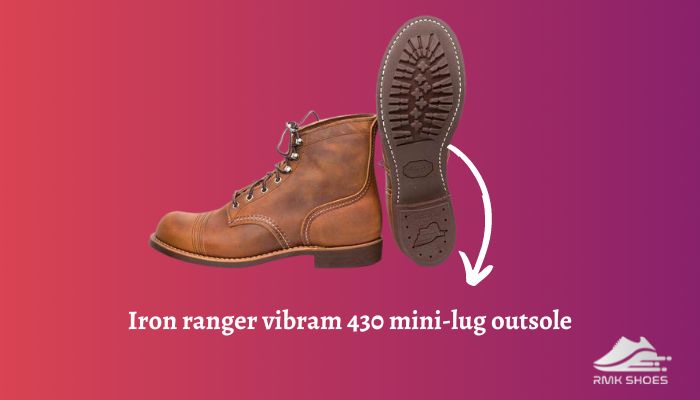 The upper of Iron Ranges are made with full- grain leather and the midsole is made out of cork. This feature helps your shoes fit your feet properly and lasts for an extended amount of time.
Iron Ranger boots are designed with a bump cap toe. They offer Goodyear stitch down construction which makes them very durable. Rhe boots are handcrafted with care to maintain their design quality.
The Red Wing Leather Protector
The leather protector helps to protect your feet from dirt, oil,mud and water. Thw welt is constructed in such a way that you can easily clean the surface without any hassle. To clean these boots you can use soft bristle brush and warm water.
Brand History Of Red Wing Iron Ranger
Iron Ranger was first made down a mine in wilderness of Northern Minnisota. The miners in the late 1800s did not have proper footwear to work down the mine that could protect their feet and at the same time provide them comfort.
The Red Wing company came forward to solve this problem and thats how the iconic Iron Ranger was made.
From the very beginning Iron Rangers provided  thick durable leather, comfortable cork midsole, an oil resistant outer sole, and also speed hooks to lace up. They are still maintaining these qualities and even improving them day by day.
Brand History Of Wolverine 1000 mile
The 1000 mile is the heart of the famous brand Wolverine. These boots were named mainly featuring their excellent offer. These boots were promised to to last 1000 miles.
In the 1900s these ironic boots were first introduced. And the workers immediately loved the longlasting shell and soft leather. The fit was also very reliable.
Now this brand is producing their third century designs and handcrafting every pair from the begining till now to meet the worldwide expectations. They are preserving the trust of their buyers and that is a huge achievement for sure.
Which One Should You Get?
You can get any of these two boots in accordance with your choice. If you are asking me, I would side with Red Wing Iron Ranger.
With any of your formal wear Wolverine 1000 Mile is the best fit. And if you are also not a cap toe lover this boot is an excellent choice.
With Red Wing Iron Rangers you are getting a high quality with better grip, better support for the feet within a budget. And most eye catching feature that, it ages gracefully.
If you dont have budget issue, definately go for both of them. The construction and material quality is quite similar for both of these boots.
FAQ
How are Red Wing Iron Rangers supposed to fit?
The iconic Iron Rangers are well known for their proper fitting. These shoes fit perfectly if you get the exact pair for your feet.
Are Wolverine boots true to size?
Wolverine boots dont have any sizing issues. I will suggrest you to get one size or half size down tp your true size for perfect fitting.
Does Red Wing Iron Rangers have steel toe?
The Red Wing Iron Rangers have cap toe but another style the Blacksmith does not have this feature.
Final Verdict
At the end it is quite difficult to chose from two top qualitly boots. Both of the shoe brands are on the market for the largest amount of time possible.
So, when you are thinking about purchasing any of these models from these two brands all you need to keep in mind that is your preference. If you like cap toe or not you got both best options. According to your profession, weather and personal choice you can select your pair.
Don't forget to let me know how this article helped you to find your boots and solved your confusion.
For any further queries about any other type of boots, stay tuned.