Both Nike Air Max 95 & 97 are Nike's most reliable running shoes, mainly known as the comfortable beast.
But being such versatile sneakers, if you're tangled between these two classic Air Max pairs and wanna know which is worth buying in 2023, this article is for you.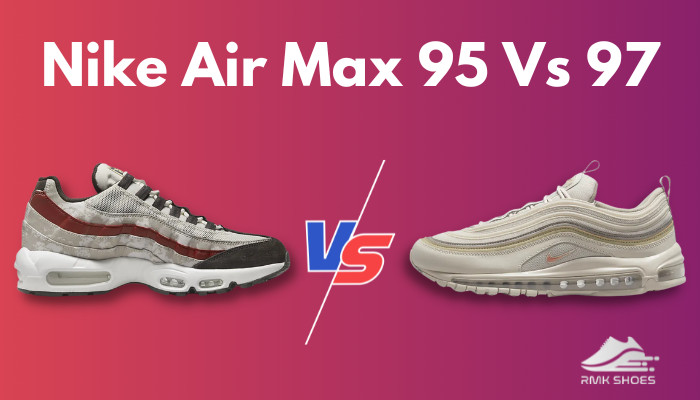 After a lot of research, along with my personal experiences, I have prepared head to head comparison of Nike Air Max 95 & 97.
So, let's choose your perfect pair.
What is So Special About the Air Max Shoes?
Air Max is a Nike shoe line that incorporates the staple Air technology developed by Tinker Hatfield and patented by Nike. There are so many factors that made Air Max so expensive and popular. Let's discover them first.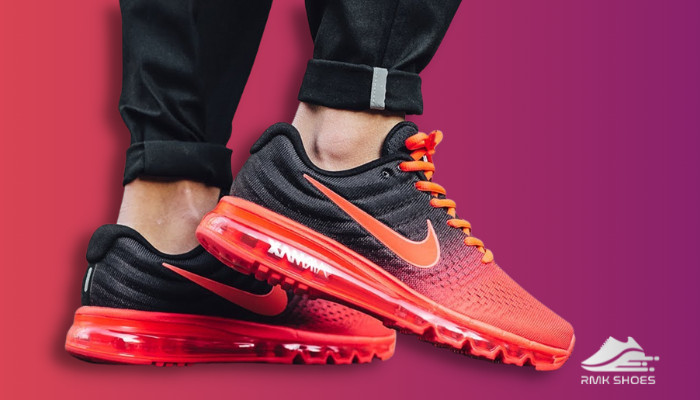 The midsole of Air Max shoes has a unit called the "air unit". These airbags or air units are filled with a urethane-protected pressurized gas which maximizes the cushioning while reducing the weight.
However, Air Max sneakers have the world's first visible air units in the midsole.
Such an identical feature of air max was inspired by The Centre Pompidou – an architectural masterpiece. Just like this building, every structure of the Air Max's midsole is visible from the outside, which makes them unique.
But is it just look what these shoes got so shoutout for? Not really, they have amazing functionality in their air pocket making Air Max really good for running.
This tech makes shoes lightweight yet provides maximum comfort and flexibility. Moreover, the shock-absorbing capability protects you from injuries.
As the functionality and stunning look blend together perfectly within these shoes. This makes it so special to all, and also expensive!
Nike Air Max 95 & Air Max 97
Air Max 95 and 97 are two of the most popular sneakers of this Nike line. 95 was designed in 1995 targeting basketball players.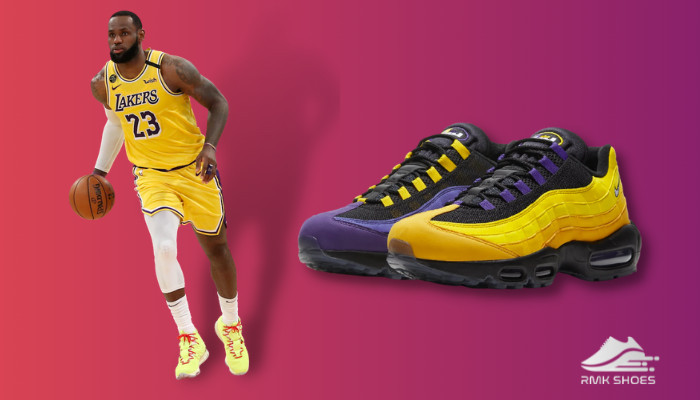 After getting huge success of air max 95, the next model of air max (AM96) failed to attract consumers. Then  Christian Tresser came up with a heartthrob concept to win the hearts of all Nike customers while making history. Since then, the Air max 97 still is the most popular shoe by Nike.
Similarities Between Nike Air Max 95 and 97
Since these two comfy beasts are under the same brand, they have some remarkable similarities.
Here are the similarities between AM95 & AM97:
By Material
Both AM 95 & AM 97 are made of almost the same materials. The upper portion is made with mesh, and leather, along with a rubbery outsole.
Both of these shoes have sustainable material options and huge color variations. Another great news for animal lovers – they have the vegan option too.
Note: Though Nike is not a vegan brand, your preferable, Nike vegan model is not so available in all outlets.
In Sizing
Both Air Max 95 and 97 run true to size. But you might feel a little stiffer if you have wide feet.
As both shoes have half size option, I recommend you take a half-size up for a wider foot. Most of the Nike models including Nike Blazers run true to size with a little room for wide feet!
Target Consumer
Nike Air Max 97 and 95 are specially designed for athletes and runners. Both of these pairs are so lightweight and comfy that you can't feel that you are wearing a sports shoe during running or jumping.
However, their trendy look and outstanding performance break the limit of the target consumer and become the shoe of all comfort and fashion lover people.
6 Key Differences Between Air Max 95 & 97
There is only a year gap between Air Max 97 and Air Max 95 per se.
Consequently, there shouldn't be a ton of differences, right?
Well, there aren't, except for some subtle variations!
At the first glance, you may not notice these distinctive features. But the more closely you look at them, the more differences you'll notice – from the laces to the soles!
Let's now read those fine differences between 95 & 97 Air Max.
6 dissimilarities between Nike AM 95 and AM 97:
Midsole Design
Air max is a legendary invention in the shoe industry that changed the sole shoe scenario. Though both shoes' midsole has visible air cushion, there is a major difference.
AM95 is the first air max with two separate air windows under the forefoot and heel, whereas AM97 has a full-length air cushion.
Outsole Design
The outsole design of these two shoes has a noticeable difference.
AM95 has a curve rubber outsole that provides great traction and reflects heat, whereas AM97 contains a flat rubber sole that circulates the body load equally and decreases the risk of injury.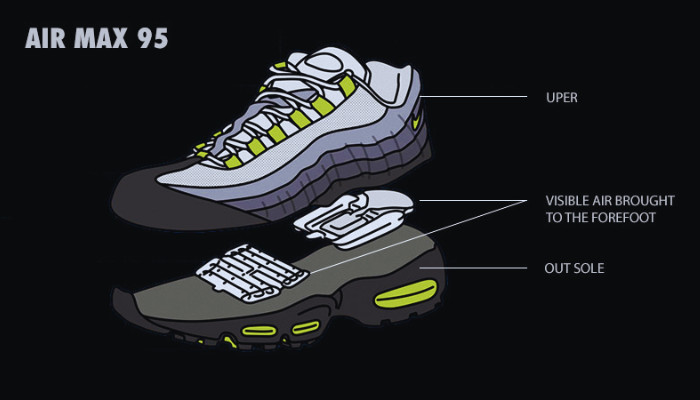 Design Inspiration
AM95 is inspired by human anatomy. A set of ribs illuminates the lacing system of this model, the outsole resembles the back spine, and the upper portion is made with mesh and suede upper, representing muscle fibers.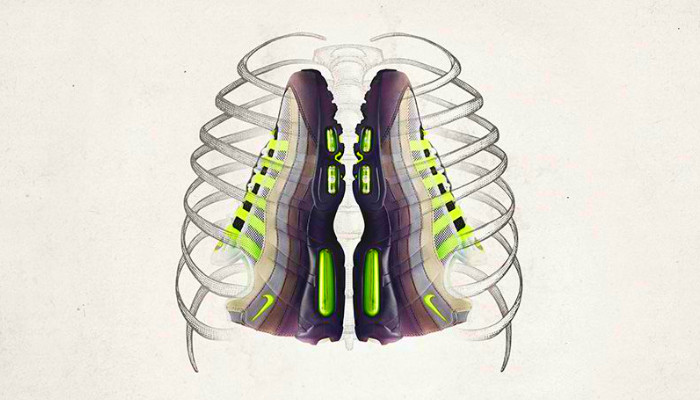 This model was specially designed for basketball players and other athletes. But it gained worldwide fame after its release among all professions.
AM97 was designed by Christian Tresser. The myth is that he created this piece inspired by a Japanese bullet train. But that was not true. The main inspiration comes from nature.
When you look at the wavy patterns of the upper portion, you will notice that it resembles rippling water. And the metallic look was inspired by a mountain bike.
Comfort Level
The main goal of Nike air max is to provide maximum comfort by decreasing the sole weight. So both shoe is overly comfortable that they feel very similar under the foot.
Being a long-term user of both AM95 and AM97, I am sharing my own experience.
Recently I visited Parthenon wearing AM95. During my walk on the ruin, I felt so stable where other visitors were suffering to walk on such a rough surface.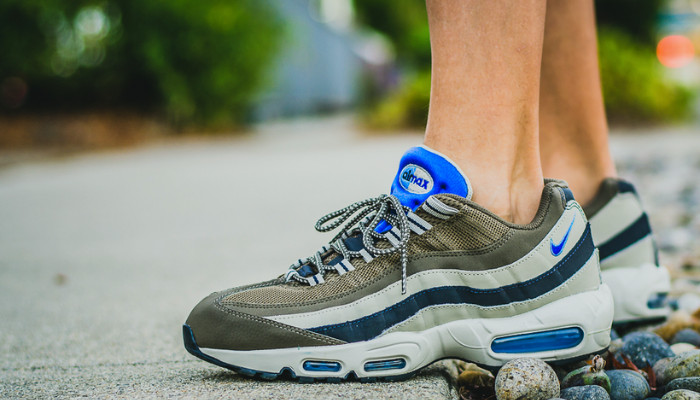 Having segmented air units make this shoe more flexible. Thus, it gives me a tight hug to my feet.
So, if you are a tourist and love to roam different cities around by walking, Air Max 95 is best for you. It is so stable that you can walk on rough pave effortlessly.
Now let's talk about the Nike air max 97.
You might consider 97 as comfier because it has a full-length air cushion.
When you wear this, you feel like you are wearing a feather. Having a full cushion midsole provides excellent comfort while you are standing. But during walking, you can feel a lack of flexibility.
For this reason, I feel 95 comfier. But comforts very person to person. Both are claimed as running and walking shoes and are comfy like hell.
However, none of the Air Max models are non-slip. So if that's something you require, look for Nike sneakers other than the Air Max models.
Price Range 
The Nike Air max line is expensive. It is not a layman's shoe that anyone can afford. The design and quality of this line are worthy enough.
AM line also has another level of image value. Big celebrities like Eminem and Travis Scott are spotted wearing AM 97.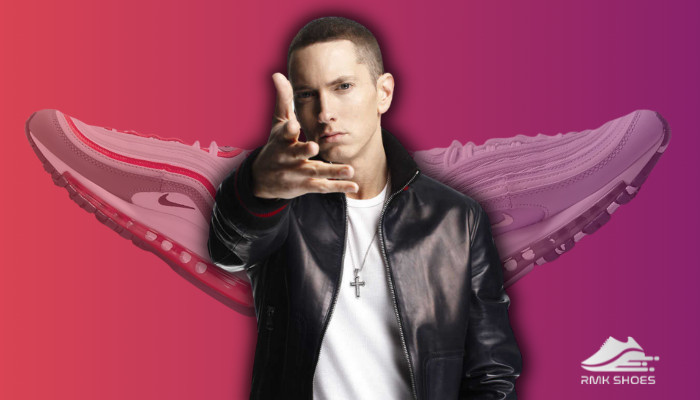 The 27-year-old retro AM 95 is Kim Kardashian's favorite gym shoe. Not only that, there are many songs where AM 95 is mentioned.
Regardless, let's talk about their pricing. AM 95 starting price is $117 up to $215. And the price of AM 97 starts from $100 to $195 on the official Nike website.
Prices differ on materials, color, customization, and the occasional sale. You can get these shoes on the resale market too.
Availability
Because of tremendous success and market demand, both AM 95 & AM 97 are available on the Nike website with a lot of color, material, and customization options.
E-commerce sites like Amazon, Zappos, and many others are selling the AM 95 & 97 as well.
However, some of the specific models of Air Max including the Air Max 97 "Silver Bullet" and Air Max 95 "OG Neon" got a huge craze that increases the demand in the resale market.
Platforms like eBay, Stockx, and GOAT have the listing of Air Max's most hyped shoes.
Color Variation
Both have a considerable variation in color and offer customization. But AM 95 has more customization options than AM 97.
If you travel a lot like me and have to fight against dirt regularly, Nike Air Max 95 classic design is best. Its black sole is easy to get over from dirt, and the combination of thunder grey-atmosphere, grey-electric, and green-reflect silver makes it an aesthetic athlete shoe.
Air Max 97 is really a fashionable sports shoe. All of its colors are amazing and complete any sporty type look.
Durability Testing (Personal Experience)
Durability depends on your usage. If you treat your shoe well and do not frequently use them in wet weather, air max 95 & 97 may support you for at least 7 years. But if you frequently use it in hiking, during the rainy season, and at work, their longevity will be less than 3 years.
However, 95 is warmer than 97. Also, 95 is more breathable than 97.
Air Max 95 is made with a heat-reflective material that offers maximum warmth, and it is almost a perfect winter shoe.
I tested it last winter. It was way warmer even while I walked on ice. But you should avoid it in heavy storms, because it's not properly resistant to water, and wearing it in heavy stormy weather will decrease its durability.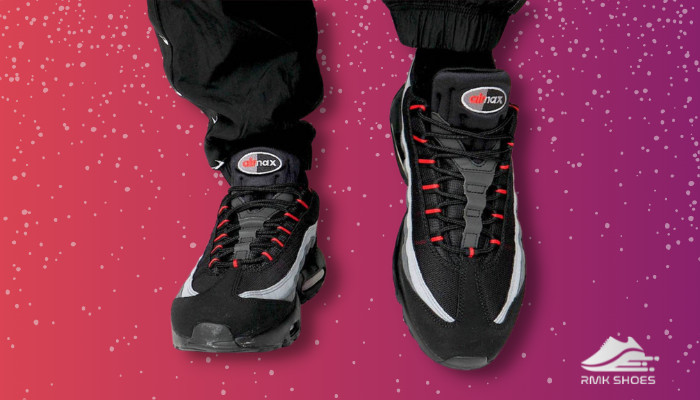 When it comes to AM97, it feels stiffy and hard to wear. And if you have wide feet, then I've nothing to say but to warn you!
Since it's less breathable, you have to be conscious about putt off it on summer days. Moreover, AM97 upper mesh is stain sensitive. It gets dirty very easily.
As a busy person, I have suffered a lot with my white Air Max 97.
So the AM 97 soaked liquid things, that you should avoid in wet weather.
But Nike acclaimed that Air Max 97 is made with sustainable material that endures heavy exercise and lengthens the life span of shoes.
[if you want a proper Air Max shoe that can be worn in heavy rainstorms Nike Air Vapormax shoes will be the best option. Vapormax is also a good option for running]
Nike Air Max 95 vs 97: Pros & Cons
I think you already understand which one will cover all of your requirements. Here I am providing the pros & cons of these two classic pairs that will help you to make the final decision.
Here are the advantages and disadvantages of the Nike Air Max 95:
Pros
»

A perfect pair for all season.

»

Made of breathable material and has great durability.

»

Classic and fashionable design.

»

Have water-resistant option.

»

Sole has good traction that helps in hiking/working on the rough surface.
Cons
»

Narrow fit.

»

Bulky looking.

»

Not slip resistance.
Here are the advantages and disadvantages of the Nike Air Max 97:
Pros
»

Fashionable and has a sporty look.

»

Good for running.

»

Comfortable.

»

Sockless shoe.

»

A good winter shoe.
Cons
»

Hassle to wear.

»

Easily gets dirt on the upper mesh.

»

Not good in the wet season.

»

Narrow fit.
Nike Air Max 95 or 97: Which One Should you Buy?
If you have a flat foot and need a comfortable shoe with good traction, AM 95 is a good choice for you. It will offer a cozy winter with a classic look.
And if you often go through different physical activities and want a sporty look, AM 97 will be the perfect fit for you.
Final statement
It's tough to choose between the two iconic sneakers – Air Max 97 and Air Max 95. Both are acclaimed as the all-time best shoes of Nike.
But at the end of the day, you gotta come to a conclusion, right?
Well, in this article, I've shown the similarities, differences, and accomplishments of both these shoes. And I hope you identify the pair you need based on your preference.
However, as a user of them, I assure you that both 95 and 97 will be worth every penny.