Nike Air Max has gained massive popularity since its release in the 1980s, and now they are a name known to every shoe lover!
They have many desirable features that lead to the fast rise and consistent popularity of these shoes. But there's one question that a lot of people have regarding Nike Air Max: Are they nonslip?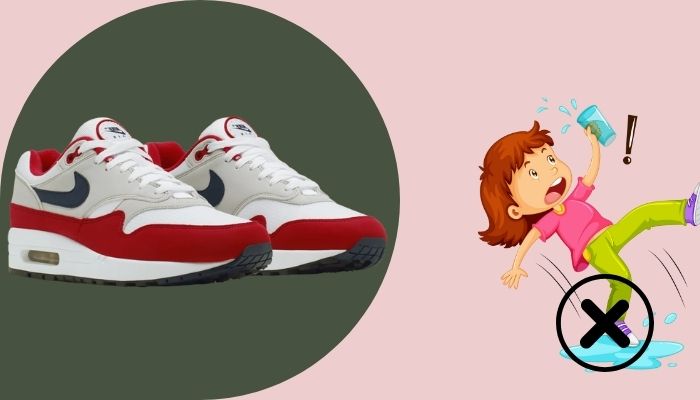 No, Nike Air Max shoes are not nonslip shoes. It does not state that they are nonslip in the title of the shoes or on the boxes that they come in. However, Nike Air Max shoes have excellent grip and traction, even though they are not nonslip, and can be used for a large variety of activities.
So, now that you know they are not nonslip – keep reading till the end to learn everything about nonslip shoes and how to know when a pair of shoes is nonslip.
Why Is Nike Air Max Not Nonslip?
Nike Air Maxes are versatile shoes that can be worn for various events, activities, and looks. With their huge demand and eye-catching price, it is only fit for you to ask why they are not nonslip.
Well, I have the answer for you.
But before you know why they are not nonslip, you need to know what nonslip shoes exactly are.
So, what is a nonslip shoe?
Nonslip shoes are basically safety shoes that protect you from slipping on plain or wet surfaces. The soles of these shoes have special slip-resistant technology, such as interlocked threaded patterns, that will prevent you from slipping, providing enhanced grip and friction.
Now, I think it will be easier for you to understand why Nike Air Max are not slip-resistant shoes.
Check out our separate post: Does AJIO Sell Original Nike Products
Nike Air Max shoes are not nonslip shoes because they do not have the soles or patterns required to establish a pair of shoes as nonslip.
If you have seen a pair of Air Max you'll know that their soles are the unique feature that sets these shoes apart. They have cavities within the midsoles called air units which are like translucent pouches that are filled with pressurized gas.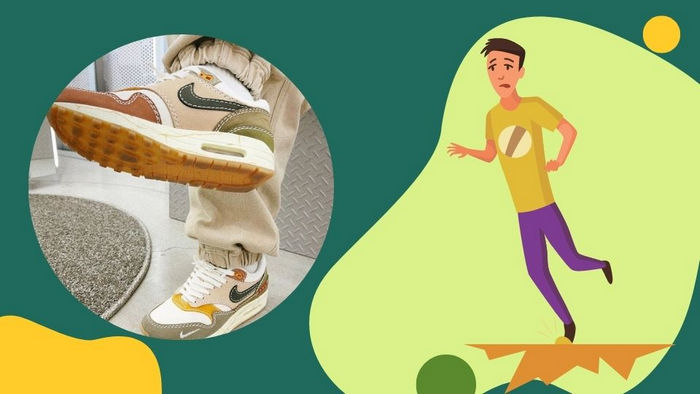 This unique design is then covered with an outsole that has gaps and patterns for advanced traction all over it.
However, whenever any sort of liquid gets trapped underneath the soles, the friction reduces greatly. This factor along with the fact that they do not have advanced slip-resistant threading patterns deem them not nonslip.
The fact that they are nonslip is also obvious due to the nonslip feature not being mentioned anywhere in the title of the shoes or the boxes that they come in because it is usually mentioned on the boxes whenever a pair of shoes are slip-resistant.
Despite not being slip-resistant, Nike Air Max shoes are absolutely fantastic and provide great traction and support, but do not rely on them to save you from a slip.
So, now that you know all about why Nike Air Maxes are not nonslip, let me guide you through the process of how to figure out whether a pair of shoes are nonslip or not.
You may also like Adidas vs. Nike Sizing
How To Tell Whether A Pair Of Shoes Is Nonslip
There are many ways to tell whether shoes are nonslip or not.
There are many professions that require you to wear nonslip shoes, whether it is in the food service sector or the medical sector, if you are looking for nonslip shoes – it's  a must for you to know how to tell whether a pair of shoes is nonslip or not.
Since by now you already know what nonslip shoes are, let's find out the ways to know that a pair of shoes are nonslip.
Also, check out our separate post: Nike Lunarglide Substitutes
It Should Be Specified
Yes, this may sound very obvious, but the easiest way to tell whether a shoe is nonslip is to check for labels stating that it is.
Most nonslip or slip-resistant shoes will have so specific in their title, and if not mentioned in the title the packaging (i.e. the box) will surely state that they are slip-resistant in the product description area.
EVA Rubber Outsole
If you are looking to buy a pair of nonslip shoes then you must check the outsole of the shoes to determine if they are nonslip, whether it is stated on the box/name or not.
Nonslip shoes have outsoles made out of a special kind of material, called EVA (ethylene vinyl acetate) rubber.
EVA rubber is a synthetic foam-like resin used to make the outsoles and midsoles of some shoes – especially slip-resistant shoes.
A soft, yet sturdy, rubber sole is the key to increasing grip and making a pair of shoes nonslip.
The EVA outsole will be flexible and relatively soft compared to soles made out of other types of rubber. They help enhance the traction and grip when walking or running, even if the surface is plain, wet, or oily.
Related content you should read: Are Synthetic Soles Slippery
Threading Pattern
Along with an outsole that has the right integrity, a proper interlocked threading pattern is critical for making a pair of shoes nonslip.
If your shoes are nonslip, then they will have different types of threaded patterns at the base on the outsole of the shoes. These patterns will increase friction, enhance the grip, and provide slip resistance.
The idea is that these patterns will not be affected even if they come in contact with a wet surface, and the liquid trapped within the pattern will not alter the nonslip nature of the soles.
It is common to find circular, hexagonal, and other interlocked patterns on the outsoles of nonslip shoes. The smaller the patterns, the better the slip resistance.
So, if your outsoles are made of EVA and have threaded patterns on them, then you surely can rely on them to save you from a slip!
Also read, Are Rain Boots Slip Resistant
Which Nike Shoes Are Nonslip?
If you wanted to buy a pair of nonslip Nikes and had your eyes on the Air Maxes, there is no need to feel dull because Nike provides a range of different shoes that provide grip as good as nonslip shoes.
Since Nike designs and manufactures shoes focused on sports and leisure, they do not have many shoes that will give you the nonslip technology needed for working in hospitals and industries.
Nonetheless, they do make shoes that provide excellent traction and grip, making them very similar to nonslip shoes.
You may like Are Tactical Boots Slip-Resistant
I have mentioned some of their shoes with the desirable grip you want.
Nike Wildhorse
Nike Air Force
Nike LunarEpic Flyknit
Nike Air Pegasus Zoom
Nike LunarTempo
Despite not being slip-resistant, the shoes mentioned above provide excellent traction, and you can wear them alike for running marathons and working at restaurants!
Related guides: How To Fix Heel Slippage In Cowboy Boots, Are Doc Martens Slip Resistant, How To Fix Heel Slippage In Boots
Conclusion
Even though Nike Air Maxes are excellent shoes, providing proper support, cushioning, and bounce to your steps, they are not nonslip.
So, if you want to get a pair of shoes that are nonslip, you can take a look at the Nike shoes that are as close to nonslip as possible or just opt out and try a different brand altogether.
But make sure you check that the shoes you are getting your hands on are nonslip for sure using the three important factors mentioned above!
I hope this article has been helpful for you. If you have any queries or feedback, please leave them in the comments below.