Crocs are cute and comfortable shoes that people now love to wear everywhere, even in the office. But when your favorite crocs sound like a squeal in public, it's really embarrassing and disturbing for all.
If your Crocs start squeaking, no need to worry, In this article, I am gonna tell you some amazing fixes and prevention methods that will stop your crocs from squeaking.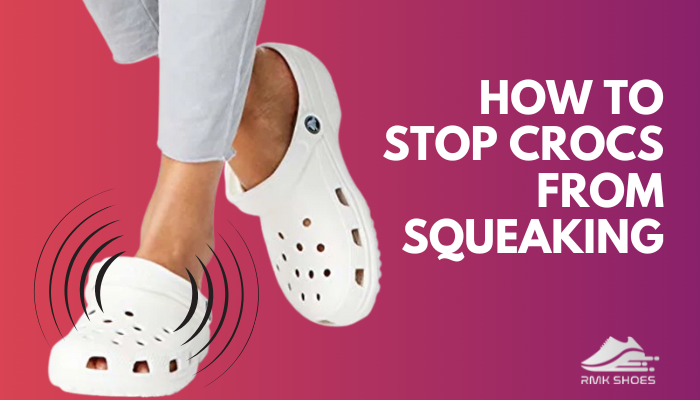 So don't delay, dive into this article and save your crocs from squeaking.
Why Do Crocs Squeak?
Squeaky Crocs is not a unique problem that you are facing. Maximum Crocs' owners face the issue. And the reason behind squeaky Crocs could not explain in one line. Multiple reasons are working for this annoying squeaky shoe.
Dirt is a big reason that makes a squeaky noise. If you are not cleaning your Crocs regularly, dirt gets into the sole or upper section and starts making disturbing noise. So keep your Crocs clean to avoid this hassle.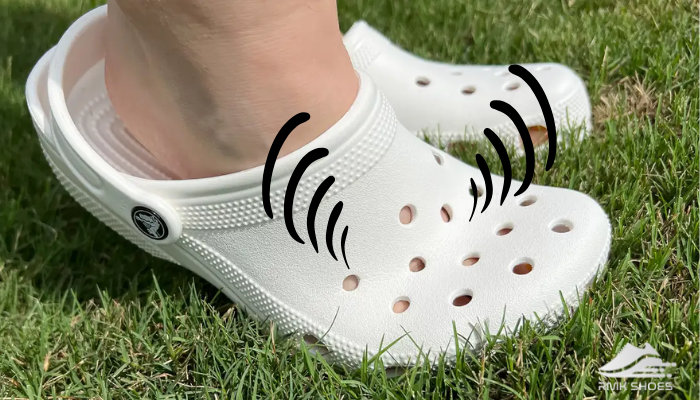 Crocs are made of foam, this foam can absorb your leg moisture and sweat, thus causing an annoying squeaky sound.
Sometimes your squeaky Crocs stop making noise after the end of their breaking period. But waiting for the end of this breaking period is quite embarrassing. ,Why you will compromise to wear your new Crocs just because of this sound? Follow the next heading and stop the irritating sound of Crocs.
Read more on can you put Crocs in the washing machine?
How to Stop Crocs From Squeaking
You are thinking is it possible to fix your Crocs from sounding, or do you just have to throw it? Hold on, you don't have to throw it. There are some unique tactics you can pursue that will stop the croc's annoying squeaking sound.
There is a very easy fixing solution to stop your Crocs from squeaking.
6 Ways to Fix Your Crocs From Squeaking
1. Using Talcum/Baby Powder
Using talcum powder is the cheapest way to stop squeaking. This home remedy is an easy process, you just have to take a talcum powder bottle and sprinkle some powder on your insole of Crocs. Now rub it well.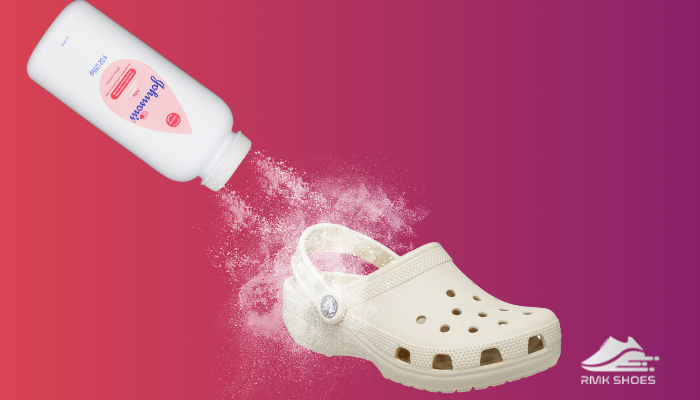 Be focused, if there are any cracks on your Crocs, the powder should fill those. Mainly, moisture is getting into the shoe from those cracks.
You can use baby powder in spite of talcum powder. Both work the same.
Go through our epic guide about why are Crocs so expensive.
2. Dry Them Out
As Crocs are made of foamy material, they will cry if it is damp. To avoid the squeaky issue of crocs, you have to dry your shoe regularly, even if you're not using crocs on rainy days or in a wet area. Because our legs produce enough moisture, which also can make Crocs squeaky.
Keeping your Crocs dry is essential to eliminate the noise. So if your Crocs are wet, put them under the fan and keep them for an hour until it's fully dry. Or you can keep it under the sun for several days if you have worn it on rainy days and forget to dry your Crocs.
Check out our separate post on do Crocs Shrink in the Sun.
3. Break Them In
Wear your Crocs regularly to break into it. It's the cheapest and little uncomfortable solution. Since some Crocs stop squeaking after the end of the breaking period.
So if you are a new owner of Crocs, then wear it regularly at home to avoid public embarrassment.
After a few wears, your Crocs perfectly fit on your feet and become softer than before. Then, your new crocs won't sound. If your crocs don't stop squeaking even after the breaking period, follow other fixing tips.
4. Use Chalk
Chalk is a great moisture absorber and also smooth surfaces, which is mainly the reason for squeaky-squeaky noise.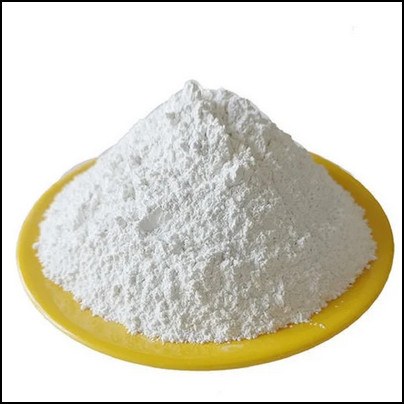 Sprinkle chalk on Crocs and rub it properly and also fill all the cracks and holes. Walk with these chalky Crocs for half an hour until the Crocs totally absorb the chalk. Now your Soundless Crocs are ready to go.
5. Using Silicone Spray 
Silicon spray is a very available product, and it works amazingly on squeaky shoes. Buy it from your nearby hardware store and spray a little on Crocs. Now use a finger or brush to spread properly, especially the joints where the sounds mainly produce after friction. Let them dry properly, and your Crocs are ready to rock without squeaking.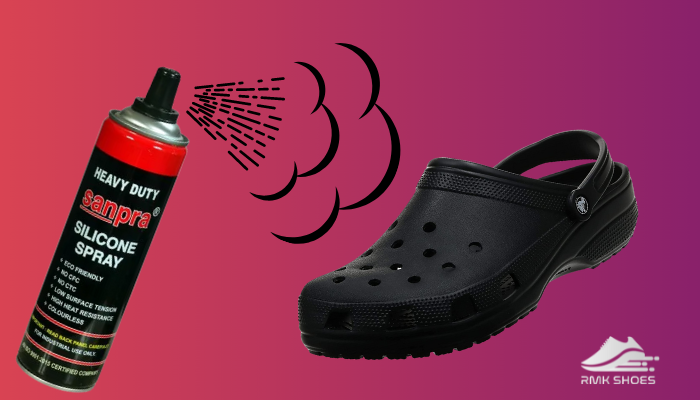 6. Clean the Crocs Soles
Clean your crocs appropriately. Use a toothbrush or any kind of cleaning tool to clean the dirt from frocks. Now dip the brush in soap water or you can also use the shampoo then rub the crocs well for maximum cleaning.
Using soap has another perk. Soap also smooths the soles and can stop them from squeaking.
Fixing squeaky Crocs is not a big deal. By properly following the stated tactics, you can achieve squeak-free crocs. Additionally, you can decorate your favorite Crocs and hang out with your cute Crocs pair without worrying about the sound.
How to Keep Crocs from Squeaking?
Prevention is better than fixing. Avoiding the reason for squeaking can help you from this worse situation. There are some ways to keep the crocs away from squeaking. I am giving you some easy prevention tips which will help to protect your Crocs from squeak.
Pick The Perfect Size
Picking the perfect size pair is important. Taking the wrong size, you can't feel the maximum comfort that Crocs offer, and also can be a reason for squeaking.
If you buy a larger size than yours, the shoes don't fit on your feet and your feet will move around more. The movement creates friction with the shoe and creates noise. So try to pick the perfect size, Also you may wonder is Crocs run big or small, you can check this article before buying a new pair of Crocs.
Put on Clean Socks 
If you wear socks with Crocs, try to wear clean ones. Because after several uses socks get stretched which can create friction with insoles and make an unwanted sound.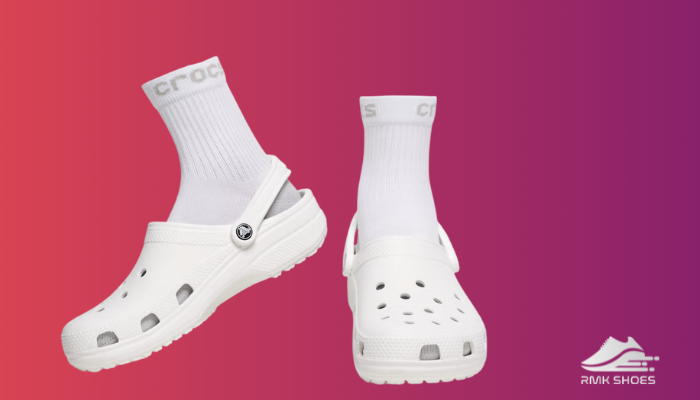 Crocs are comfortable shoes, but if you want some more comfort, especially in the break-in period, you can put an insole in your Crocs.
Clean Crocs Regularly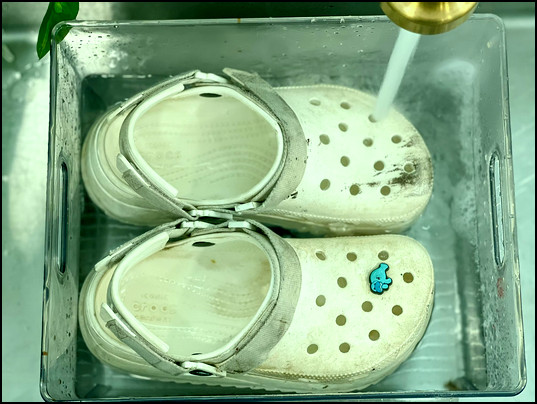 As I have previously said, dirt is a big reason for squeaking Crocs. Clean your Crocs after a few wears or when it's dirty.  You can wash your Crocs very easily at home. Washing Crocs on a regular basis can increase the lifespan and also prevents sounding.
Conclusion
Crocs are an amazing pair for casual use. Nowadays, Croc's popularity is increasing so rapidly that people wear it in the office and even on their wedding day.
So squeaking can never be a reason to protect you from wearing Crocs. In this article, I have provided easy and low-cost fixing and prevention ideas. Follow those tips and solve your Squeaking issues, don't forget to share the result in the comment section.
Stay healthy!!