Crocs! It is the most controversial comfy footwear ever to gain enormous popularity for its versatility.
Insoles are the first thing you opt for to achieve a more smooth fit. But can you do the same with your crocs? And if so, how effective will that be?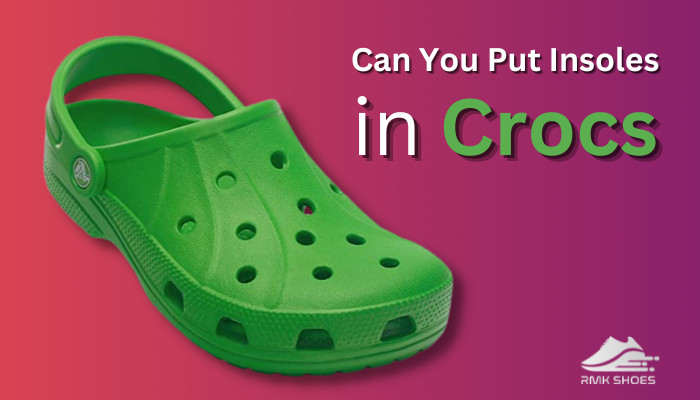 In this write-up, you will know the whole process of inserting innersoles and the necessity of using orthotics on Crocs practically.
So, stay tuned.
Can You Put Insoles in Crocs?
Yes, you can put insoles in your Crocs. The deep footbed makes them perfectly suitable for custom-made Orthotics. You can also use any inserts you want to ease your pain from injury or any kind of foot condition.
Flexibility and adaptability are the best part of Croc sandals. You can wear them with or without insoles. It's totally up to you.
The main reason behind extra insoles is comfort.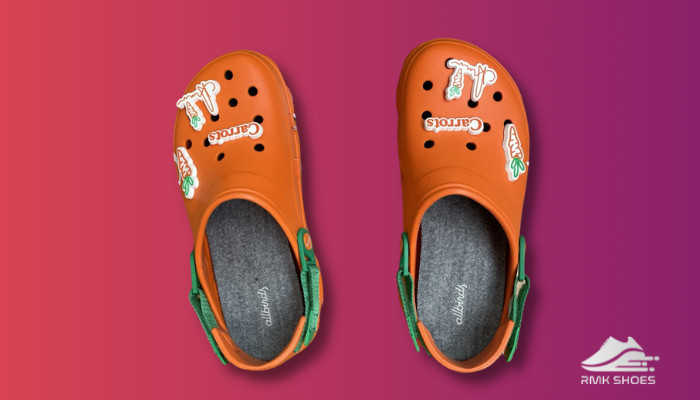 But not everyone's feet are the same, so you must be extra careful when selecting innersoles for your pair.
If you are still determining which one you need, get help from podiatrists. This is the best solution, or you can also create a custom-made orthotic device for your unisex Crocs.
How to Put Orthotics in Crocs?
It's very important that your orthotics fit you correctly before they go into your Crocs. Otherwise, it can cause severe damage to your feet instead of helping you.
If you have the best Orthotics but the wrong crocs, they will not fit you properly. This is something you need to think about, as it's extremely essential, though looks like a very silly matter.
So let's find out the proper way to insert insoles into your Crocs:
Try on the orthotic barefoot and place your foot on the insole.
Line your foot with the insert correctly.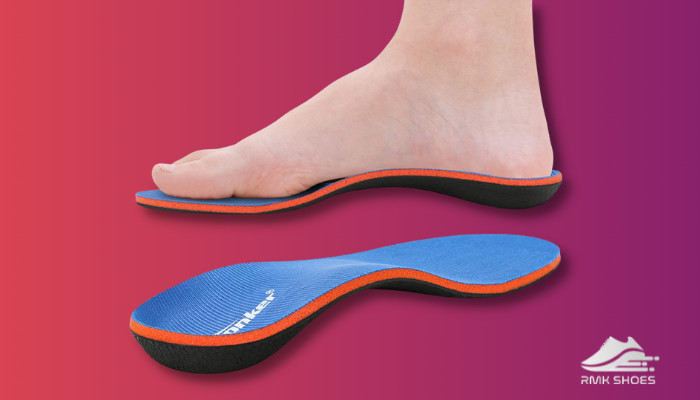 Make sure your arch matches with the new innersole.
Match your previous shoe liner, which is the exact shape of your Crocs, to measure the insole that you want to put in.
Take your sock liner, place it underneath the Orthotic and line up the heel.
Watch carefully where they mismatch.
Draw around the sock liner onto your insole with a pen or marker.
Trim your orthotic carefully; this will ensure that the insert is in the exact length of your Crocs for your comfortable experience.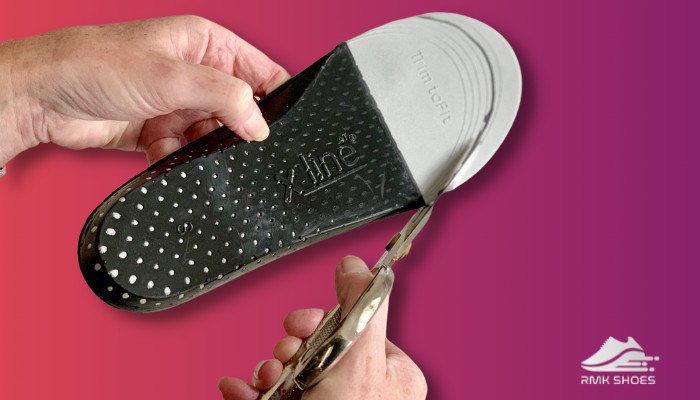 Follow these steps, and you have successfully inserted a new inner pad in your Crocs, relatively easy and hassle-free.
Why Are Inserts Needed for Crocs?
The main reason why you need inner pads in your Crocs is to get the right amount of comfort when having foot issues. This situation can occur if your Crocs have a stiff insole.
Someone who walks on their toes for too long can develop a foot condition called Plantar Fasciitis. In such conditions, you need Crocs with smooth insoles for comfort.
Let's see the 5 valid reasons why you need Orthotics for Crocs:
Helps to Reduce Foot Pain
Proper insoles help to reduce back pain. So, having the appropriate innersole is necessary to prevent foot pain and problems.
Now you have the question, how are insoles related to your back pain?
Let me elaborate. If you lead a hectic and energetic life, you will end up with back pain, and proper cushioning under your feet can solve this problem.
But remember, it is best to get a doctor's opinion when it comes to choosing which orthopedic insole will work best for your foot condition. Another thing, Crocs can make your feet sweat, so be aware of that too.
Enhances Comfort
When there is an extra layer of soles beneath your feet, you don't need to think twice about comfort. No matter for what reason you get orthotics, you will always have the perfect amount of cushioning you need for walking all day long.
There are many kinds of insoles available on the market. Get the one that is best suited for your needs.
Prolongs the Lifespan of Your Crocs
If you want to extend the lifespan of your Crocs, buying a pair of inner soles is a good idea. It will take most of the pressure you put on your feet, and that's how it will make your sandals last longer.
If you're a first-timer shopping for insoles, get an orthopedic one because such inserts correct certain food disorders along with your clog's long life.
At the same time, don't wash your favorite crocs in the washing machine for prolonged use.
Insoles Prevent Blisters
When you have a comfortable base to land while walking, you are more likely to get fewer blisters than ever. And the insoles on your Crocs do the exact same thing by providing that safe place for your feet.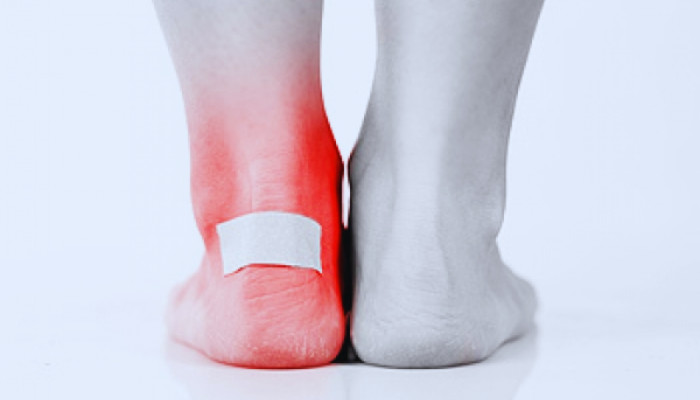 If you use your Clogs regularly, there is a chance that you might get blisters, but not with an orthotic inner shoe insert.
There is no doubt about inserts, but you can see between Crocs light Ride and Classic, which suits you better and prevents blisters.
Provides Arch Support
Another reason why you need insoles is for arch support.  If you have flat feet, you know how important it is to have footwear that provides good arch support because without it walking on your sandals, even Crocs, is painful.
My younger brother has flat feet and cannot walk for 5 minutes without the extra inner pad with his Crocs.
So, when your clogs have a stiff footbed, buy orthotic insoles and make your Crocs journey comfortable.
Do Crocs Make Insoles?
Yes, Crocs make insoles called Crocs RX silver. These antibacterial inserts are made with crostile Ag+ and antifungal at the same time. If you are looking for extra cushioning during sporting activities, RX Silver works wonders for your feet.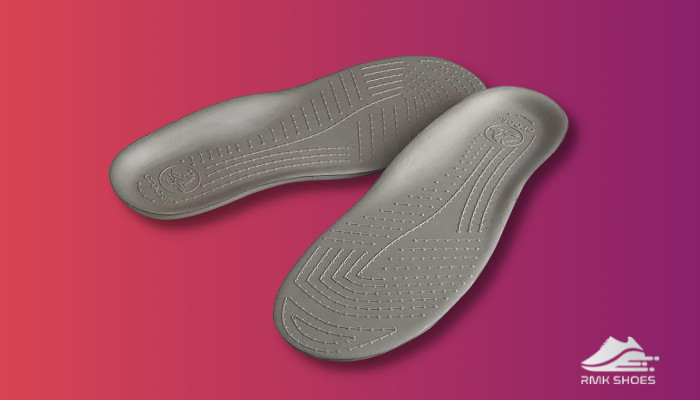 It will provide extra cushioning to ease your steps and also has a shock-absorbing feature. To relieve stress from your feet, knees, and lower back, this Orthotic is an ideal choice.
RX silver orthotic is odor resistant. It keeps your feet fresh and healthy, unlike Crocs, which makes your feet stinky sometimes.
Your muscle fatigue will reduce as the circulation of these insole's nubs helps stimulate blood flow. Not just with Crocs, you can also use this insert for your dress shoes, casual shoes, and work boots as well.
Why Is Crocs RX Silver Insole Popular?
When Crocs launched the RX silver insole, it made its way to the market because of its incredible features. This Fluffy insole will make your feet healthy and stress-free.
Let's see why Crocs RX silver is so popular:
Ideal for Foot Conditions Patients
For patients with foot conditions, RX silver is a lifesaver. It provides the right amount of arch support for your foot if you have heel pain, athlete's foot, or plantar warts.
So if you suffer from foot problems, RX silver can be your ultimate solution.
Provides a High Level of Comfort
The croslite Ag+ made Insole keeps your feet protected from bad odors, at the same time, by their ventilation, it keeps your feet cool and comfy.
Soft material contours your feet and provides support where you need the most.
So, don't worry about comfort when it comes to RX silver inserts and the sandal itself, as Crocs stretch.
Available Size Options
The RX silver comes in different sizes for both men and women so that you can find the perfect fit for your feet.
The option is endless, from small to extra large, and you can also choose from a wide and narrow fit.
Crocs have you covered if you are confused about finding the right size.
You can get your size guide from Croc's official website, or you can simply visit their stores and know if Crocs come in half sizes to get your perfect fit.
Final Thoughts
Crocs and insoles are best friends if used properly, and this combination will give you the ultimate comfort you can get from these lightweight and versatile footwear.
The company also manufactures removable insoles, which you can purchase, and there are other options on the market too. Whichever orthotics you pick, it's going to help you in the long run.
This is everything about the insole and Crocs story. Thanks for engaging!