Cleaning your UGG slippers the right way is very important because harsh cleaning with traditional methods can damage the delicate sheepskin of your loved UGGs.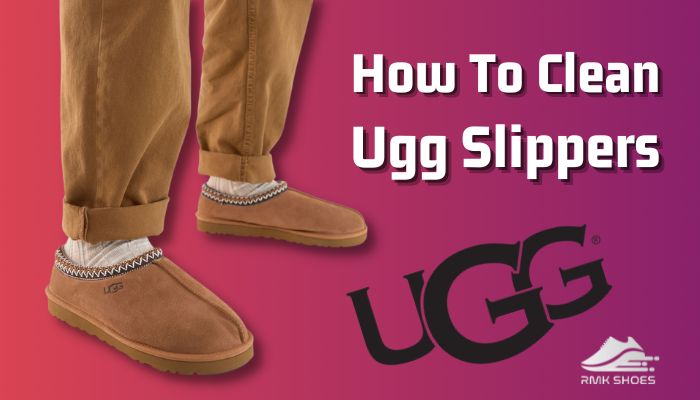 But worry not! In this guide, I'll share with you the Ugg-approved methods to give your UGG slippers a safe and effective cleaning. Whether you're dealing with stains, odors, or just common dirt, this article got you covered.
So, grab your slippers, and let's get started!
How To Clean Ugg Slippers?
UGG slippers are a popular choice for those looking for comfortable and stylish footwear. They are made of high-quality materials that are designed to last, but like any other footwear, they can get dirty and need to be cleaned.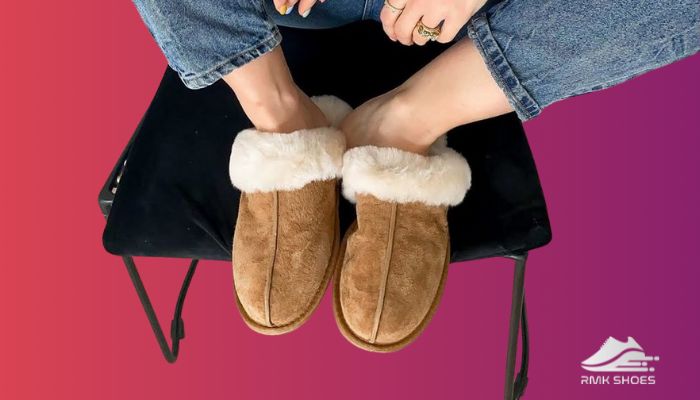 Luckily, with a bit of effort and the right techniques, you can revive your cozy UGG slippers easily at home.
Let's take a look at the effective methods you can use to clean your UGG slippers:
1. Cleaning UGG Slippers Without a Kit
For routine cleaning, you can wash your slipper UGGs by hand while using a microfiber cloth and suede brush.
Follow the below steps to clean your UGGs by hand-
First, moisten the upper of your slippers with cold water. But make sure not to make them soaking wet, as this can damage your UGGs.
Gently rub your slipper's upper and outsole with a soft-bristled suede brush to remove dust.
And then, carefully wipe both the upper and soles with a damp cloth.
Never use harsh detergent or soap on your UGG slippers, as these can harm the suede material.
Since the sheepskin is very delicate and can get frayed, don't use a brush to clean the inner sheepskin. Instead, with a damp microfiber cloth, softly wipe the slippers' sheepskin lining.
Once the slippers are thoroughly cleaned, let them air dry for several hours.
To keep your UGG slippers fresh and dirt free, clean them with this method once weekly. Also, to keep your slippers in their clean and fresh look, you can use a Suede or Nubuck protector on your UGGs.
2. Cleaning UGG Slippers With a Kit
UGG slippers are mostly made of suede, sheepskin, textile polyesters, and EVA materials. Each material demands specific care and cleaning products to maintain its quality and appearance, whether natural or synthetic.
Well, the brand offers a care kit that you can use to clean black Uggs or slippers easily, all by yourself. Also, the kit is readily available on UGG's official website.
The UGG care kit comes with a cleaner & conditioner, shoe protector, bamboo brush, and suede scuff remover.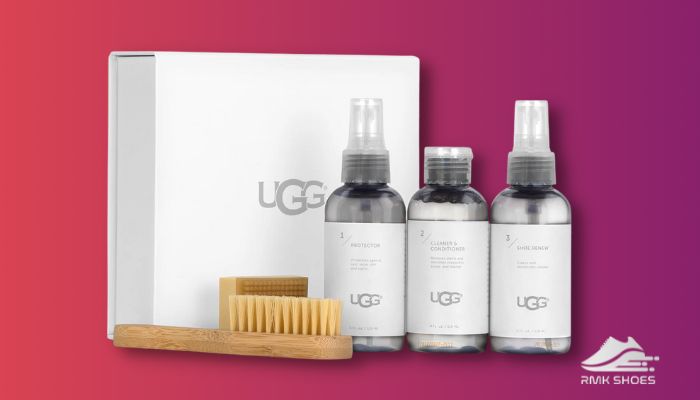 Follow the below steps for cleaning your UGG slippers using the cleaning kit:
Step 1: Brush Away Dirt and Debris
Using the kit's soft-bristled brush, gently brush away any dirt or debris on the surface and bottom of your UGG slippers.
Make sure you brush in the natural direction of the fibers. Avoid brushing too hard, as this can damage the fibers and cause matting.
Step 2: Apply UGG Cleaner and Conditioner
Once you have removed any dirt or debris, it's time to apply the UGG cleaner and conditioner.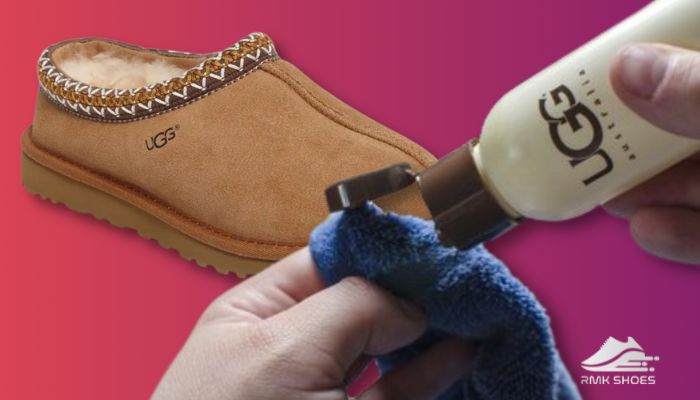 After shaking the bottle well, apply a small amount of the cleaner to a clean, damp microfiber cloth. While being careful not to saturate the material, gently rub the surface of your slippers circularly.
Step 3: Rinse and Blot Dry
After applying the cleaner, rinse your slippers with cold water. Ensure you rinse thoroughly to remove any excess cleaner without drenching the slippers.
Once you are done rinsing, use a clean, dry cloth to blot away any excess water.
Step 4: Stuff with Paper and Air Dry
To help your slippers keep their shape and speed up drying, stuff them with paper towels or newspaper. Allow them to air dry naturally, away from direct heat or sunlight.
Note: Never use a dryer or heater to speed up the drying process. That's because excess heat from the dryer can cause the fibers of UGG slippers to shrink or become damaged.
Step 5: Brush When Dry
Once your slippers are dry, use the suede brush from the kit to gently brush in one direction. This will help to restore the softness of the material and make the inside of UGGs fluffy again.
However, you can wash your UGG slippers once in two weeks to keep their fresh look.
3. Cleaning Stains From UGG Slippers
Removing stains from your UGG slippers may seem a daunting task. But simply using a vinegar solution or mild dishwasher soap may help you get rid of the stains.
So, let's find out the techniques for removing stains from UGG slippers:
Use Vinegar Solution
Vinegar works as a great stain remover regardless of the material. So, whether your slippers are made of suede or rubber, you can use this method to remove stains.
Just take one cup of warm water in a small bowl and add one cup of vinegar to it, and your solution is ready.
Then damp a soft rag with the vinegar solution and gently rub it on the stained area of your UGG slippers. Be sure not to make your slippers soaking wet because too much water can damage the delicate sheepskin.
Apply Mild Detergent or Dishwasher
Another effective method of removing stains from UGG slippers is by using liquid soap or detergent. To begin this method, first, you need to remove loose dirt from the slippers with a brush. Then, put a few drops of mild liquid soap or detergent on a damp microfiber cloth.
But remember not to use too much soap. Otherwise, it will be hard to clean out all that soapy residue.
Then for the next step, rub the surfaces and inside the slippers thoroughly but gently. And give a little more attention to the stained area of your UGGs while rubbing.
Follow our guide on how to spot fake Uggs.
How to Take Care of Your UGG Slippers
To keep your UGG slippers in great condition for as long as possible, it's important to take proper care of them.
Also, with delicate materials, it can be hard to clean UGG slippers at times without actually ruining their look. So, it's better to prevent them from getting dirty or stained.
However, the below-given direction can help you to protect your beloved UGG slippers. 
Avoid wearing UGG slippers in wet conditions because if your slippers get wet, the moisture can damage the suede and cause it to lose its soft texture. So, it's best to wear your UGG slippers indoors or on dry days to prevent them from getting wet.
Apply a water and stain repellent to protect your UGG slippers from moisture and stains. You can find a variety of products specifically designed for suede and sheepskin at most shoe stores.
Just apply the repellent to your slippers before wearing them for the first time, and reapply every few months to maintain the protection.
Store your UGG slippers in a dry, cool place when you're not wearing them. Storing them in wet places can damage the materials. So, keep your slippers in a closet or on a shoe rack, away from moisture and heat.
Avoid scrubbing with a brush while cleaning because your fancy sheepskin UGGs like Fluff Up or Fluff Yeah slippers are too delicate for that. Instead, use a soft cloth to clean the surface of the slippers gently.
Moreover, though it may seem bothersome at first, you can protect your UGG slippers from damage by following these quick and easy tips.
Check out our separate post do you wear socks with Uggs?
FAQs
Can I Put My UGG Slippers in The Washing Machine?
No, you can't put UGG slippers in the washing machine. Because UGG uses natural materials like suede and sheepskin for their slippers which can get damaged by the vigorous tumble and harsh environment of a washer.
Can You Dry Clean Ugg Slippers?
No, you can not dry-clean Ugg slippers as they can cause irreversible damage to the material. As you know, Uggs slippers come with delicate natural materials, which can get dried out or wrinkled due to the excess heat of dry cleaning.
How Do You Clean Smelly Ugg Slippers?
You can clean smelly UGG slippers by using baking soda. Just scatter a bit of baking soda on the inside of your slippers and leave them be for 24 hours. After that, dust off your slippers by banging them on the ground, and your slippers will be fresh and ready to wear.
Wrapping Things Up
Your UGG slippers can be a reliable and comfortable addition to your wardrobe for years, only with proper care and cleaning.
And I hope that this article will help you with this, as I've told you everything you need to know about cleaning and caring for your UGG slippers.
Also, don't forget to comment down below and let me know how helpful this guide was to you!