When it comes to wearing socks with Uggs, some rely on socks, while others prefer to go without.
Likewise, are you wondering whether to slip on a pair of socks with your favorite Ugg boots before heading out?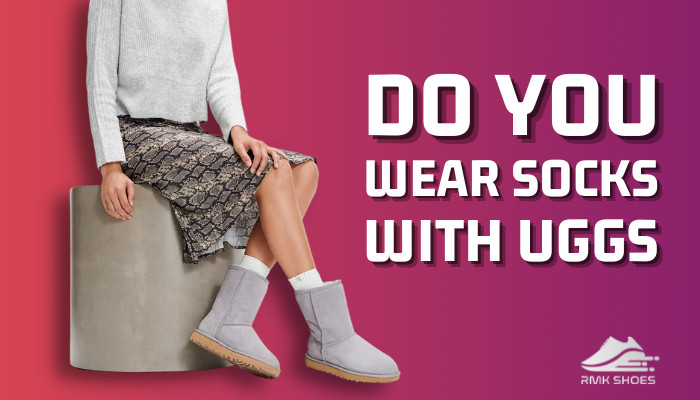 Stop there and let me clear up all your confusion!
After researching for days and wearing Uggs myself, both with or without socks, I've come up with this article to let you know if you really need to wear socks with Uggs or not.
So, keep reading!
Do You Wear Socks With Uggs?
No, you don't need to wear socks with Uggs as they are designed to be worn without socks. According to experts, you should wear Uggs barefoot to get the most warmth out of the sheepskin. Yet, wearing Uggs with or without socks totally depends on your personal preference.
Uggs are made of genuine sheepskin with added warming insulation, making them all-day wearable footwear for winter– doesn't matter if you are hiking the mountains or walking around the city.
As for me, with Ugg boots, I prefer going without wearing socks. Because the natural fur lining of Uggs gives a comfy fit while keeping my feet warm even when I wear them all day.
Also, it's recommended by the brand that, Ugg boots should not be worn with socks as the sheepskin used in the boots works as a natural insulator.
Besides, according to most footwear experts, sheepskin regulates your body temperature and works to its full capacity only when they come in contact with bare skin.
But if you still prefer to wear socks with Uggs, try to choose ones made of natural fibers like wool or cotton.
Why You Shouldn't Wear Socks With Uggs?
The Ugg boots come with a layer of cushioning that acts as a natural thermostat. Hence, they provide a snug fit while getting moulded to your feet as you keep wearing the boots. But, wearing them without socks can stop the wool from getting moulded to your feet efficiently.
However, some worthy considerations are there for not wearing socks with Uggs.
So, let's take a look at the reasons for avoiding socks with your Uggs:
1. Regulating Your Body Temperature
These popular boots are made from sheepskin and are designed to keep your feet warm and cozy in cold weather. Their soft and plush wool interior provides insulation while acting as a natural thermostat.
Meanwhile, when worn against bare skin, the sheepskin regulates your body temperature. Hence, Uggs will keep your sockless feet warm in cold weather and prevent overheating in warmer months.
So, you should avoid socks with Ugg to get the most comfort out of the genuine sheepskin they offer.
2. The Cushioning and Support of Uggs
With the use of natural wool fiber, Uggs provide great cushioning and support to your feet. This active fiber maximizes comfort by distributing your weight evenly while providing additional arch support.
Besides, with the cozy nature of sheepskin, Uggs mould to your feet gradually as you wear them. Because of this extremely flexible material, you can shrink your Uggs easily if required.
But, wearing socks, even thin ones, can hinder the weight distribution and natural moulding process of sheepskin.
So, to get a comfortable and warm experience with Uggs, wear them barefoot.
3. Uggs Keep the Moisture Away
Most people wanna wear socks with winter boots like Emus and Ugg to prevent the development of bad odour from excessive sweating.
But you don't need to wear socks with Ugg if you just wanna keep them free from bad smells. Aside from acting as an insulator, the wool lining in Uggs provides ventilation as well.
Also, the Merino sheepskin by its very nature wicks away moisture and prevents sweat and hence the odour development. Thus, your feet will stay dry and sweat free even if you wear Uggs barefoot.
Overall, I'll recommend you avoid wearing socks with Uggs as they are designed to wear like that. But you need to take good care of your beloved Uggs while wearing them barefoot, as the sheepskin easily gets dirty.
So, to keep them fresh, you should regularly air out your Ugg boots and use a suede or nubuck protector on them.
Wearing Socks With Uggs
Whether to wear socks with your beloved pair of Uggs entirely depends on your personal preference. Though it's not recommended, still some prefer to pair them with socks.
However, when deciding to wear socks with Uggs, you need to keep the following things in mind:
Wear socks made of natural materials like cotton, wool, or bamboo because synthetic socks can limit the effectiveness of sheepskin.
Uggs are supposed to fit you snugly. So, don't wear thick socks, as they can make your Ugg boots feel tight and uncomfortable.
Also, most boots except the Koolaburra Uggs run big. So, if you wear thick socks with Uggs, they may get larger than usual, while putting you in discomfort.
Make sure your socks are not too long. Socks that are too long can bunch up inside your Ugg boots and cause discomfort while walking.
Pick socks according to which variation of Ugg you are thinking to wear. For example, You can wear thin socks with classic Ugg boots, as they already keep your feet warm with the sheepskin. But in the case of models like Chelsea Uggs, you can pair light to middle-weight socks with them.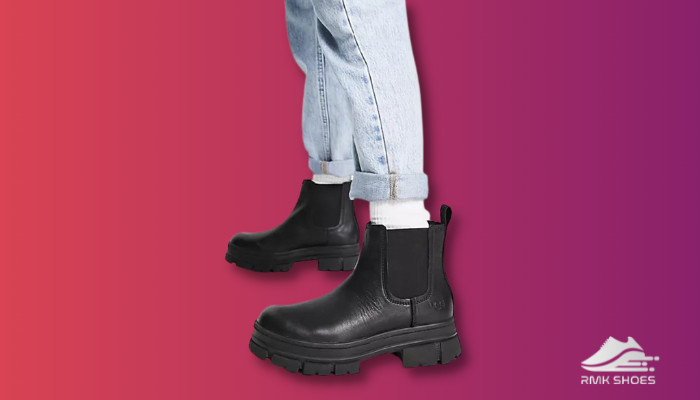 Moreover, regarding wearing socks with Uggs, you should be consistent with your sock choice. Otherwise, you may end up with a pair of distorted Uggs as the continuous change of socks may hamper the natural moulding process of sheepskin.
FAQs
Are You Supposed to Wear Socks with Ugg Slippers?
No, all Uggs models including the slippers are designed in a way that you don't need to pair them with socks. However, Ugg uses genuine sheepskin and the slippers come with cushioned insoles, which keeps your feet warm even without the socks on.
Will My Uggs Stink If I don't Wear Socks?
Your Uggs may get stinky when worn without socks, but only if you wear them while they are still wet. Though the natural sheepskin has the water-wicking ability, excessive use of wet Uggs without socks may allow dirt and bacteria on the Ugg's lining, making them stinky.
Parting Thoughts
With extremely comfortable and durable materials, Uggs can be your best footwear companion regardless of the weather. But, when it comes down to wearing Uggs with or without socks, opinions are divided.
However, with all the information I gave you in this article, you'll get out of this common confusion.
So, no matter what you choose, just feel comfortable and confident in your beloved pair of Uggs.
And, do comment below if you got more queries about Uggs!