After the collaboration with Kanye West, Yeezys 700 became the talk of the town in 2017. Sneaker lovers went crazy, and still, the hype is on.
You understand what I mean, right?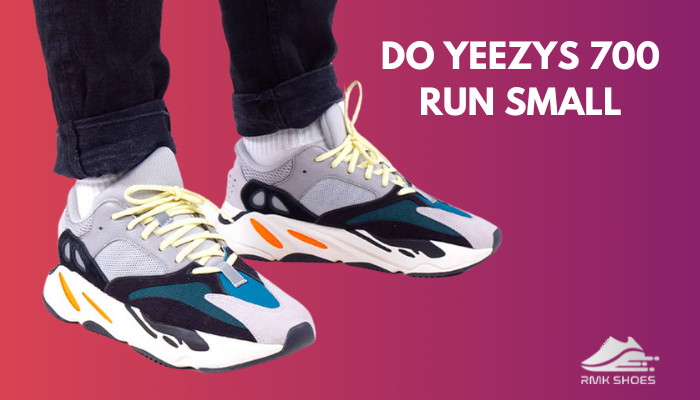 With so many premium features and sizing options for men and women, Yeezys 700 are running in a full speed.
But to run smoothly in these bad boys, you must keep pace with the sizing. Thus, you must know whether Yeezys 700 run small or true to size.
Here in this content, you'll get those questions thoroughly answered.
So keep reading to know them all.
Do Yeezys 700 Run Small?
Well, with the shorter toe box, Yeezys 700 sneakers run a tiny bit smaller. At the same time, 700 Wave Runners are true to size. With the modified V2 and V3, the sizing is slightly snug. So, with different models, the Yeezy size changes accordingly.
Let's dig deeper. Shall we?
The iconic Yeezys 700 has a few options for choosing your preferred aesthetic. With Yeezys 700 Wave Runners, the sizing is to the point. You don't need to go for a size up or down.
But 700 V2 and 700 V3 models are best if you have baby feet. Hey, just kidding! What I mean is these two models are a bit snug fitted.
The use of more padding and underlined materials is the main reason behind it.
Kanye West tried different experiments with V3 and made them slightly tight around the midfoot and toe area.
So, size up half a size or a full size according to your preference.
Yeezys 700 MNVN has a snug fit, and you won't have any problem with the sizing if you have smaller feet like me. Size up half a size for your wider feet.
Follow our guide to know are yeezys good for running.
How Does Yeezys 700 Fit
The Yeezys 700 sneakers will fit you in a way you won't feel you can't walk in them. But for more room, you can size them up.
I am the proud owner of 700 V2 and never had any discomfort degrading the less space in the ankles.
But my besty had to go for half a size up compared to mine; her feet are wider. Wanna be surprised? Both our sneakers fit like a glove.
Now, let's move to the other variations.
In Yeezys 700 V1, you will find their toe box shallow and comparatively tighter. Those who love sung fitted shoes are gonna enjoy them to their fullest.
Even with a bigger sizing, its fit is to the point. Fascinating, isn't it?
However, I can't say the same for V3. They are a bit more snug fit. I would say more than any other models. You should size up half or full-size to rock in these stylish sneakers.
The same goes for 700 MNVN too.
To confirm a correct fit, check out the sizing chart below.
You may also like to read that can yeezys get creased.
Yeezys 700 Men's To Women's Size Conversion
There is no hard and fast rule that women can't rock in men's shoes. You just need to get the right size.
Personally, I am not a sucker for men's sneaker designs.
But, the trend of preferring men's shoes is still on, and many Yeezys female fans are trying the male versions for a new experience or to cope with the trend. Who knows?
The process is the same for Yeezys 700 models, no matter if it's a V2 or V3.
First, find out your actual shoe size. Suppose you are an Adidas size 9, so to get your proper fit buy a men's 7, two sizes down.
However, if you wanna play it safe and don't want a fitted sneaker, one-and-a-half sizing down will solve the issue. In that case, buy a seven-and-a-half size in men's.
Some women are happy with one size down, so if you have wider feet, this is something to consider.
The ultimate suggestion is to try on the men's version and decide on your own.
Go through our epic guide to know are Adidas shoes vegan.
Are Yeezys 700 Comfortable?
With those boost midsole, meshy upper and general chunkiness, Yeezys 700 is the definition of comfort.
You can grab these bad boys, and you are good to climb the mountain.
Well, not the actual mountain, though!
Let's get to the point. With a retail price of 350$, you expect maximum comfort, right?
The 700 Wave Runner is exactly giving you that. These shoes have the boost midsole to give your feet a soft hug. And if you are searching for a chunky dad sneaker, this is your treasure.
Now, moving to my pick. I won't say 700 V2 is out-of-the-box comfortable. They need time to break in.
They give me a perfect balance and comfort.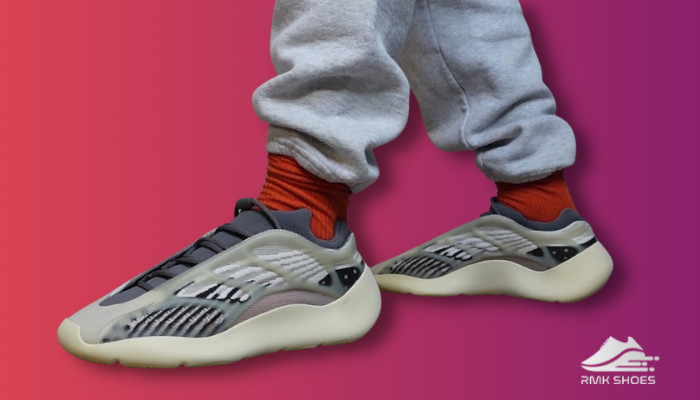 Yeezys 700 V3 is the least comfortable among the series. Why? The answer is the EVA midsole, which is not as comfortable as the boost midsole.
I tried them on but couldn't cope with the balance after using the boost midsole.
Check out our separate post do Adidas run big, small or true to size.
How Can You Care For Your Yeezys 700 Shoes?
You can't expect your expensive sneakers to last long unless you take proper care of them. Yes, you got the right hint.
You have to know the basic cleaning and maintenance process, but it's even better if you have a RESHOEVN8R Dry Suade Kit. For a premium shoe, a cleaning kit is not too expensive!
Let's see how to clean and take care of your Yeezys 700 sneakers:
For cleaning in the washer, it's possible, but the risk is yours. So, maintain the correct manual settings.
Carefully remove the shoe laces to begin with.
Dust off the dirt with a brush. Using a medium bristle brush is the better idea.
Take the cleaning liquid in a bowl, which is gentle for the delicate suede and mesh upper.
Now take the cleaning solution on the brush and create a foamy texture.
Work your way towards the upper and sides properly to clear out most of the dirt.
Clean the grim on the bottom of your sneaker thoroughly.
Now take a soft damp fabric and wipe off the impurities.
I recommend using the magical RESHOEVN8R cleaning kit to get the best result. It preserves the suede material, not to mention the wonderful cleaning capability.
You should read the difference between Adidas vs. Nike sizing.
Final Thoughts
There is no confusion that these majestic Yeezys 700 sneakers are the ultimate choice to carry a stylish yet comfortable look.
Along with the premium features, Yeezys 700 provides sizes for everyone. Though they run a bit small, the problem is easy to solve with the slight size alteration, which I hope I have explained to you properly.
You can even wear men's versions of 700 models if you size them down to a specific extent.
For more interesting updates on Yeezys 700, stay connected.