Finding your perfect Converse fit can be a bit tricky, especially if you're new to the brand. So, it's crucial that you know how the Chucks actually fit.
However, while purchasing this stylish streetwear, it's common to wonder if Converse shoes run big or small.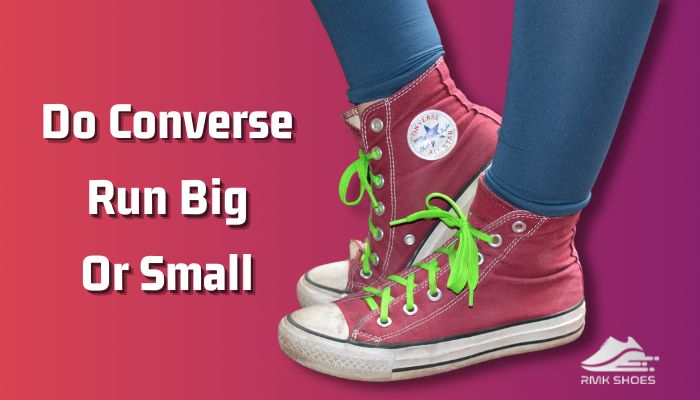 Well, look no further! In this guide, I'll break down how the comfy Chucks fit and what size you should pick.
So, keep reading!
Do Converse Run Big Or Small?
Most versions of Converse run true to size, except the Chuck Taylors, which runs half size bigger than your regular size. So, while buying Converse, for most models you can go with the same size as your usual sneakers to ensure the perfect fit.
But as recommended by the brand, in the case of Chuck Taylors, you should go with a half size down than your normal size. For instance, if you are a US size 11, go with size 10.5 for Chuck Taylors if you prefer a snug fit.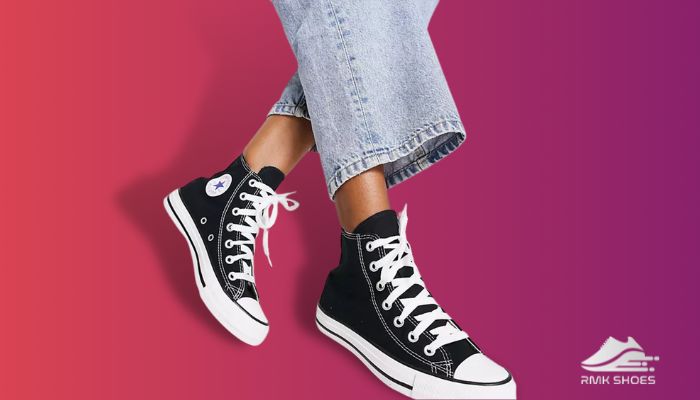 Yet one thing to remember here is that, including the Taylors, all Converses are a bit narrow, meaning they are bigger in length but not in width. And sizing down for Chuck Taylor won't be the right thing to do if your feet are wide.
So, while purchasing, you can size down with Chucks if your feet are average or a bit narrower. And for all other Converse models, just go with the size you normally wear.
Follow our guide to know why are converse called chucks.
How Does Converse Fit Wide Feet?
As said before, Converse fits true to size. All Converse sneakers come in a narrow shape, especially around the toe box. Hence, if your feet are wider around the toe area, going with the regular size may fit you tightly.
Converse, however, offers a wide-width version for most of its popular models. For instance, you can find extra comfort or wide-width variation of Chuck Taylor models for your larger feet.
In addition to that, you don't have to be worried if your desired Converse model doesn't come with a wide version. Because you can just go with a half-size larger one in that case, and that will have enough space for your wide feet.
And for narrow feet, you can size down, and the comfy Converses will fit you like gloves.
Whatever the case may be, never buy a pair of Converse without properly trying them out. Because converse may fit differently depending on the style or even the shape of your feet.
So, try out the Converse pairs and pick the one that fits you best.
Read more on how to remove converse insole.
How Does The Sizing Work With Converse?
Converse shoes have been a staple in many people's wardrobes for decades. Known for their classic style and versatility, Converse shoes are a popular choice for casual wear and even fashion-forward outfits. However, with their unique sizing system, it can be challenging to determine which size to order.
But with a little bit of effort, you can find the right converse size and fitting.
However, to determine your Converse size, measure your shoe size in length and then use the Converse sizing chart given below to find your corresponding size.
| USA MEN | USA WOMEN | UK | EU | LENGTH (cm) |
| --- | --- | --- | --- | --- |
| 3 | 4 | 2 | 35 | 21.0 |
| 3.5 | 4.5 | 2.5 | 35.5 | 21.5 |
| 4 | 5 | 3 | 36 | 22.0 |
| 4.5 | 5.5 | 3.5 | 37 | 22.5 |
| 5 | 6 | 4 | 37.5 | 23.0 |
| 5.5 | 6.5 | 4.5 | 38 | 23.5 |
| 6 | 7 | 5 | 38.5 | 24.0 |
| 6.5 | 7.5 | 5.5 | 39 | 24.5 |
| 7 | 8 | 6 | 40 | 25.0 |
| 7.5 | 8.5 | 6.5 | 40.5 | 25.5 |
| 8 | 9 | 7 | 41 | 26.0 |
| 8.5 | 9.5 | 7.5 | 42 | 26.5 |
| 9 | 10 | 8 | 42.5 | 27.0 |
| 9.5 | 10.5 | 8.5 | 43 | 27.5 |
| 10 | 11 | 9 | 44 | 28.0 |
| 10.5 | 11.5 | 9.5 | 44.5 | 28.5 |
| 11 | 12 | 10 | 45 | 29.0 |
| 11.5 | 12.5 | 10.5 | 46 | 29.5 |
| 12 | 13 | 11 | 46.5 | 30.0 |
| 12.5 | 14 | 11.5 | 47 | 30.5 |
Keep in mind that all Chuck Taylor Converse shoes tend to run larger than other brands. So, you may need to go down a half size or even a full size from your usual shoe size with them.
And for all other styles like Star Players run true to size. And for that, you can go with your standard size.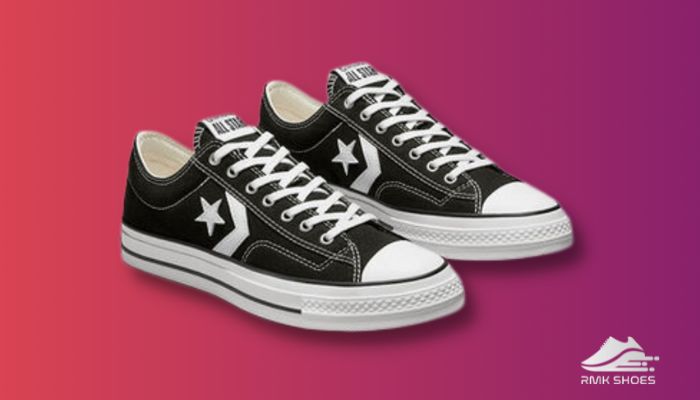 It's also essential to consider the type of Converse shoe you are ordering if you want the right fit. For example, high-top Converse shoes tend to fit more snugly than low-top shoes because of the added material around the ankle.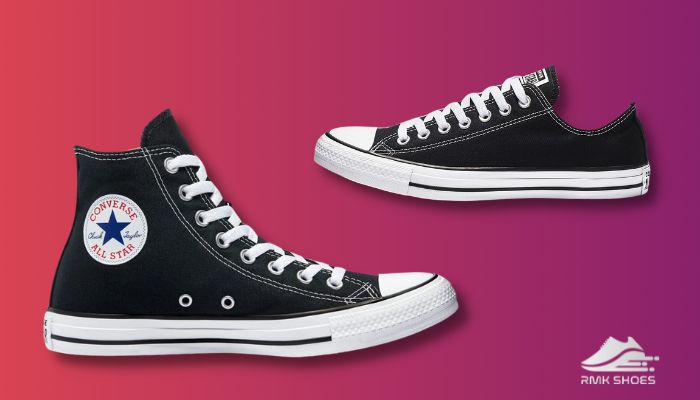 So if the high-top Converse is the one for you, you can size up for a more comfortable fit. And for high-top Chuck Taylors, going with the actual size will do just fine.
But as Converse tends to stretch as you wear them, make sure not to size up more than half a size with classic Converse. And it's better to have a slightly snug fit initially to account for this.
However, whether you choose to size up or down, it's always best to try on a pair of Converse shoes in a store before purchasing them to ensure the best fit.
Do Converse Run Big Or Small Compared To Vans?
Whether Converse runs bigger or smaller than Vans actually depends on the model. Because Converse Chucks do run a little bigger than Vans. But other Converse styles as in Point Stars or Star Players run the same as Vans, meaning both run true to size.
So, if you are switching from Vans to Converse Chucks, you may size down for about half a size. For example, if you are US size 12 for Vans, size 11.5 for Converse Chucks be the right size for you.
And if you are considering other Converse models such as One Stars, you are good to go with the size same as your Vans.
However, the fit may vary with each model and style, so just pick the one that wins your feet with a comfy fitting.
Go through our epic guide on how to stretch converse.
FAQs
Do Converse Stretch?
Yes, all Converse shoes tend to stretch with time as you keep wearing them. Because Converse uses stretchable materials such as suede and canvas for shoe construction. And by nature, the shoes soften with time and mold to your feet's shape with each wear.
Do Low-top and High-top Converse Fit The Same?
Though both Converse styles fit true to size, High-top Converse gives a little bit tighter fit than the low-top ones. This is because of the extended portions around the ankle area.
Do Toddler Converse Run Big or Small?
Converse sneakers for toddlers fit the same as the ones for adults. That means Converse Chucks for toddlers run half size bigger. And the other Converse toddler models run true to size.
Final Thoughts
With the versatility Converse offers, you can get a casual yet exquisite look in no time.
But the biggest confusion about Converse lies in their fit and size.
Hopefully, with all the sizing tips that I've told you, you will be able to find your perfect pair of Converse in no time.
Also, if you got more queries regarding Converse sizing, just drop a comment here!