Many of us have left our trendy converse in the closet because they were too snug.
Since that compact pair matches your outfit, you're definitely looking for ways to resize Converse and make it fit perfectly.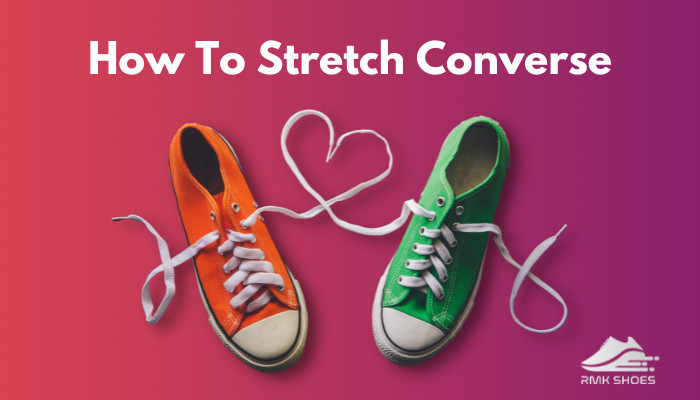 Well, I have some effective methods of converse shoes stretch for you, which aren't tough at all.
So, let's read ahead and find out the ways to stretch converse.
Can You Stretch Out Converse?
Yes, you can resize Converse by stretching out the materials of the shoes. The upper of the converse is made of canvas, which is a sturdy plain-woven fabric. So it won't broaden out too much naturally. But you can manually expand it and make it flexible by following the right methods.
Close-bodied shoes cause discomfort and are unable to provide wiggle room. The sole of the converse is made with stiff gum rubber or vulcanized rubber. You can't soften the rubber soles, and it's impossible to expand.
As a result, you can't expect that the soles of your incorrect-sized converse will enlarge and give you a perfect fit.
All you can do is follow some helpful strategies to loosen its fabrics. This will create some extra space in the side and toe area. Then you can freely wiggle your toes inside the shoes.
Usually, converse takes almost 6 weeks for a proper break-in. So, you might find your shoes a little bit tight fitting at first wear. But if your shoes don't fit even after 6 weeks, you must enlarge them manually. In this case, take your footwear to the cobbler.
If you are not interested in handover your shoes to a cobbler and wanna do the stretching on your own, jump to the next segment where I have highlighted five methods of converse stretching.
However, if you're a boot lover and wanna know about their stretching knowhow, then read through another content to know methods to stretch caiman boots.
How To Stretch Converse?
Stretching out converse is necessary when your shoes are tight and can't provide you with a comfy fit.
For your convenience, I have listed seven proven and easiest ways of enlarging the material of your favorite converse pair. You can also widen the toe space by following any of these methods.
Here are the simple methods to stretch the converse:
1. Regular Walk with Thick Socks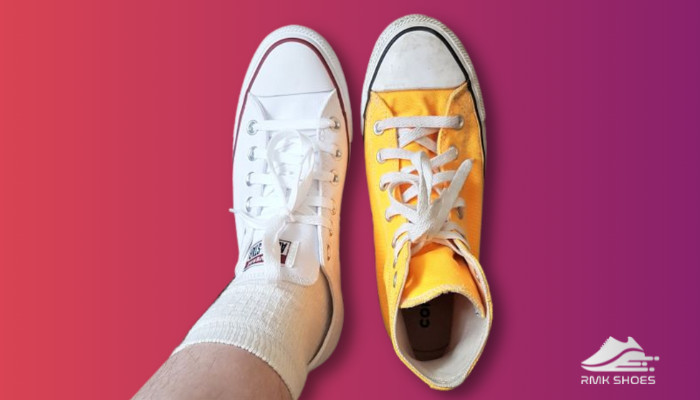 Daily walking in your newly bought shoes is the simplest hack to break in or stretch them.
Put on a pair of thick socks, wear your shoes and walk inside or around the house for 15 to 20 minutes on a daily basis.
Doing this will help the footbed to contour with your feet. Moreover, the material will broaden with the movement of your feet.
Try to wear socks to get rid of blisters. In general, 3-4 weeks of walking is enough to stretch the converse. But in some cases, you have to wait up to 6 weeks for its expansion.
2. Stretching Spray
Do you want to stretch your converse shoes fast?
If so, pick up a canvas material suited stretching spray. It will enhance the elasticity of the material without damaging it.
Spritz a few drops of spray inside and outside the shoes. Then immediately wear it with socks and walk until the spray dries. Repeat this process 2-3 times, and then your shoes will stretch out.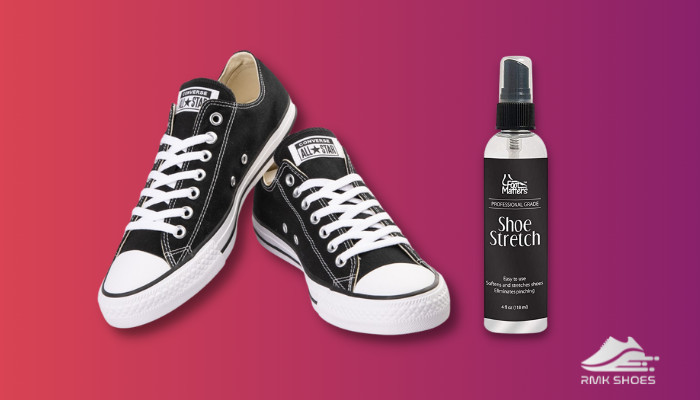 When I face close-fitting issues, I use the FootMatters shoe stretch spray. It is really helpful and suitable for Leather, Suede, Nubuck and Canvas material.
I just spray a moderate amount of it on my shoes for two or three days and go outside for a walk. This act stretches the shoe materials.
3. Shoe Stretcher
You will get two types of shoe stretching tools available in the market – a Ball & Ring Stretcher and a two-way stretcher.
The first one is also known as Iron Bunion Shoe Stretcher. Because people with bunions and hammertoes require extra space in some specific zones of shoes, and this tool performs that task.
Look what you have to do with the ball and ring shoe stretcher:
Remove the shoelace so that the stretcher can reach the targeted position.
Gently put the ball end at the area that feels tight.
Place the ring on the upside of the shoes.
Push the fabric by pulling out the handles or arms of the stretcher together.
Adjust the locking wheel and leave the stretcher in that position overnight.
In the morning, you can hope to get a pair of your preferred size.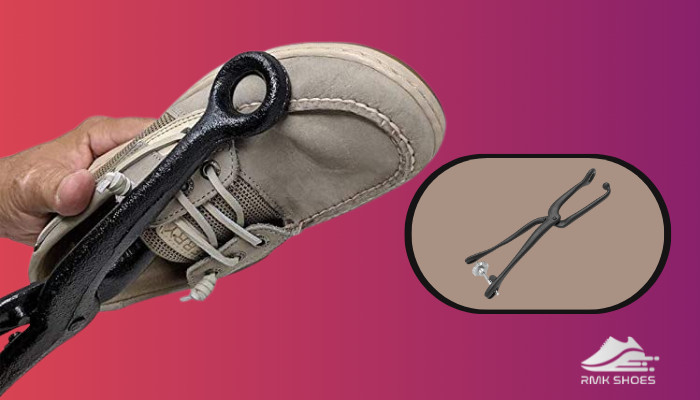 Alternatively, you can use the two-way expander, which is relatively easier to operate. It expands the length and width of a shoe.
Here are the steps to follow with a two-way shoe stretcher:
Place the flat part of the tool inside the shoe.
Rotate the handle in a clockwise direction to widen the shoes.
Adjust the wheel to increase the length.
Wait for 6-8 hours, then remove it from the shoes by turning the wheels and handle. Finally, get a pair of your desired size.
Follow our guide on how to stretch cowboy boots.
4. Use Peeled Potato
Potatoes are for french fries, not for shoe expansion, right?
Using potatoes for this task may sound funny, and you may not want potatoes in your new shoes.
But the result of this funny action is quite satisfying. The fabric absorbs the liquid ingredient from the potato. As a result, it swells and increases the area.
Place medium-sized one or two pieces of peeled potato inside the shoes for 12 hours. Then take aside the potatoes, put them for air dry or take the help of a hair dryer.
This process will add a little toe box more than earlier and fit you well. Repeat the process if your Converse shoes are still too tight.
5. Use Ice
The easiest method, which costs no money. You don't even need to buy potatoes!
This is useful in stretching the whole shoe. Just fill two zip-lock bags with water and seal them tightly. Put the bags in each shoe, wrap them in a polybag then store the shoes overnight inside the refrigerator.
Shift the bags to the area which you prefer to expand. The water will turn into ice, and its volume will be expanded. This will create extra room in the interior and tight areas of the shoes.
Are your shoes still too tight now? And you may want to drop them. Don't do this, just repeat the process.
If you don't have any zip lock back in your home, just place two water-filled plastic bottles inside the shoes.
6. Heating Method
Heating with a hairdryer helps stretch the shoe's fabric. Take a hairdryer and warm up the areas which you prefer to loosen. Do not deliver heat from too close.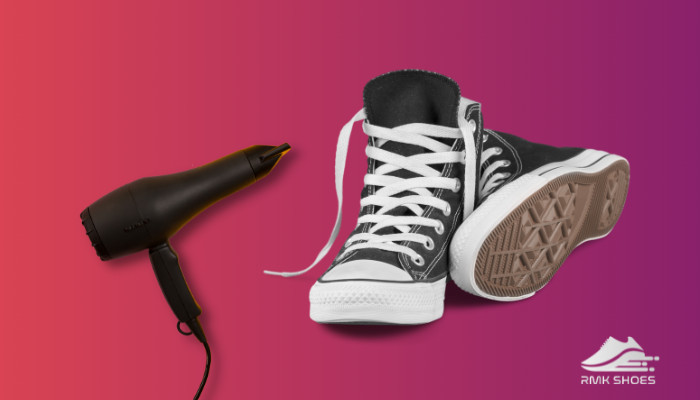 Try wearing the shoes with socks immediately after heating, and walk on them for some time.
Though this method is effective, there is a risk of damaging the materials. As a result, your shoes may not last long. That's why conscious people, including me, try to avoid this way.
7. Wash your Pairs
Another easy way to stretch tight shoes is to wash them. Follow the proper washing process as described below:
Take a bucket of lukewarm water.
Add one teaspoon of mild detergent into it and mix it properly.
Soak the shoes in the water, leave them for 10 minutes, then clean them with normal-temperature water.
Put the shoes in an airy place for drying. Do not expose them to direct sunlight.
Stuff some papers inside the shoes to make sure their shape doesn't ruin.
Washing softens the fabric and causes the canvas to swell slightly, but continuous washing results in color fading out.
Some people also suggest that stuffing newspapers in converse help soften and stretch the materials. But keeping papers in the tight converse shoes doesn't stretch it. I didn't notice any change after putting papers inside my Chuck Taylor converse for about three nights.
Are Converse Narrow or Wide?
The design of most iconic converse sneakers is narrower at the forefoot and slightly broad on the other sides.
Moreover, converse shoes are generally half size bigger. If you have narrow feet, just buy the actual pair of shoes. Its toe box will look narrow as your toes. Go for the wide version of converse shoes if you have wide feet. However, your feet will appear bigger with wide feet converses after stretching out.
Properly fitting shoes are important for both narrow and wide feet owners.
Loose or too-tight shoes that do not conform to your feet lead to soreness and discomfort.
So, buy the wide version of the new converse shoes for your wide feet. This will ensure enough room for your spread toes and comfy movement without hurting the feet.
Having trouble wearing converse due to the swelling of any part of the foot? No more worries!
Just stretch the fabric of the shoes so they fit.
FAQ
Is it better to size up or down in Converse?
Most Converse shoes run a half size bigger. So, purchase a half-size down. If you have already bought oversized, just change the size.
Should Converse be tight at first?
In general, almost all shoes give a snug fit at first wear. But when it passes the break-in period, it offers the actual fit. If the fit does not become proper, stretch your shoes.
Why is my Converse so uncomfortable?
Your feet might be unable to conform to Converse sneakers' sturdy upper and interior. Wear woolen or thick socks to have a comfortable walk and get rid of blisters.  Gradually, the sneakers will cope with the shape of your feet.
How Do You Get Oversized Converse to Fit?
First, try to change the size and get your own. If it's not possible, wearing chunkier socks or heel pads may help you.
Final Words
It's high time you store your too-tight pair of converse in the shoe rack and make them a comfy wearable.
If you wish to chill in the busy streets of New York wearing that pair, just bring them back, stretch converse shoes and get a suitable fit.
These methods are not only applicable to converse. You can also follow them to stretch any leather-made shoes.
Knock in the comment section for any additional queries.