Caiman boots are famous for their incredible look with their affordable price. It offers you a very comfortable and durable feature. 
But after all conditions, they are not that much stretchable like other leather boots. 
Recently I purchased a pair of caiman boots from an online retailer. The boots were very good-looking, but when I tried them, there was some problem with sizing. 
After that, I researched online for more than 2 days to find the appropriate procedures to use and stretch them properly, and now my caiman boots fit nicely. If you face the same problem with caiman boots, then you are in the right place.
Please keep reading till the end to learn some effective stretching methods.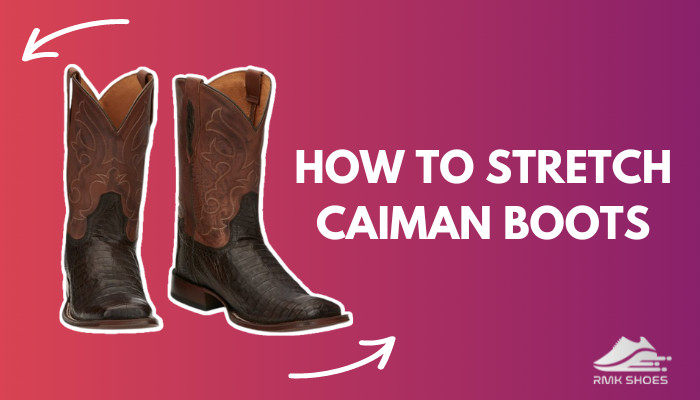 Do Caiman Boots Stretch? 
Caiman is smaller than the other alligators. The crocodilian community has 23 different types of alligators, and caiman is a distant cousin of the alligators. 
But the caiman is different from the others, for these reasons, their scale is a little bit hard to stretch. 
Caiman deposit the calcium inside their outer skin. The scale is quite bony structured, it's a tough extent than the other exotic leather.  It is the most durable leather, but it is the longest break in time for its distinct pattern scale. 
If you want to stretch the caiman boots, you have to apply some extra procedures to proper stretching. You must be careful when you exert pressure to stretch your caiman boots.
Whatever you do to stretch before that, you have to know the limit of caiman leather.
Check out our separate post on Caiman Boot Care: Know The Best Way To Maintain Them
5 Effective Methods to Stretch Caiman Boots
If you want to purchase a pair of caiman boots, it's a wise decision because it is cheaper than the other crocodilian boots. 
But you should pick the right size of caiman boots, it's quite difficult to stretch or break in. Be sure you get the right size when buying a pair of caiman boots, or buy a size up.
Caiman boots are famous for their durability with the iconic bony structure. It won't have that much flex or comfort after usage over the years. If you search for stretching caiman boots on the internet, you'll find a number of useless methods.
I'll help you to choose the effective stretching methods which I also use while stretching caiman boots.
Here are the stretching methods you should apply for your desired result:
Steam Method
Many people are afraid of this method, but if you do it perfectly, it's the most effective one. 
You will be more careful while using the steam method to reduce the chance of any damage.
Step 1
If you have a professional steamer it will be great, otherwise it's perfect to use boiling water for this procedure.
You have to exact 20-30 seconds of direct steam inside the boot. 20 seconds is enough, but for the rough scale of caiman leather 30 seconds is okay.
Follow our guide on how to Stretch Cowboy Boots.
Step 2 
Check the leather after steaming. Is it soft?
For their tough scale, it's difficult to make that much softer. But if you want more, re-do the 1 step carefully.
You have to be careful while you steaming the boots.
Step 3
After steaming, you have to put them on your feet. If you want more stretching then walk around putting them on.
Step 4
This is the final one, don't take them off until the boots are fully dry.
It's a must-do step, I know it's quite difficult to dry boots on your feet. After properly completing this step, you have to condition your caiman boots.
After the steam method, your boots might look rougher, so you have to moisturize them.
Immerse In Water Method
First, you have to take a large bucket or tub full of water. It's difficult to submerge a favorite pair of boots, for these reasons many of us skip this method.
Step 1
You have to immerse the whole boot in an upward position into the tub or bucket. Keep them until the boots soak some water.
Step 2
When you feel the insole is also wet and absorb some water, then pick them out.
Step 3
Walk around along with the wet boots. Putting wet boots on your feet might be uncomfortable, but it also brings a different experience.
You wear some socks if it is okay for you.
Step 4
Keep them on your feet until the boots are fully dry. You have to dry them on your feet.
Step 5
Lastly, you have to condition your boots. Because of submerging, they look so rough after conditioning it will be alright.
Frozen Bag Method
We all know the basic science is water expands when it turns into ice. If you do this method properly you will get a sure result.
Step 1
You need to find an appropriate size of water bag and fill 60-70% of water and then seal the bag.
Step 2
Before inserting the water bag into the boots make sure the bag is properly sealed. Check twice if there is any confusion of leakage.
Put the bag in the toe box of your boots. Ensure that the bag will cover the full toe area. It will surely increase your box area.
If there is any confusion, you put some paper under more pressure to get a better result.
Step 3
Put your boots into the freezer until the water becomes ice.
Finally, remove the ice bag carefully. Little ignorance might be poured water on all things.
Chances are changes might be slight, for the better result you complete this very efficiently.
Double Socks Method
It's the easiest method to increase the insole of your caiman boots. You have to wear a double pair of thick woolen socks.
The pressure of two thick socks increases the boot box area. You should wear the socks repeatedly and walk while wearing them.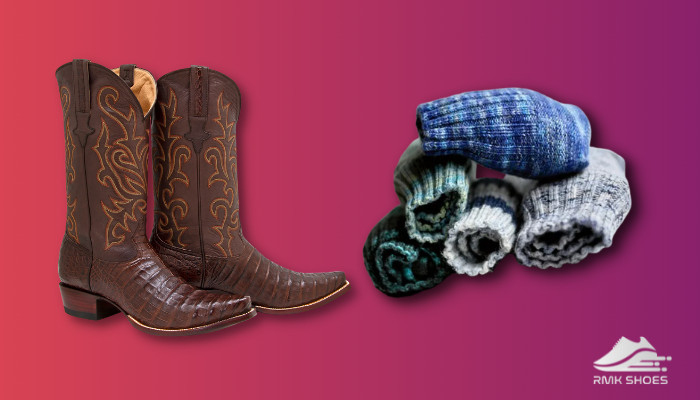 It might be difficult for you to wear thick socks but you have to do it if you want the desired result in your boots.
You can apply oil inside your boots to get the best result in a short duration. 
Stretch Spray Method
Buy a leather shoe stretcher spray from a boot shop. It's a simple and technical way to stretch your boots properly.
Cobbler uses that spray because it's more time consuming than the other methods.
You can use the stretching spray where you want to stretch. After spray you have to put them on and walk smoothly.
This product is designed to specially stretch the leather boots permanently.
Just spray gently inside the boots and put them on. When you take off your boots you find some drastic change.
For Caiman leather it's more effective than the home remedy because that leather is tougher than the other scale leather.
Check out our separate post on how to Stretch Suede Shoes.
How to Stretch Caiman Cowboy boots?
It may be possible to have caiman boots that you currently own which are too congested or tight stretched professionally to fit without causing any damage to the boots.
You might want both a boot stretcher and a boot shaper because cowboy boots have such a lengthy shaft.
Boot Stretcher for Cowboy Boots:
The most practical approach on this list (that is also the most efficient) is using a western cowboy boot stretcher.
A boot stretcher is made of two joined foot-shaped pieces of wood. It is paired to a device that may be used to expand the wood pieces .
However, boots made of tiled leathers, like caiman or crocodile, should be stretched at the customer's risk because they are particularly vulnerable to stress.
Boot stretchers also work quite quickly, a half-size increase can be seen in as few as 6 hours.
Here's how you can utilize a cowboy boot stretcher:
Step 1
To prepare the material for stretching, apply shoe stretch spray to the inner of your boot.
Additionally, you can use a towel dipped in shoe stretch spray to clean the interior of the boot.
Step 2
Before stretching, if necessary, place the plugs in the toe block's appropriate plug positions. Be sure to double-check to see if it has reached the toe box's end or not.
Step 3
Stretch the toe block by turning the spreading handle around to widen the boot. For the best results, turn it another 1-2 times after it is sufficiently snug.
Step 4
Once the stretcher is set to the proper width, place it in your boot for at least 5 to 6 hours. Turn the widening handle counterclockwise to fully retract the block before removing the stretcher.
It only takes a few turns of the handle in the opposite direction to do this.
Also read, Do Rain Boots Stretch.
How Do You Care for Caiman Boots?
Although certain changes, caiman skin resembles that of alligators and crocodiles in other aspects.
They are a popular option for boot wearers and are also renowned for their longevity.
However, repeated exposure to a lot of water can harm the polish of your boots.
Here is the several methods to care for your Caiman Boots:
Wipe your caiman boots thoroughly with a dry towel to remove any dirt or dust. A suitable cloth to use is a moist one for items like sand.

To carefully brush off extra dirt and dust from your boots, use a soft brush or a moist cloth.

Use saddle soap or a solution made specifically for reptile leather if necessary.

Applying a conditioner on the boots is a smart idea. Ask your nearest boot dealer what products are appropriate.

Use a soft cloth or brush to apply a few light coats of exotic leather conditioner to the outside.

Polish your boots with some shoe polish. 

Choose a cream-based moderate or complementary color polish, then lightly rub your boots with a soft cloth to add some shine.
Your boots will look wonderful and last for a very long time with a little bit of maintenance.
Are Caiman Boots Comfortable?
These are only strong dress leathers. The way they are treated will determine how they wear it.
These leathers can be identified by their regular testing, which are more straight off.
The patterns on the boot are more consistent when caiman skin is stretched over an ankle during the boot-making process.
Boots made of caiman skin are available in different designs and shades. They might feature designs and patterns that range from western to exotic.
Additionally, caiman boots for men and women are easily accessible. They are not only attractive but also provide incredible toughness.
For each pair of shoes made from caiman skin, you can choose between using the belly or the hornback. The scales in the middle of the belly are flatter and smoother.
Caiman skin offers a competitive advantage by bringing apart a premium, upscale appearance without using extremely expensive raw materials.
Using this less expensive exotic leather gives you better rewards.
The difficult leathers require more accurate fitting. Typically, only the area directly behind the toe is made of exotic leather.
The way they handled the leather is more essential than where the leather came from. It needs to be flexible and silky.
As the more hard scales fight against one other, the more flexible area of the leather gives way.
Caiman skin is excellent quality and ideal for shoemaking while being near the bottom of the crocodile skin hierarchy.
Final Twitch
Alligator and crocodile skin are more expensive options that approximate caiman hide quite closely.
If you are concerned that you will harm your boots while stretching, go to a nearby shoe repair shop.
In order to stretch the boots as little as possible they use specialized stretching devices that concentrate pressure and heat in precise spots.
I hope that information will help you choose the pepper way to break in your Caiman Boots.
If I missed any crucial procedure or if you have any questions, Please share your opinions in the comment section below.