It feels bad when you like a pair so much but hesitate to buy them due to the fear of blisters.
You don't want that, right? Me neither.
Last week I encountered such a dilemma myself. And if I didn't know the hack to make converse mold into my feet, I might end up heartbroken!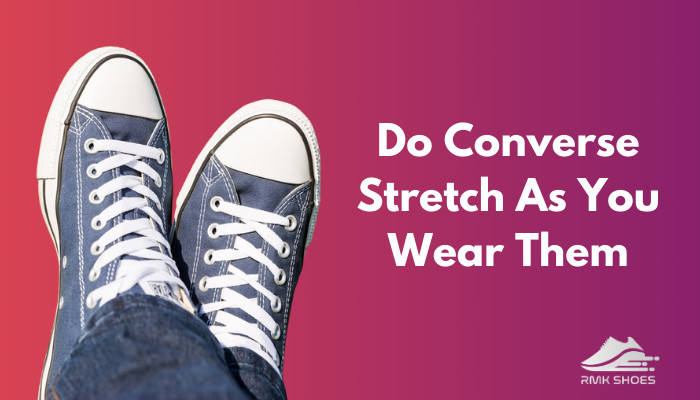 In order to rescue you from such a heartbreaking or feet-hurting situation, I came up with this content.
After reading till the end, you'll learn some useful facts about converse stretching and know the best way to make your life easier inside of a sneaker!
So, let's start by uncovering facts about whether converse stretch or not as you wear them over time.
Do Converse Stretch As You Wear Them?
Yes, Converse do stretch over time as you wear them. And after the break-in period, these shoes will mold around your feet and give you a maximum level of comfort.
Converse shoes are made to run small per se, and the soles are usually congested. So, comfort may hardly be found in a brand-new Converse pair. That's why you'll need your converse to be stretched a bit so your feet can find space. Give it time to settle down first, then comfort will follow!
However, Converse shoes are pretty flexible and will soften over time, thanks to the woven materials used to make them. And you'll feel wider inside as you walk more on it.
After 1 month of using my All-Star, it stretched out, and my converse make my feet look big, and they appeared a little bigger and wider. Though these are super comfortable pairs, wide-feet people like me have to face such an inconvenience sometimes with Converse.
Though Converses don't stretch permanently after you hit the break-in, they do loosen up as you wear them over time. But it will not stretch to a severe level, not too much to fall apart!
4 Ways To Stretch Converse and Break-in
In order to wear your shoes comfortably, it needs to be stretched when the build is compact. Converses are no different. The break-in journey will get smoother if your shoes tend to stretch. And what if I tell you there's a way to speed up this process a little bit? Wouldn't it be great?
Well, I'm gonna deliver you those ways to stretch your Converse shoes and speed up the break-in process. Now, let's learn how you can quicken the break-in and find the sweet home for your feet!
Here are the 4 ways to stretch your converse easily at home:
1. Wear Them Around The House With Thick Socks
The basic way of stretching new shoes is by wearing them. But this way can give you unhappy blisters and other painful sufferings.
Here is a good thing about Converse shoes. Because of the woven materials, you can manually fix up the issue without going through the horrible phase. Wear sneakers with thick socks to get a smooth result. However, it may not be your preference to wear thick socks when walking outside.
Here, wear shoes with socks and walk around the house. I recommend you start doing this right after buying the brand-new converse shoes.
2. Bend Repeatedly and Wash Them
The flexible materials make converse so friendly so that you can bend them as you wish.
Unlike leather shoes, sneakers are very pleasant and flexible. Thus, you can easily bend them without ruining the structure.
Bend your shoes repeatedly to get the best outcome and an easier break-in. Moreover, converse shoes are washable. So you can also wash them regularly. And every time you wash a sneaker, it'll loosen up a bit. This way, you'll get both cleaned and stretchier shoes.
However, if you're a boot lover rather than sneakers, then check out the popular brand Doc Martens stretch and what to do with tight Doc Martens.
3. Stuffing
Another way to manually soften a pair of compact shoes is to stuff them with some usual stuff.
It's the easiest way to loosen up converse shoes. Just grab some stuff like newspapers, clothes or socks. And then put them inside your shoes.
Make sure that the stuffing is squeezed tightly enough to make the shoe stretch.
Leave them overnight and see if anything changes. If you're not satisfied with the result, then repeat the procedure once again.
4. Shoe Stretching Tools
Shoe stretching is not an easy task if it needs to be done naturally. But also, it's necessary to break in the shoes to make your feet comfortable, right?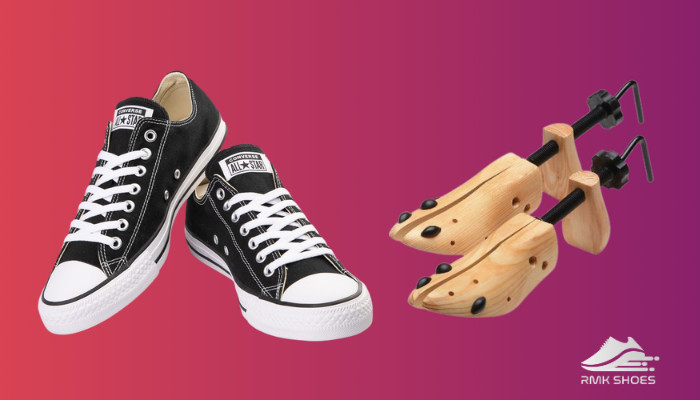 That's why shoemakers came up with some tools to make your life easier. Shoe-stretcher is such a tool that'll stretch your shoes exactly how much you want them to be.
For the converse shoes, using a shoe stretcher can be your lifesaver. You can adjust both the height and width of a shoe with a shoe stretcher. It's very customizable yet simple to use.
Once installed properly, you should keep it for at least 24 hours to get the desired result.
Does Leather & Platform Converse Stretch?
Yes, just like the basic models, leather and platform converse are also stretched out. However, it has to be made with real materials like genuine leather to make it through smoothly.
With that being said, you may wonder whether the top-notch designs of Chuck Taylor will fit you well and comfort your feet. Yes, I'm talking about the stylish leather and platform converse!
Though many people think leather materials are hard to break in, those are better than cloth upper.
Because of the perfect finish in the leather upper and the well-blended build, both leather and platform converse are perfect for comfort. Like the woven sneakers, you'll just put some mileage to it!
However, those leather-made and platform converses do not differ from regular pairs in stretching out. They'll make you space inside if you give them a little time.
Why You Might Wanna Stretch Your Converse Shoes?
Converses are highly versatile shoes that go with every fashion style and casual wear. You can even wear converse in your 50s!
But with such convenience, there are some drawbacks. Converse shoes can be as hard as to give you blisters!
The canvas structure is pretty hard and made to fit your feet tight to provide security. That's the main reason you may wanna stretch your sneakers.
However, there are some more precise reasons why you need to stretch your converse shoes. I'm now gonna discuss them one by one.
3 Reasons why you need to stretch your Converse shoes:
1. For Breaking into a New Pair of Converse
You need to initially go through a painful phase to find comfort within your shoes.
Among the materials used to build shoes, suede will loosen up faster than others. Unlike leather, it'll take a little longer to soften the fabric used to build Converses.
Thus, the breaking-in period can be a serious hurdle in the case of converse shoes.
Sturdy materials, zero arch support, narrow sole construction, stiff fabric or leather and traditional sneaker build – all of these elements made it harder to adjust.
So, you need to make sure that your shoes stretch out over time, whether it's sneakers or a platform. And for the boots, breaking in doc martens can be done overnight. Follow them to know more about breaking into new pairs.
2. To Adjust a Tight-Fit Pair
Because of the building structure, converse shoes usually run small. Thus, those shoes come a little bit tight-fitting, and you face trouble fitting them.
Compared to most sneakers, Converses are a little narrower. There is not much space in the toe area. And if you have wider feet, then things will get really hard.
Fitting perfectly within a Converse shoe is no cakewalk. Picking up the right size during the shop for converse shoes can be confusing. That's why you need to know how to measure your feet easily yet perfectly.
However, it's really helpful to know that Converse shoes will stretch out a bit as you wear them over time.
You don't need to buy a size bigger to fit you well. But what you need is to tolerate the unpleasant breaking-in period. After that, your shoes will loosen up to fit your feet perfectly.
In the previous section, I've shown some tricks to quicken the break-in phase and stretch out shoes manually.
Hope you get the needed information to work with by now!
3. To Avoid Getting Blisters From New Shoes
In terms of shoes, the journey doesn't start sweet most of the time for your feet. Those usually remain hard and difficult when you buy them at first.
Converse shoes are made out of cloth and woven materials. Moreover, the heel drop and arch support are usually not up to the mark in most sneakers.
All of them make your trip with a new pair of converse unpleasant. You may get blisters and even get injured in your ankle and Achilles.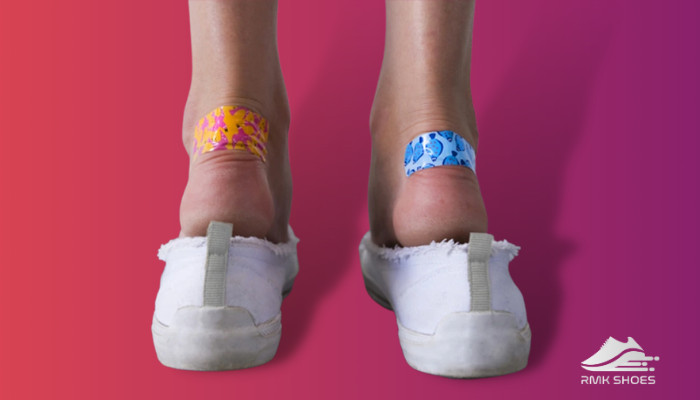 So, it's necessary that your new shoes will soften over time and blend perfectly with your feet.
Sneakers are a stylish option for casual wear, and also converse is considered an athletic shoe which is why it's very popular. But the stiffness of such classy shoes can make you worry about buying one.
Consequently, you may want to stretch your converse shoes after breaking in. Stretching out to a moderate level makes converse comfortable yet stable on your feet.
Are Converse Shoes Good for Wide Feet?
Converse shoes usually have narrower toes and run small. Most of the models have compact space within the shoes. This may make it worse for wide feet.
But the good thing is that converse can loosen up over time as the material is very flexible.
Moreover, the ways I have mentioned to stretch your converse shoes can make enough room for wide feet.
The best option I recommend is using the shoe stretcher tools to adjust your pair. This will solve your problem altogether, even if you have wider feet!
So, nobody can tell that converse shoes are bad for wider feet.
Go through other content to know the different types and uses of Shoe Stretchers.
Summing Up
Converse shoes are a versatile option that you can use to wear with pretty much anything from your closet. It'll give you a casual yet elegant look.
Despite being so perfect sounding, the biggest trouble lies in its fits.
But the good thing is, these shoes do stretch out over time as you wear them. And if you don't want to go through a painful break-in phase, use the tricks I showed you.
Leave a comment and let me know which method you use and what result it produces.
Also, shoot me with any further queries regarding such shoe problems.