The footwear of Doc Martens made an iconic stand with its air-cushioned sole. It produces shoes like nobody ever made before.
Recently, I found that many people have a common query about Doc Martens. They wanna know, Do Doc Martens stretch?
As a footwear enthusiast, I always like to explore varieties of shoes.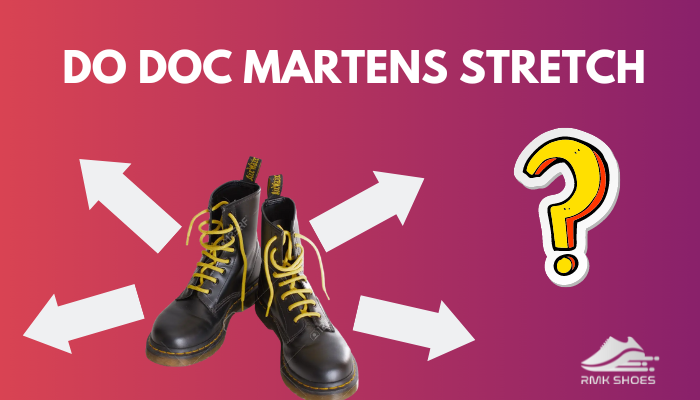 So, I thought of answering this common question. Without any delay, I started my research and trial with Doc Martens boots.
In this article, I've noted each stuff about Doc Martens stretching. If you're eager to know about this, you've reached the perfect platform.
Keep reading till the end to gain some actual insight and my personal experience of using Doc Martens.
You may also like to read about are Doc Martens slip resistant?
Do Doc Martens Stretch?
Generally, the footwear of Dr. Martens stretches with time. That doesn't mean that it will be too loose to wear.
You must be thinking the boots will be uncomfortable and loose after stretching, but actually, you're wrong.
Let me explain the reason!
Most of the Doc Martens boots will provide you with a little tight fit in your first wear. But within a couple of weeks of regular use, the boots will expand a little. That's how you will get your perfect fit.
Doc Martens use leather, suede, nubuck and patent to make their footwear.
All of these materials are soft enough but sustainable. Therefore, the boots stretch automatically. It offers DMS sole, bex sole, quad neoteric sole and quad max sole. Among them, the quad max sole is the most popular.
Leathers like Nappa, Virginia, and Carpathian are very smooth. Shoes that are made from this type of leather expand fast compared to others.
In a word, I'll say that the materials and artistry of Doc Martens make the footwear expand over time.
But the expansion is not too high rather, it's within a moderate limit.
Follow our guide to know are Doc Martens considered work boots?
What to Do With Tight Doc Martens?
Suppose you bought your favorite pair of Doc Martens boots. You became really satisfied with its cushion and airflow.
But you're feeling a bit tight with your regular size. Now, what to do?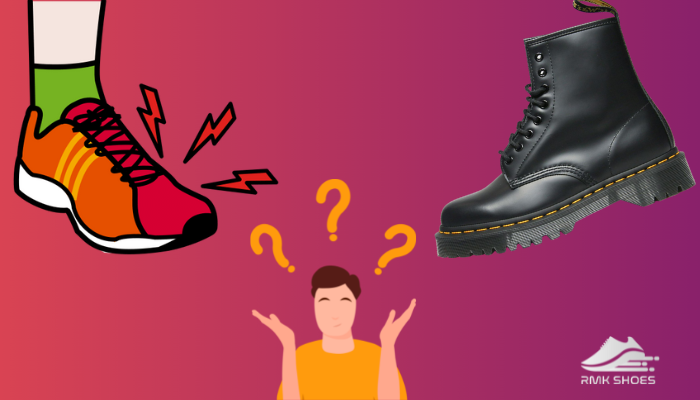 You're probably thinking of going to the shop again and changing the previous size to a bigger one. But that won't be an effective solution.
Because Doc Martens size will expand, a little bigger size will turn into a too loose fit. I gathered some solutions to this issue. Here, you don't need to change your boots by bringing a bigger one. You should just follow some methods.
Therefore, regular-size boots will stretch out and provide your feet with a cozy space.
Here're 5 fruitful methods to stretch Doc Martens Boots:
1. Apply Stretch Spray
It's a quick method of stretching. If you don't wanna wait for 2-3 weeks to stretch your shoes, then you should depend on the stretch spray.
I'll recommend applying spray once every day for a total of three days.
You have to spritz this spray inside the footwear. Leave it for 20 minutes. Then wipe with a clean cloth.
Make sure that your shoe material is suited to the stretch spray.
You can buy FootMatters Professional Boot & Shoe stretch spray from Amazon. It's suitable for leather, suede, nubuck and canvas. 4 oz of stretch spray costs $9.99.
2. Use of Can or newspaper
I followed this technique in some of my boots. Though they're not Doc Martens, these tricks didn't fail. But those boots were made of relatively soft leather.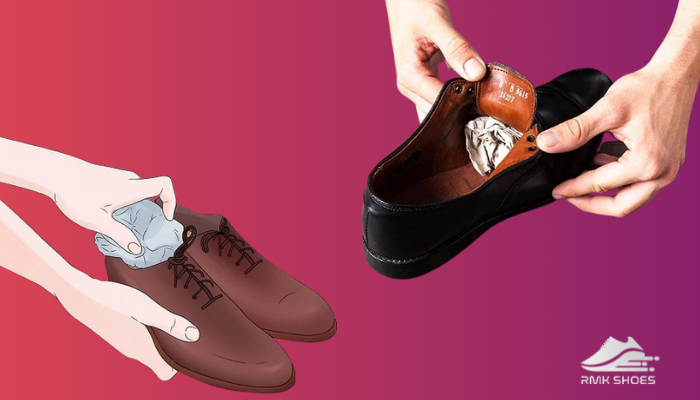 I used to put a Cocacola can in my boots when it wasn't in use. Doing this made my boots a little bit looser as I expected. But it's a long-term task. I remember that it took around 2 months to stretch by following this method.
You can also use newspapers instead of cans. It will definitely work.
3. Rub Wonder Balsam
Wonder Balsam is a mixture of natural and synthetic waxes. 85 ml of it costs $10. Gently rub wonder balsam outside your boots. It will make the leather soft and stretchy.
Moreover, it will add glaze to your boots. Note that wonder balsam isn't suitable for suede and vegan materials.
4. Use Heel pads
Heel pads create comfort. It's also a part of medical treatment for people suffering from aches in the heel area. If you constantly use heel pads, your boots will loosen.
Hence, the extra room will be created inside your boots.
I used to insert pads with my boots with long heels. Those heel pads were suede made. It prevented blebs in my ankle and offered a comfy room for my feet.
5. Use Shoe Stretcher
A shoe stretcher is an instant remedy for your tight shoe. Dual-way shoe stretchers will expand your shoe's length and width.
I won't suggest using a shoe stretcher because it's an extra expense. Each way shoe stretcher costs $22 on Amazon. Why will you spend money when you have a free-cost option for stretching shoes?
Honestly, I'll rather spend that money on buying crisp chicken fry from KFC.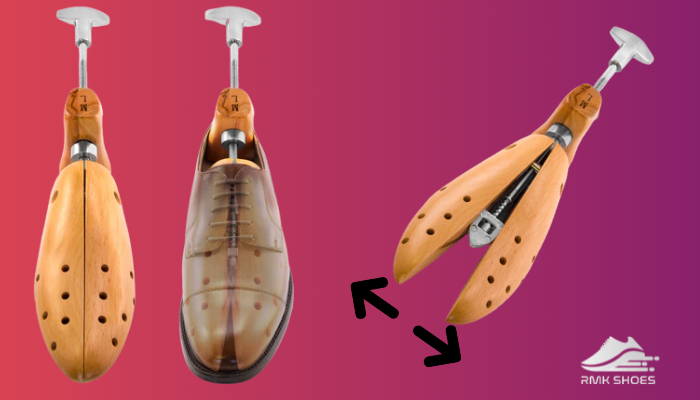 I followed a different method which I didn't mention till now. And it was wearing Double Doc Socks.
Double doc socks are thick with padding. It will add an extra layer of protection to your feet. And so, your feet won't face any blisters and pain.
In the beginning, my feet felt tight inside the Doc Martens boots.
So, I started to wear double-doc socks with my boots. I regularly walked with it for 15 to 20 minutes in my yard. It felt tight but comfy due to the thickest socks.
I was amazed after 3 weeks. My boots stretched to the level that I wanted.
So, if you can continue wearing double-doc socks with your boots, it will create a comfy zone for you. You can buy doc socks for $10 from Amazon.
Kindly don't wear tight shoes for more than 30 minutes a day. It will harm your ligaments.
This technique seems more affordable to me because I can wear those socks with other boots and also in the bitter cold.
Also, check out our separate post on are Doc Martens good for snow?
Can You Shrink Doc Martens?
Till now, I've shared all of the stuff related to Doc Martens stretching. But what will you do if your Doc Martens boots are looser than necessary? Because it'll expand more over time.
You must be guessing that I'll suggest useful methods of shrinking your Doc Martens.
You're absolutely wrong!
I won't mention any lame ideas for stretching your Doc Martens. Many people suggest scrappy techniques for stretching. But you shouldn't follow those.
Because leather, suede, patent, nubuck and canvas make those boots. These materials are quite sensitive.
So, be sure that your Doc Martens boots will not shrink rather, they will damage. And it will be unworthy to wear.
To avoid all of these hassles, always make sure to buy the Dr. Martens boots, which are true to their size. Though it'll stretch a little bit naturally, it won't bother you too much.
Best Socks to Stretch Doc Martens
To stretch my Doc Martens, I used to wear double doc socks. Apart from those socks, I used some other socks, which were extremely useful.
These socks stretch Dr. Martens boots. You'll also get comfort while using these socks with other boots.
Here're the best 3 socks that I used to stretch Doc Martens:
1. Fox River Wick Dry Military Socks
These sand-colored socks are one of my favorites. It comes with extra cushioning with an exact fit. It's made from polypropylene, nylon and spandex material. That's why it's easy to clean and dry.
I bought these socks from Amazon for $14. These socks are available in black, sand, coyote brown and foliage green color. You can purchase any of these according to your preference.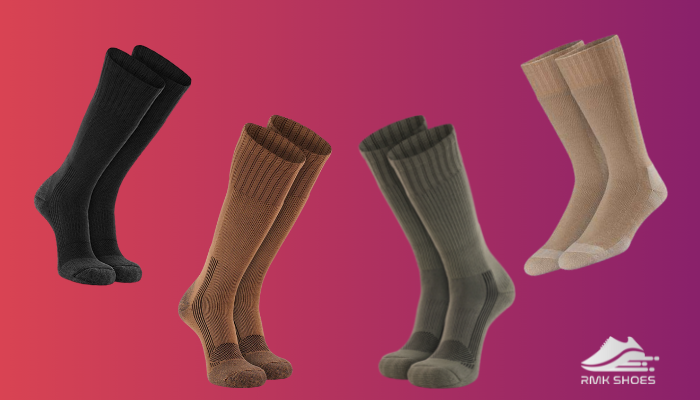 Secret technology is followed to fabricate these socks, which results in easy drying and free from bad smells.
2. Ortis Merino Wool Cushion Crew Socks
These socks are made from Australian merino wool. Its cushion is heavy and breathable. It's very thick so that it will protect you from blisters.
One thing I found in these socks is they are suitable both in summer and winter. But I didn't like the color combination and design of these socks. It offers mixed color combinations. The price is affordable. 4 pairs of socks cost $27.
3. McCool Mary Turn-Cuff Casual Ankle Socks
The design of these socks attracted me as soon as I saw them. It's really affordable. And the color combinations are just awesome.
It's super smooth with combed cotton, spandex and polyester. Six eye catchy shade with frill designs at the upper forced me to buy this pair.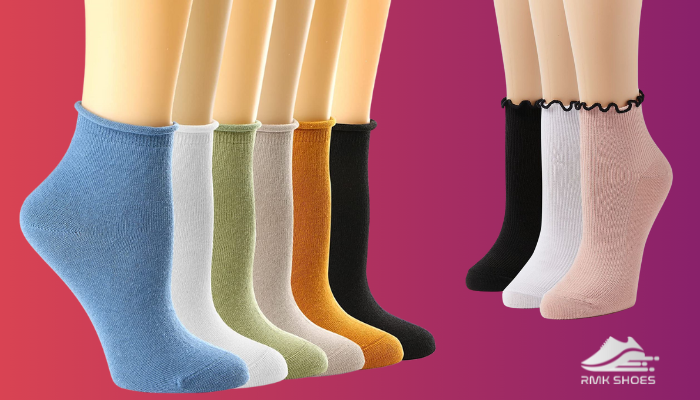 I gained a stylish look and stretchy Dr. Martens boots by wearing these socks.
Are Doc Martens Suitable for Flat Feet?
For flat feet owners, choosing the perfect footwear is a major dilemma.
Dr. Martens boots are suitable for flat feet owners. It was 1945 when Dr. Klaus Martens invented these boots for his own injured feet. He added an air-cushioned sole to his boots. By wearing these boots, he successfully recovered from his foot injury.
Since Dr. Martens was previously focused on making shoes that will heal from a foot injury, it is also concentrated on making shoes suitable for flat feet owners.
Dr. Martens boots provide superb ankle and arch support. Their quad max sole is breathable and highly cushioned.
One of my cousins with flat feet wanted to style with boots. I offered him Dr. Martens shoes. She found comfort and support with these boots. Also, she was pretty happy wearing boots.
So, I'll recommend buying Dr. Martens footwear to any flat feet owners.
What Size Should You Purchase?
Boots of Dr. Martens ensure precise sizing. I purchased Dr. Martens boots of size 36. It was a good fit for me.
But I prefer to wear socks with boots. With socks, my boots became close-fitting. That's how I felt relieved.
So, I'll suggest you purchase the actual size footwear of Dr. Martens.
But if the width or length of your feet is slightly bigger than most people's, you should choose a half size up to the exact size.
Related contents you should read about the best alternatives to Doc Martens.
The Last Words
Considering style, comfort and size, Dr. Martens footwear are worth grabbing.
It will stretch but to a moderate extent with regular wear. You don't need to panic when your Dr. Martens footwear stretches. If you wanna stretch your boots for a proper fitting, you can do it at home.
I shortlisted six effective methods of stretching your Dr. Martens and became successful in flaring my boot with double-doc socks.
Let me know which method you will follow in the comments.
You can share other valid ideas for expanding shoes with me and the community.