Doc Martens were uniquely created to be tough and comfortable. While there's no doubt about their quality, questions do arise about their compatibility in the snow. And, people seek a clear answer.
Don't you worry! I've used all my knowledge and expertise to come up with this comprehensive guide that will answer all your questions.
So, let's get straight to the point first: Are Doc Martens good for snow?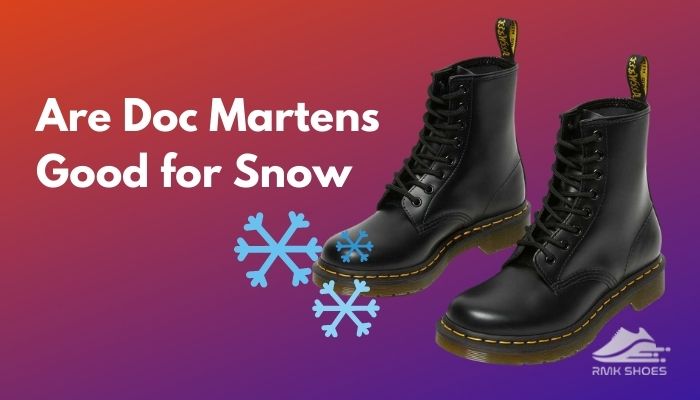 Yes. Doc Martens are good for snow, thanks to their slip-resistant sole. The soles provide excellent grip and traction on icy surfaces. However, this functionality depends on your boots and the extremity of the weather. Just pair them up with a pair of thick woolen socks, and you'll be good to go.
Somewhat confused? Don't be! By the end of this guide, you'll know exactly when and how to rock your precious Doc Martens. So, keep on reading.
Are Doc Martens Good for Urban Snow?
Regular Doc Martens will serve you well in the urban snow, where the snow and the icy surfaces are bare minima. These boots have good traction, to begin with, so you'll have no problem around the city. You'll be needing a pair of thick woolen socks as the boots are constructed from a single layer of leather.
If you plan on using your boots in denser snow, then you should waterproof them. Waterproofing the boots prevents melting snow from seeping through your shoes to your feet.
Follow our guide to know The Best Alternatives To Doc Martens
Which Line of Doc Martens Should You Consider for Winter?
As mentioned earlier, not all the famous brand boots will serve you well in harsh winter conditions. To help you cope with such situations, the company has an exclusive line of boots that will make your life much easier.
How does the winter line of boots differ from the other boots? The company has added fleece linings, faux fur, and an outsole that has more traction.
In contrast to other boots, these boots are constructed from water-resistant and waterproof leather to help you cope with the wet show. Do keep in mind that different winter lines are meant for different environments.
Let's have a look.
Doctor Martens DRYWAIR Boots
When Doc Martens discovered winters aren't just cold but are wet too, they decided to do something about it when they launched this line of boots for areas where it rains during the snow and when the show starts to melt after the winter months have passed.
These boots are fructed from rich, oily leather that has specialized treatment to make them completely waterproof.
In addition, the boots are double sealed to prevent any kind of liquid from seeping through to your feet.
If you live in areas where the winter's wet along with being cold, these boots are there to back you up. Now, you can have warm, toasty feet in cold, wet winters without an issue.
You may also like to read: Can I Wear Dr. Martens To Work
Doctor Martens WINTERGRIP Boots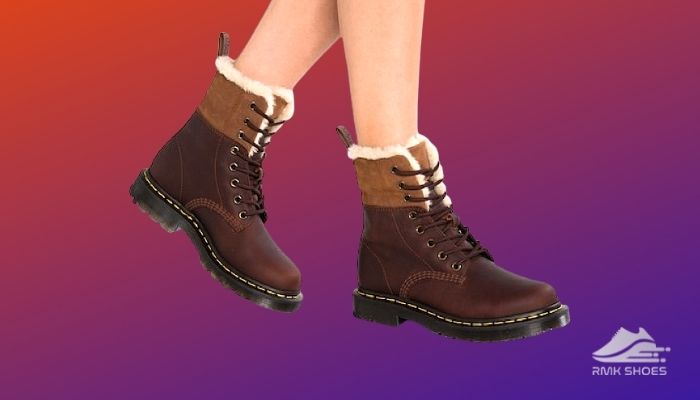 This line of boots comes to your rescue when there's plenty of ice. Icy surfaces are slippery, and anyone who's been there knows that. To navigate on icy surfaces, you'll need a pair of specialized boots; otherwise, there's trouble.
What's the distinct feature of these boots? Not only do they provide excellent traction, but they are also durable enough to withstand this harsh and treacherous environment.
Doctor Martens has equipped this line of boots with specialized outsoles that will enable you to have a firm grip on any kind of icy surface, more specifically the grooved cleats.
The leather used in the construction of these boots is called snowplow. What does it offer? This specialized leather is water-resistant, which keeps your shoes dry. It also protects your precious footwear from salt and grit and is very easy to clean. Sounds great, doesn't it?
Doctor Martens WARMAIR Boots
The warm airline of boots by Doc Martens is best suited for typical winters that are snowy and just cold. You'll have the option to choose from boots that have a fleece lining and faux fur. The faux fur boots tend to be much thicker than the fleece line variants, usually slimmer.
Both the variants have a common feature! And what's that? Both boots will insulate your feet to protect them when the temperature gets chilly.
You'll be happy to know these boots are constructed from water-resistant leather that keeps both your feet and boots dry. Now, you'll have no problem with melting snow.
Follow our other guide on how to Tell If Doc Martens Are Real
Are Doc Martens Waterproof?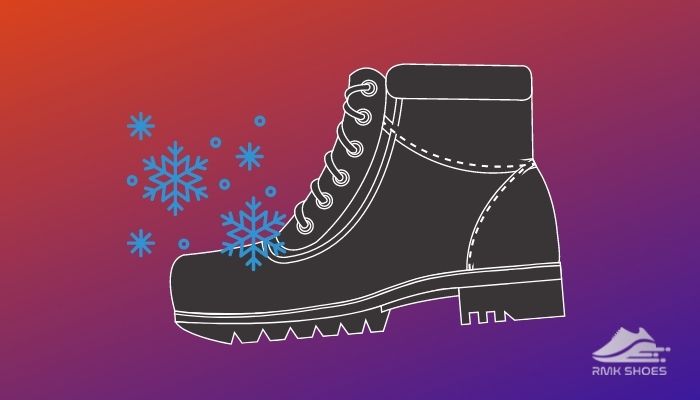 The regular line of boots from the famous brand is all water-resistant. If you want to capture and pair up your Doc Martens with your winter attire, then you'll need good waterproofing spray to completely block melting ice or any kind of liquid seeping through the leather to your feet.
Only the WarmAir line of Boots by Doc Marten is entirely waterproof. And how's that? These exclusive boots are made using rich oily leather that has received special treatment to make Them 100% waterproof.
The boots are double sealed, which prevents melting snow or any liquid from seeping through to your feet. With them at your disposal, you'll have warm, dry feet in cold, wet winters.
Quickly check out: Vegan Doc Martens Vs Regular
Are Doc Martens Slip- Resistant?
Yes, Doctor Martens's boots are slip-resistant, to begin with. The company has used its trademark GripTrax technology in the outsoles for enhanced grip and traction. This footwear is suitable for use in work areas such as construction sites or where there could be oil spills and wet surfaces too
In short, these boots were designed and built for industrial workers, where their safety was the primary concern.
As for the cold, Dor Martens (regular boots) are suitable for the urban winters, where everything's a bare minimum. And for harsh winters, you might want to look at the specialized line of winter boots.
Are Doc Martens Comfortable?
Comfort and toughness are the qualities people know Doe Martens for. These qualities are embedded within every pair of boots the company manufactures.
The company uses premium materials so that you can get a comfortable experience as well as durability. Once broken in, these boots will become the most comfortable pair of footwear you'll ever come across.
Do Doc Martens need Breaking- In?
As a matter of fact, yes! Dr. Martens's boots do need breaking-in. The break-in period usually lasts up to 3 to 6 weeks.
To make this period a lot easier, you should always start with the correct size. Then, you can use a pair of thick cotton socks during the initial days, or you can use softening agents to escalate the process furthermore.
You can also use a boot stretcher for the toe area during the nights. If you find the boots challenging in some areas, you can use bunion pads or corn plaster. You can also use a boot stretcher for the toe area during the nights. And last but not least, you can always bend your boots gently to increase their flexibility.
Read more on how to Break in Doc Martens Overnight
Do Doc Martens Only Produce Combat-like Boats?
When you mention the name " Doctor Martens," the first thing that comes to mind is tricky combat-like boots. And invisibly so, as these are the boots the company started with.
But over the years, the famous British company has diversified its production. Now they produce different kinds of footwear too.
Some of them are the Dr. Martens line of Chelsea boots (my personal favorite), the Oxford leather shoes, the Fishermen sandals, and many more.
But, one thing that hasn't changed at all is the company's DNA. All these footwear are tough yet comfortable.
Related contents you should read: Are Doc Martens Waterproof, Do Doc Martens Stretch
Related Questions People Ask
Will snow ruin Doc Martens?
As we all know, leather and snow are not the best of friends. The regular line of footwear will most likely get damaged by snow after a certain amount of time. However, the exclusive line of winter boots is built just for snowy and harsh winter conditions.
Do Doc Martens feel tight at First?
Yes, they do feel tight but not uncomfortable. If you usually take half a size, then it's recommended, you size down. These boots will stretch and soften as you wear them gradually.
Can Doc Martens be broken in overnight?
The answer is No! You can't break them overnight. The break-in period usually takes up to 3-6 weeks. However, there are ways to fasten the process.
Conclusion
Doc Martens boots are world-class. Every pair of footwear coming through that famous company is unique. Originally designed and built for hard-working people, the company has come on leaps and bounds known worldwide for its unmatched quality.
While there never was any doubt about the quality, questions were raised about their affinity in the snow. However, they did come up with a solution. While the regular line of boots was suitable for the mild urban snow, Dr. Martens launched an exclusive line of winter boots to tackle any kind of harsh winter condition.
Are you still confused? I hope not! If you are, then feel free to ask me anything down in the comment section. Until then, take care.