Doc martens is really popular in the field of Punk Rock boots.
Since people are choosing to go vegan, Dr. Martens stepped up in the game and launched their vegan version of existing boots in the market.
Now, customers are in hesitation as there are variations along with models.
To buy their perfect pair, it is essential to know about the differences between regular and vegan shoes.
After reading this article, your confusion about Vegan and Regular Doc Martens will be cleared as a crystal, and you will be able to purchase your favorite one without hesitation.
So, keep reading till the end to learn more about these two versions of Doc Martens.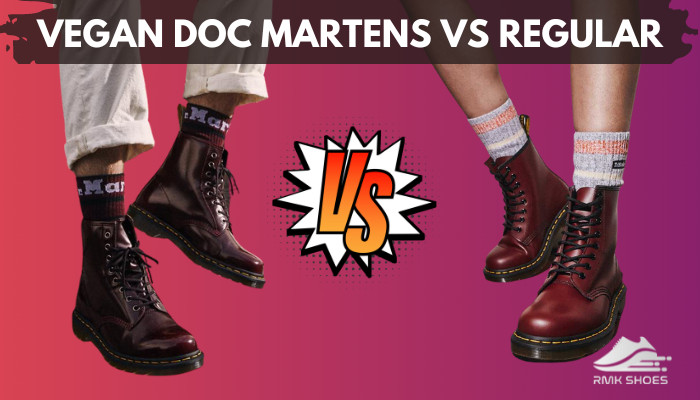 Vegan Doc Martens Vs Regular Doc Martens: A Quick Overview
The boots of Dr. Martens are one of a kind and have their own specifications.
Let's find out more about these two versions of Doc Martens:
Regular Doc Martens
Doc Martens are unique shoes with an air-cushioned sole for troubled feet. These boots were first made to help soldiers recover from injuries.
Eventually, they became popular among older women and older people in desperate need of comfort for their feet.
Doc Martens soles provide extra comfort for the footbed to relax. And it makes it easy to walk on these if you are recovering from a significant injury.
Even the outsole is very flexible the main construction materials are pigment and plasticizers.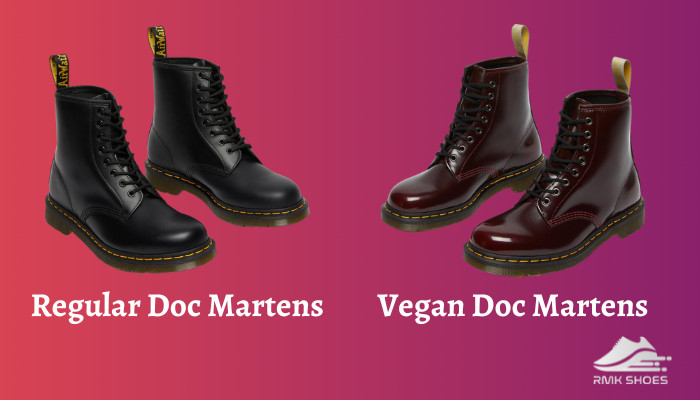 Vegan Doc Martens
Well, being vegan is everyone's personal choice. And now, more people are sharing this thought, but why should they compromise when it comes to fashion and individuality?
From this thought, Dr. Martens launched their vegan range. These new models have all the other features of Doc Martens except leather.
The manufacturers used extra durable synthetic materials with 100% animal-free construction. These shoes provide the same service as the iconic yellow stitching.
Check out our separate post: Are Doc Martens Considered Work Boots
The Main Differences Between Vegan And Regular Doc Martens
Doc Martens were all over the news for their longevity for the most extended period. Not to mention the time it took to break in.
As foe the vegan version of Doc Martens, if you ask me, the distinguishable central fact will be the materials. And this is making the difference.
Let's dive into the main difference between these boots:
Material
It is very obvious that this new vegan version will be animal cruelty-free. If you ask me to simplify, these shoes are not made with leather.
The vegan collection of Doc Martens is mainly made out of polyurethane, a non-leather synthetic material. This material is less toxic to produce and compared to PVC; it is more breathable.
Like the classic leather, these are flexible and don't have a cracking problem. And in this version, longevity is not compromised.
As more and more people are becoming vegan, more synthetically produced products are getting popular, just like vegan Doc Martens. The manufacturers are trying to make their boots in an eco-friendly manner.
One thing I would like to mention for your clearance, vegan Doc Martens feel smooth but not cheap. The thickness of the upper represents the original boots perfectly.
In a nutshell, vegan Doc Martens are hard to tell apart from regular ones. Another difference is the loop at the back of the vegan versions.
Comfort
Doc Martens is not comforting to begin with. For any new owners, it takes time to break in, but after the break-in period, they are incredibly comfortable.
If I am being more specific in the sector of comfort, vegan boots are the winners. Let me explain why.
The synthetic materials used in making vegan pairs are the main reason behind this. Vegan versions are the comfiest trust me. And another thing, they take the shortest amount of time to break in. They are soft and comfortable.
Air Circulation
For any kind of snug-fitting boots, proper air circulation is a must. And vegan Dr. Martens have better breathable features than regular versions.
So, if you are looking for a boot that you can wear both at work and outside and have to be in it for an extended amount of time, go for the vegan boots.
Also, check out the best Alternatives To Doc Martens
The Main Similarities Of Vegan And Regular Doc Martens
Though vegan Doc Martens are made without leather material, they still feature the basic specifications of the original clan. The similarities are so close that it's hard to tell them apart.
Here are the similar features of vegan and regular Doc Martens:
Durability
The brand Doc Martens is known worldwide for their durable boots that last long. Their vegan collection is no exception.
These vegan boots are constructed in such a way to give a lifetime guarantee.
Even in the vegan Doc Martens, the solid materials and stitching are done with perfection, just like the regular boots.
It is clear that they made this new version precisely like the other popular versions.
Color
Doc Martens have been offering a wide range of colors ever since, and with their vegan line, they are offering the same facilities.
You will find all types of color options according to your preference. The breathable materials are to die for, along with various pigments.
Waterproof Feature
The vegan models are most famous for their waterproof quality.
Like their regular models, these new versions repel water properly. In fact, synthetic materials don't absorb moisture or get wet.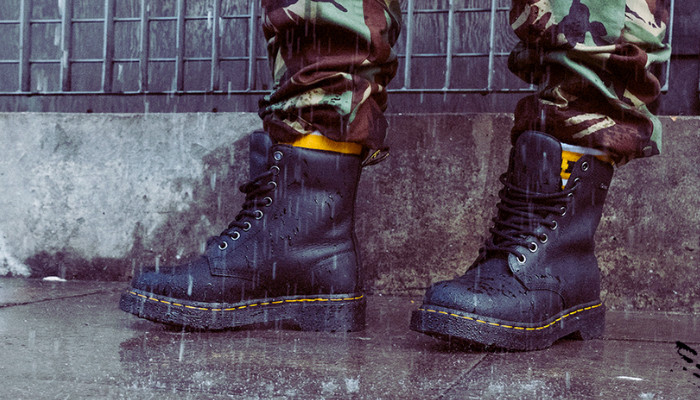 You can wear them in heavy rain and be tension-free at the same time. The main reason is that the synthetic material is so slippery that liquids can't stay on the surface.
Price
In terms of price, there are not many differences either.
Doc Martens are expensive for sure. But with their vegan versions, they are offering a similar price range. Depending on the designs, features and color, Doc Martens can range from 99$ to 200$
Dr. Martens Vegan 1460
1460 is the most popular original version of Doc Martens. This significant version is also available in the vegan version too.
Let's see what the vegan version is offering:
Air cushioned sole
A heel loop
Grooved sides
Yellow stitching
Dr. Martens Vegan 1460 boot is maintaining all the qualities and features like its original one. The materials look and feel like the original ones.
The synthetic material is soft and supple with a subtle two-toned finish. You can clean the dirt away just using a damp cloth. The upper and sole are heat-sealed and stitched together, not glued.
Another thing worth mentioning is that the vegan boot will stretch slightly but not too much.
The vegan model has gamed up by launching its cherry red synthetic material and construction technique, of course.
Some reviews say that this version scratches easily, and the surface tends to peel away.
Vegan Doc Martens 1460: Cherry Red
In September 2017, the Cherry Red version was first launched and still maintains its glory.
The Cherry Red 1460 version is made with 8 eyes lace-up design and has metallic eyelets for a more adjustable fit. Here the sole and upper are sewn together, and heat sealed too.
The primary material of these boots are rubber and faux leather.
I have searched thoroughly, and one thing that most owners say is that the men's version comes with two pairs of lace but for women comes with only one pair.
This boot is very versatile and looks beautiful with any kind of outfit.
You may also like to read: Are Doc Martens Slip Resistant
How To Care For Vegan Doc Martens?
Vegan Doc Martens will last if you care of them properly.
Though these boots are waterproof, getting them wet or keeping them out in the sun for too long can damage the leather.
To maintain the quality, you need to clean them properly. Using a damp cloth and soap is enough to clean the surface. Using lukewarm water also does the job perfectly.
You can use a leather bum containing beeswax to manage the boots' leather. Some users also use almond oil and cocoa butter to maintain their boots.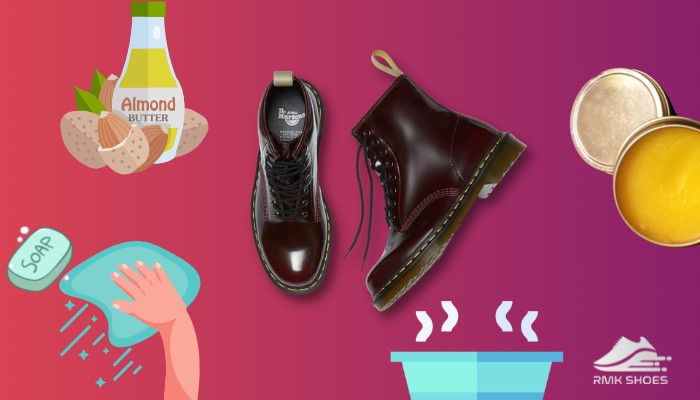 Colorless polishing creams are the best option to restrain the color.
Doc Martens offers Wonder Balsam, which is known for making worn-out boots bring back to life, but it is not suitable to use on vegan leather.
Vegan Doc Martens vs Regular: Which One Should You Get?
Both original and vegan Dr. Martens are offering their best features, and you will find more variations to come. So, the main question is, which one should be your pick?
Well, if you are asking me, I suggest choosing to keep your specific needs in mind. Whether you are vegan or not, it is still an excellent choice. And if you want to go for the leather version, it's still a perfect choice.
And if you are a vegan and still want to enjoy the premium service, Doc Martens offering the vegan collection is your jam in that case.
Whichever you choose, you win because, in both cases,  you will be able to enjoy the best features of Doc Martens shoes.
Related content you should read: Are Doc Martens Good for Snow
FAQ
Are Vegan Doc Martens waterproof?
Yes, Vegan Doc Martens is super waterproof. They are made from waterproof synthetic materials that can prevent these shoes from getting wet and even can withstand dirt and heavy rain.
Do Vegan Doc Martens Last Long?
Vegan Doc Martens lasts for a long time. The company claims to use a range of extra durable synthetic materials, and the construction is 100% animal friendly. So they will last as long as the leather ones.
Do Dr. Martens Hurt At First?
Doc Martens hurt before breaking in. So if you are planning to wear them for a long time, you must ensure that you have used them before. Regular Doc Martens take 4 to 6 weeks to break in, whereas vegan ones take less time.
Should You Size Down In Vegan Docs?
Vegan Docs fit properly and are true to size, but if you want a tighter fit, you can size down and eventually, they will stretch to your perfect fit.
Does Vegan Leather Stretch Out?
Regular Doc Martens don't stretch out, but for vegan versions, they do stretch out a little bit. And this slight change doesn't affect the users.
Verdict
Since the increase of vegan customers, Doc Martens offered them a product they could use without feeling guilty.
Moreover, now as there are options, people are getting confused about which one to choose. Whichever boot you choose is totally up to your personal perspective.
Don't forget to let me know how this article helped you to find your boots, whether regular ones or vegan. And how this article was helpful in the process.
If you have previous experience owning any of these Doc Martens, share your experience down in the comment section below.