If you're looking for the most affordable knockoffs to Doc Martens, then you've landed at the right place.
Doc Martens are incredibly popular for their unique features. Unfortunately, affording them can be pretty tricky at times. But don't you worry! I put together this list of affordable alternatives to make your life a whole lot easier. Excited much?
To put an end to your excitement, let's dive straight into the review.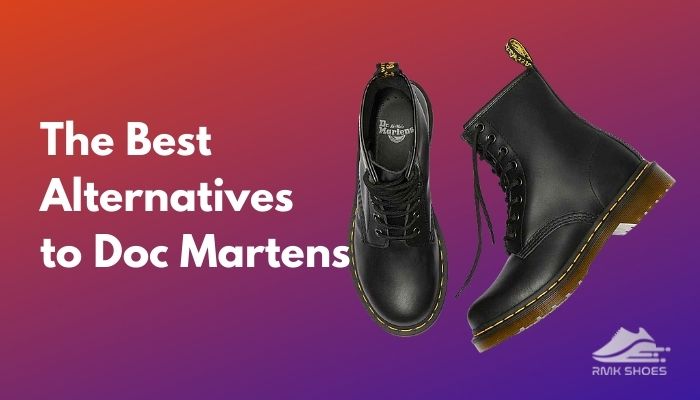 Follow our other guide to know affordable Alternatives To Stan Smith
The Best Alternatives To Doc Martens- Review
Doc Martens look fabulous, thanks to their neat finishing and the trademark yellow stitching. They offer excellent traction and last for a long, long time. But, there's one tiny hiccup, and that's the price.
To make sure, you get your hands on a pair of shoes with similar features. I have compiled this list after tons of research. Curious much?
You may also like to read about 5 Affordable Alternative To Allbirds.
Here are the best knockoffs to Doc Martens:
Bruno Marc Men's Military Boots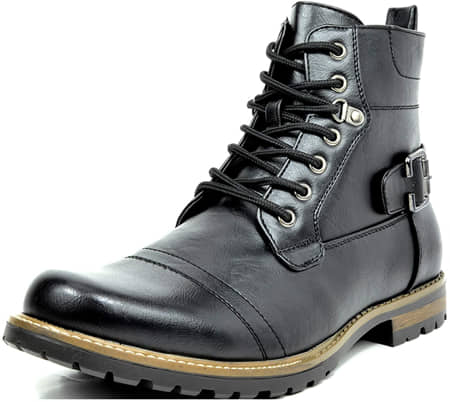 Featuring at the top of our list is this eye-catchy combat-style boot from Bruno Marc. It adds class to your looks and gives you proper comfort.
Bruno Marc Military Boots are one of the most affordable pairs of footwear out there. These boots have a slick appearance, and that's good enough to complement nearly any outfit you have. Be it your trousers, jeans, or joggers; this footwear won't disappoint.
The upper consists of flexible faux suede leather that expands with each of your movements to give you a comfortable stride. The material's durability isn't premium grade, but it's certainly worth the price you'll be spending.  Plus, the waterproof design is a feature you'll certainly love.
These boots have a classic vintage design that's popular among many shoe enthusiasts. There's a buckle around the ankle which only helps the cause.
Plus, there's a full-length zipper along the insides that makes it easier for you to put on /off the shoes. With the laces, you can adjust the tightness to get a custom fit.
To match your taste and choice, the company has included a good range of colors. You can choose either from the black, light brown, or deep brown color.
You'll also be happy to know, Bruno Marc offers multiple designs with a whole range of sizes to choose from. Quite the dilemma, eh?
To keep your feet firmly rooted to the ground, the manufacturer has used anti-slip rubber outsoles. The heels measure approximately 1inch, which means a steady stride.
As for comfort, the boots are equipped with high-quality plush insoles to make your landings less stressful.
The material also offers decent breathability, so you won't have to worry about sweaty feet.
Pros
»

Affordable

»

stylish

»

comfortable

»

multiple designs to choose from

»

Offers proper traction
The motorbike-inspired boots from Bruno Mars might be the closest thing to a pair of Doc Martens. They're slick, stylish, and comfortable. A breathable upper, plush insole, and anti-slip rubber outsoles combine to give you an all-around comfort. A range of beautiful colors and different models combine to provide you with the dilemma you deserve.
Koask Women's Round Toe Ankle Boots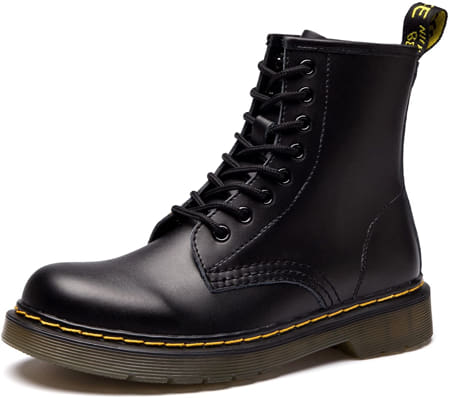 If you're a woman with a knack for ankle boots, then you're in for a treat, as these might be the boots you've been looking for.
At first glimpse, none of your friends will be able to determine, and these are Doc Martens 1460 dupes. As they say, the resemblance is uncanny. These lovely boots not only resemble the looks but come pretty close informs of comfort, too.
The upper consists of an acceptable quality cowhide leather, soft and flexible; this means walking in these books will be of no issue.
The comfortable footbeds are there to make your landings less impactful. Plus, the leather expands with each movement to give you a smooth, relaxing experience.
These boots are combat in nature, but in no way they'll tarnish any of your feminine sides. Once you put them on, you'll notice an immediate uplift in your entire outfit. They can complement nearly any outfit (that is meant to be worn with boots, of course).
The laces allow you to adjust the boots according to your liking and the pull tab makes it easier for you to take on/off the footwear. The 1.18-inch heel adds height without overwhelming you. And the 6-inch shaft covers a decent portion of the ankle.
Available in a whole range of sizes, these shoes will fit most of the standard foot types.
What I like about these boots are the non-slip, anti-wear rubber outsoles. Not only they'll last long, but they also provide excellent traction. In short, they're the near-perfect clones.
Pros
»

Affordable

»

Good quality upper

»

Anti-wear outsole

»

Round toes provide decent wiggle room

»

Good for trekking
Cons
»

It does not fit true to size
Koask Women's Lace-up Ankle Boots are perfect dupes. They're comfortable, stylish and add glamour to most of your outfits. The cushy insoles provide decent comfort, and the anti-wear, slip-resistant outsoles provide proper traction.
DADAWEN Women's Leather Ankle Boots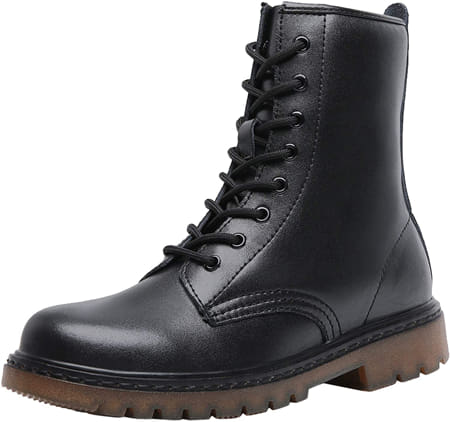 Another one, for you lovely ladies out there. This time it's from DADAWEN.
This is a pair of boots you should seriously consider if you've looking for an excellent knockoff to Doc Martens. This footwear dons a classic appearance that's sure to complement anything you wear, be it your pants, leggings, jeans, skirts, etc.
The upper consists of premium quality leather that's sure to come to your service for a long time to come. The material also provides decent breathability. So no worries there.
The shoes are equipped with plush footbeds to make your experience as comfortable as possible. Plus, the rubber midsoles add to the cause. Now, you won't have to worry much about awkward landings.
You may also call them weather-friendly as the boots are water-resistant to a great extent. And, the convenient rubber outsoles prevent you from any slippage
on slippery surfaces.
Alongside all these features, DADAWEN Ankle boots are well known for their fashionable silhouette. This is a big reason many fashion enthusiasts appreciate them.
To make things more interesting, this footwear comes in multiple sizes and two adorable color options (black and cherry red).
The heels measure up to 1.2 inches approximately to provide you with added height. In contrast, the shaft measures 6.75-inch from the arch. the footwear boasts an effective lace upfront, To provide you with custom-fit.
Pros
»

Durable

»

Comfortable

»

Stylish

»

Water-resistant

»

Non-slip outsoles
Cons
»

The laces are a bit short
DADAWEN Lace-Up Ankle Boots are a thing of beauty. These classic ankle boots are well appreciated for their design and functionality in different weathers. The material combined with the reinforced stitching gives these shoes a long life. If you're looking for a pair of Doc Martens clones at an affordable price, look no further.
Timberland Men's White Ledge Boots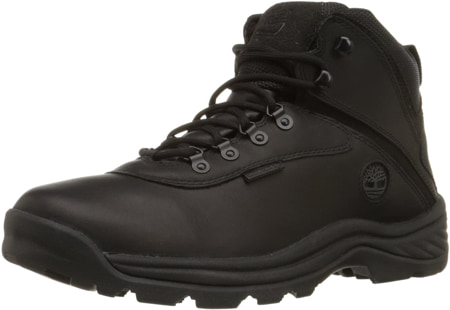 I'm sure Timberland needs no Introduction! This famous footwear company has an excellent track record of producing fantastic shoes. And in this regard time, it's no different.
Timberland is well known for producing sturdy, heavy-duty boots for different environments. One thing that Timberland guarantees are durability. So no worries there.
The upper consists of premium grade full-grain leather not only this material but also of high quality of Timberland's materials. So, there's no need to worry about durability.
Being sturdy in nature, the boots are comfortable as well. A plush footbed makes your landing less straining. The tongue and the collar are well cushioned too. In short, all these features combine to give you maximum comfort across any terrain.
The shoes are equipped with anti-rust, speed lace hardware for a lace hook at the top. Thanks to this, you'll require less time while putting the boots on/off. Plus, you'll get a custom fit, too.
To make these boots more appealing, the company has equipped them with reBEL cycled fabric lining. The boots are embedded with the Timberland logo at the tongue and the heel area to make the appearance more aesthetic.
The material and the seam-sealed construction create a platform for ultimate waterproofing. Now, you can stomp your way across any terrain without having to worry about anything.
You can easily don this footwear with any of your attire. I'd love to pair them up with any of my winter outfits. Plus, they make excellent travel companions.
What about traction? The rubber outsole features Timberland's much-reputed tread pattern. You'll get a firm grip with proper stability. All in one, it's perfect for fun outdoor activities.
Pros
»

100% leather,

»

Durable,

»

Stylish

»

Waterproof,

»

Anti-rust lace hardware
Cons
»

May require a break-in period
Timberland has been a household name when it comes to sturdy, durable boots. Men's White ledge boots are an excellent option for outdoor activities. There's padding throughout the best footwear for comfort. The pull tab allows you to slide in and out of the boots quite easily. Timberland's well-reputed outsole provides just the proper traction.
Bruno Marc Men's Oxford Combat Boots
Featuring at number five is another fine pair of boots from Bruno Marc. This particular model looks stunning, and if you're a biker, then you're in for something unique.
Bruno Mare's Oxford leather boots are in the mold of Doc Martens 8761 Steel Toe Leather Boots, minus the steel toe. Nonetheless, these low ankle leather boots are stunning.
The upper consists of synthetic leather! Yes, they aren't original leather, but the quality used here is amazing. The texture's relatively smooth and has a good life span. Plus, the material is very soft. So you no need to worry about rigid containment of your foot.
These boots are pretty popular as winter boots, but that doesn't mean you can't wear them in different weathers. Feel like going out for a ride? Just pair them with a jacket and your jeans, then off you go.
I've mentioned the term bike a lot. Please don't be confused. It's not meant for bikers only. Any of you fashionistas can rock in these beauties.
Simply pair them up with any of your outfits, and you're sure to catch people's attention. The shoes are equipped with a cushioned collars and an inner faux fur lining. That's right; you'll have plenty of comforts.
The full-length zipper will make sure you slide in and out of the boots effortlessly.
You'll be happy to know; this footwear comes in seven beautiful colors. Now, you can easily pick a color to match your taste. Not bad for a pair of boots that cost a quarter of
an original Doc Martens.
As for traction, the durable TPR outsoles have got your back.
Pros
»

Comfortable

»

Easy to put on/off

»

Exciting colors do choose from

»

Durable TPR outsoles

»

Interior zipper closure
Cons
»

The ball area may be too tight for some
Bruno Marc Men's Oxford Leather Boots make an excellent knockoff to Doc Martens. The overall construction provides exceptional comfort, while the reinforced stitchings give them a long life span. The pull tab and the interior zipper allow you to slide in and out of these boots quite easily. In comparison, the TPR outsoles provide proper traction.
In a hurry? Check out my new post best Joan of Arctic Alternatives
Why Should You Choose A Knockoff Over Doc Martens?
As time goes on, everything around us continues to evolve. This includes the shoe industry as well. Nowadays there are plenty of options, and you can buy a pair of shoes considering different aspects.
Related contents you should read about 10 Tieks Alternative.
Here are some of the reasons to buy an alternative over Doc Martens:
Cost
I'd be lying if I said the cost wasn't the most significant factor for buying an alternative over the actual ones. On average, Doc Martens cost $150 at the very least and can even reach a figure of $200 depending on the design and other specifications.
You can easily find other shoes with the exact specifications at a much lower rate.
Some more guides on Top 6 Rothys Alternatives.
Environmental Issues
We live in an age of sustainable developments and an environmentally friendly production system. Doc Martens reportedly has close to zero guidelines for greenhouse and waste management systems.
Plus, the leather they use to manufacture their goods is not environment friendly and is resource-heavy. is according to many sources.
Check out the easiest way to know about Best Joan of Arctic Alternatives.
Standard
As the company continues to grow, there's this rising debate among customers. And what's that? Many argue whether they're getting the quality for the amount they pay. Many also argue customers are simply buying the brand's name. If reports are to be believed, most of their recent shoes have failed to meet their standards.
But before that, you check out 10 Tieks Alternative
Related Questions People Ask
Are Doc Martens made of real leather?
Doc Martens use leather and wool as fabric from non-mulesed sheep. It's been confirmed they don't use any angora, fur, or hair and skin from exotic animals. There is also no confirmation of the company using any sort of animal products.
Do Doc Martens alternatives contain good quality?
The thing is, you're buying cheaper alternatives; you won't always find a great product at less price. You just have to know about the product you're paying for. And how can you do that? Simply go through the customers' reviews and ratings before you go on to buy them.
Do Doc Martens knockoffs have good arch support?
Doc Martens knockoffs having good arch support are scarce in most cases. But don't be disheartened. You can always use an orthotic insole depending on the type of your arch.
What makes Doc Martens so great?
Doc Martens are famous for the quality of their material, the yellow stitching, and most notably, their soft air-cushioned soles. The boots are non-skid, flexible, and comfortable. Also, their ankle boots are designed to provide lots of ankle support.
Does knock-off Doc Martens last long?
It depends on the pair you're buying. If you're buying one from a well-reputed manufacturer, then it's sure to last a reasonable amount of time. There's also been this case of getting different products from the ones that are advertised. This is a big reason other manufacturers don't get the recognition they deserve.
In a hurry? Check out my new post 5 Best Cheaper Alternatives to Muck Boots
Final Thoughts
While Doc Martens are the ultimate boots, they're quite expensive. A pair of them can easily consume more than half of your budget, if not full. I hope the list I provided will help you to purchase an excellent alternative.
Do let me know down in the comment section below if I have missed any particular pair of boots. Until then, take care.