If you're looking for the most affordable knockoffs to Doc Martens, then you've landed at the right place.
Doc Martens are incredibly popular for their unique features. Unfortunately, affording them can be pretty tricky at times. But don't you worry! I put together this list of affordable alternatives to make your life a whole lot easier. Excited much?
To put an end to your excitement, let's dive straight into the review.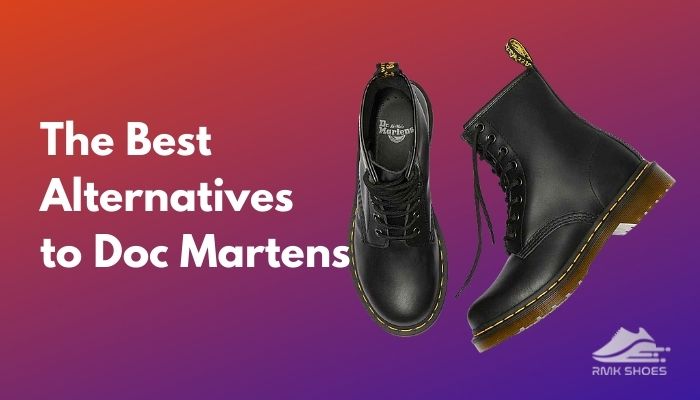 Follow our other guide to know affordable Alternatives To Stan Smith
The Best Alternatives To Doc Martens- Review
Doc Martens look fabulous, thanks to their neat finishing and the trademark yellow stitching. They offer excellent traction and last for a long, long time. But, there's one tiny hiccup, and that's the price.
To make sure, you get your hands on a pair of shoes with similar features. I have compiled this list after tons of research. Curious much?
Here are the best knockoffs to Doc Martens:
In a hurry? Check out my new post best Joan of Arctic Alternatives
Why Should You Choose A Knockoff Over Doc Martens?
As time goes on, everything around us continues to evolve. This includes the shoe industry as well. Nowadays there are plenty of options, and you can buy a pair of shoes considering different aspects.
Here are some of the reasons to buy an alternative over Doc Martens:
Cost
I'd be lying if I said the cost wasn't the most significant factor for buying an alternative over the actual ones. On average, Doc Martens cost $150 at the very least and can even reach a figure of $200 depending on the design and other specifications.
You can easily find other shoes with the exact specifications at a much lower rate.
Environmental Issues
We live in an age of sustainable developments and an environmentally friendly production system. Doc Martens reportedly has close to zero guidelines for greenhouse and waste management systems.
Plus, the leather they use to manufacture their goods is not environment friendly and is resource-heavy. is according to many sources.
Standard
As the company continues to grow, there's this rising debate among customers. And what's that? Many argue whether they're getting the quality for the amount they pay. Many also argue customers are simply buying the brand's name. If reports are to be believed, most of their recent shoes have failed to meet their standards.
But before that, you check out 10 Tieks Alternative
Related Questions People Ask
Are Doc Martens made of real leather?
Doc Martens use leather and wool as fabric from non-mulesed sheep. It's been confirmed they don't use any angora, fur, or hair and skin from exotic animals. There is also no confirmation of the company using any sort of animal products.
Do Doc Martens alternatives contain good quality?
The thing is, you're buying cheaper alternatives; you won't always find a great product at less price. You just have to know about the product you're paying for. And how can you do that? Simply go through the customers' reviews and ratings before you go on to buy them.
Do Doc Martens knockoffs have good arch support?
Doc Martens knockoffs having good arch support are scarce in most cases. But don't be disheartened. You can always use an orthotic insole depending on the type of your arch.
What makes Doc Martens so great?
Doc Martens are famous for the quality of their material, the yellow stitching, and most notably, their soft air-cushioned soles. The boots are non-skid, flexible, and comfortable. Also, their ankle boots are designed to provide lots of ankle support.
Does knock-off Doc Martens last long?
It depends on the pair you're buying. If you're buying one from a well-reputed manufacturer, then it's sure to last a reasonable amount of time. There's also been this case of getting different products from the ones that are advertised. This is a big reason other manufacturers don't get the recognition they deserve.
In a hurry? Check out my new post 5 Best Cheaper Alternatives to Muck Boots
Final Thoughts
While Doc Martens are the ultimate boots, they're quite expensive. A pair of them can easily consume more than half of your budget, if not full. I hope the list I provided will help you to purchase an excellent alternative.
Do let me know down in the comment section below if I have missed any particular pair of boots. Until then, take care.