Muck boots are well known for their functionality and their excellent quality. However, they tend to cost a lot of money.
But, don't you worry! Thanks to designing experts and innovative technologies, there are plenty of cheaper alternatives available in the market.
In this article, I'll shed some light on the best ones (cheaper alternatives) out there. These boots are pretty close to Muck Boots in terms of features and everything else, so keep on reading.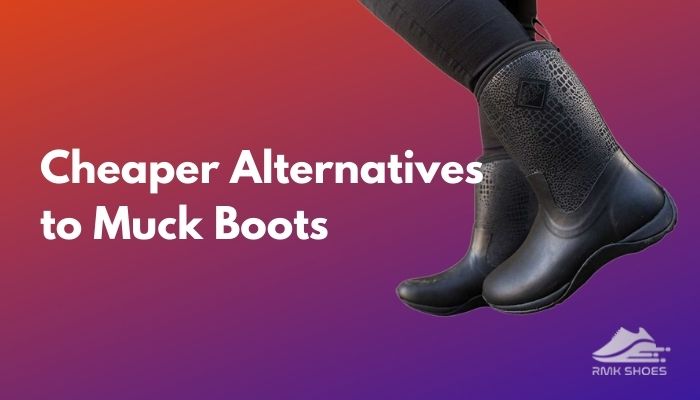 Follow our other guide to know Are Tactical Boots Slip-Resistant
Review of The Best Knockoffs to Muck Boots
We now live in a time where there are plenty of options for one single criterion, and it's no different when it comes to Muck Boot knockoffs. With that being said, selecting the right ones can be a bit tricky. But, you're in luck today as I did all the hard work.
But before that, you check out why are Lucchese Boots So Expensive
Here are top picks for the best knockoffs to Muck Boots:
What Are The Factors You Should Consider When Buying Мuck Bооt Knockoffs?
When you're shopping for cheaper alternatives, you're already in a tricky situation. This is because it tends to be a hit or miss. But no worries!
There are certain aspects you can ensure which will make your purchase a lot more credible. In simpler words, you'll have a higher chance of ending up with a perfect pair of boots.
Here are the features you should ensure:
Material
There's no doubt that the durability and the performance of rubber boots depend on the quality of the material. If you want the best results, you should opt for the best and the sturdiest materials.
Almost all rubber work boots consist of rubber along with the soles too. Although rubber is waterproof and flexible, it may be prone to deformation due to many reasons.
It may also be penetrated easily by sharp objects. Therefore it is recommended that the rubber sole is reinforced with other materials to improve the mechanical properties. Rubber uppers reinforced with nylon are the best.
On the other hand, shafts made of neoprene are most recommended as it's soft and flexible. Neoprene bends to your feet' requirements and is an excellent insulating material. It keeps your legs and feet at a stable temperature during extreme weather conditions.
Breathability
There's a perfect chance you'll suffer from internal sweating while working. However, most of those boots aren't the best when it comes to humid environments. Therefore your work boots need to be well ventilated. Water quickly enters through the ventilation holes.
What you can do is, look for boots with air mesh linings that keep your fat fresh and repel water.
Airmesh is a lightweight and flexible material made of overlapped layers of different synthetic fibers. You should keep in mind that this particular material isn't 100% waterproof. Therefore, dipping them in water isn't recommended.
Outsole
When it comes to working rubber boots, the outsole soles should be sturdy and highly resistant to tearing and piercing. They should also be equipped with profound and complex friction patterns. It allows the footwear to provide you with stable support on slippery surfaces.
Friction patterns with deep grooves retain those small pointy rocks that may penetrate the outsoles and cause harm to your feet. However, the ones that combine different types of rubber provide superior flexibility and resistance.
Midsole 
The midsole of your boots should be soft and thick enough to absorb high impacts. EVA midsoles are the most common.
But, they aren't as comfortable as the ones made of gel or memory foam. EVA midsoles tend to be flat in nature, so they cannot provide the required support for people with high arches. Gel midsoles are the best for working rubber boots.
This is because they help to release pressure in some critical areas of the foot. They also don't suffer from permanent deformation, as with EVA and memory foam midsoles.
Follow our guide to know Are Tactical Boots Good For Snow
Why Should You Choose Cheaper Alternatives to Muck Boots?
One of the biggest reasons for choosing Knockoffs is to save money. We all want the best of things with the lowest money possible. Apart from this specific reason, there are many reasons why you should go for cheaper alternatives. And what are those reasons? Let's find out.
Here are the reasons for choosing cheaper alternatives:
They are flexible
A good pair of Muck Boot alternatives consist of CR Flex-Foam or a combination of different rubbers that's super flexible and lightweight. This assures you with comfort so that you can have a seamless experience in them.
They keep your feet Fresh. 
Muck Boot knockoffs are designed in such a way that they are able to offer you a similar experience. They keep your feet fresh and dry during the wet seasons. Therefore, they can easily be used for jobs such as fishing or hunting.
They provide warmth
Thanks to the insulating materials and the cushioning technology. Apart from keeping you dry, they are also designed to keep your feet warm. They also prevent body heat from flowing out.
They offer style
Generic Muck Boots may be duplicates to the real ones, but one might have difficulty recognizing them. They tend to be quite stylish and have an appearance similar to that of the real ones. You can quickly wear them while appearing stylish enough at the same time.
They offer durability 
When you look at the price of some of the knockoffs and the materials they consist of, you have a perfect chance of getting yourself a real bargain. The materials are durable, allowing them to last for a long, long time. They'll be your trusted companion in the harshest of conditions in the toughest of times.
Check out our separate post on Clark Desert Boot Sizing
Related Questions People Ask
Are Muck Boots worth the price?
Yes! They are. Muck Boots are tough, they'll keep your feet warm, comfortable, and most importantly, they'll last for a long time to come.
How long should Muck Boots last? 
You can think of Muck Boots (or any other books of similar nature) as you do with tires.
After a specific time, they'll wear out. Their longevity varies from person to person and their level of daily usage. Most people usually get over a year. At the same time, some get three to five years of service from them.
Can you wash Muck Boots in the washer?
No! It's highly recommended not to use the washer for cleaning them. It's for the better you wash them manually to increase their lifespan.
Are Muck Boots snake-proof?
Yes! Most hunting boats, including Mucks, are snake-proof. This results from the materials (used in the construction) that are tough enough to withstand snake bites.
Are Muck Boots fire resistant?
No! they aren't fire-resistant. They will melt and burn when exposed to direct flame.
Parting Thoughts
There's no doubt Muck Boots are the ultimate utility footwear. The features and benefits they offer are second to none, but you know where the stumbling block lies.
This is when I come to your rescue with my ultimate list of the best knockoffs to Muck Boots. Hopefully, by now, I hope you've found yourself that elusive pair of work rubber boots that will take the stress out of your pockets.
Let me know if I've anything essential or any particular pair that's well up to the mark. Also, don't hesitate to ask for any kind of queries. I'm always here for your convenience. Have a safe outdoor adventure.