When it comes to comfortable footwear, there are no matching flats. And, when it comes to flats, there's no matching the Tieks. Unfortunately, these ballet flats start at a whopping $175! And forking out such an amount can be quite a hiccup.
But, don't you worry! After going through a rigorous regime of careful research, I compiled this ultimate list of Tieks knockoffs for all you lovely ladies out there.
These enchanting alternatives deliver style and comfort at the lowest ever rate possible. Music to the ears, isn't it? Go through the post carefully, and find yourself the perfect match.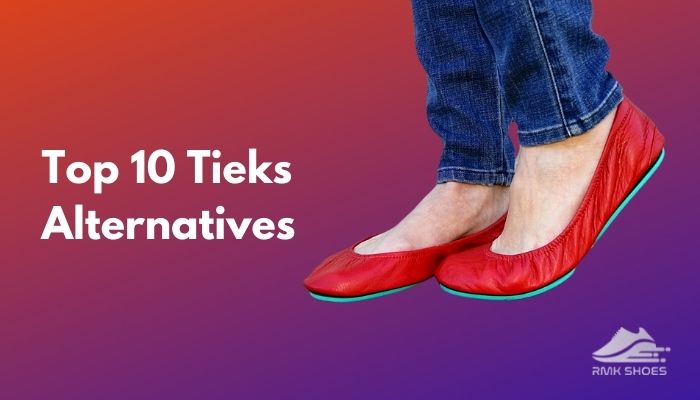 Best Tieks Alternatives- Review
Ballet flats cater to a whole range of outfits because you should definitely have them in your closet. And, these Tieks dupes are quite pocket-friendly too. Treat your feet with either of these, and they'll definitely thank you.
Here are the best knockoffs to Tieks:
Yosi Sampa Women's Samara Ballet Flat 2.0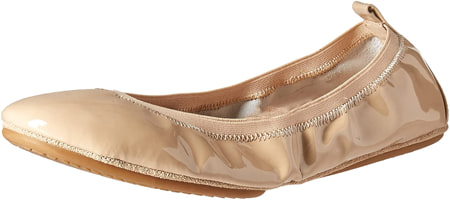 Featuring at the top of our list are the gorgeous ballet flats from Yosi Samra. These scintillating flats are the closest and in terms of Tieks.
These shimmering block shoes are made using 100% cowhide leather and feature rubber soles.
The material ensures these babies have a long life. The comfy insoles consist of Ortholite memory foam. Do you know what does that means? Comfort, without having to worry about odors.
You can fold the Women's Samara Flats just like Tieks. Carrying them is a piece of cake. You can easily wear these gorgeous shoes all day long without any hiccups.
Even though Samara Ballet Flats aren't available in many colors, these shoes are a realistic option as Tieks knockoffs.
Olio Women's Pulltab Comfort Ballet Flats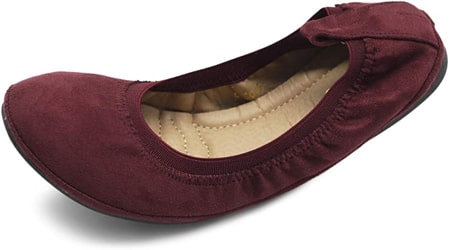 Women's Comfort Ballet Flats from Olio is the perfect match For your everyday style. These light ballet flats consist of synthetic material (unlike the Tieks).
Nonetheless, they offer ample amounts of comfort for your day-long tussle. Available in a variety of color options, you'll definitely find a pair to match your taste.
Foldable in nature, these beauties offer quite the comfort, special thanks to the padded insole. You can easily pair them up with your everyday office attire or your casual outfits.
All in all, these ballet flats are everything you could ever ask of a cheaper alternative.
Speaking of cheap, you can buy at least seven pairs of these shoes for the price of one pair of Tieks.
Lucky Brand Women's Emmie Ballet Flats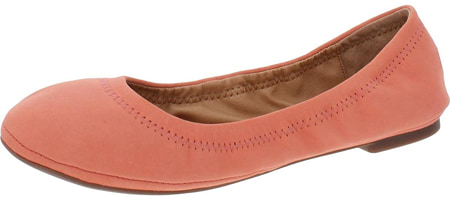 You're about to get lucky with Lucky Brand Women's Emmie Ballet Flats! These round-toe shoes feature a classic design that's sure to uplift any of your outfits.
Women's Emmie Ballet Flats consists of a stretchy leather material that takes the shape of your foot with ease.
For extra comfort, Lucky Brand has equipped this footwear with memory foam insoles. While they may not be in the same vein as the Tieks, they're definitely worth the mention.
You'll also get them in fabric material too. Available in a plethora of colors, these beauties offer a good value for money.
As for drawbacks, Women's Emmie Flats aren't bendable, nor do they feature the signature tea blue soles and strips. Equipped with reinforced stitchings, they're good shoes in their own right.
Hush Puppies Women's Chaste Ballet Flat

My personal experience with Hush Puppies has been nothing but great. This manufacturer has an excellent track record of producing super comfortable footwear.
I'm sure you'll have a similar experience in your version of Hush Puppies.
Women's Chaste Flats feature a triangle footbed that provides you with comfort, flexibility, and proper air circulation. As for the upper, it consists of a combination of 100% leather and textile.
These shoes are very lightweight and feature rubber outsoles that are sturdy and provide excellent traction.
You can easily pair them up with your casual or office attire. You'll also be happy to know Hush Puppies offer 20 different colors for you to choose from.
All in all, these beautiful shoes are fun and comfortable to wear on any given day.
FRYE Women's Regina Ballet Flat

Featuring at number five of our countdown is the pointy toe Flats from FRYE.
The body consists of 100-percent leather that ensures a long life span. Designed to give you a snug fit, you'll be welcomed with a hug of satisfaction upon putting them on.
The well-engineered design means no worries of internal slippage during motion. And if you're a fan of pointy toes, then it's an easy decision.
While these shoes do not feature a strip, there's a cute ribbon at the back that gives them their own identity. With an option to choose from 15 different colors, you'll have no problem finding a pair to match your taste.
Cole Haan Women's Jenni Ⅱ Ballet Flat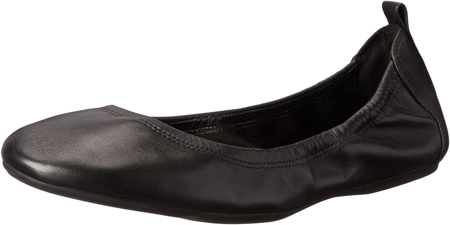 Cole Haan has an excellent track record of producing quality women's footwear, and this time it's no exception.
Women's Jenni Ballet Flats were created keeping your unique needs in mind.
These elegant Footwears Feature a bendable construction and has the potential to be a staple for all of your occasions.
The upper consists of premium quality leather/synthetic, which are among the best in the industry. The soft material and the padded insole combine effectively to provide you with the most comfortable experience possible.
Plus, these beauties provide excellent support with an ample amount of padding to mitigate the weight in your foot. With each pair of these shoes, you get eighty years of experience.
Cole Haan never compromises when it comes to quality and is well known for its flawless artistry. You can expect exceptional quality with a hint of avant-garde engineering from each pair of Women's Jenni II Ballet Flats.
Sam Edelman Women's Felicia Ballet Flat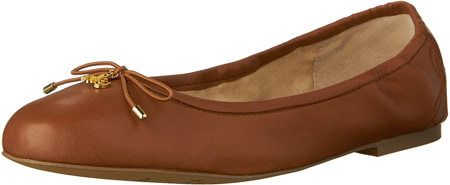 Cute! Is the term to describe the Felicia Ballet Flat in one word. These gorgeous flats from Sam Edelman can be your partner in crime.
Available in some gorgeous color options, you can easily find a pair to match your taste. Sam Edelman has used premium quality leather in the construction of these delicate flats.
The leather has a butter-smooth texture and a demure bow that adds charm with a tinge of glam.
Felicia Ballet Flats offers comfort in ample amounts to make your daily hauls super smooth. You can expect premium-quality materials and excellent styling from these beauties.
If there were one disadvantage, that would be the un-foldable nature of the soles. Nonetheless, these ballet flats are super cute with a practical sensibility and adolescent taste.
Skechers Women's Ballet Flat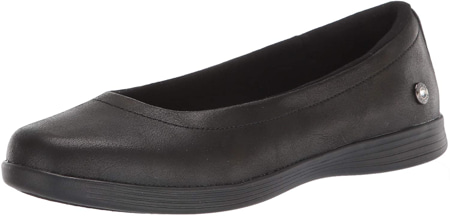 Up For something unconventional? If so, then you must have a look at the women's Ballet Flats from Skechers.
Unlike the Tieks, which come in plain colors, these flats have a leopard skin-like appearance, that too in many different varieties of colors.
Skechers have used a combination of fabric and synthetic to construct the body of this bold and attractive footwear. One thing I like the most about these babies is the air-cooled memory foam insoles.
The combination of the material and the cushioned insole ensures proper air circulation and comfort.
You can easily hop into these shoes and venture out without having to worry about any sort of soggy experience or discomfort.
You'll also be happy to know Women's Ballet Flats have a long life span, thanks to the quality of the materials and the reinforced stitchings.
These shoes aren't the exact reincarnations of the Tieks by any means. However, they do feature a Tieks strip at the back. All in all, these beauties are a great option when it comes to making a style statement.
CZZPTC Women's Ballet Flats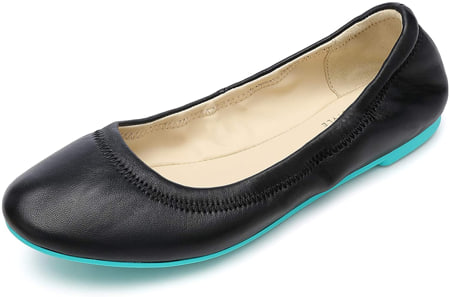 If you're looking for something simple yet gorgeous, then Women's Ballet Flats from CZZPTC is the thing for you. You get the tea blue soles, but sadly enough, they aren't foldable.
But don't be disheartened as they're brilliant, nonetheless. These lambskin Ballet Flats feature an elasticized top line that flexes when needed, allowing you to have a custom fit in the process.
Plus, the texture of the skin is super smooth, which I like. These round-toe shoes feature premium latex cushioned footbeds that result in ultimate comfort.
You'll also be happy to know, and the suede leather sock lining features a perforated arch.
What does that mean? It means a super relaxing experience with proper breathability. All these features make them perfect for walking around town with friends or family.
The icing on the cake is the outsoles that provide excellent traction. And the gorgeous color options are another bonus.
Rockport Women's Total Ballet Flats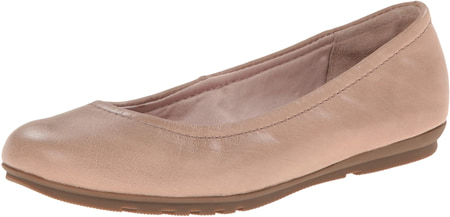 If you've made up to this part of the review, then congratulations. You've made it till the very end. And, featuring at number 10 of our countdown is the Total Motion Bow Flats from Rockport.
Featuring a cute bow like Sam Edelman's Felicia Flats, these ones are outright gorgeous.
These shoes are made of 100-percent leather and feature synthetic soles. What I really like about the shoes is the bows with metal aglets.
Another feature that must be mentioned is the ADIPRENE technology which is embedded in the soles to ensure proper shock absorption.
This particular piece of innovation comes from the famous sportswear manufacturing giant Adidas. You get an added height of 6mm thanks to the TPU plates that add stability along with flexibility.
Just like the Tieks, these shoes Feature a strip at the back. And the synthetic soles provide much-needed traction.
You'll love the different color combinations these shoes have to offer, especially the snake-skin variant.
All in all, these shoes are a perfect combination of innovative engineering and brilliant craftsmanship. Not bad, eh?
Factors You Should Consider In Ticks Alternatives?
When it comes to alternatives, there are some factors you need to keep in mind. Why so? Well, this is because cheaper alternatives do not (always) ensure a bargain / proper value for money deal. To make sure you spend your money wisely, some factors are important.
Here are the factors you should keep in mind:
Comfort
Ticks are well renowned for their comfort. I'm sure none of us would want to compromise on this particular aspect. And why should you? What's the point of wearing a pair of footwear that's uncomfortable?
So, what makes Tieks so comfy? They use a special insole cushioning to ensure a cozy experience all day long. The material used in the construction of the upper is quite soft and stretches when needed, enabling you to have a custom fit. Keep in mind the knock-offs you buy provide something close, if not the exact thing.
Design
Let's be honest. We all want our footwear to have the best design which reflects our style. Be it hitting the gym in trainers or walking around town in flats, design is important, and Tieks certainly have that.
There're so many options available nowadays, let's say pointy-toe, round-toe, or almond-toe. Tieks won't offer you so much, but they certainly are unique. In short, you have the option to pick your preferred design. Be it an exact copy of the Tieks or a pointy-toe. Pick the one that complements your style.
Benefit
One of the best benefits of the Tieks is the fold-in feature. It's not only convenient, but it also adds an extra layer of interest around these famous flats. Thanks to this particular aspect. Tieks can literally fit where which makes them the perfect travel companion. You can keep them in your backpack, purse, or even in your jacket pocket. How cool is that?
Though Tieks Ballet Flats are known for this excellent feature, there're many other companies that offer this too! So, when searching for affordable Tieks, knock-offs make sure to add this advantage to your list.
Brand value
When we look for something in particular, we tend to go for the best ones out there. The budget plays an important role here. It is based on the budget we come to a conclusion on which brand to buy from. Another important Fact is the opinion of others. That being said, celebrity endorsement plays a big role when it comes to anything in the Fashion world.
If you fail to find something recommended by a famous figure, don't worry! You can always go through the customer reviews and ratings regarding a specific brand. You'll find plenty of honest opinions.
Some of the flats mentioned in this list come from well-reputed companies. So, no worries there. However, if there's the slightest hint of doubt, you can scour the net for honest opinions.
What Shoes are the closest to Tieks?
Flats mentioned in this post are all comparable to the Tieks in one way or another. But, shoes that come closest to these famous flats are Women's Samara 2.0, Hush Puppies Women's Classic Flats, and Cole Haan Women's Jenni. Not only are they similar, but they're cheap too.
Why is Tieks so expensive?
One possible factor is brand value. There are other considerations as well, such as the quality of the material, the craftsmanship, the patented design, and most importantly, the labor. Each pair of Tieks are handmade.
Are Tieks worth it?
Well, this is the million-dollar question, isn't it? And the honest answer to this question is, yes! Ticks are well worth the money, considering the features and quality you get.
Do Ticks become smelly?
No, they don't. These ballet flats don't sweat your feet, which results in almost no smell. The well-engineered design ensures that. You wear them as if the AC is on.
Are Tick's alternatives comfortable?
No, not all of them are comfortable. This is one of the hiccups of cheaper alternatives. To ensure you get a pair that offers proper comfort, go through the customer's reviews and ratings.
Final Thoughts
There's no denying the perks that Tieks offer. The thought of owning a pair of these famous flats is quite appealing. Unfortunately, they come at a heavy price. But, that doesn't mean you should give up on having a similar experience.
There are many brands out there that produce similar shoes at cheaper rates. To help you find the best of them, I compiled this list of the best alternatives out there.
Do let me know down in the comment section below whether you found your perfect pair or not. And, feel free to let me know if there are better knockoffs out there. I'd love to hear from you too.