When it comes to comfortable footwear, there are no matching flats. And, when it comes to flats, there's no matching the Tieks. Unfortunately, these ballet flats start at a whopping $175! And forking out such an amount can be quite a hiccup.
But, don't you worry! After going through a rigorous regime of careful research, I compiled this ultimate list of Tieks knockoffs for all you lovely ladies out there.
These enchanting alternatives deliver style and comfort at the lowest ever rate possible. Music to the ears, isn't it? Go through the post carefully, and find yourself the perfect match.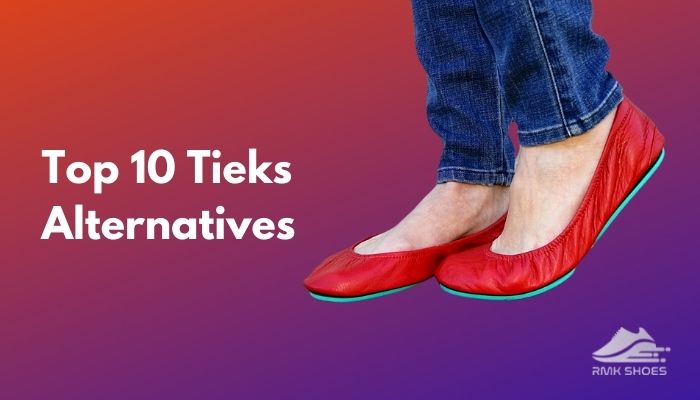 Follow our guide to know 5 Best Cheaper Alternatives to Muck Boots 
Best Tieks Alternatives- Review
Ballet flats cater to a whole range of outfits because you should definitely have them in your closet. And, these Tieks dupes are quite pocket-friendly too. Treat your feet with either of these, and they'll definitely thank you.
Here are the best knockoffs to Tieks:
Do check our latest post on the top 6 Rothys Alternatives
Factors You Should Consider In Ticks Alternatives?
When it comes to alternatives, there are some factors you need to keep in mind. Why so? Well, this is because cheaper alternatives do not (always) ensure a bargain / proper value for money deal. To make sure you spend your money wisely, some factors are important.
Here are the factors you should keep in mind:
Comfort
Ticks are well renowned for their comfort. I'm sure none of us would want to compromise on this particular aspect. And why should you? What's the point of wearing a pair of footwear that's uncomfortable?
So, what makes Tieks so comfy? They use a special insole cushioning to ensure a cozy experience all day long. The material used in the construction of the upper is quite soft and stretches when needed, enabling you to have a custom fit. Keep in mind the knock-offs you buy provide something close, if not the exact thing.
Design
Let's be honest. We all want our footwear to have the best design which reflects our style. Be it hitting the gym in trainers or walking around town in flats, design is important, and Tieks certainly have that.
There're so many options available nowadays, let's say pointy-toe, round-toe, or almond-toe. Tieks won't offer you so much, but they certainly are unique. In short, you have the option to pick your preferred design. Be it an exact copy of the Tieks or a pointy-toe. Pick the one that complements your style.
Benefit
One of the best benefits of the Tieks is the fold-in feature. It's not only convenient, but it also adds an extra layer of interest around these famous flats. Thanks to this particular aspect. Tieks can literally fit where which makes them the perfect travel companion. You can keep them in your backpack, purse, or even in your jacket pocket. How cool is that?
Though Tieks Ballet Flats are known for this excellent feature, there're many other companies that offer this too! So, when searching for affordable Tieks, knock-offs make sure to add this advantage to your list.
Brand value
When we look for something in particular, we tend to go for the best ones out there. The budget plays an important role here. It is based on the budget we come to a conclusion on which brand to buy from. Another important Fact is the opinion of others. That being said, celebrity endorsement plays a big role when it comes to anything in the Fashion world.
If you fail to find something recommended by a famous figure, don't worry! You can always go through the customer reviews and ratings regarding a specific brand. You'll find plenty of honest opinions.
Some of the flats mentioned in this list come from well-reputed companies. So, no worries there. However, if there's the slightest hint of doubt, you can scour the net for honest opinions.
But before that, you check out 10 Tieks Alternative
Related Questions People Ask
What Shoes are the closest to Tieks?
Flats mentioned in this post are all comparable to the Tieks in one way or another. But, shoes that come closest to these famous flats are Women's Samara 2.0, Hush Puppies Women's Classic Flats, and Cole Haan Women's Jenni. Not only are they similar, but they're cheap too.
Why is Tieks so expensive?
One possible factor is brand value. There are other considerations as well, such as the quality of the material, the craftsmanship, the patented design, and most importantly, the labor. Each pair of Tieks are handmade.
Are Tieks worth it?
Well, this is the million-dollar question, isn't it? And the honest answer to this question is, yes! Ticks are well worth the money, considering the features and quality you get.
Do Ticks become smelly?
No, they don't. These ballet flats don't sweat your feet, which results in almost no smell. The well-engineered design ensures that. You wear them as if the AC is on.
Are Tick's alternatives comfortable?
No, not all of them are comfortable. This is one of the hiccups of cheaper alternatives. To ensure you get a pair that offers proper comfort, go through the customer's reviews and ratings.
In a hurry? Check out my new post best Joan of Arctic Alternatives
Final Thoughts
There's no denying the perks that Tieks offer. The thought of owning a pair of these famous flats is quite appealing. Unfortunately, they come at a heavy price. But, that doesn't mean you should give up on having a similar experience.
There are many brands out there that produce similar shoes at cheaper rates. To help you find the best of them, I compiled this list of the best alternatives out there.
Do let me know down in the comment section below whether you found your perfect pair or not. And, feel free to let me know if there are better knockoffs out there. I'd love to hear from you too.