Are you tired of your Five Ten Freeriders? Are they rugged and worn out from repeated use? Do you need shoes with the same functionality with fresh, new features? Then you are in the right place, fellow adventurer.
Five Ten Freeriders are great quality shoes for your mountain biking adventures, but they wear off within a few years and you have to keep getting new ones at higher prices.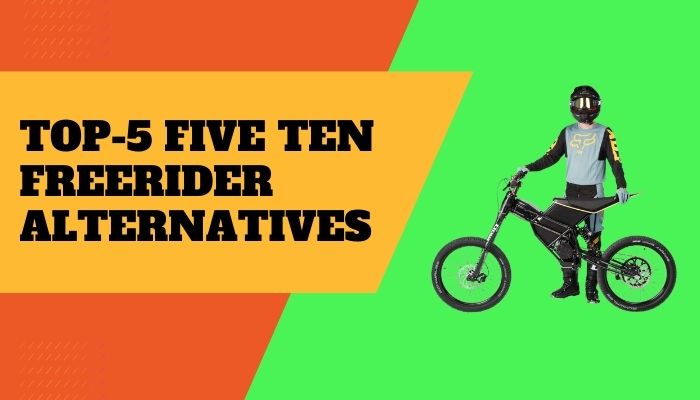 So, if you can get your hands on high-quality, functional, and durable alternatives that would be great, right?
Well, after digging through the internet for hours, I have compiled the best five mountain bikes that you can get as an alternative to your Five Ten Freeriders.
So, without wasting any more time, let's get straight to business.
What Are The Best Alternatives To Five Ten Freeriders?
A multitude of essential functions is performed by a mountain biking shoe of sufficient quality.
Its sturdy platform transmits power to the pedals, its durable design helps to keep your feet safe, and its snug fit makes it more comfortable to ride for extended periods of time on the trail.
Now that Five Ten Freeriders have become an older model, investing in them seems unnecessary, so looking for their alternatives is only normal.
Follow our guide to know 5 affordable Alternative To Allbirds.
So, what are the best mountain bike alternatives to Five Ten Freeriders?
Here are the best alternatives to Five Ten Freeriders:
Vaude Moab Mid Stx
Vaude manufactures high-quality shoes for multi purposes, but the Moab Mid STX by Vaude is one of their most finely crafted shoes for biking.
It is made using high-quality leather, and the sole of this pair is non-slip so it provides protection from slipping injuries.
The midsoles are made of EVA, which has shock-absorbing properties and gives it the lightweight and ease that you desire in biking shoes. The insoles are removable, so you can take them out, replace them, or add new ones whenever needed.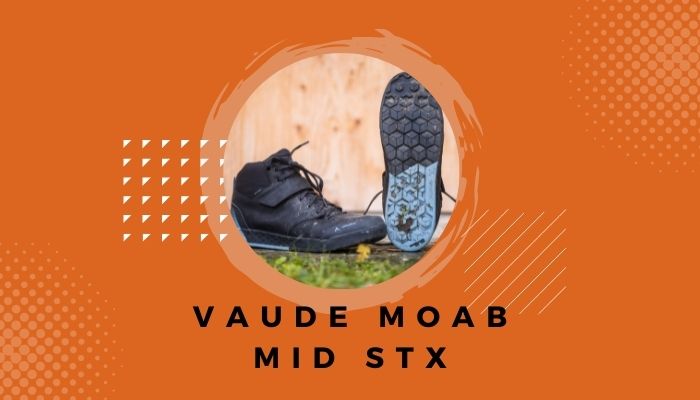 Moreover, this pair of biking shoes are waterproof – which is a highly beneficial feature given that you will be using them in different weathers during your outdoor adventures.
This shoe is very efficient and easy to carry around and store – it has a loop fastener and a hook.
Pros
»

Comfortable

»

Non-slip

»

EVA midsoles

»

Waterproof

»

Good ventilation
Cons
»

Relatively poor pedal grip

»

Can be rigid
Check out our separate post on the best Alternatives To Doc Martens.
Crank Brothers Mallet Mountain Bike Shoes
One of the best pairs of shoes for mountain biking is this one – Crank Brothers Mallet Mountain Bike Shoes.
This shoe has a rubber sole that is very efficient for mountaineers. Moreover, it is one of the finest options for avoiding mud since it is the best at shedding dirt.
It has a firm hold, and it can be clipped in and taken out with relative ease which is why it has long been a favorite choice for all gravity riding and trekking and I would highly recommend this pair for you.
It is highly comfortable and pleasant to walk in. Their midsoles are made of EVA, so it has shock-absorbing properties.
Plus, it provides protection from physical injury, thus it serves the dual purpose of being protective and comfortable.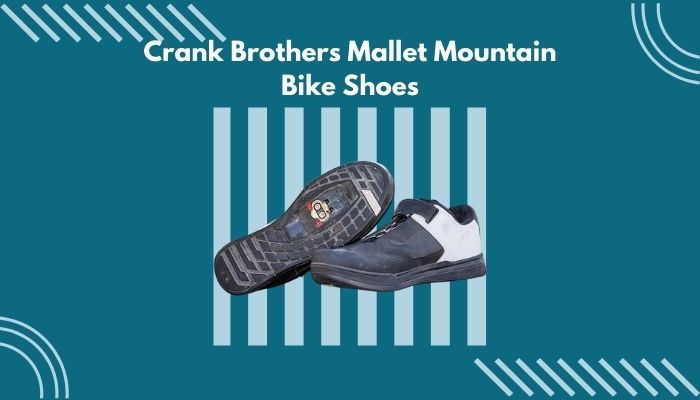 In addition to that, it offers excellent arch support and is constructed out of high-quality materials.
Pros
»

Comfortable

»

Provides protection

»

Arch support

»

Easy to clean

»

EVA midsole
Cons
»

Heavy weight

»

Releases when you strike on rocks

»

Can be rigid
Go through our epic guide 5 cheaper Alternatives To Sanuk.
Giro Chamber II Downhill Cycling Shoes
This pair of cycling shoes is an attractive and functional pair because it provides a unique combination of comfort and athleticism.
The soles are of premium quality, made using rubber and Vibram, which is water resistant, so it is perfect for hiking and mountaineering and also has exceptionally high durability.
This shoe and it's features have been specially designed keeping in mind biking in mountains and other rough terrains, so they are high-performing cycling shoes.
It provides a comfortable and firm fit – so you get a great mixture of comfort and durability.
Pros
»

Durable

»

Comfortable

»

Waterproof

»

Breathable upper
Cons
»

Not true to size, you have to size up

»

Heavy weight
Follow our other guide to know affordable Alternatives To Stan Smith.
Scott MTB AR Boa Clip Cycling Shoes
This pair is highly durable and comfortable.
The midsole is made of EVA, providing good shock-absorbing properties. Moreover, the soles provide great traction and grip, so it is ideal for rough terrains.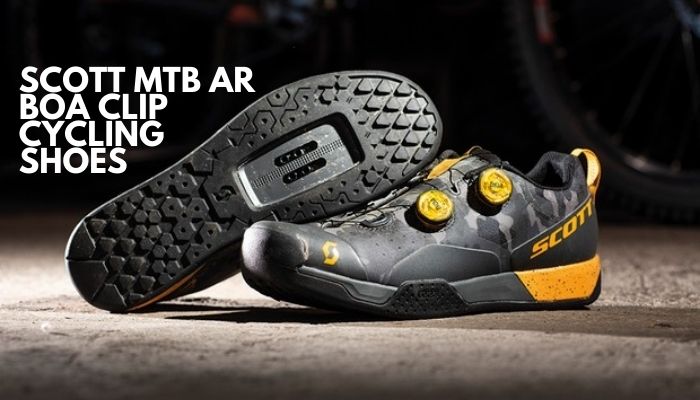 Due to the effective grip, it is a good choice for long rides in the mountains as your feet will not get tired easily when cycling in these shoes.
Pros
»

Comfortable

»

Durable

»

EVA midsole

»

Great traction
Cons
»

Heavy weight

»

Poor ventilation
Follow our other guide to know affordable Alternatives To Stan Smith.
Adidas Five Ten Sleuth Mountain Bike Shoes
This one is an excellent, versatile pair of biking shoes. This is a shoe that may be worn for any occasion – it can be used for a variety of cycling activities, whether it's for mountain biking or a casual day out.
The midsole is made of EVA foam, which has shock-absorbing properties and makes the shoe fairly lightweight and highly efficient for cycling.
Moreover, one fantastic feature is that it is manufactured using recycled materials.
It has great pedal-gripping control that provides the user with comfort throughout the day.
Suede leather, which has a great texture, was used to craft the soles of this shoe.
You may also like to read: Shoe Tree Alternatives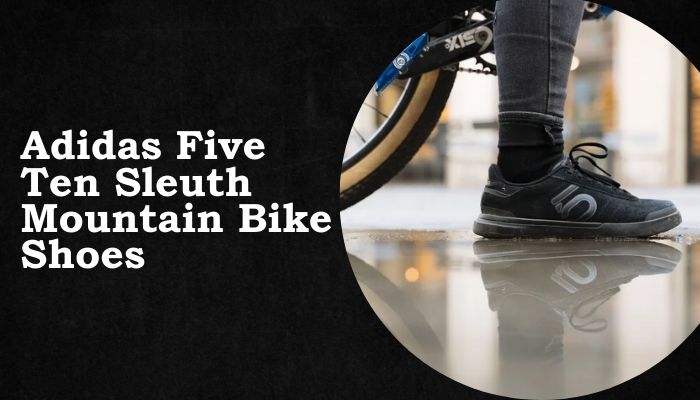 Due to its excellent grip and fit, the utility of this shoe extends to other sports as well. It also looks very attractive and provides a great fit.
The ease and convenience of this pair make it easier for you to move around comfortably whether you're at work, school or riding a bike.
Pros
»

Made from recycled material

»

Comparatively light weight

»

Eva midsole

»

Can be worn besides biking

»

Breathable
Cons
»

Not as durable as the others

»

Less power transfer
Frequently Asked Questions
Are Five Tens Worth It?
When it comes to value for money, I would say they are not worth the price tag.
However, Five Tens are a great pair of shoes and they can be worn for biking around. However, Firstly, because their models are getting older by the day.
Secondly, they can get soggy in the winter and rainy seasons, and they also take a very long time to dry.
However, their soles are quite grippy, so if you need grippy shoes, they are a good option.
But I would recommend you to check out their website and get them at different sales and discounts because if you get them at around 35 to 60 dollars, that's actually great value for the price.
What Kind Of Socks Should You Wear With Biking Shoes?
When it comes to biking, and especially biking on rough terrains, your feet go through a lot. So, you will need a pair of socks that is gentle for the skin, and most importantly, breathable.
So, I would recommend you to wear cotton socks, preferably thinner ones during the summer and thicker ones during the colder seasons!
Can You Wear Biking Shoes For Other Purposes?
Yes, it is possible to wear your biking shoes for walking or light jogging.
However, doing so is not advised due to the fact that they place an excessive amount of strain on your ankle and have the potential to result in problems such as plantar fasciitis.
In addition, there is a possibility that you will ruin the shoes. Your feet and toes will suffer wear and tear over time if you walk about in shoes designed for cycling.
Moreover, compared to running or jogging shes, biking shoes are more rigid and heavier – hence, they are not very suitable for other activities.
Conclusion
Biking shoes are very important as they protect your feet, optimize your riding skills, and prevent unwanted injuries – especially in the mountains, proper gear and protection are vital.
Hence, you should always invest in a good and reliable pair of mountain biking shoes.
Five Ten Freereiders are great mountain biking shoes, but they are not as durable as they should be and the models are getting old and boring – which is why they introduced Five Ten Freerider Pro.
But if like many other people, you are not interested and want some good alternatives, then you should give the shoes mentioned above a try for sure!
Try them out and let me know your experience in the comments below.