Tired of wearing the same Sanuk shoes over and over again? Looking for identical options?  Then, my friends, I believe you've landed in the right place.
Nowadays, Sanuks are incredibly popular. Unfortunately, they come with a heavy price, too. But, don't you worry, I compiled this ultimate list of affordable alternatives for your convenience. Sounds great, doesn't it?
So, without further ado, let's delve straight into the review.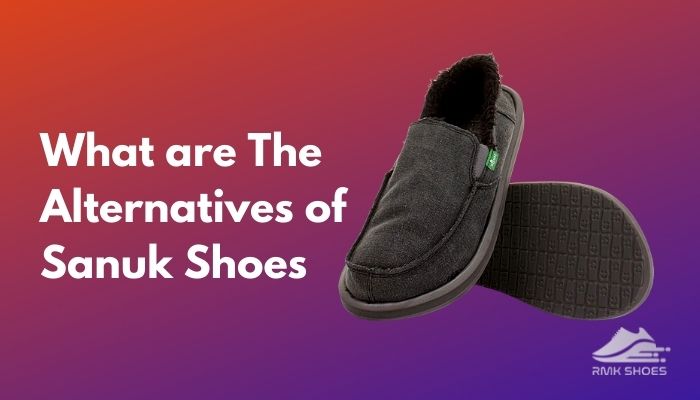 The Best Alternatives To Sanuks: Reviewed
Sanuks are zero-drop, for which you get an incredibly close to barefoot experience, but they're incredibly expensive. To give you a likewise experience, I'll be reviewing some cost-effective alternatives.
Here the best alternatives to sanuks:
Crocs Men's Santa Cruz Loader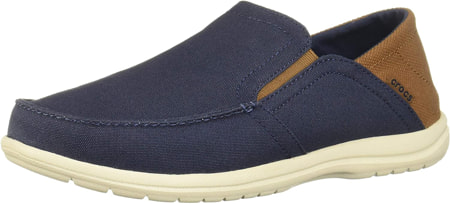 Making it at the top of our list is this extremely comfortable loafer from Crocs. Comfort's one of the most important features of Sanuks, and this footwear have it in abundance.
The Santa Cruz Loafers from Crocs are made of high quality textile (upper). The material's both durable and comfortable at the same time. If you search them on google you'll see overwhelming numbers of positive reviews and ratings.
Santa Cruz Loafers sport a casual design. That's suitable for work days and other fun outdoor activities. Thanks to the breathable upper, your feet will remain fresh and dry.
The easy to put on construction and coupled with the convenient goring panels allows you to slide in and out of these shoes effortlessly. That's right, effortlessly.
The thin textile upper and Croslite sole teams up effectively to give you a feather light feel, when the shoes are on your feet. Plus the flexibility is simply on point.
Crocs have equipped these shoes with padded heel Cups. What do they provide? The heel cups and the dual density Croslite midsoles provide you with unmatched comfort for your entire day of activity. And lastly, you'll simply love the color variants available.
Pros
»

Comfortable

»

Affordable

»

Breathable upper

»

Lightweight construction

»

Plenty of colors to choose from

»

Fits true to size
Cons
»

Some have found the lifespan to be median.
Crocs Men's Santa Cruz Loafers are extremely comfortable. The lightweight nature of the shoes give you a feather light feel. The easy to pull on construction allows you to put on these shoes quite easily. The best thing for me is the comfort these loafers provide. These are one of the best summer shoes out there.
CASMAG Men's Canvas Slip on Loafers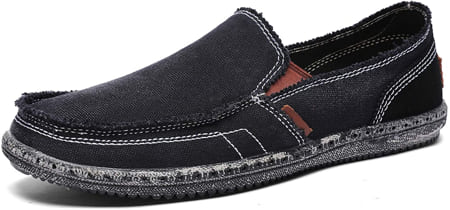 This versatile footwear from CASMAG could be your best friend. The shoes are simple yet elegant.
CASMAG Canvas Loafers are one of the best affordable alternatives to Sanuks. The upper consists of a fine quality Canvas material that's guaranteed to last long.
The easy to slip-on construction and the convenient dual goring panels makes sliding in and out of these  loafers effortless.
A pair of this loafer covering your feet, will elevate almost any of your casual clothing. Starting from your jeans to your shorts, anything you want to do. These simple yet gorgeous loafers have got your back.
The quality of the material and the reinforced stitching give these footwear a long life span. They're light and strong. A combination shoe enthusiasts like us adore.
What about comfort? CASMEG Men's loafers are equipped with an insole that reduces the intensity of impacts to give you a soft landing and an overall comfortable stride.
The convenient rubber outsoles aid to the cause (of comfortable stride), and provide proper traction for decent stability. Plus the multiple color variants give you a dilemma anyone would love.
Pros
»

Stylish

»

Versalite

»

Anti-slip sole

»

Very Comfortable

»

Well and truly affordable
Cons
»

Not suitable for people with wide feet
CASMAG Men's Slip On Loafers & are one of the best options for shoes identical to Sanuk. The overall design and the materials used are everything you'd want in an excellent alternative. The upper is breathable and the insoles are comfortable. And finally, the rubber outsoles provide excellent traction.
Hey Dude women's Wendy Loafer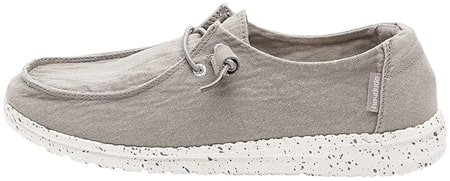 Women's Wendy Loafers are the perfect match for all you lovely ladies out there. This delicate pair of shoes are а symbol of style and comfort.
Hey Dude has used woven linen textile to construct the upper of these elegant shoes. There's no issue with breathability or durability. They'll last long upon proper handling.
Each pair of these shoes weighs only 4.2 0z, making them one of the lightest shoes out there. Upon walking, you'll get an almost barefoot experience.
The company has designed the shoes with multiple lace options. What's the advantage? You'll be able to adjust the laces to get your desired fit. Plus, the alluring fabric design enhances the class.
As for comfort, the soft handmade fabric lining and the EVA foam insoles coupled with the visco-elastic foam midsole provide you with the softest feel.
Thanks to the rounded toe, you'll have proper foot health and comfortable movement.
And last but not the least, the synthetic rubber midsole provides proper protection for a steady stride.
Pros
»

Soft and elegant

»

Comfortable

»

Classy appearance

»

multiple lace construction

»

durable
Cons
»

Does not fit true to size
Hey Dude Women's Wendy Loafers are a thing of beauty. They're soft, comfortable, and lightweight in nature. The attractive Fabric design gives them a classy appearance. The premium materials used in the construction makes them very durable. And yes, You get proper traction thanks to the synthetic rubber sole.
Crocs Mens Walo Express Loafer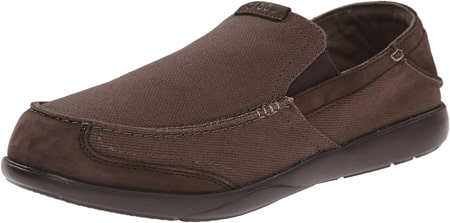 We've another pair of shoes from Crocs featuring in our list. This time it's the Walu Express loafer.
Crocs have an excellent reputation for producing comfortable footwears. And, they've lived up to that reputation with this pair of shoes as well. The upper consists of a durable yet flexible canvas.
The material's provide decent breathability, plus there are two ventilating holes around the arch area to enhance the air circulation. Now, you'll have fresh dry feet every time you wear them.
The loafers come with an easy to pull-on construction which means, you won't have to worry about sliding in and out of these shoes. Plus the dual goring panels only help the cause.
Wall Express Loafers are quite lightweight in nature. The convenient Croslite midsoles provide you with the level of comfort you need. Both these features combine to give you an extremely comfortable walking experience.
You'll also be happy to know this particular shoe can relieve you of foot pain such as neuropathy and plantar fasciitis.
These loafers don a casual yet stylish design that can elevate any summer attire.
These dependable footwear fits true to size as well. Whether you're going for a walk around town or any trip, you can always count on them.
Another Feature you'll love is the non- man marking outsoles. Now, you'll get traction without leaving any kinds of marks behind.
Pros
»

Light weight,

»

Comfortable,

»

Durable,

»

Affordable

»

Non-marking outsoles.
Cons
»

Not suitable for people with wide feet
Walu Express Loafers are great for comfort. The casual design has the ability to elevate any summer attire. They can be your dependable footwear, For any place you go. The Croslite midsole provides comfort, while the non-marking outsoles provide proper traction.
VILOCY Men's Slip On Canvas Boat Shoes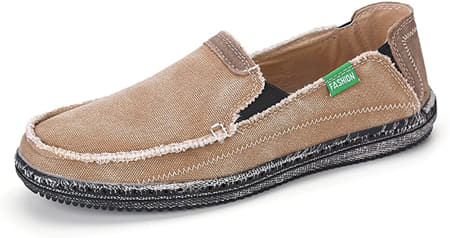 VILOCY Mens Slip On Boat Shoes are a great option if you're looking for Sanuk knockoffs.
VILOCY has used premium grade canvas to construct the upper of these Fabulous shoes. By looking at them you can tell these shoes are top drawer.
The canvas is breathable and flexible at the same time. With them at your feet, you'll be well in line for a truly comfortable experience.
The easy pull on construction allows you to slide in and out of these shoes quite easily. And, the dual goring panel provides that extra stretch you'll need.
The reinforced stitching holds the shoes together for a long time to come, while the cushy foot bed provides that much needed comfort. The stretchy nature and the padded collar provides you with all round comfort for a healthy foot lifė.
You can easily wear these shoes from the beach to the city streets, the boat, east coast to west and pair them up with any attire you want. The choice is yours.
To provide you with proper traction, the company has used durable anti-skid and anti-wear outsoles. With them at your feet, you'll be able to walk confidently across any place.
Pros
»

Comfortable,

»

Equipped with reinforced stitching

»

Anti-skid outsole

»

Durable

»

Fashionable
Cons
»

Less color variants available.
VILOCY Men's Canvas Boat shoes are a stylish alternative to Sanuks. These shoes are ideal for fashionable summer getups.The cushy Foot bed and collar padding provide much needed comfort, while the anti-skid, and anti- wear outsole provides you with proper traction.
Why Are Sanuk Shoes So Popular?
Sanuk shoes are popular for some obvious reasons. The company has designed the shoes in such a way that shoe lovers like us can hardly deny their beauty.
Here are some of the factors that play a key role in Sanuk's popularity:
Design
Almost all the designs of these shoes are designed without laces and are flat. No laces mean they're extremely easy to put on/off. The flat soles give you an almost barefoot experience. The design can also add some formal touch into an informal design. In short, they're suitable for different environments.
Material
The company uses different types of materials In the construction of their shoes. However, Sanuk most commonly uses textile, fabric, and chamois. These materials provide quite the comfort and versatility.
Durability
Sanuk shoes are well known for their durability. As the shoes are designed to be used in multiple places they're made to be durable. This is thanks to the high quality materials that are used to construct them.
Factors to consider for buying knock off Sanuks
Surely, buying a pair of knockoff Sanuks isn't an improbable task. You just have to get some aspects correct, that's all.
Here are some of the Factors to consider when buying knock off Sanuks:
Material
Affordable alternatives of Sanuks usually consist of a variety of materials. Some of them are fabric, mesh, and leather too! As these shoes aren't mostly meant for casual walks, stitchings are fine. Just make sure the stitchings are good enough to hold the materials together.
Design
Sanuks are mostly zero-drop barefoot shoes that allow you to have the best contact with the ground. You've to make sure the alternatives you buy provide you with a likewise experience. While most of them are loafers and others resemble Vans,  just make sure the principal remains the same.
Durability
You've to understand the fact that buying cheaper alternatives, where the main aims to reduce the cost. This doesn't mean you'll  purchase anything you come across. It's true most of them won't be extra durable, but it's important to prioritize those that have the ability to last at least a year. And how can you do that? Go through the customer ratings and reviews.
Comfort
Sanuks may not offer the comfort identical to that of a premium grade sneaker. Nonetheless they're still good enough for a whole day of walking. These shoes were mainly designed for people with proper foot health, as a result the padding's are thin to maintain that loafer appearance. For better comfort you can take a look at the options from Crocs.
Frequently Asked Questions
Can you wear socks with shoes similar to Sanuk?
You can wear socks with Sanuk alternatives. Sanuk knockoffs are known to stretch, too. This is a reason some people buy them half a size less. If you're one of those and decide to wear socks, keep in mind they'll stretch even more and you won't be able to wear them without socks.
Do knock off Sanuks make good walking shoes ?
Sanuks and their alternatives are light weight, flexible and breathable, which is all you want from a pair of walking shoes, right ? However, they do not offer extra padding or arch support. This means they're unsuitable, if you do not have healthy feet.
Can You Wear Jeans with Shoes akin to Sanuk?
You most certainly can. Like sanuks, the alternatives are cute and comfortable. Although they're mostly meant to be used on the beach, you can easily pair them up with Jean during the colder months of the year for a stand out appearance.
Do knock off Sanuks have good arch support?
Like sanuks, their alternatives are flat footed, which means the arch support is very little and sometimes negligible. However, there are some knockoffs that come with removable insoles. You can easily replace them with orthotics that offer arch support.
Conclusion
Sanuks are extremely popular for a variety of reasons, most notably comfort. While anyone would love to own a pair of these beauties, they might consume  half of your budget if not full. Fortunately for you there are lot's of good quality alternatives available in the market.
To make your life a lot easier I've listed down the best ones, among the lot. Do let me know what you think. And, feel free to let me know down in the comment box below if I missed anything important.