Blake Mycoskie launched Toms shoes with a noble intention of helping underprivileged kids. The scheme was a massive success and gained many plaudits all around the world. With this noble motive, the company evolved into a prominent business model and hasn't looked back since.
Following a similar cause, Bobs shoes were launched by Skechers. Ever since their launch, Bobs shoes vs. Toms have been the center of many arguments, confusion, and debates.
So, What is the difference between bobs and toms shoes?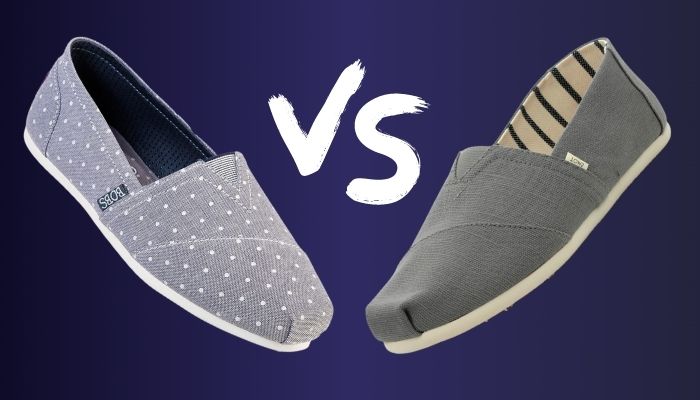 The main difference between bobs and toms shoes is they are from different brands. Bobs is owned by Skechers whereas toms is owned by Blake Mycoskie. Apart from that, bobs shoes are more expensive than toms.
In this article, I shall try to shed some light into this much talked about subject. I'll be comparing the two brands, try to distinguish them, and by the end of this article, you'll have the idea if one is better than the other or they're more or less the same!
How Toms Came Into Existence
It was 2006, and Blake Mycoskie was on vacation in Argentina. He encountered a woman who was doing a voluntary job of delivering shoes to needy children. He was touched and lent a helping hand to the cause.
He noticed many children in the country didn't have the privilege of a simple pair of shoes. This sparked a very kind desire within. He would do all within his abilities to provide shoes to children who couldn't afford them.
To fulfill this noble deed, he eventually established the company "Toms." The company's name was derived from the word "Tomorrow," which evolved from the original concept "Shoes for Tomorrow Project."
To finance "Toms", he sold his online driver education company which he ran by himself.
Blake decided to develop a simple canvas slip-on shoe (a type of alpargata) which is quite popular in Argentina. His goal was to provide a new pair of shoes to the needy boys and girls of Argentina and other developing nations for every couple sold.
Initially Mycoskie ordered local Argentine manufacturers to make his first batch of shoes. An estimated 250 pairs of shoes were manufactured. Sales began in May 2006, officially.
An article from the Los Angeles Times helped the company a great deal. It received a much-needed boost in their endeavor. The order requests skyrocketed and roughly 10,000 pairs were sold in the first year.
You may also like to read about Are TOMS Comfortable Shoes?
The Idea Behind Bobs Shoes
Bobs are a line of shoes from Skechers which are of the same mold as the Toms shoes. Skechers was founded in 1992 by Robert Greenberg who also happened to be the former CEO and founder of L.A Gear.
Greenberg stepped down as CEO of L.A Gear in the same year he launched Skechers.
Skechers initially started with utility-style boots and skate shoes. Gradually, they got envolved with casual style for men, women, and performance shoes as well.
Bobs' shoes were launched in 2011. They followed the same business model as Toms, i.e they'd also donate a pair of shoes for each pair sold. The shoes are mainly made from canvas and are available for women in different colors and designs.
The issue that arose after Bobs' launch was that consumers accused Skechers of blatantly mirroring Toms' concept. This approach seemed far more cynical and showed a lack of creativity.
Nonetheless, since the launch Bobs have managed to donate approximately 9 million shoes to underprivileged children within the USA and 25 other countries.
Skechers are involved in the animal welfare association as well. They launched a new scheme via a limited edition line of animal-inspired Bobs shoes. The model would pretty much remain the same; for each pair of shoes sold, Skechers would donate to an animal welfare organization.
Well, I hope you've managed to grasp as to how both the shoes originated. Without further ado, let's get straight into our Bobs shoes vs. Toms analysis.
Check out our separate post on Ugg Boots Sizing Guide.
Bobs Vs Toms: 4 Major Differences Explained
There're quite a few  differences  between the 2, for your convenience I've explained the differences in 4 main categories. .
Here are the 4 main differences between toms and bobs shoes:
1. Type of insoles used
Let's talk about bobs insoles first:
We'll experience a good deal of differences here. Bobs use insert made of Memory Foam, which provides you with plush cushioning. Memory foam is formulated mainly from polyurethane as well as additional chemicals, which increases its viscosity and density. The foam bubbles or "cells" remain open, which effectively creates a matrix through which air can move.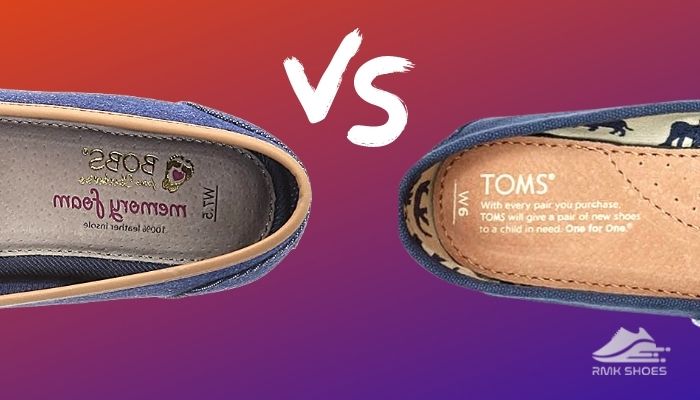 The open cell structure of memory foam allows it to be denser and overtime to be cooler and more responsive than the typical pure or furniture foam, that's quite available.
With the memory foam footbed, you get many significant amounts of advantages. It helps you with pain relief, pressure point relief, back support, and spinal alignment. It's also hypoallergenic and most importantly it's durable.
Now, let's turn to Toms:
Toms, on the other hand, use orthoLite footbeds. This particular insert is made from recycled rubber, which provides support for different types of needs.
OrthoLite footbeds are breathable that allows proper circulation of air resulting in the cooler and drier foot. The moisture wick technology prevents unwanted fungus. The inserts are quite lightweight and provide adequate performance and cushioning without adding much weight to the shoes.
Follow our other guide to know L.L.Bean Boots Sizing Guide.
2. Size
In this particular segment, both Toms and Bobs share similarities. Toms and Bobs both run true to their size.
Toms especially recommends that you buy your actual size. The reason behind this is that their shoes need to go through a break-in period. During this time, the shoe's material will slightly stretch and provide you with a better fit.
The break-in should be of no issue as I'm sure you've had a similar experience with your other footwear.
3. Options
What does Bobs offer?
Bobs, for instance sale heels, casual sneakers, slip-on, and surprisingly athletic footwear too. Bobs shoes are all about women. I know what you are thinking but trust me, only Skechers have the answer to this question.
Toms' options
Toms feature variable options too. Some of the choices they feature are boots, flats, sandals, and heels. Toms feature footwear for men and children. Just treat your feet with a pair from any of these brands, and your feet shall be thanking you!
4. Comfort
Bobs' effective formula
Bobs use the memory foam footbed, which is an all-rounder. The upper consists of canvas that makes them relatively light.
The effective combination of the memory foam insert and canvas upper does a fabulous job and provide that plush cushioning most of us want.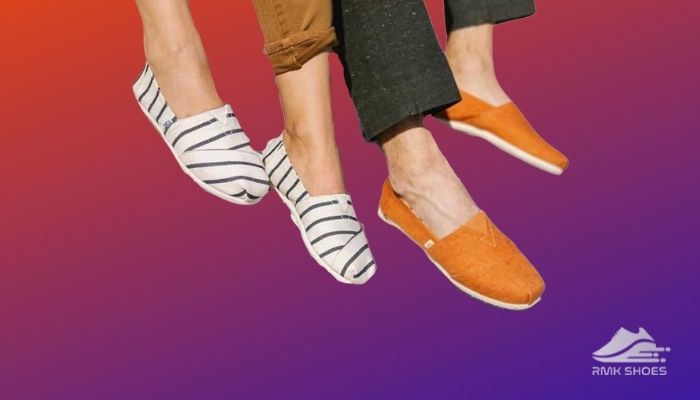 Toms' all-rounder
Toms, on the other hand, uses an insole that provides almost all the support your feet need. The insole consists of breathable material that keeps your feet cool and dry. It also comes with anti-microbial properties that prevent unwanted odors.
The eco-friendly materials used in the upper and the yarn insert make Toms shoes easy to fit in. Detailed research has shown that more consumers prefer Toms over Bobs.
Many have accused Bobs of being insubstantial and lacking the support that Toms shoes provide. The support towards Toms may also be psychological as Blake Mycoskie, and his company has gained the soft spot of many worldwide, but hey! This point is entirely theoretical and it's for the better if you don't get caught up on this.
Do check our latest post on the Hunter Boots Sizing Guide.
Is Toms better than Bobs?
Toms is better than Bobs in a few ways and one of them is maintenance! Toms Shoes are easier to maintain because of the materials. That doesn't mean Bobs lag behind! they too offer something that Toms doesn't. Let's have a look.
In terms of looks, the two shoes are like a mirror image of each other.
Toms upper consist of the canvas, the footbed of yarn, and the outsole consist of EVA. EVA stands for Ethylene-vinyl acetate, also known as poly. It is the copolymer of ethylene and vinyl acetate.
Toms use EVA outsole because EVA is water-resistant, can withstand recuperate and compression, possess color subsuming properties, and of course, is highly durable.
The overall materials used and build quality make Toms shoes relatively easy to maintain.
Skechers has also turned to canvas for their Bobs' upper. Canvas makes the Bobs relatively lightweight. The outsole includes the convenient memory foam footbed. This combination allows the shoes to mold according to your foot and gives you an almost barefoot experience.
Both the shoes are true to their size. If you're someone with wide feet, I recommend you buy a size half larger than your actual fitting.
Toms' next move
Toms have set its sight ongoing further eco-friendly. It offers a line of vegan shoes to consumers. The materials used are the main difference between the regular line and the vegan line of shoes.
The canvas of the vegan line consists of 67% hemp and 38% post-consumer plastic waste. There will be more emphasis on the usage of post-consumer waste than the normal ones. Toms have used microfiber canvas rather than pig suede.
For the next stop en route to even more eco-friendly shoes, Toms have replaced the EVA outer sole by recycled rubber outer sole. Furthermore, the shoeboxes are made of 80% recycled post-consumer waste, and soy ink's used for printing.
Did Bobs Imitate Toms?
In a way, you can say Skechers followed Toms' business model and launched shoes similar to them. Mycoskie is hugely successful in his way.
This successful model may have prompted Skechers to follow suit. Mycoskie didn't mind the Skechers approach, however. He wanted others to follow his concept and get involved in the noble cause.
It seems that the reason behind the company's success is the intention rather than the model. People always appreciate good intentions. In Toms' case, it was to help underprivileged children and communities in need.
Not only Toms' line of shoes provide donation, but its line of bags provides for charity too. Toms' eyewear line has helped an estimated 600,000 people since 2011, and its roasting company has helped to provide clean water.
What Do People Think?
Many feel that Skechers showed a lack of originality and creativity by blatantly copying Toms' idea. If you look carefully at both of them, there's little to no difference between the two. Many also feel Skechers shot themselves in the foot following this model.
Skechers isn't doing bad through the Bobs line of shoes if you ask me. They donate shoes to needy children like Toms and are involved with animal welfare organizations as well.
Both the brands are selling shoes for a noble cause. They're selling shoes and helping out people in need. You can also contribute to this meaningful cause and help out either of the two. You know what you've to do.
Frequently Asked Questions
Should you wear socks with either of the two?
It's recommended that you wear socks with your closed-toe shoes. Any type of socks should do the trick, but there's this thing about the looks. Well, in this case, you can go with the no-show socks. There's plenty of brands that provide top quality no-show socks.
The socks prevent odors, foot fungus, and blisters, resulting from internal slippage between your foot and shoe.
What size Toms should you buy?
Toms shoes are true to their size, which are available in medium width only. If you plan to wear them as casual or dress shoes, you must order your actual size.
On the other hand, if you're confused between shoe sizes, it is recommended that you go with a size smaller since the shoe will slightly stretch after its break-in period.
How long Do Bobs shoes last?
On average, it's seen that these shoes last up to 6 months upon frequent use.
If taken care of properly, they'll stay in good shape for a long time to come. Bobs shoes are excellent as long as you take good care of them. Looking from a realistic point of view, it all depends on how much you wear them and how you take care of them.
Are Toms made in China?
Yes, Toms shoes are in fact made in China.  Like almost everything, many fake Toms have been made in China using the printed tag "Made in China." Since China is one of the countries where original Toms are manufactured, it's been quite tricky.
Along with China, other countries such as Kenya, Ethiopia, and Argentina manufacture original Toms shoes.
How do you distinguish real Toms from the fake ones?
There're quite a few ways by which you can distinguish real Toms from the fake ones. Here are the 3 main ways by which you recognise the real one :
Check the shoes' country of origin. Five countries manufacture original Toms. The states are Argentina, Kenya, Ethiopia, India, and China.
Look for the "one for one" phrase imprinted inside the shoe. There's an excellent chance that this phrase may not feature in the fake ones.
Make sure that a pattern exists on the inside walls of the shoes.
Conclusion
Blake set out on a quest to help needy children with a humble beginning, and his model became an exemplary one and earned the plaudits of many.
On the other hand, Toms got Skechers, who followed Toms' footsteps and established something quite similar in nature. Even though the latter became the subject of much debate, ridicule, and confusion, it did a decent job.
If you look at them from a positive point of view, both provide comfortable shoes and contribute to a worthwhile cause.
I hope you found my analysis to be useful. Do leave a comment and let me know what you do think. Cheers!