The fancy and impressive style, printed canvas, casual trendy outlook – that's all I have in my mind when I hear about TOMS footwear.
This brand donates its shoes to financially insolvent people who aren't aware of wearing shoes so that they can get comfort and safety for their feet.
But are TOMS shoes really comfortable, or are they just fashionable?
To find out the answer, I researched and bought some pairs of TOMS shoes. I tried them for several months.
And now, I'm here to share my experience and view of some specific TOMS shoes with you. You'll also get to know if TOMS are really comfortable or not from my point of view.
So, let's dive into the world of TOMS footwear!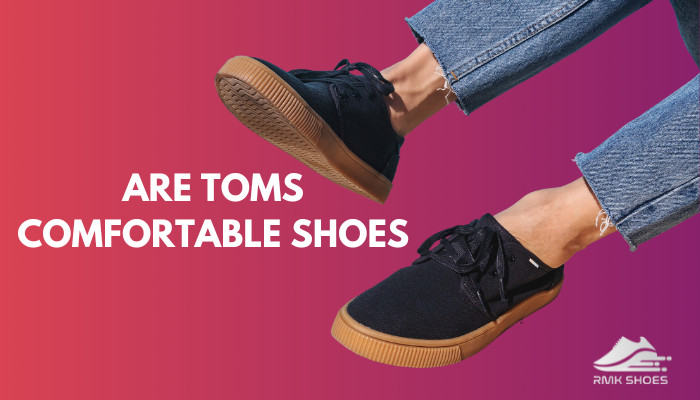 Here's Why TOMS Are Comfortable
When it comes to footwear, comfort is the most demanding essence.
TOMS shoes didn't fail to meet this demand. Their shoes are snug and suitable for people of all ages.
The ortholite featured padded insole is the main performer behind TOMS comfort.
Recently, TOMS launched their customized insole, which is prepared from 25% polyurethane, 15% rubber and 10% bio-oil.
This exclusive way of manufacturing and materials also make TOMS shoes comfortable. I found most of their shoes are made with breathable materials such as canvas, leather, and suede.
Toms also use recycled cotton, TENCEL, Eco-friendly EVA, and eco fiber in their shoes.
This brand is actually concerned about making the environment clean and sound. That's why they use recycled polyester in shoes which come from plastic bottles.
The advantages that I got from their shoes include fair arch support, extra cushioning, padded insoles and modest durability.
Moreover, the shoes are light enough and budget-friendly.
TOMS shoes are really cozy for roaming around the city on a busy evening, a sound walk in the garden, as well as a romantic walk with your soulmate near the beach.
You can also choose TOMS shoes while chilling with your friends on a regular meetup. It will always provide you with a superior level of comfort.
Check out the main differences between Bobs Shoes VS Toms
Why Should You Buy TOMS Shoes?
The name TOMS denotes shoes for tomorrow. In 2006, Blake Mycoskie- an entrepreneur, got the idea of making shoes for tomorrow.
And that's how he founded a new footwear brand named TOMS.
Here're the features that make TOMS shoes worth buying:
Design & Style
The basket of TOMS is full of eye-catching varieties of footwear. Alpargatas, boots, flats, slip-on, wedges and platform types are available in their stock.
Their canvas style slip-on is very popular among the ordinary people of Argentina.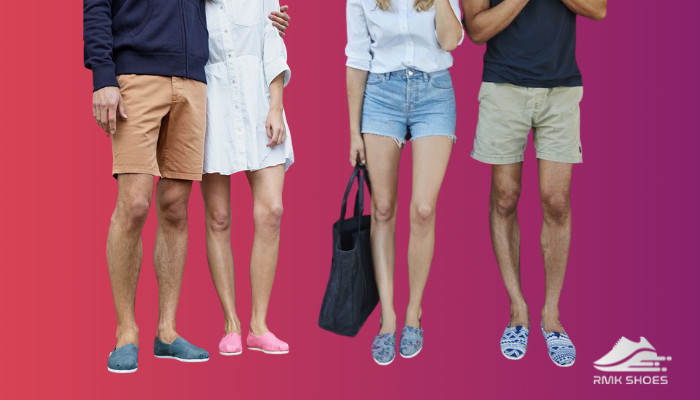 The closed-toe design of TOMS includes various kinds of prints on the upper. These prints provide a pretty cute vibe.
If you carry these shoes with jeans, a casual t-shirt or a colorful skirt, it will definitely add charm to your appearance.
Moreover, the TOMS logo on the front side and backend of the shoe is not only a marketing strategy but also put on a standard gaze.
Some TOMS shoes come with burlap coating, which looks quite classy.
Material
TOMS are highly focused on making use of recyclable materials in its footwear.
They make use of recycled polyester and cotton, EVA, burlap and terrycloth in their shoes. Suede, leather and thick canvas are used in shoes that are specially made to wear in a cold environment.
The sustainable rubber material on the outsole of TOMS shoes makes it flexible.
Comfort & Support
I already mentioned that the TOMS shoes are superbly comfortable with their ortholite or terry cloth-based iconic insole.
Furthermore, the molded footbed will allow you to have a perfect fitting with comfort.
EVA made shoes give ample amount of arch and ankle support.
So you won't feel uncomfortable or any lack of support at the arch or ankle area of your feet.
Sizing
Most of the TOMS shoes are true to size. So, you will get a perfect fit easily. But some of its models run big.
Now, I want to share one of my experiences.
One of my TOMS shoes was perfectly fit for me at first. But gradually, it seemed a little bit stretchy to me. I found out that the canvas wrapping of the shoes was expanding. And it became a headache for me.
To get out of this trouble, I simply started wearing that pair of shoes with socks. And that's how I got relief.
Durability
If I ask you about the factors that make a pair of shoes durable, will you be able to answer my query?
I guess you definitely will.
The material, stitching quality, and manufacturing process are the main artists of a durable shoe.
You already know about which types of materials are used in making TOMS shoes.
So, I won't indicate those materials once more. But I can confidently say that authentic TOMS shoes are more than durable.
You can easily survive around three years with a pair of TOMS shoes, even if you wear them on a regular basis.
Price
TOMS made the perfect combination of fair price with comfort. If you're a budget conscious person, then TOMS shoes are the exact suit for you.
You will get a classic slip-on of TOMS for $55.
So, if you want to invest your hard-earned penny in a comfortable and fancy shoe, then TOMS is perfect for you.
Let's take a closer look at another motive for buying TOMS shoes. You'll be surprised to know that this reason isn't commercial. In fact, it's related to social welfare.
TOMS is determined for the betterment of the community. They always look forward to participating in charitable work and social development.
TOMS runs its business with the motto 'One for One'.
You must be thinking about what is the exact meaning of this 'One for One' slogan.
It means that if you purchase a pair of shoes from TOMS, it will make a donation of footwear to a person who can't afford it. And that's how you can bring a smile to a person who couldn't get a pair of shoes before.
TOMS also provide footwear and treatment to people who suffer from foot pain or foot disease because of walking barefoot.
By doing this, they're providing safety and protection to unprivileged people and helping the community.
Are TOMS Comfortable For Flat Feet?
Do you have flat feet but still want to make TOMS a part of your daily wear?
If so, then you should know whether TOMS are comfortable for flat feet or not.
Though TOMS shoes are comfortable for people with regular feet, they aren't a good choice for flat feet.
The arch support of some TOMS shoes is really poor.
People with flat feet need additional arch support with a comfort zone at the bottom of their feet. Otherwise, they won't be able to move smoothly.
and ache and disturbance will rise.
I found very low arch and ankle support in a regular slip-on of TOMS. It's like walking barefoot.
So, you shouldn't choose slip-on TOMS if you have flat feet.
Are TOMS Comfortable For Work?
TOMS shoes are comfortable depending upon the nature of work.
If you're a delivery man who needs to roam here and there with a lot of heavy weight in your backpack then TOMS won't suit you.
Even if you use this, it will lead to pain and won't provide you enough support at the bottom.
On the other hand, If you're involved in a desk job and your office authority permits you to wear casual outfit in one or twice in a week like mine, then you can simply choose your TOMS shoes.
But you should avoid wearing TOMS for heavy workplaces like construction sites, factory areas etc.
Which TOMS Are The Most Comfortable?
When it comes to the level of comfort, TOMS doesn't compromise.
Yet, I'll share my personal opinion about which one seemed more comfortable to me.
The Classic Alpargatas is the best-selling shoe of TOMS. It's pleasant to wear and mass appealing. The fancy style of Alpargatas makes me a die-hard fan of this shoe.
Moreover, Classic Alpargatas are so comfortable with their EVA footbed.
I wore this particular shoe at the time of my evening walk in the garden. It's just a feeling of happiness for me.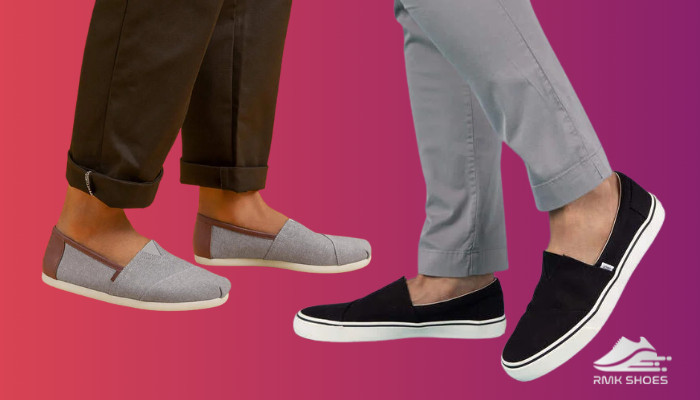 The Regular Slip-On is another heroic addition of TOMS. My experience with this shoe is completely sweet.The cushion and extra padding with trendy style always attract me to wear it again and again.
Whenever I go shopping or a short morning walk, I just pick up my regular slip-on pair without any hesitation.
The Wedges of TOMS are one of my favorite functional wear. I don't use it on a regular basis.But I wear it for friends' gatherings, glamorous programs like a wedding reception, or an annual dinner at my university.
This pair offered me the utmost comfort, even though they contain heels.
Moreover, the wedges are so fashionable and stylish that my friends continued to ask me from where I bought this beautiful pair.
Are TOMS Good For Long Walk?
TOMS shoes that contain ortholite insoles inside are able to provide ample arch support. But some shoes don't contain high quality insoles.
Consequently, those shoes can't provide modest arch support.
So, it's better to avoid TOMS shoes for long walks and hiking. EVA rubber outsole is added in TOMS for traction. So, you can use it for navigating through uneven terrain.
Sometimes, the canvas wrapping of TOMS shoes stretches out if you wear the shoe for a long time. So, it can turn out loose on your feet.
I will suggest you not to use TOMS for a long walk.
Rather, you should choose extra cushions and shoes with extra arch as well as ankle support.
You can use TOMS shoes in your short time morning walk, evening walk in the garden or near the sea.
How to Clean Your TOMS Shoes?
If your TOMS shoes are in regular use, then it will simply become dirty.
So, it's necessary to learn the proper cleaning process of your favorite pairs of TOMS shoes.
You should take a bucket of lukewarm water and add mild detergent into the water. Soak your TOMS shoes inside the bucket and leave it for ten to fifteen minutes.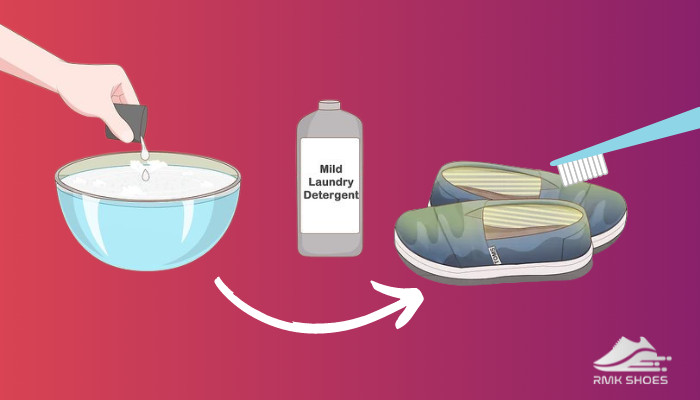 You should leave the pairs inside the detergent for about 30 minutes if the shoes are a little more dirty. Then rinse it off with clean water so that excess dirt is washed out.
Finally, put those wet TOMS shoes in a shady place to dry.
Some YouTubers suggest using bleach to clean your shoes. But I will recommend not to follow this guide. Because bleach will make your shoe color fade out.
As a result, your pinkish shoes will turn into white and provide a tie-dye look.
I guess you're not the one who likes fading out color. Some always use mild detergent or shampoo for cleaning purposes. Don't go for bleach!
Conclusion
You already got the answer if TOMS shoes are comfortable or not. Along with that particular answer I've informed you of the basic concepts regarding TOMS shoes.
TOMS shoes come with excellent comfort and decent support. Now, it's your turn to make a decision whether you will buy it or not.
Whatever decision you will take, you can share it with me in the comment section.