Don't we have a humane instinct to look different from our next person?
To put that into context, we must know all the available and best options for the Allbirds shoes.
Allbirds rose to fame in 2016. Since then, they've become a staple for many. It's largely thanks to their sustainable manufacturing and premium comfort.  Unfortunately, they can be pretty expensive.
But, don't you worry! After tons of research, I've composed this cracking list of Allbirds alternatives so you can have that same comfort without having to empty your pocket.
So, without further delay, let's get straight into our review.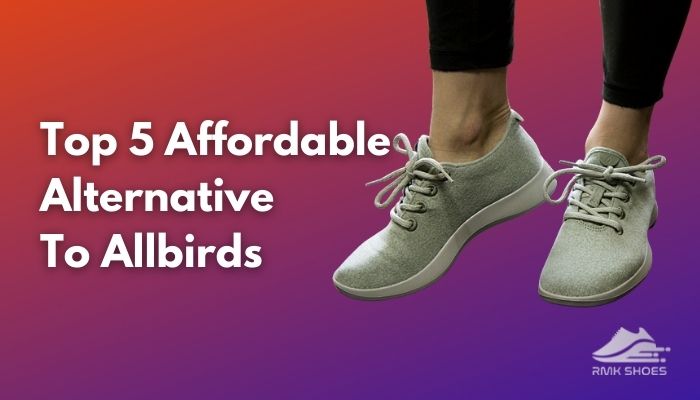 Best Allbirds alternatives- Review
When you're going for knock-offs, you are going for a similar experience, so you have to make sure the shoes you are going for have identical features.
And the shoes in the list have similar features to that of Allbirds. So, no worries there. And, the best part is they are pretty affordable. Sounds good, doesn't it?
Here are the top alternatives to Allbirds:
Urban Fox Men's Parker Wool Shoes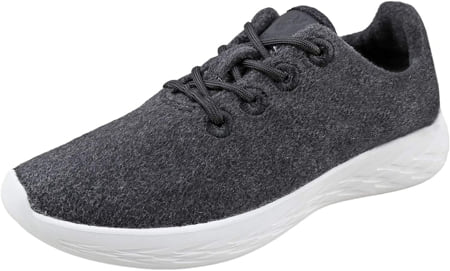 Sitting pretty at the top of the list is the simple yet gorgeous pair of shoes from Urban Fox. The black upper with the white sole is a combination that goes pretty much with anything you wear.
Urban Fox has used a combination of 70% wool and 30% polyester to
Construct the upper of the Parker Wood Sneakers. This combination is backed by an effective stitch that features lesser seams.
Fewer seams result in better comfort and fit. The shoes Feature adjustable laces that will enable you to have a custom fit.
The lightly padded collar combines well with the cushioned tongue and the cushioned footbed to give you long hours of comfort. Durable and lightweight materials make the shoes light and sturdy.
The overall construction gives you a feather-light feeling. You'll feel as if there's no footwear covering you. You might say I'm exaggerating, but trust me!
If you feel like doing a bit of light running, don't hesitate! The foam rubber sole will bend accordingly with your feet, while the breathable upper will circulate air efficiently. Meaning, You'll have a Steady yet comfortable stride.
What about traction? The outsole is more than decent enough to provide you with proper traction. Not only can you wear them with any outfit you want, but also you can use them for light athletic activities.
You'll also be happy to know and these shoes are available in quite a few color choices.
But, the shimmering black upper with the while sole stands out for me.
Pros
»

Flexible

»

Super comfy

»

Lightweight

»

Effective padding throughout

»

Breathable upper
Cons
»

It may not be suitable for people with wide feet
Urban Fox's Parker Wool Sneakers are lightweight and comfortable. The upper consists of 70% wood and 30% polyester fabric. The combination of the lightweight materials and the fewer seam stitch allows the shoes to mold to your foot and provide excellent cushioning. The foam rubber sole flexes with your foot accordingly and provides you with proper traction.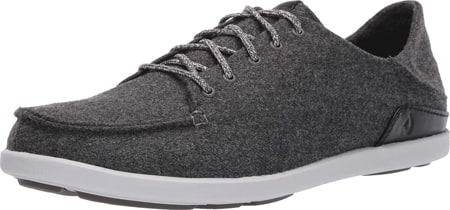 Suppose you look at them and say, how can Manoa Hulus be knockoffs to Allbirds when their books appear entirely different. Well, you should never judge a book by its cover.
These shoes make up features with what they lack in appearance. That's right! The features of Manoa Hulu resemble Allbirds. Don't let the appearance get to you.
For the upper, OLUKAI has used wool blend fabric. The material's breathable and offers proper air circulation. You don't have to worry about sweaty feet in these moccasins-like sneakers.
As for comfort? The company has equipped them with a microfiber-covered EVA footbed. Now, you won't have to worry! There's comfort in abundance. To fit into any type of shoes, the footbeds are designed anatomically.
In short, they'll mold to your foot. You'll also be happy to know the insoles are removable, as well as washable. Plus, the woolen lining is icing on the cake.
The sneakers feature a lightweight and flexible midsole. As a result, there's a good feeling of comfort while walking.
What about traction? The non-mar marking rubber outsoles provide excellent traction and zero marks, especially on concrete surfaces.
What I love the most about these shoes is the zero drop design of the soles. It means the soles are almost entirely flat; therefore, you get better contact with the ground.
You can easily pair them up with any of your casual attire for a proper outing with your friends around town.
Pros
»

Fashionable

»

It fits true to size

»

Lightweight construction

»

Extremely comfortable

»

Breathable
Manoa Hulu from OLUKAI is packed with premium features. This pair of footwear is simple yet fashionable. The EVA footbed, along with the woolen upper, combines to give you the best level of comfort. Non-marking rubber outsole with island inspired traction pods offers excellent traction. These shoes may be a bit costly compared to other options on the list, but they're certainly cheaper than Allbirds.
Le Mouton Women's Classic Wool Sneakers

Featuring in third place is this gorgeous pair of sneakers from Le Mouton. If you're a woman with a knack for wooden shoes, then you'll love it.
The upper consist of 73% merino wool that offers you a cozy feeling. It's also breathable enough to wick moisture away efficiently. To add more comfort, the shoes are equipped with 100% merino wool lining.
Le Mouton has engineered the shoes to be lightweight. You'll barely feel the weight of the shoes. As well as being lightweight, the boots are pretty durable, too. Upon proper use, they'll last a reasonable amount of time.
The collar has decent cushioning that gives your ankle a snug feeling, as well as protection. The removable insoles feature a plush wool lining to enhance the overall comfort.
You'll also be happy to know the insoles are rebounded to provide you with arch support (if you need any). It is this feature that intrigues me the most.
With sizes ranging from 6-9, you're sure to find the one that'll fit you. On top of that, these beauties are available in a variety of colors; you can easily find a pair to match your taste.
The traction, you ask? Synthetic rubber outsoles provide just the right amount of traction to give you a firm grip on the ground. I also love the fact that these shoes are machine
washable.
Pros
»

Comfortable

»

Stylish

»

Provides proper traction

»

Machine washable

»

Lightweight construction

»

Flexible in nature
Cons
»

Half sizes are not readily available
Le Mouton Women's Wool Sneakers are a thing of beauty. These shoes are aesthetically appealing. The footbed provides decent arch support, while the merino wool lining adds a further degree of plush cushioning. Available in a whole range of colors, you'll easily find a pair to match your taste. They're machine washable, which makes them easy to clean.
Giesswein Merino Wool Shoes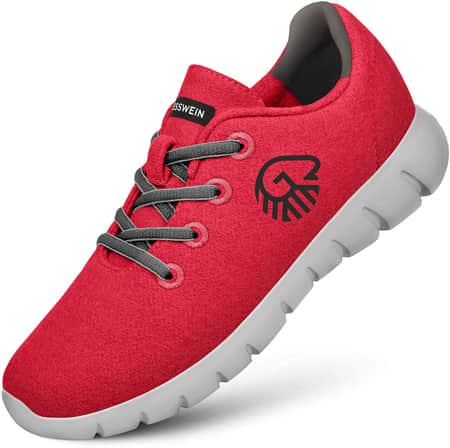 If you're looking for quality knockoffs for Allbirds, then you should definitely have a look at Giesswein Merino Wool shoes.
At first glance, you can tell they're premium. And, premium they're! The upper consists of 100% Merino Wool just like Allbirds. It also has the ability to wick moisture away efficiently. You can easily wear them all day long without having to worry about sweaty feet.
For comfort, Giesswein has equipped the shoes with a cushioned yet removable footbed. If you find the insole to be unsuitable, you can easily change them with the one
that suits you.
The shoes boast a featherlight yet flexible EVA foam sole. With each of your movements, the sole will flex accordingly.
Being soft in nature makes your landings less stressful. On top of that, the 100% merino wool lining adds a further degree to the overall comfort.
As much as I love the appearance, there's one thing I appreciate the most. It's the sustainable manufacturing of these shoes. Wool is sourced from cruelty-free farms, and there's no waste in the production process.
The machinery requires no use of oil. They are operated on 90% water, which is also recycled as there are no harmful chemicals.
The company also offers a great variety of colors to choose from. Finding a color to match your taste won't be so difficult now.
Pros
»

Premium quality materials

»

Comfortable

»

Eco-friendly

»

Super light

»

Stylish
Cons
»

A bit expensive compared to other knockoffs
Giesswein Merino Wool Sneakers are beautifully crafted. The design and the materials used resemble All Birds along with the comfort too. The upper consists of breathable 100% Merino wool, while the sole consists of flexible yet light EVA foam. To enhance the comfort further, the company has equipped the shoes with 100% Merino wool lining.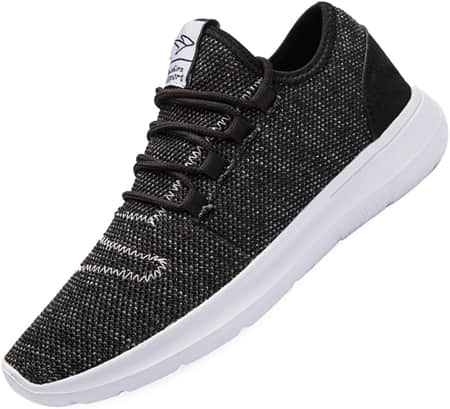 We've another eye-catching Allbirds alternative. This time it's from KEEZMZ. These shoes are sure to catch anyone's attention instantly.
Unlike Allbirds, these shoes consist of 100% mesh upper. But that doesn't mean they're uncomfortable. Mesh is well known for wicking moisture away as well as being soft.
With these shoes covering your feet, you can carry out any of your activities with utmost ease. These shoes come with a lace-up design that allows you to have a custom fit. Like Allbirds, you can machine wash them too.
Being lightweight, you won't feel any extra weight when you put them on.
The inserts come with Comfort Sole Technology. This allows the inserts to be well-cushioned and supportive.
What I like about the insoles is that they're cushioned from the toes to the heel.
KEEZMZ is a brand that also believes in sustainable manufacturing. All the materials used in their production ensure environmental protection. The company also offers a plethora of color choices as well as different models.
Finding a convenient pair of shoes won't be a difficult task if you ask me.
As for the outsole, it's slip-resistant. You'll have a firm, steady stride on any surface you walk on. Also, they'll complement nearly any attire you put on.
Pros
»

Comfortable

»

Well-padded insole

»

Fashionable

»

Breathable upper

»

Machine washable
Cons
»

It does not fit true to size
KEEZMZ Running Sneakers are designed to offer you proper comfort and a snug fit. The breathable upper wicks moisture away efficiently to ensure your feet remain fresh and dry. A thick MIDsole offers adequate flexibility. Last but not least, the non-slip outsoles provide proper traction on any walkable surface.
Why Should You Go For an Allbirds Alternative?
Allbirds produce premium quality footwear; there's no denying that. However, you need to pay a premium price for premium products. Spending that much of a fee can be pretty tricky. Therefore, going for alternatives makes more sense.
Not only will you get similar features, but also it'll cost you less. But, be careful! Not all knock-offs ensure an excellent deal. You'll have to do a bit of homework before you come to a purchasing decision. And how's that? If possible, go through all the customer ratings and reviews.
What makes Allbirds different?
Allbirds is a Newzealand-American company that is dedicated to producing environmentally friendly shoes. There are quite a few aspects that make this company different.
Here they are:
The Upper
Allbirds believe in sustainable manufacturing. As a reason, all the materials they use are eco-friendly. And one of them is New Zealand's Merino wool. This particular material is sourced from cruelty-free farms and is used to construct the uppers of Allbirds shoes.
Out Soles
Allbirds use Sweet Foam to construct the soles of their shoes. Sweet foam is made from Brazilian sugar cane. The company uses this material rather than regular synthetic rubber; this material's 100% eco-friendly, which keeps All Bird's motto intact.
Uncommon packaging
Another distinctive feature that makes these shoes special is the unconventional packaging. Allbirds use customized transportation boxes with each shoe in a separate compartment rather than keeping the shoes together stuffed with tissue paper and other materials.
Are Allbirds knockoffs of good quality?
Not all knockoffs are of good quality. The thing with cheaper alternatives is that they tend to be a hit or miss. There's one way to avoid this situation. And that's good research. Go through customer reviews and ratings before coming to a purchasing decision.
Are Allbirds alternatives good for walking?
The Allbirds alternatives that are shaped in a similar way to that of Allbirds are up to the task. The shape helps but keeps an eye on the materials, too.
Is it necessary to wear socks with Allbirds?
It is not necessary to wear socks with Allbirds. You'll feel the same level of comfort even without socks. You can rest assured there won't be any irritation or itching.
Do Allbirds alternatives have good arch support?
Arch support is mostly scarce when it comes to alternatives. But, don't you worry. Depending on your arch type, you can easily remove the insoles with a pair of orthotic insoles.
Is Allbirds worth the money?
Allbirds worth the money if its features, and materials matter to you.
Final Thoughts
Simply put, Allbirds are fantastic! And being a shoe enthusiast, I truly adore them. The decision-makers at the company are doing a  great job. However, affording them can be quite difficult. Therefore, to get a similar experience, you'll need to go for alternatives.
There's a catch, however. Not all knockoffs ensure a great deal. You'll need to do a fair bit of research. To help you skip that part, I compiled this list of Allbirds alternatives. Do let me know down in the comment section below for any kind of queries. I'll always be there. Until then, take care.