Since 1960, Doc Martens footwear brand has been reigning at the top position in the field of punk rock boots.
Naturally, the more the brand value increases, the more possibility there is to find several duplicates of that individual product.
Along with popularity and appreciation from all over the world, they had to deal with duplication. The way Dr. Martens boots are being copied, you can easily be fooled if you don't know how to spot the real ones.
Well, the good news is, Dr. Martens have their own specifications to check whether you got the authentic pair or a fake. After reading this article, you'll know the actual ways to find real doc martens, and you will be able to purchase one for yourself or to gift someone else.
Read till the end and there will be no more confusion.
What Are Doc Martens Shoes?
For those of you who don't know about Doc Martens, here's a brief history of the brand.
Dr. Klaus Martens, a soldier and medical doctor in 1945, invented a unique air-cushioned sole to heal his broken leg; as he was wounded at the battle. While at that time, all soles were made of hard leather to provide stiffness.
Though his shoes were helping injured soldiers, he didn't make much out of those shoes until he collaborated with his friend from university, Herbert Funck, who was interested in the new shoe design.
Together with Funck, Dr. Martens started a shoe business using discarded rubber shaped by molds. These shoes were a hit among women around the age of 40 and above in the first decade of sales.
Later, the windmilling guitarist Pete Townshend from the band" who" started wearing Dr. Martens in 1966 during performances, and that was the biggest blow of wind to make a statement for this brand.
How To Spot Genuine Dr. Martens?
It's like an ocean of fake Dr. Martens out there. To find an original pair, you have to be an expert. So, how can you be one?
Don't worry! I have researched for days to find all the tricks on how to identify real Dr. Matens.
So, here are 11 facts that you should keep in mind while purchasing Dr. Martens:
1. Source Of Buying
If you are opting for an original pair of Dr. Martens, the first and foremost precaution you should take is to buy these bad boys from the authentic retailer.
Dr. Martens have their own website. All you have to do is to place your location on the locator tool, and you are good to go. Then you need to go to the nearest shop around you and collect your pair.
If you try to buy these shoes from an unauthorized source, chances are you'll get a fake one. So, always try to buy from the original retailer's website.
2. Packaging Box
Original Dr. Martens comes with a cardboard box, but fake ones don't provide one, and even if they do, you can separate them from the original ones.
You will find the brand name along with their logo printed on the lid and also on the side of the boxes.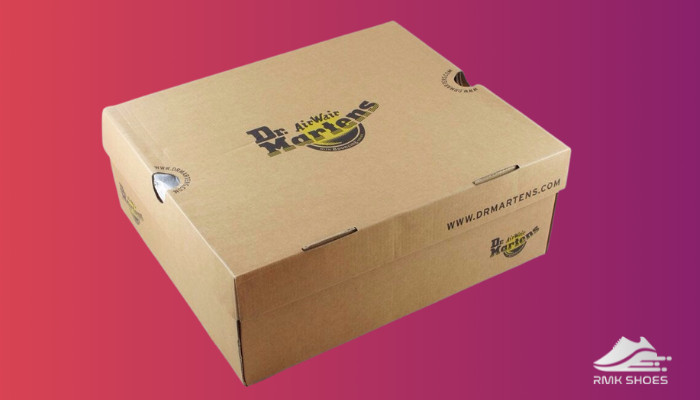 The crucial thing you should look for is the white colored label, and there you will find all the information like the barcode, numbering, style, color and shoe size etc.
3. Inside Of The Upper
Right after unboxing, you need to see the inside part of the upper, and it is also called the tongue of the sole.
On the backside of the tongue of the sole, they print the information about the country they are manufactured, the size of the shoe will be imprinted and also some other details like on the box.
But, these might not be as detailed as on the box.
On the upper backside of the shoe, there will be a loop. The quality of the leather, the body made out of leather, should be of excellent quality.
Check out our separate post: Are Doc Martens Considered Work Boots.
4. Inspection Sticker
This renowned shoe brand has maintained its quality of materials from the very beginning till now. Dr. Marten has inspection stickers on their shoes to maintain their brand name and fame.
Besides the size and product code Doc. Martens have an inspection sticker on the upper inside or on the tongue. It is a small yellow colored sticker, and there the word Insp by QC is engraved.
This mark is making sure that these products have gone through the quality control process thoroughly and passed without any further inspection.
And that is how the premium quality of Doc Martens has been maintained over the years.
5. Air Cushioned Sole
Another feature of Dr. Martens is the bouncing soles which were the most unique part of broken feet. Dr. Marten himself has faced the problem, and that made him invent such soles.
This kind of soles provides extra comfort for the footbed to relax. And it makes it easy to walk on these if you are recovering from a major injury.
You may also like to read: Are Doc Martens Slip Resistant.
 6. Details Of Outsole
The outsole of the new Dr. Martens has unique brand markings and copy. And on the edges of the outsole, you will see an embossed design.
On the outsole, there will be an embossed brand name, and the edges of the design have professional finishing.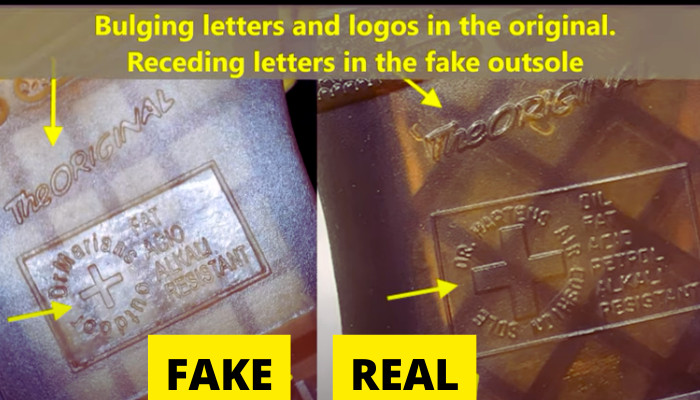 The outsole is very comfortable and flexible, and they are mainly made out of plasticizers and pigment. Some fake ones also have these features but don't worry! All you need to do is carefully observe the shoe and determine if it feels different.
In fake shoes, you will see Dr. Marians instead of DR. MARTENS, and in place of ACID, there will be AGIO.
7. Inner Logo
To be frank, you must have noticed so far that Dr. Martens likes to go big on branding and printing their logo all around to present it more exceptionally.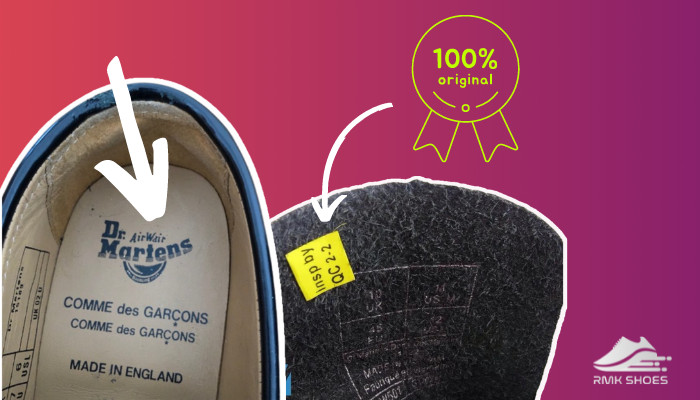 In their old versions, they used additional words like "Original" or "Made In England" on their inner sole. Nowadays, in upgraded Dr. Martens Bouncing Soles or Air Cushioned Soles are written with notable color combinations.
8. Stitching
With so many other specifications, the type of stitching is a huge factor in Dr. Martens.
Most of the time, the color of the stitches is yellow. And this has been the case since the 1960s.
The stitches are professionally done, and if you take a closer look, you will find that they are well finished, straight and have more grip to them.
Meanwhile, in duplicate ones, the seam line is not uniformed but in a random manner.
The overall body is stitched with black thread. In duplicate pairs, the lines of the thread are not aligned. The originals are without any wrinkles or ripples with perfect shoe holes.
As the yellow stitching is an iconic feature, many fake Dr. Martens use them, so you need to check that they are quilt properly.
9. Airway Loop
The airway loop is another iconic and historical element of Dr. Martens. It is originally sewn on the upper, and in the caption "with bouncing soles" is written in the handwriting of Brill Grigg.
Even shoes with other similar features are the same as the original ones, but without an airway loop, it is not a real one. That's how important this feature is.
10. Back Heel Stripe
In the original Doc Martens, the back of the hill will have an airway loop.
Moreover, the embellishment of the loop is up to the mark. Also, the loops do not disintegrate as these are sewn with additional stitching.
11. Spare Shoe Laces
Another notable feature of Dr. Martens is that they offer extra high-quality shoe laces. If you manage to get an original Dr. Martens, I am sure you will find them in a clear plastic sealed bag.
The quality of the laces makes them different from fake pairs. The duplicate laces can't beat the originals.
5 Expert Tips To Avoid Fake Dr. Martens
People who are fashion-forward and like to go with the trend, Dr. Martens is sure to be on their list. These shoes represent comfort and a great design that elevates the look of any outfit.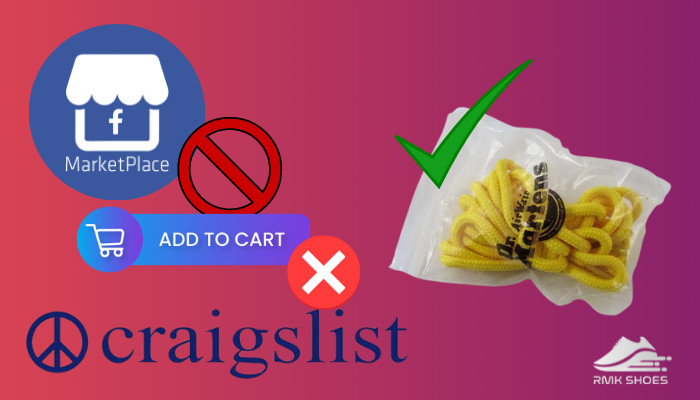 So let's take a look at the pro tips to spot fake Doc Martens:
Purchase these shoes from their website directly.
Avoid Facebook marketplace while you're shopping for Dr.Martens.
Searching at Craiglist is also a big NO as this platform does not assure quality and authenticity.
Check after unboxing if there is an extra shoelace in a clear bag, and if there is, the material quality needs to be checked.
Look for the air loop to ensure that you got the original Dr. Martens.
Check out our epic guide: Are Doc Martens Good for Snow.
Final Thoughts
It is very clear that there are people and even fraud companies out there to make a fool out of you by selling fake Dr. Martens. So, you need to be very careful.
Always be aware of buying products from unauthorized online stores. They are simply in the market for their own benefit.
Surely these Doc Martens pairs are expensive, so when you are thinking of investing your money, do not look for easy and unusually cheaper ways.
I am hoping that this total discussion was helpful in your journey to buy an original Dr. Martens. Follow these tips to clear any confusions that would ruin your shoe shopping spree.
If you have previous experience of buying Dr. Martens, you are welcome to share your experience and thoughts in the comment section below.