Everyone knows how cool and comfy Doc Marten boots are, but they are notoriously hard to break in.
Well, I've been wearing doc martens for almost 3 years, and they are still giving me their best performance!
Though the break-in periods went a little rough for me too, I researched tirelessly and experimented with some wired methods on my boot.
In this article, I'm gonna share all those experiences with you.
These methods will lead you in the right direction to accelerate the break-in of your doc martens overnight and save you hard-earned money.
So take a cup of coffee and keep reading till the end.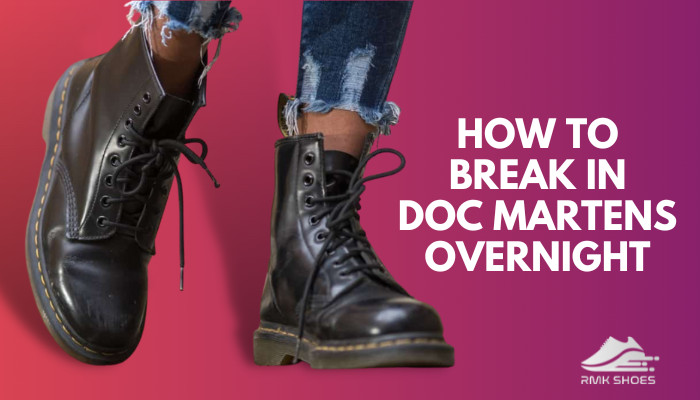 Are Doc Martens Hard to Break In?
If you are already a Doc Martens lover, you must know how hard it is to break it in!
But if you are a beginner and want to try a new pair of doc marten boots? The first question that will burn your head is, 'Is it really tough to break in doc martens?'
Everyone knows Doc marten is classic, but hard to break-in on the first try. Even the company will suggest socks, heel pads, and balms to quicken the process.
The socks and heel pads will save you from the blister. And the creams will help your boots soften your leather and break in faster.
However, the tips that I'm gonna explain here will work like a magic wand.
Check out our separate post: Are Doc Martens Considered Work Boots.
5 Quickest Methods To Break in Doc Martens Overnight
Doc Martens are fashionable boots among the footwear you can choose from surrounding yours. They are also known by Dr. Marten's name.
They gained fabulous popularity for ease to wear, the classical outlook and tackling the weather impact without having pressure.
Well, their only downfall is the first few wears can be irregular or craggy.
After some days, they can be your most desirable shoes as they provide many comforts. You may forget about the sufferings and starting pains of wearing your boots.
I can remember my first experience with Dr. Martens boots. At first, I also couldn't figure out how to make my boots comfortable as they were giving my feet a lot of pain.
After hitting the research button for a couple of hours, I found many methods to experiment with.
I succeeded and managed to make my boots comfortable.
Here I'm going to share with you all those probable methods so that you can break into your boots without wasting time and money.
Here are the professional methods you can follow to break into your Doc Martens boots easily:
1. Traditional methods
You can use traditional methods to make your boots comfortable at home. Though this will take time, so you have to be patient. It will be effective too!
This method has been used for many years to break in the leather naturally. It's a lengthy process to apply, and you have to make several attempts to break into your boots comfortably.
You need some materials to apply this method like socks, newspapers, plastic wrap bags and boot conditioners.
Wear Different Types Of Socks
If this is your first pair of dr. martens, then you must try some different types of socks to stretch out the inside of your shoes. They will give the ultimately expected comforts and save your feet from rubbing.
Firstly you can use thick pairs of socks to make them comfortable and flexible. I will recommend you wear a pair of thick woolen socks.
The wooly socks will protect your feet along with stretching the leather, which may be tighter. It should be noted that woolen socks will be thin and soft, like the usual winter socks.
Ensure the socks will cover your ankles to rescue them from rubbing or blistering.
If it doesn't work, you can also use two pairs of socks or padded socks to gear up for the break-in time.
Also, you can use Dr. Martens' special break-in socks. They are totally worth it.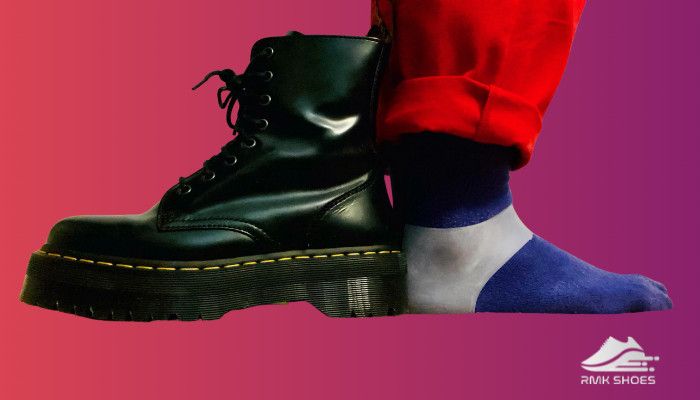 Now let me show you the right directions to make your doc martens comfortable:
Wear the boots with a pair of socks you have and walk inside your room for around 15min.
Collect the woolen socks or wear two pairs instead of one pair of socks.
Try it 2-3 times a day. It will help to widen out the leather and be easy to break in.
You can flex upwards or inwards to accelerate the process while wearing socks.
Use a boot conditioner to escape from creasing.
Enlarge the normal time of wearing doc martens outside after some weeks. It will help your feet to fit in them and wiggle your toes easily.
Follow our guide to know Are Doc Martens Slip Resistant.
Papers/ Newspaper
Don't get fed up if your sock strategy fails to broaden your leather boots. I have other regular methods to get you out.
The paper tips are one of them. You may use a newspaper to break in the boots at a lower cost. And it's super easy to do.
Let me tell you the steps below so you can do it yourself:
Lace-up the Doc martens and prepare them for inserting paper balls.
Make lots of paper balls or crumpled pieces from the newspaper to fill up the boots.
Now, fill the entire boot with that and ensure no gaps are inside them.
Fasten the boot laces tightly.
Keep them safe for 6-7 hours. They will loosen under the pressure of the paper.
Repeat the process over and over until it's loose and comfortable.
Note: Don't forget to use conditioner or balm to avoid the crimp!
Using Wonder Balm 
You can find wonder balm in markets nowadays. This balm will help you to comfort your boot without taking much pressure. So you can order a wonder balm with a new pair of doc marten boots.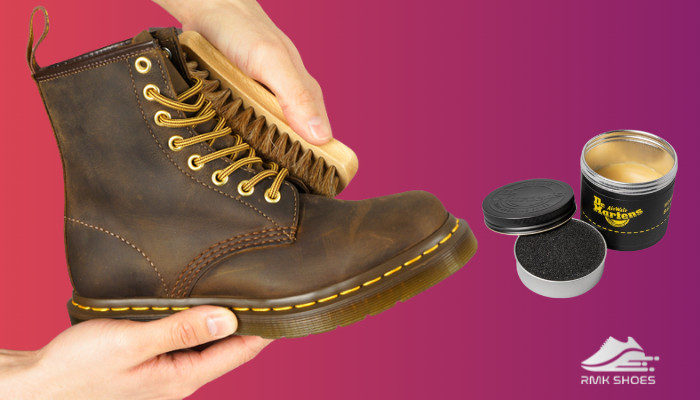 So let's see how you can apply this balm to your newly bought shoes.
The directions you need to follow:
Check out the cleanness of your boots in case they are not new. Make them clean and shiny if they are full of dirt.
Wipe them with a piece of cloth gently.
Apply the wonder balm a little using a sponge or hand.
Gently rub it on the creased areas and leave it for 5-6 mins.
Clean the balm after some moments and try to fit them on your feet.
Pro-Tip: You can use Vaseline instead of using balm or conditioners. But the wonder balm will speed up your break-in process. It will take a very short time to loosen your boots.
Plastic Wrap Bags
You may be surprised to know about plastic wrap bag methods. It can be used as an alternative to socks.
You won't believe it or not, this method helped me to get out of my unpacking dr. martens. And I didn't have to do many things to fit my boots.
So let's stop talking and see how this method will be set up. You don't need to do much except follow the steps.
Here are the steps you need to go through:
Just put on the plastic wrap bag with your dr. martens boot.
Zip up the plastic bag and the boots also.
Keep them for 2-3 hours a day.
Repeat the processes continuously for some weeks.
Take a little break and rest your feet for some time.
2. Technical methods
There are some technical methods you can use to break in your dr. martens. Boot spray, Shoe stretcher and dr. Marten boot packages are quick and easy methods for stretching the boots.
So don't waste your time styling those cheeky boots rather than go for breaking them in.
So let me describe the technical methods for you:
Using Boot Spray and shoe stretcher
You can use different types of sprayers to loosen up your dr. martens. It will make your procedure super easy and effective. It will also save you time and speed up the activity on first gear.
You can find these boot sprays in any shoe outlet or online boots accessorize outlets. Now stop talking and allow me to show the method in brief.
Here are the steps to use these properly:
Put on your dr. martens to select the tighter area.
Mark them as easily as you can.
Now insert the shoe stretcher and fit it very well.
Try to apply spray properly on that marking area.
Dump them perfectly as they get wet.
Leave them for 3-5 mins to dry up.
Fix the shoe stretcher with proper pressure and keep them safe for 7-8 hours.
That's it! Your process is done!
You don't even have to overthink and get over stress here. Moreover, you will find various types of stretchers that may help you in different ways. Just be sure about the qualities before purchasing.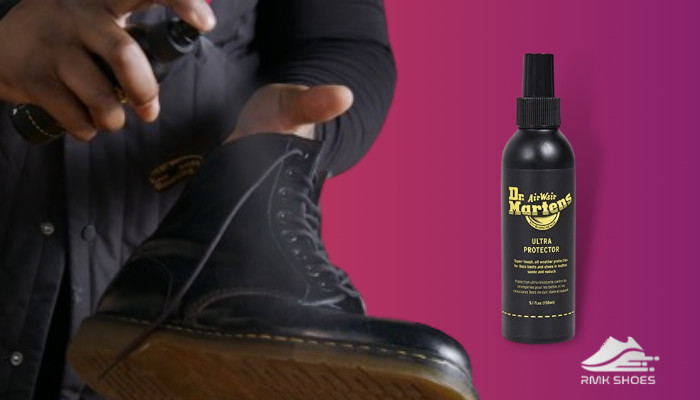 Dr. Martens Boot Package
It took a long time to break in the doc marten before. As it is made from leather, you know that leather takes time to widen up.
Doc Marten is trying to sort it out by providing the boot packages. You can order them on their official website or may collect them from their physical stores.
This whole package includes spray, balm and sponge to make your method easy. And you can use them as I mentioned above, like the wonder balsam.
All you need to do is order the package and follow the upper steps which I have given you.
Note: you should use the sprayer and the stretcher together as they work faster together.
3. Freezing Methods
Doc martens are more comfortable and durable than unceasing any other boots from a long time ago.
You can skip their only trouble by applying these methods, so here I'm to give you life-saving tips. You may use the freeze strategy and deforest them before putting them on.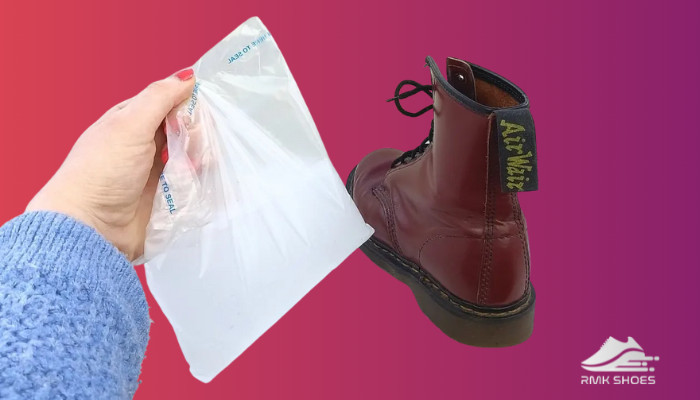 I don't know whether this trick will be trustworthy or not, but it worked for me!
So I'm going to explain the steps to you.
Here are the steps to lead the path:
Collect a high-quality freezer bag and pour half of the water to avoid spilling and ripping. Make sure the bag won't create any leakage, which may lead your boots to damage.
Seal the bag properly after venting properly and recheck the leak.
Now put the bag into the boots gently and keep the extra focus on narrow spaces like toe areas or heel areas.
Leave your boots in the freezer for 8 hours to transform the water into ice. Ice stretches leather overnight.
After 8-12 hours, take the boots from the freezer and let them thaw. You must wait 20-40 mins to melt away the ice. Don't create pressure to take out the boots.
Wear boots and check your fitness.
You may also like to read: Are Doc Martens Good for Snow.
4. Hammering The Boots
You can hammer your boots to make them comfortable and break their rigidness. Trust me, it works, and it's one of the effortless methods to apply.
Hammering helps to break in the leather faster and makes it softer than before. So let's dive into the procedure.
The procedures you should follow are:
Wrap your boots with a towel well to avoid damage.
Start hammering on the heel area and the tighter place, including the sole, for 20-25 mins. Avoid rough hammering, and you may use a rubber mallet as an alternative to the hammer.
Repeat the method weekly until you get the expected comfort in your boots.
5. Exchanging The Insoles
Removing or adding insoles can help you to break in the doc martens easily. You may remove the insole if your boot gets tighter.
Again you can use an extra insole to loosen up your boots.
Different types of pads and tapes also can save you from the blister and pain until the boot gets broken in. What you will have to do is buy this type of the pad and wrap them on the back of inside the boots.
You can use the tape on your ankle too!
Do Doc Martens Hurt to Break In?
It's difficult to say whether your marten's boot will hurt you to break in or not depends on you. Sizing is a significant fact here.
If your buying boots are smaller than your actual size, it might hurt to break in.
As they are made from leather, it's more complicated than any other material of shoes. So it takes some time to be stretched and comfortable.
If you are thinking about avoiding socks on the first try, it will cause you to blister. Don't worry; I have shared every possible tip to break it in quickly.
So you can calm down and follow me to solve your problems at home!
How to Fix Break-in Doc Martens with a Hair Dryer?
If you are just unpacking your doc marten boots, the first thing you will face is discomfort.
To make them comfortable and flexible, you must break them in. As I mentioned before, there are many tips for breaking into them by using some tools or tricks.
There is another common hack I'm gonna recommend you, which may protect your feet.
You can speed up the process and simply broker their tighter space with a hairdryer. I'm gonna share the whole process step by step for you!
So that you can try it at home and get them comfortable without having much stress.
Here are the steps:
Wear thick socks with your doc marten boots.
Pull on your docs and tie them up.
Heat the tighter area of your boots and hold it 15cm away from your boot.
Turn on the blasting 10-15min at the middle heat of the hairdryer.
Put on the boots until the whole process has been done and they have thoroughly cooled down.
Try to move and flex your feet and toes as much as possible during the heating process.
Don't even think higher the heat to make the process faster. It will melt away the leather of your boots and can burn your feet without any alarm.
You may also use balm or conditioner to stretch out the leather faster. In that case, you must find boot balm from any boot accessories shop and do the same as I'm mentioning here.
Here are the following tips for you:
Apply the conditioner to the tighter area of your boots and rub it very well.
Heat up that particular area with a hairdryer with medium warmth.
It will help to melt the conditioner and stretch out the leather in a short time. Also, the toe room of your boot will be comfortable enough to wiggle the toes.
How to Break In Doc Martens Heel?
Sometimes the heel of your doc marten can be unbreakable and extremely rigid. It may hurt you during the first wear of your newly bought boots.
You can avoid the pain by break-in into heels and making them cozy and snug to put on.
I can suggest an easy solution to break it down. Folding the back of your boots from different sights at the time to wear them. Bending the boot back and forth at the heel will help to make it more flexible.
You can do it each time before they are easy to wear.
Do Doc Martens Take a Long Time to Break In?
Usually, it takes 3-6 weeks to break in completely everyday wear. In several models, the time period can be different. However, You can speed up the break-in time by heating up or wearing two or three socks in each wear.
Someone once shared his experience story with me. His black 1460s doc marten took almost 4 months to break in.
He used two or three padded socks to save his heels and break them in.
Well, now it's break-in time has come down. You can easily break them in the highest into 3 weeks periods and bend them for appropriate wear.
One more thing, breaking them in is a pain or a little bit disturbing, they can be your comfiest boots as they are great in shape.
How do Stretch Doc Martens That Are Too Small?
Sizing is an essential fact for doc martens. Tightening the boots in first wear is pretty normal as they have not broken in yet. They will soften after wearing them many times.
If your ordered doc martens are small, what will you do then? Don't panic! You can stretch them out by using a spray or a shoe stretcher.
Here's the recipe you need to follow to stretch out the small-sizing boots:
Collect the shoe spray and stretcher from any online shops near you or from amazon.
Take your boots and wear them once.
Put off the boots and insert the stretcher in them.
Apply the spray all over the top of your boots until it gets So the leather gets the chance to lose itself.
Leave it for a minimum of 24 hours.
Use the final element- conditioner of this procedure to avoid wrinkles.
Doc marten will hurt your feet if you don't give the proper attention to break-in them. Your ankle and toes will suffer from soreness and rubbing if you don't find the perfect size for your feet.
What you can do to break them in faster is to wear them for 1-2 hours in your house instead of wearing them for a long time.
Also, check out the best Alternatives To Doc Martens.
Ending Line
At the first purchase of your doc martens, you must be excited about their gorgeous look and flexibility. They are just too good to face the weather mood best and get you the most sustainability of any footwear.
I mean, once you own them, they will provide you with long-term services for like 3-5 years. With proper care management, they will survive thousands of stormy days.
Unfortunately, their only overthrow is break-in periods.
Now you have become an expert in reading this article. I hope you will figure out this problem in a shot with a smiling face.
Let me know your journey about break-in doc martens in the comment section!