The converse is the name of the most recognizable athletic footwear.
This brand became well-known in the sports sector, especially in the basketball industry.
Among players, soldiers, and even commoners, the converse was a very popular shoe, and they wore these shoes as versatile footwear.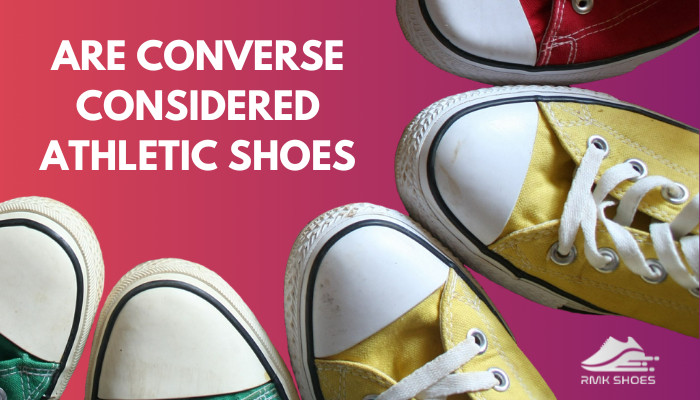 Though it held the crown of a specific gaming shoe, it slowly drifted apart from its rising popularity.
So, here pops the question, are they still considered athletic shoes?
In this article, you will get the exact answer and the recent using criteria of converse. So, stay with me till the end.
Are Converse Considered Athletic Shoes?
Yes, the converse is considered an athletic shoe since it emerged as an athletic shoe in the first place, back in the early 19s.
When they entered the market as a basketball shoe, their popularity was on fire. But due to its functional error in the athlete world, it slowly drifted apart.
While converse was the only choice for basketball players, it was not a popular game at that time as it is now!
The first model was the Non-Skids with a rubber sole and canvas upper, even designed only for athletes. The converse company made Non-Skids as a breakthrough design, a revolutionary footwear.
Later through Converse All Stars, they enhanced ankle support and flexibility.
Moreover, Converse All-Star was the official shoe of the Olympics for over 30 years and an athletic training shoe for the US armed forces throughout World War 2.
Pretty cool, huh?
But gradually, converse started to lose its grip in the market as Nike and Adidas entered the arena.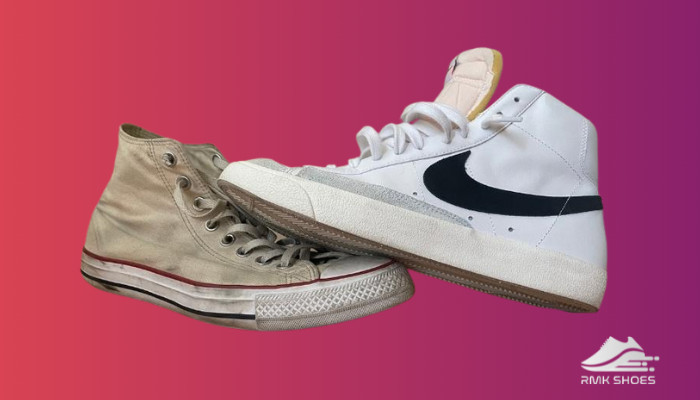 These brands outdated the technology of All-Star.
Fortunately, in the music industry its popularity rose at an alarming rate, and bands like Ramonas and Nirvana made them iconic.
Even Pink Floyd, Iron Maiden and Clash had their own signature All-Star.
Follow our guide to know does converse make your feet look huge.
Is Converse All-Star A Basketball Shoe?
One of the most hyped converses in history is the Converse All-Star. This iconic model was actually meant for basketball. After the launch, this was the best-selling shoe though it's hardly the case now.
I would say quite the opposite. Sad, isn't it?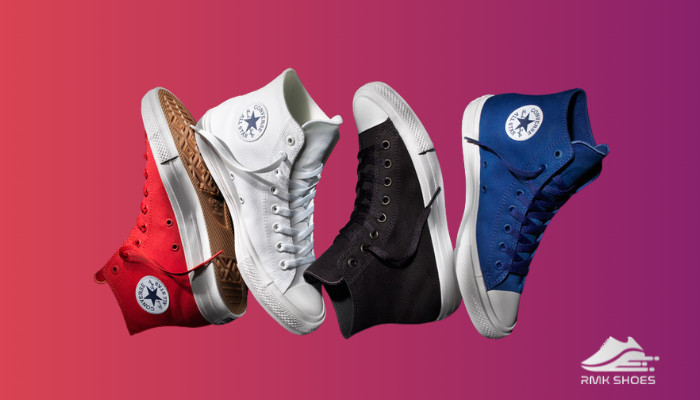 Previously this particular pair was the star of basketball for its hightop, which is very good for supporting your arch. Their sole gives a good grip and is non-slippery.
However, now you will hardly see anyone playing basketball wearing converse.
Converse slowly lost its acceptance with the production of new modernized basketball shoes like Nike Air Jordan.
But if you are a fan, you can give it a try and see for yourself.
Check out our separate post on how should your basketball shoes fit.
Are Converse Skateboarding Shoes?
The answer is yes. Converse launched a special edition named CONS, dedicated to skateboarding.
As these shoes are designed for skateboarding, you will enjoy skateboarding in these shoes. The rubber soles of this model provide more grip, flexibility and durability than other models.
Not only that, in these shoes, the skater will feel the board beneath, which improves the performance rate.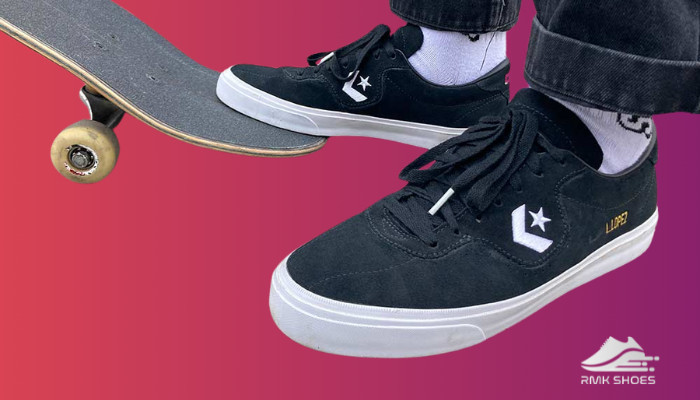 CONS shoes have more cushioning inside the shoe for better shock absorption and distribution. These new versions are not as thin as previous models and offer more comfort.
The rubber toe-cap, elasticated tongue, high and low top features are way better for ankle support.
You need to keep in mind that converse will rip at some point, and for beginners, it's manageable, but with technical skaters, it will tear down in one day.
So, before buying them, think of their versatile use and durability as well.
Go through our epic guide to know are skate shoes non-slip.
Does Converse Count As Tennis Shoes?
While playing tennis, your feet need a shoe with a lot of cushioning that doesn't hurt when you run or stomp your feet.
Another thing is that these shoes are pretty flat on the bottom.
Whether you wanna wear converse for playing tennis depends on your preference. For me, I tried playing tennis wearing my old converse.
And boy, it was the worst decision I have ever made.
These shoes are flat and don't have enough cushioning, so they started to hurt my feet after a while. I felt I was not getting enough support during running and ended up putting them off.
Is Converse Good For Running?
You can go for a run in converse, though experts don't really recommend it. This shoe was used as an athletic shoe when it was first launched. But not anymore.
For running, you need a snug-fitting shoe that will give you arch support and a soft, bouncy cushion for your feet to land on.
Your feet need protection from any other obstacles.
Converse are flat and don't give you the arch support you need badly while running.
Moreover, these are not designed as running shoes either.
Here are some facts why converse is not an ideal running shoe:
The converse is a zero-drop flat shoe that causes pain after a few hours of running.
These are crafted with a lot of rubber, and you know it's not that durable enough for running, to begin with.
Lacks heel support which will start to hurt if you try to run for several hours.
The converse is partly made of canvas fabric, which is comfy but not a proper choice for running.
Even though the converse is not an ideal pick for running, it's your call in the end.
You may also like to read: are VaporMax good for running?
Can You Wear Converse At The Gym?
Converse can be an option if you are into a healthy lifestyle and often prefer to go to the gym. You can wear a trendy yet functional shoe at the same time.
You can actually wear converse at the gym, and it is a perfect pair for specific workouts like weight lifting.
Let me clear it for you.
These shoes are unsuitable for several activities due to their structure and materials.
But according to Monara Dini, doctor of podiatric medicine and associate clinical professor at UC San Francisco, the converse is actually very beneficial for three specific weightlifting exercises.
Wearing flat shoes for weightlifting is actually worth giving a shot.
The flat surface of Converse forces you to use your entire foot to hold the grip of the ground and push through the heel.
Keeping your ankles steady is a must for squats and deadlifts, and you can do it perfectly wearing converse.
However, the converse is a no-go for daily workouts.
I found it less supportive to practice my regular exercises wearing converse. I would rather try a different shoe.
Related content you should read: are VaporMax good for the gym?
Are Converse Casual Shoes?
Yes, you can wear converse as casual footwear. One particular model, Converse Chuck 70 High Top, is worth mentioning in this regard.
You can easily carry any casual look without giving it a second thought.
This model is on the expensive side. But, Its design and structure are casual enough to wear in your workplace.
Converse Chuck 70 retails for 90 $, and giving it a try is worth a shot.
Parting Thoughts
The influence of converse in the athletic sector is unmatched. For years they were a staple piece in the basketball industry, but not currently.
Even in the fashion industry, they have their golden mark shining brightly.
Though gradually to a lack of quality improvement, poor decision-making and competition, they lost their old glory, they still are iconic.
I hope you got enough information and proof to come to a conclusion.
If you have ever used Converse for any athletic purposes, let me know your experience in the comment section below.
I will get back to you soon.