Having a huge design variation of Converses make people long for them regardless of age!
But people in their mid-50s or early 60s may become confused about wearing converse and wonder if they're too old to wear them.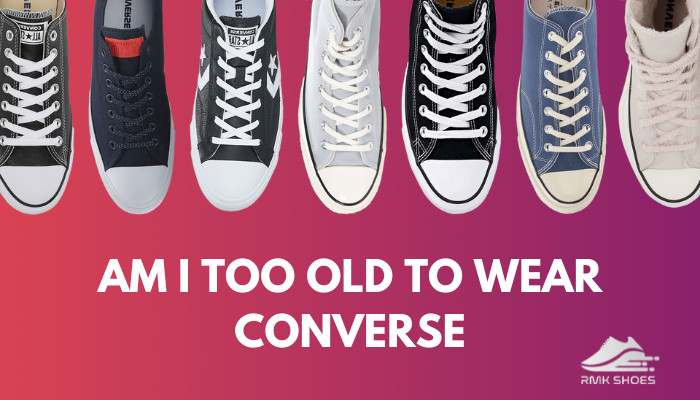 Moreover, they may want to know how old is too old to wear converse and where the borderline is!
Well, there is no such a borderline when it comes to rock-on shoes. At least, I personally don't think so. But you need to know the fact-proved information, right?
Here, I'm gonna give you just that. So, read till the end to know what converse says about age!
Am I Too Old To Wear Converse?
No, you're not too old to wear converse if you're even in your 50s unless your doctor marked it red!
I think you'll look fantastic in converse with your jeans while roaming around your neighborhood. Converse never declares any age specification.
The converse is actually famous for casual wear, but from my perspective, I love them for their ultimate comfort and stylish appearance as well.
Besides, It goes very well with your casual outfit and is suitable for all age groups. If you haven't changed your fashion style, wearing your converse is not a problem.
And in terms of age, if you have no foot issues related to your age, you shouldn't have any problem wearing converse regularly.
Though if you lead a corporate life and a formal look is mandated for you, converse shoes are not the best option for you.
On the other hand, when your working environment is flexible like mine, I think converse can be your best pair. For example, you may find many celebrities who also cross 40 years, but they wear converse on a regular basis.
I'm sure you are quite confident about your converse, so there is no reason to switch them.
Last but not least, it's entirely up to you which shoes go with your entire outfit and provide you with a striking appearance.
Check out our separate post to know are converse considered athletic shoes.
Can You Wear Converse In Your 50s?
Of course, the converse wasn't meant for any certain age. If you are comfortable with your converse, then it's alright to use them in your 50s and even 60s!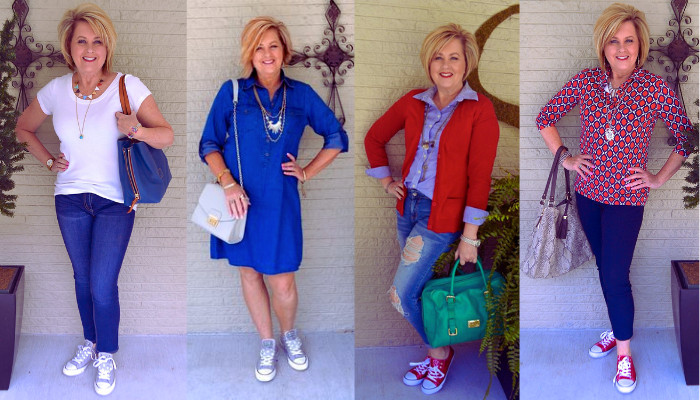 At a certain age, like 50 or 60 years old, sometimes your feet won't support you for high-top sneakers or heavy pairs, and some knee and foot pain may occur.
But if you are habituated to converse and never faced any problem before, then there is no age limit to wearing them.
According to my perspective, it's difficult to categorize shoes for a certain age group. I think you can put on any type of shoes that enhance your style and comfort level.
Moreover, 50 years is not as old as you think. At this age, many people continue skating by wearing converse.
My father-in-law recently celebrated his 62 years, and he used to wear his favorite converse more often. After some time, he started suffering from knee pain while using Converse. It didn't suit his age and feet!
That's why I'm saying that if there is no problem with your feet, you can usually use your converse or occasionally.
How Do I Look Good In Converse Shoes?
The converse is damn good in every casual attire. A little sense of proportion and styling skill will provide you with a good-looking outfit with converse.
There is no certain dress that converse is bound with. Converse with every dress is a popular trend now. Converse is always trendy among fashionistas.
Yet, in converse, you'll find style along with comfort, which certainly is a golden opportunity for you, right?
However, you can wear converse with or without socks. It's up to you which one suits you better.
For example,
When you want to wear mom jeans with a crop top and a low-top converse, show your ankle by folding the bottom of your jeans; it looks stunning for people of all ages.
You can put on your high-top sneakers with skinny jeans and a formal shirt. That outfit will provide you with a sober and simple look.
You can also wear converse with your shorts it's also trendy in the modern age.
Converse lovers have recently worn matching converse on their wedding outfits for more comfort and an exclusive appearance.
Overall, you can see how easily the converse blends with every costume. There is no fixed style so you may create your style according to your fashion sense.
I'm confident that my black and white converse complements every piece of clothing and gives me a presentable appearance.
You may also like to read does converse make your feet look huge.
Why Is Converse The Right Choice for You?
The converse is the beloved pair for those who want comfort with fashion.
Initially, the converse is made for athletes, but in recent days converse is most popular for regular wear.
Here are some of the explanations for Converse's popularity:
The converse shoe comes with a 0mm heel-to-toe drop for that you can wear them all day long.
Stable rubber soles provide the best grip for people of all ages.
The converse is also suitable for workout sessions and Crossfit training.
Every clothing and all age groups pairs well with Converse.
What Does Your Converse Say About You?
Appearance is a major thing that can win or lose everything for you. Attire can say a lot about a person, whereas shoes are a vital part of your dress-up!
When you own a neutral color converse, the shoe game is easy.
If you wear converse on a regular basis, that means that's your favorite pair, and your shoes can tell you about your personal style.
In one word, A shoe represents your choice and styling sense.
Now I'm trying to explain the top colors of converse and how the pair talk about the user's personality.
Here are some converse colors and what they say about personality:
Black Converse
Black is a sophisticated color that will also blend with almost everything. Likewise, the black converse can also mix well with any attire.
We all know how a black converse gives a presentable look by combining it with all dresses for every occasion. Also, if you are my age (35), then black is must have a pair for you.
Moreover, black converse constantly provides a bold and convenient look.
White Converse
While discussing converse, white is an unavoidable pair for sneakerhead people. The white converse gives you a sober and fresh outlook.
If you choose white converse for daily use, you must be the risk taker and hold a party sense mentality.
Blue Converse
Blue converse also goes with every costume amazingly. When you wear blue converse, you may be the kind of person who loves to go with the flow.
You are probably the calm and friendly person in your group.
Green Converse
The green converse is a symbol of a vibrant and bold appearance. Wearing green converse doesn't match any outfit, but if you wear them, you must hold a solid personality.
However, I'm not an astrologer. I'm just sharing my thoughts with you.
Related content you should read why am I too old to wear vans.
Final Line
Your favorite pair of Converse can be worn at any age. I'm hoping to be able to enjoy my converse for the next 25 years.
In fact, If wearing Converse makes you happy and comfortable, you should wear them forever!
I hope the information will be useful in clearing up your queries about the converse and the age restriction.
If you are around my age, please share your experiences by putting on a pair of Converse.