Picking the right kind of footwear for outdoor activities is crucial because you need a proper grip, arch support, and comfort.
When it comes to outdoor sandals, Chacos and Bedrock are two of the most well known brands. But which one is the better option among the two?
I have tried and tested sandals from both Chacos and Bedrock are did thorough research to get you the most reliable answer to that question.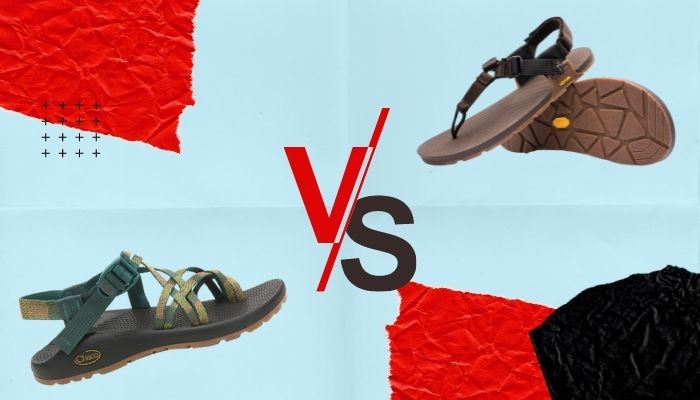 While Chacos and Bedrock are both excellent, Chacos are much heavier than Bedrocks, so your feet might feel more loaded and worn out in them. This is because the footbed for Chacos are made from polyurethane compounds while those for Bedrock are made using Vibram. So, Bedrock is the better option.
Given that they are both outdoor sandals, how do they differ? And how are they similar? To know which one to get for yourself, read this article till the end.
Chacos Vs Bedrock
Outdoor activities such as camping, hiking, going on trips, or even simply running errands can be harsh on your feet – which is why wearing the right footwear is very important.
Now, not everyone is comfortable wearing covered shoes such as boots and sneakers all the time – and if you are one of them then a hike-proof sandal is not a luxury, but a necessity for you.
Hike-proof sandals are made with much beefier soles, along with improved traction beneath them and good arch support compared to other sandals.
So, between Chacos and Bedrock, which brand ticks all the boxes and makes the best outdoor sandals? To fully understand this, you must know the similarities, as well as the differences between sandals made by the two brands.
So, without further ado, let's get started.
Check out the cheapest Knockoffs To Chacos
Chacos Vs Bedrock| Similarities
Yes, knowing the differences is the key to deciding which brand is going to be the best for you. But knowing the similarities is also crucial when it comes to judging the brands and making an informed decision.
So, what do the two brands have in common? I have mentioned them to you below.
Here are the similarities between Chacos and Bedrock:
High-Quality Materials
Chacos and Bedrock sandals are made using high-quality materials.
Both the brands use top-notch starting materials to manufacture their sandals, which results in them being durable and apt for being used outdoors.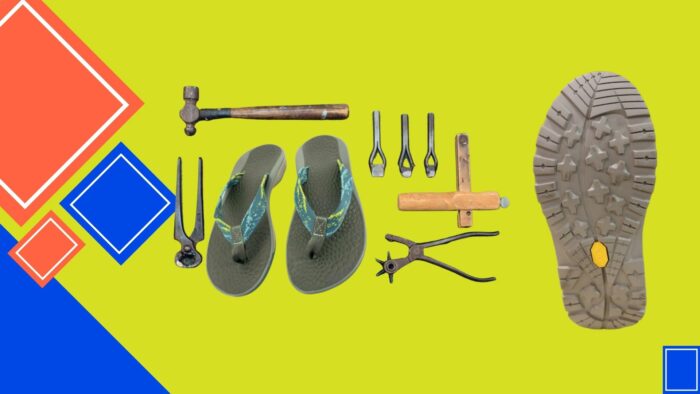 The excellent quality makes them useful for even the most vigorous outdoor activities, so if you are an adventurous person, these sandals are made for you!
You may also like Luna Vs Bedrock Sandals
User-Friendly Design
The sandals for both brands are designed to keep the ease, comfort, and convenience of the customers in mind.
The designs are as simple as it gets, yet they have an outdoors look to them. Moreover, they can be worn with a variety of different outfits as they are made in a versatile design that fits all looks.
This goes without saying, the designs are highly convenient, for two main reasons.
First, they are very easy to put on and buckle in. Both brands provide adjustable straps, so once you slide in your outdoor sandals, you can tighten the straps, securing the sandal to your feet.
So, there's no chance of them moving around or slipping off of your feet while you're on the run.
Second, the open and simple design makes them super easy to clean!
So, unlike with most hiking shoes and boots, cleaning your hiking sandals is much, much easier as you can simply rinse, wash, and wipe off any stains on them.
They also dry very easily, for both brands, making the sandals wearable even in flooded or muddly areas without having to worry about spending hours cleaning them.
Go through our epic guide on the best Dansko Knockoffs
High Functionality
The outdoor activity sandals made by Chacos and Bedrock are popular not only because they can be worn while hiking, but because they can be worn to attend any outdoor activity.
The design and build of the sandals are such that they can withstand dirt, water, sand, and concrete. So, from running errands to running on the beach, you can wear them as per your need.
High Durability
One remarkable quality of sandals from both Chacos and Bedrock is that they are highly durable.
You can buy yourself a pair and they will last you for years, without having to get any work done on them.
The footbeds and soles of the sandals are made to be sturdy, so they can withstand trekking situations without getting damaged, and the high-quality materials used to make the rest of the sandals, the straps, and buckles, are long lasting.
As you keep wearing them, the footbed molds around your feet and gives you better support, all while lasting you for a long time.
Follow our epic guide to know the differences between Bobs Shoes VS Toms
Excellent Comfort
These hiking sandals are not only durable but also quite comfortable.
Many people wish for more breathable shoes for hiking, and these provide just that. A lot of air and freedom for your feet.
The sandals by Chacos and Bedrock provide great arch support, comfort, and adequate protection, whether it's in the city or on harsh terrains.
The footbed also acts as a shock absorber, minimizing the blow on your feet and providing improved comfort.
As you keep wearing them, over time, the base of the sandals with mold around your feet to fit them even better than they do in the beginning. This makes the outdoors experience even better.
Also read, Training Shoes Vs. Running Shoes
Chacos Vs Bedrock| The Differences
Now that you know the similarities between Chacos and Bedrock sandals – let's get to the differences between them.
Below I have mentioned the differences in the sandals produced by Chacos and Bedrock.
Here are the differences between Chacos and Bedrock:
Their Footbeds and Soles Are Different
Even though they both have sturdy soles that provide support and comfort, the type of soles in sandals manufactured by Chacos and Bedrock is different.
Chacos sandals have footbeds made of polyurethane (PU) compound, while Bedrock sandals have footbeds made of Vibram.
Moreover, the sole of Chacos sandals is a very thick rubber sole, while the soles for Bedrock sandals come in both thick and thin designs.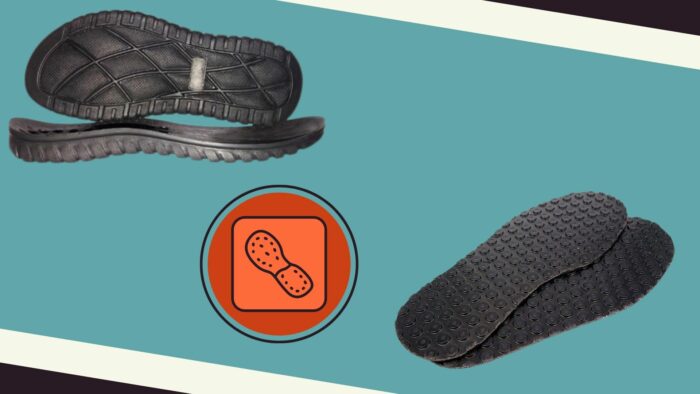 Overall, due to the varying thickness and material used for manufacturing footbeds, the overall experience in the two sandals can be quite different. The thick rubber soles sure do provide a lot of comfort and durability for Chacos sandals, but it also adds to the weight.
Go through our epic guide on Sno Seal VS Obenauf's
Chacos Weigh More Than Bedrock
The different materials used to manufacture the sandals for Chacos and Bedrock result in the variation in their weights.
Chacos sandals are much heavier than Bedrock sandals.
As per customers' reviews, even though both the sandals provide comfort and durability, wearing Chacos after wearing Bedrock sandals "feels like having bricks at the bottom of your feet".
Yes, you read that right, so when it comes to the lightweight and comfort, Bedrocks are much better.
Their Designs Are Different
The most obvious difference between the sandals by Chacos and Bedrock is their design.
Even though both have open and convenient designs, Chaos sandals have either leather straps or fabric webbings at the top while Bedrock sandals have thong-like straps and a round cord between the toes.
While both their sandals can be adjusted to fit your feet and have a good grip on them, when you compare the designs by wearing them, the Bedrock sandals provide much better comfort as compared to the Chacos.
Follow our guide to know Do Timberlands Stretch
Chacos Have A Wider Range Of Sandals
Chacos sandals come in a range of different designs and styles, whereas sandals made by Bedrock only come in similar designs.
But the bigger drawback is that Bedrock only manufactures unisex sandals for adults. On the other hand, Chacos produces sandals for both kids and adults. They have a range of different styles for kids, boys, and girls.
Besides unisex sandals, they also have separate sections and designs for men, women, and kids, so you have a broader range to choose from.
Which One Is Better?
So, which one is better for you is the question.
From my personal experience and countless customer reviews, I think it is safe to say that when prioritizing comfort and convenience, Bedrock sandals are a better option as compared to Chacos sandals.
This is owing to the fact that Bedrock is much, much lighter in weight than Chacos, and hence, they can be worn for a longer period of time without feeling worn out. As a result, they are a better hiking companion.
On the other hand, if you want to get hiking sandals for kids, then I'm afraid you have no option but to opt for Chacos sandals.
Also, check out my new post on What Does TD Stand For In Shoes
Conclusion
While both the brands are excellent, whichever you choose, you will get top-quality performance and experience.
But considering their features and market review, I would suggest opting for Bedrock.
Don't forget to let me know which one you've decided to buy for yourself. And if you have worn their sandals, do share your experience in the comments below.