Chacos are everything you could ever ask of an outdoor sandal. Sadly, the price you've to pay is quite handsome. And, shelling out such an amount may not be everyone's cup of tea.
Worry not, my friend! As I've got just the solution for you. After countless hours of intense research, I put up this ultimate list of Chacos knockoffs to make your outdoor adventures a lot more convenient.
Sounds fantastic, I know! All you have to do is go through the reviews carefully to find your perfect match.
So, let's put an end to all the suspense and delve right into the review.
Before we go on to the review, here are our picks for the best Chacos alternatives:
Teva Men's Hurricane 4 Sport Sandal
Camel Crown's Women Sport Sandal
Adidas Comfort Sandal Slide
Xero Shoes Z-Trail Hiking Sandal
Teva Men's Original Universal Sandal
Ecco's Men Sport Yucatan Sandals
Affordable Chacos Alternatives- Reviewed
Outdoor sandals are a person's best friend during the summer. Be it hiking or a stroll on the beach; these babies are there to back you up. To ensure you with an economical get away from the city, I compiled this catalog.
Here are the best Chacos Knockoffs:
Teva Men's Hurricane 4 Sport Sandal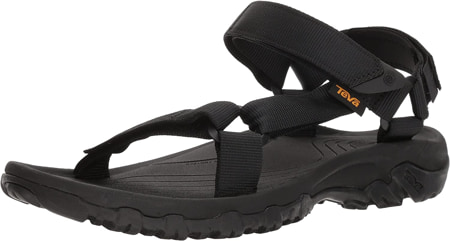 We start our countdown with these scintillating sandals from Teva, arguably Chaco's biggest competition.
Over the years, Teva has been breathing down the neck of Chaco with their excellent yet cost-effective sandals. And one of them is the Hurricane 4 Sandals, packed with exciting features.
Let's start with the closure first; Hurricane sandals feature a velcro strap which is super easy to use and perfect for light hiking or strolling on the beach.
The upper of this footwear consist of textile straps that are very soft on the skin and dry up in no time.
With the velcro straps ensuring a fight custom Fit and textile upper providing comfort, these: guys make a great addition to your footwear collection.
What I really like about these sandals is the inner Nylon shank that gives them their flexible properties and provides you with support. Now, walking on uneven terrain won't be of any issue.
These footwears are available in three different strap patterns; you can easily choose the one that suits you best. You get all these exciting features at less than half the price of the originals.
And Finally, the rugged dermabrasion rubber outsole, which is extremely durable in nature provides excellent traction on any surface.
Final verdict:
Tevas are quite popular as knockoffs to Chacos. And why wouldn't they be?
Teva provides excellent features at quite an affordable price. And, these Hurricane Sport Sandals are one such example. All in all, these sandals make an excellent choice considering the overall scenario.
Camel Crown Women Sport Sandal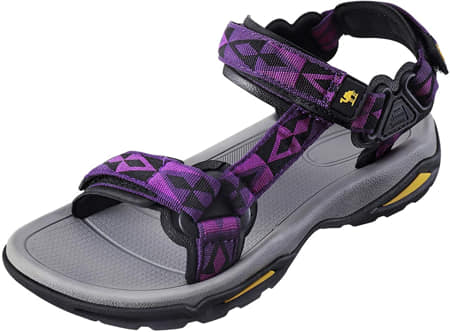 Why should boys have all the fun! Right ladies?
Therefore, Camel Crown's Women Sport Sandal has got your back. These sandals ensure you don't miss out on your fair share of fun.
These sandals may be a number.2, but they're no less than our no.1 option. This footwear is packed with exciting features too.
And, one of them is the adjustable hook and loop closure, which allows you to have a custom fit giving you the most pleasant wearing experience possible.
The durable polyester webbed upper, which is also quick drying, does not go out of shape and is resistant to wear and tear. Now, you can stomp across any terrain with your eyes shut.
Did I forget to tell you these footwear offer arch support, too? Indeed they do! Now there will be less muscle fatigue.
Also, the shock-absorbing midsole makes your landing a whole lot easier. The combination of these features results in a butter-smooth experience. If you go on stomping through multiple terrains, you'll need proper traction!
Thanks to the slip-resistant (TPR+MD composite) sole, you get just that.
Rebounded TPR material reduces the chance of being pierced by hard objects too. With them at your feet, you can go on many outdoor adventures such as hiking, fishing, camping, or anything that your heart desires.
Final verdict
Camel Crown is quite underrated compared to the quality it produces. Over the years, they've produced some amazing footwear, and one of them is the Women's Sports Sandal. With them at your disposal, explore the great outdoors with utmost ease.
Adidas Comfort Sandal Slide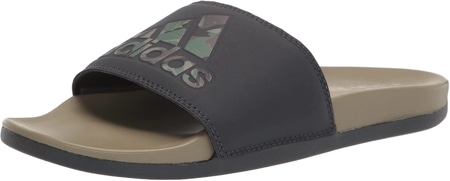 Adidas needs no introduction. The German sportswear giant has churned out excellent footwear for almost all criteria. It's no surprise you've stumbled upon a pair of footwear from a famous brand.
What You should be surprised about is the price of this off-brand chaos. The price Adidas is charging is just simply outrageous, and the features you get are nothing less than brilliant.
The upper consists of a quick drying synthetic material that's quite sturdy in nature and does not let your feet feel soggy for a long time.
Adidas has made these sandals keeping sports and activity in mind. The simple yet classy design combined with the Adidas name and logo results in an appealing appearance.
If there was one pair of sandals I had to buy based on appearance, this would be it.
The materials used in the construction are of magnificent premium quality, which ensures overall comfort and satisfaction.
The synthetic sole is bouncy in nature, that caters to good shock absorption and comfortable landing. And for traction, the non-skid durable rubber outsole provides you that in ample amounts.
You can plow your way across any terrain with them at your feet. If you want a pair of dependable outdoor sandals, then these are the ones for you.
Final verdict
Adidas has an excellent track record of producing dependable footwear for every category. It's no surprise to stumble upon a pair of outdoor sandals from the German brand. With the price starting at $30, they make an excellent choice as Chacos knockoffs.
Xero Shoes Z-Trail Men's Hiking Sandal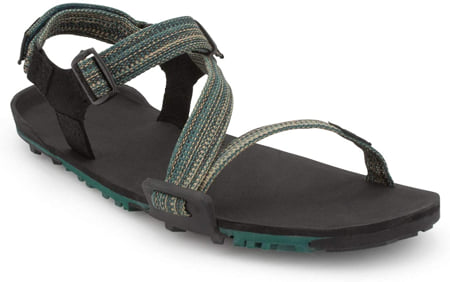 Featuring at number.4 with a plethora of features is the lightweight hiking sandal from Xero Shoes.
At first glance, they'll appear quite simple, but the engineering embedded in them is quite brilliant and efficient.
As they say, don't judge a book by its cover. If you look at them closely, you'll notice the upper resembles the Chacos, especially the Classic Zs.
The material used is a kind of rugged textile that dries up quite quickly. Xero Hiking Sandals are up to 76% lighter and thinner compared to other sports sandals.
They also provide all the comfort and protection that you'll need on your outdoor adventures.
The thickness stands at 10mm, which is great for traveling. Being Flexible in nature you can easily roll them up and fit them in your pack or pocket.
I don't know if you've noticed it or not, but these sandals are zero-drop.
What does that mean? It means there's no heel; the soles are completely flat. Is there a special reason?
Yes! The Zero- drop design caters to a natural posture that is meant to give you a barefoot experience. In contrast, the Z Style webbing holds onto your foot with proper security.
You'll also be happy to know the company offers a 5000 miles warranty. Z Trial Hiking Sandals are available in three color combos, and all of them are quite appealing.
And, last but not least, the rubber outsoles provide excellent traction across all terrains.
 Final Verdict:
Xero Shoes  Z-Trail Hiking Sandals are well-engineered lightweight outdoor footwear. They are equipped with some exciting features which make them perfect for lightweight use.
Teva Men's Original Universal Sandal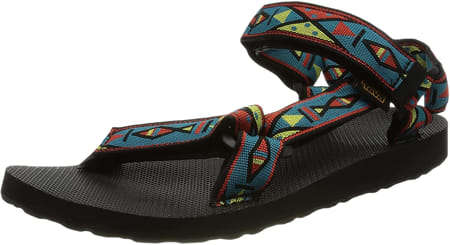 Surprise! Surprise! We've another pair of footwear from Teva. This time it's the Men's, Universal Sandal.
When I said Teva has a tendency of breathing down Chacos neck, I meant it! There are plenty of outdoor sandals from Teva in the market, and one of the most popular options is the Original Universal Sandal.
Its striking appearance catches your attention immediately. It's not only the appearance, but the overall package is quite exciting.
The upper consists of premium quality quick drying fabric, which is of great quality. This particular material is soft in nature, which prevents any sort of itchy experience.
With the adjustable hook and loop closure, you can get your desired fit with utmost ease. Are you worried about the rough experiences on uneven terrain?
Don't worry! Men's Universal Sandals have foam-cushioned footbeds that cater to an efficient shock absorption for softer landings and an overall comfortable experience.
You get decent arch support too.
It looks like you're in luck! Unlike other sandals, these guys are available in sixteen exciting color combinations.
Finding a pain to match your last won't be an issue. You'll also be happy to know this footwear provides excellent traction on any walkable surface.
Final Verdict
Teva provides fierce competition to Chaco in this specific segment. One of the popular options to combat them is the Universal Sandals. This lightweight and well-engineered outdoor footwear are available at an exciting price.
Ecco's Men Sport Yucatan Sandals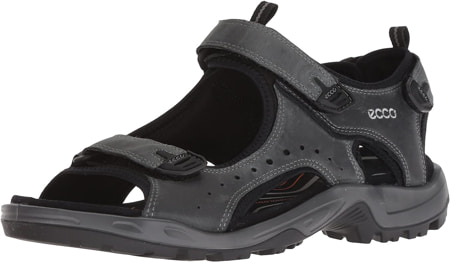 Are you looking for a pair of waterproof sandals to back you up in the long run? If yes, then look no further. Ecco Men's Yucatan Sandal has your back.
You can say they're EU-originated Chacos, which are outdoor wear at a very rationale price. Upon first inspection, you'll get a feeling; they're quite strong. And strong they are!
Equipped with reinforced stitchings and proper pastings, these guys are built to last.
The upper consists of a combination of leather and textile of the highest grade; unlike most other options in the list, these guys feature a velcro closure that is extremely easy to use.
Yucatan Sandals also feature stretch material lining that expands when needed. When I first saw them, I immediately got a feeling of them being comfortable.
And that is quite true! ECCO Yucatan features dual-density footbeds for extra comfort.
You get efficient shock absorption and an extra layer of plush cushioning thanks to the direct-injected PU midsole equipped with RECEPTOR technology.
Thanks to Ecco's unique tread pattern, you get exceptional traction across any terrain. You'll also be happy to know Ecco offers a whopping 26 different color combinations on these bad boys.
Final Verdict
Yucatan Sports Sandals are a strong option as a Chacos Knockoff. They're made using quality materials, and the built quality is excellent. These sturdy sandals can back you up on any of your outdoor adventures.
What Are The Factors To Consider Before Buying A Pair Of Sandals
There are few things you should take into consideration before buying a pair of sandals. Be it the Chacos or a pair of alternatives, ensuring them will help you to get a proper deal.
Here are the factors you should consider:
Objective
The first thing you should take into account is the reason for buying your sandal. Will you use them for hiking, travel, or walking around town?
Chacos were crafted for outdoor adventures, both in and out of water.
Hence, they were equipped with a toe holder, great footbed grip, and excellent traction. If you can afford a pair of chaos, then great! If not, get yourself a pair of knock-offs with similar features. As for strolling on the beach, Tevas are quite up to the task.
Price
Next up, you need to decide how much you're willing to pay. This is a prominent aspect when it comes to footwear. The budget can single-handedly decide your fate. Chacos are simply not in the 'cheap' category, and that makes sense, thanks to their excellent quality and consistency. If you want to go for a similar experience on the cheap, then You know what to do.
Fit
The thing with it is that people have different preferences. Some want them to be light and well fitted while hiking over different terrain, while others prefer a slightly loose fit while strolling on the beach. Therefore, adjustable closures should be a priority if you want either of the two.
Weight
The weight is something that's not very complex. You Just have to know whether a pair of sandals are heavy for you or not. When you're in for a long trip, they'll be covering your feet pretty much all the time. So heavy footwear might be a problem. On the other hand, heavy sandals for a short time can be of no issue. However, the case is not the same for everyone. You just have to know the weight you can carry.
Durability
I mean, who doesn't like stuff that lasts long? I sure do! If you want your sandals to last long, then you need to invest in a proper pair. And, to do that, you need to thoroughly go through the customer's review and ratings of your preferred choice. If you want something for the short term, you can just get yourself a pair that costs less without doing much homework.
What Steps Should You Undertake  To Maintain Your Sandals Properly?
Let's face it; footwear will get dirty! And they need to be cleaned on a regular basis to ensure proper maintenance. Different Footwear has different methods of care.
It's no different for your sandals too.
Here are steps you should follow to ensure proper maintenance:
Observe
First of all, you need to know what you're dealing with! Is it dust stuck on the surface? Is it water damage? Or just a scratch? You have to know this to apply the proper remedy. It's also important to know about the material you're dealing with.
It can be leather, fabric, or polyester. These materials need different handling. Therefore, you should clean accordingly.
Wash
There are many ways to wash your sandals. You can either do it by yourself or go to a professional. If you wish to do it by yourself, then you can use a combination of mild detergent and lukewarm water.
You can also use baking soda if your footwear has leather elements; this gives them a good shine.
It is recommended not to use corrosive chemical cleaners as they can weaken the structure of your footwear, which can be irreversible. Be it rubber or leather padded shoes, wash them according to their material type,
Floss
It's an important way of ensuring the robustness of the straps as different types of dirt can enter them and the midsole. Sand or grit tends to cause unpleasant odor and unwanted sticky experiences over time. This also leads to the accumulation of bacteria on the shoes.
Moisten the straps and apply the fabric conditioner. Why Fabric conditioner? They are mild and do not ruin the texture of your footwear. Once done, leave them to dry. You can also pull the straps back and forth to eliminate any excess remains.
Dry them properly
Hairdryers or other methods to speed up the drying process are simply not recommended. Let Your sandals dry in the air, but don't burn them. You can Just rest them against the wall with the soles touching the ground. It's best if kept at room temperature.
Do Chacos Knockoffs provide good arch support?
If the truth is folded, it depends. Not all of them are equipped to provide you with arch support. You just have to find the ones that do. One knockoff such as the Teva Men's Original Universal Sandal offers arch support.
Do Chacos knockoffs give you blisters?
NO, at least the ones mentioned in this post do not. If you have a different option in your mind, then it's for the best you do your fair bit of research.
Are Chacos Alternatives worth the money?
The answer's both. It can either be a hit or a miss. But hey, that's not a solution. To avoid misses, go through the customer's review and ratings. Also, keep an eye on the brand you are buying from. Well, reputed brands such as Teva or Camel Crown usually provide good sandals.
Do Podiatrists recommend Charos?
Yes! The American Podiatric Medical Association (APMA) has approved of the Chacos. These sandals improve body alignment, knee pain, and ankle pain. They boast a heel riser design and sculpted heel cup, which increase overall stability. It's evident as to why Podiatrists recommend it.
Is Chacos better than Tevas?
If you're someone with high arches, then you'll be better off with Chacos. This is thanks to their high arch and thicker midsole at the heel. On the contrary, if you have fairly flat feet, then Tevas will suit you better. The reason is Tevas have lower arches.
Conclusion
Don't let money hold you back when it comes to various outdoor activities, especially during the summer.
Chacos are just amazing, but the price they come with is quite heavy. But, there are some excellent affordable alternatives out there. And, the ones present in this list are among the best.
Do let me know if I've missed anything important (down in the comment section below). I'd love to hear from you too.