When it comes to outdoor footwear, we all heard about the renowned Tevas and Chacos. These two brands are reigning in the world of outward wear as well as hiking, right?
But I know it's quite troublesome to choose between any of these two.
Because both of them are highly qualified and classy.
To provide you with an accurate suggestion, I am here to share the identical features of Tevas and Chacos sandals.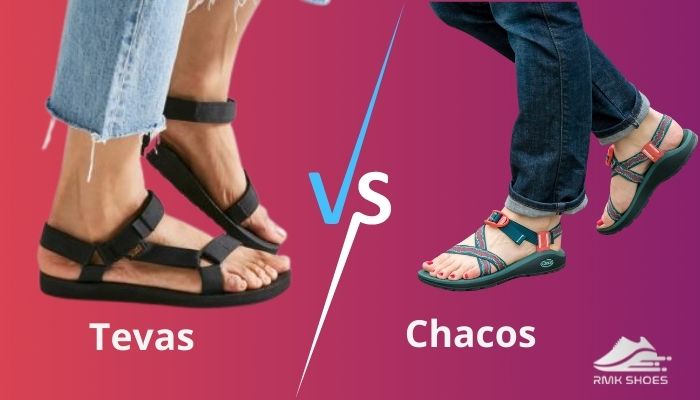 I researched for a long period of time and noted the genuine info regarding Tevas and Chacos in this article.
So, why are you wasting your valuable time?
Keep reading till the end, and make sure to buy the perfect one for yourself.
Check out the cheapest Knockoffs To Chacos
Innovation of Tevas and Chakos
Before moving on to the features of Tevas and Chacos, I will share some crisp facts with you about the birth of these two footwear.
Teva is one of the Hebrew words which denotes 'Nature'.The materials behind the construction of vegan Tevas are synthetic and natural.
In 1984, near the area of the Grand Canyon, Arizona, a random young raft guide wanted to strike out such footwear that would not be drowned in the river.
Consequently, he invented the root of the Teva sandal.
He came up with the idea of Velcro straps in the Teva sandals in 1991, which prevented them from drowning in the river.
For the past few years, Tevas focused on natural raw materials. They decided to make the webbing from recycled plastic.
As a result, each sandal prevents almost four plastic bottles from mixing with the soil.
The brand is proudly conducting its business In the United States, Canada, Europe, Hong Kong and Japan.
Now, let's move to the birth of Chacos.
Chacos were founded in America around 1989 by Mark Paigen. He was one of the rafting and fishing guides who designed a supportive, waterproof sandal for personal use.
Gradually, people found interest in this special type of footwear. Then Mark Paigen started manufacturing the Chacos commercially.
Within a few years, this particularly designed footwear became extremely popular.
It won people's hearts for its adaptive Z-strap and amazing waterproof feature.
You may also like Chacos Vs Bedrock
Chacos vs Tevas: Which One is Excellent for Hiking?
Both the Chacos and the latest version of Tevas are appropriate for hiking.
In terms of excellent support at the moment of hiking, people prefer chacos more than Tevas. They frequently suggested that Chakos are best for hiking. The reason behind this is its heavenly comfort, arch support, ankle support and traction.
Chacos are capable of giving you a feel like there's a soft cushioned pillow underneath your feet.
The American Pediatric Medical Association approved that Chacos are excellent for hiking.
Furthermore, the Nylon shank of this footwear will defend your foot on rugged terrain.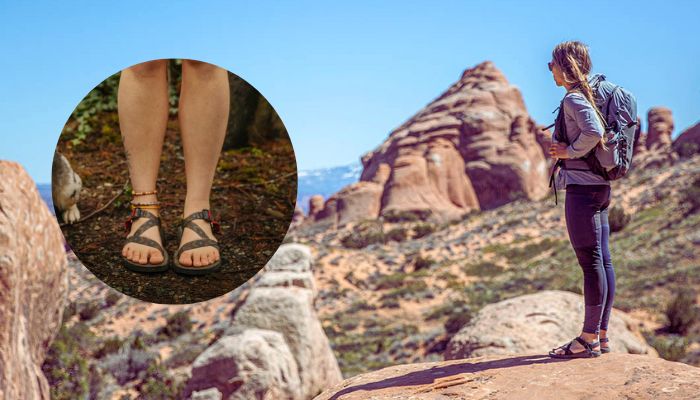 They're suitable for camping in the forest, near the beach, in a hilly area or overnight hiking. Chacos support is similar to a superglue connection in uneven dry and watery roads.
Hence, you don't need to fear slipping off a muddy road.
Tevas are quite suitable for backpacking and light hikes. But they aren't ideal for all-terrain scenarios.
The recent Tevas allows high traction and toe protection. They possess control against the slippery ground too.
What Are The Advantages of Tevas and Chacos?
Tevas and Chacos are already battling between them and their counterparts. They both own worth mentioning characteristics.
A few days ago, I decided to buy a pair of sandals for outdoor activities. Both Tevas and Chacos are on my preference list.
But my wallet didn't permit me to purchase both of them!
Then I started comparing the features of Tevas and Chacos to choose the right one for me and decided to share my thoughts with you.
So that you don't need to search here and there and you can save your time.
So, let's go through the key features of each sandal design and also find out their advantages:
Extraordinary Build Quality
The majority of building materials of Tevas and Chacos come from nature itself. Manufacturers leave no stone unturned to produce the best quality outsole, midsole, and straps.
Let's discuss the soles and strap individually.
Outsole
Suppose you're walking across a moist hilly road wearing any random footwear. But you're facing problems while walking and almost fell down.
It's just because of the poor quality outsole of your footwear.
I know that you don't want to face such a disturbing incident.
That is why Chacos and Tevas arrived to provide you with its great quality outsole.
The outsole is made of sustainable rubber materials. Therefore, they offer pretty traction and durability.
However, the quality of the outsole in some ancient models of Tevas was not satisfying. Those models were not suitable for water use and failed to provide ample traction to the wet roads.
But, Tevas corrected their mistakes and initiated a top-class outsole in their footwear which gives superfluous support and attraction.
Midsole
As you know, behind every successful man, there is a woman. Likewise, behind an excellent level of comfort, there exists a superior quality midsole.
The midsole of Tevas is comprised of lightweight and favorable EVA foam. It releases a padded feel and assures day-long adventures.
Due to a slim midsole and feathery EVA cushioning, Tevas are easy to carry.
On the contrary, you will get an intense midsole with Chacos, which is composed of excellent quality Polyurethane foam. Their arches are higher compared to Tevas.
That is why people with high arches often move forward to go with Chacos.
Because of the Poly Urethane cushion in the midsole, Chacos are somewhat bulky.
Strap
Hiking in the terrain and navigating in the forest sounds quite interesting, isn't it?
But your excitement about hiking will vanish if you wear the wrong pair of sandals.
If you want your sandals to be well fitted and attached to your feet, even in a rough situation, you should keep your attention on the strap of your sandal.
An adjustable and classy strap will help to attach the sandals to your feet nicely.
Both Chacos and Tevas come with a fantastic strap.
Tevas are simpler to get on and off with their adjustable straps. The velcro strap of Tevas is located in the middle of the upper side, behind the toe.
The straps are made from nylon, polyester, and recycled PET-based dehydrated webbing.
In 2020, Tevas decided to create straps from recycled plastic.
On the other hand, the chacos strap is made of polyester flourished jacquard webbing. The strap is in a single-wrap format.
It contains a buckle instead of a Velcro strap. The crisscross layout of the strap will provide you with a distinctive and fashionable outlook.
Tremendous Comfort
The middle layer sole is capable of furnishing you with a higher level of comfort.
The concentrated polyurethane foam on the midsole of Chacos is a blessing.
Undoubtedly, you will feel relaxed whenever you wear your Chaco pair.
You will feel like there's a soft cotton pad under your feet because of the thick arch support.
To ensure the best comfort, LUVSEAT technology is followed in Chacos.
On the other hand, the tevas midsole is sufficiently cushioned and provides great smoothness. They offer thinner arch support.
As a consequence, Tevas are highly suitable for flat feet owners.
It is a plus point that tevas are now concentrated on providing maximum cushion comfort to their customers.
The comfort level of the latest tevas didn't lag behind the chacos.
Fascinating Color Combinations
When you wear something colorful, it gives a cheerful look.
Not only that, wearing colorful outfits makes your heart become delighted.
That is why, nowadays, the majority of people are more oriented to wearing color-matching outfits. They prefer the same colored footwear congruous to their dress.
Tevas and Chacos never disappointed their worthy customers in this phase.
They always manufactured and supplied mesmerizing colored and printed footwear to their die-hard fans.
A wide range of bright and soothing color combinations are available both in Chacos and Tevas
Rainforest brown, Orion blue, gray, layered black, dark olive, vista sunset, sesame, foggy mountain navy etc are the available colors offered by Tevas.
The color selection option of Chacos is more than Tevas. They deliver different colors for different models.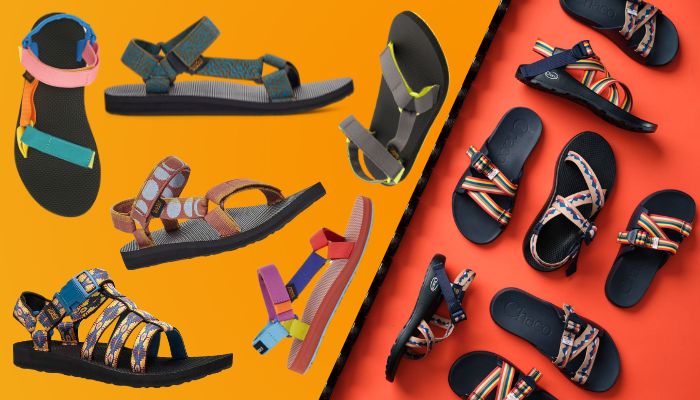 For example, Chacos women's Z/cloud model comes with colors such as confetti cream, overhaul bronze, solid black, rambling navy, ply chocolate and gush rust.
Among them, the confetti cream color of the chacos z/cloud model attracted me the most. I want to hear from you which one is your favorite color combination.
Let me give you another interesting bloom!
You will be pleased to know that Chakos allow their buyers with customization facilities.
So if you want your own customized colors and prints on your footwear, you can just easily contact them and place the order.
Doing this, You won't regret even a bit.
Waterproof Property
It is an advantage of Tevas and Chacos that both of them are suitable to wear in watery environments.
If you're with me by this time, you're already aware of the materials, crafting and appearance of Tevas and Chacos.
The endurance rubber outsole prevents the water from penetrating inside the footwear.
So, you don't need to be concerned about your sandals if you go out in the rainy season with your Tevas or Chakos.
You won't be able to find the water-resistant characteristic in some Tevas. But if you buy the upgraded pattern, it will surely serve you in the watery atmosphere.
Long-Lasting
In terms of durability, no one between Tevas and Chacos remains behind.
As I mentioned about the quality and types of material earlier, it's not necessary to review in detail about them again.
In brief, I will say that the nature of raw materials is more than standard both in Tevas and Chacos.
Consequently, they are long-lasting.
If you use those pairs with decent and maintain the proper ways of cleaning, they will last up to a decade.
What Are The Drawbacks of Tevas and Chakos?
In the field of outdoor wear, Tevas and Chakos always stand on top of the list.
They are precious because of their building materials, longevity as well as waterproof characteristics.
Yet, people raised a few objections against some aspects of Tevas and Chakos.
So, before you buy, it's better to know about the problems that individuals face.
Here are the things that people want to fix in Tevas and Chacos:
Price Range
Money is one of the most essential components of our life. Isn't it?
It completely depends on your financial condition: which dress you will wear, which footwear you will buy, which fragrance you will apply or which makeup you will use.
I found that many people are offended by the expensive price of Chakos and Tevas.
Chakos are more pricey. You have to put out around $105 for a simple pair of Chakos.
Spending this huge amount of money for simpler designed Chakos isn't acceptable to many.
The price of Tevas is also not too low. It retails for $70.
Don't disappoint hearing the expensive price. There's still a piece of good news for you!
You definitely heard the name of the worldwide marketplace, Amazon.
You might be fortunate to get your favorite pair of Tevas and Chacos at a lower price on Amazon.
Recently, I was going through the website of Amazon and found that they were selling the Teva Hurricane for $60 and the unisex Hurricane XLT2 for $75,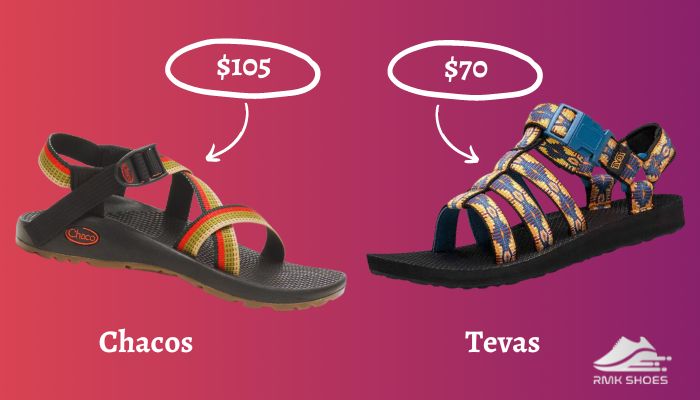 Another retailer named REI also sells those footwear at a comparatively low price.
Weights of Chakos
Chacos are bulkier. The concentrated polyurethane foam on the midsole of Chacos is at the helm of its heaviness.
One pound and five ounces is the mass of one pair of Chakos.
Whereas, Tevas are more featherweight. One pair weighs one pound and four ounces.
It's quite irritating to wear heavier sandals especially when you're on a long tramp.
So, in terms of lightweight, Tevas is the champion.
Warranty of Tevas
As you already have an idea about the cost of Tevas and Chacos. So, you can desire a long period of warranty on these sandals for sure.
The sellers didn't let you down in case of the warranty!
Chacos claimed an offer of the lifetime warranty. It assures a lifetime warranty on both craftsmanship and materials.
Additionally, Teva offers a one-year warranty.
You might be thinking about why the warranty of Tevas is for a short period of time.
Many customers of Tevas claimed to enhance the warranty period by this time. But I found this demand is not so logical. Because the manufacturers of Tevas build error-free footwear with premium quality materials.
Moreover, the manufacturing process and artisanship are peerless.
If you properly use the footwear, it will satisfy you with its overall feature and durability.
So my friend, don't overthink silly stuff like guarantee or warranty.
Pros And Cons At a Glance
Both Tevas and Chacos are quite renowned in the world of open-toed with strap outdoor footwear. They offer a vast range of sole and strap configurations which makes them suitable for different surroundings.
Still, they hold some limitations.
Now, let's go through the positive and negative sides of Tevas and Chacos quickly.
Tevas
Pros
»

EVA-based smooth footbed

»

Wide range of sole configurations

»

Sufficient arch support

»

Lightweight

»

Better adjustment

»

More comfort

»

Durable

»

Suitable for light hiking.

»

Ordinary versions aren't too expensive
Cons
»

Thinner footbed

»

Some versions aren't water resistant

»

New additions are expensive
Chacos
Pros
»

Soft-Cushioned PU footbed

»

Maximum Arch Support

»

Chacos are more costly.

»

Best for water hiking
Cons
»

It's a little bit bulky

»

Not affordable to many
Tevas vs Chacos: Which One Should You Buy?
You'll prefer one brand over the other based on the structure of your foot and the extent of support you require. It's a matter of personal preference.
The open-toed design of both sandals is friendly to use in summer or in a heating environment.
Chacos were originally meant for robust outdoor activities such as marine sports, rafting and kayaking.
If you're the person who continuously puts on their shoes until they tear apart, then you should buy a pair of Chacos because it is more persistent than the Tevas due to their Polyurethane foam inside the midsole and rubber outsole.
A great benefit of Chacos is its traction and grip on the surface. Chaco dries more rapidly.
The customization opportunity of Chacos will let you wear a unique pair of shoes, different from others.
For walking on a plane surface, casual meetup, a family party or for dinner at home Tevas is the ideal fit.
At the time of hiking, you can easily tighten or loosen straps based on how you feel at the moment.
So, I will suggest you to buy the latest pair of footwear based on your preference.
The updated versions of both Tevas and Chacos have almost similar advantages. So it will not make a huge difference no matter which brand you choose.
FAQ
What is the reason behind Tevas popularity?
Tevas are able to provide high-performance based outdoor wear. The main reason is their signature features such as highly-cushioned footbed, arch and ankle support, and adjustable strap configurations.
Is Tevas still trendy in 2022?
Obviously, Tevas never failed to continue the trend of providing classy and fashionable sandals. They're still holding the attention of their customers with supreme quality and a wide range of fascinating color combinations.
Is Chacos Good for Sweaty Feet?
Chacos will not create any irritation to persons who have sweaty feet. The PU foaming in the footbed and open-toe structure of Chacos ensures enough air circulation to the feet. As a result, there is no chance of sweating.
Wrapping It Up!
So, my friend, I've informed you of the features, advantages, and reasons to choose Tevas or Chacos.
Now, it's time to share my final thoughts.
Chacos and Tevas are two universally favorite outdoor wear. They've specific astonishing features.
Whereas, Tevas are made from recyclable plastic materials. It's a great contribution to decrease the waste materials of the earth.
Tevas deserve a clap for the thought of reducing environmental pollution.
Chacos are iconic wear for adventure in the forest or in a watery area.Its a perfect suit for roaming over uneven street.
I fell in love with the design and feature of the latest confetti cream z/cloud chacos. Its price is also affordable to me.That's why I've decided to buy this pair.
Let me know which footwear you're gonna choose.