Dansko Clogs are extremely popular amongst service providers who spend most of their working hours on their feet.
The reason for such popularity is the comfort and other foot-related benefits they provide. However, the price they command is often beyond reach.
But, don't you worry! I came up with this catalog of Dansko knockoffs so that you can go on and carry out your noble deeds without having to worry about your pocket.
So, without further delay, let's get straight into the reviews.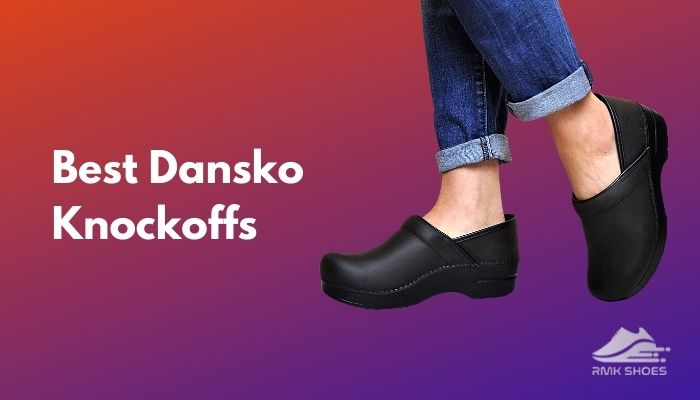 Here are my top picks for the best Dansko alternatives:
Sanita Women's Professional PU clog
Crocs Women's Neria Pro Slip-Resistant Work Shoes
SR Max Geneva Women's Slip-Resistant Clogs
Scholl's Women's Dynamo Work Shoes
Sanita Men's PU Mule
Best Dansko Knockoffs-Review
Among all the alternatives out there, I've selected for you the ones that are of premium quality and quite affordable. Go through each of them carefully to select the one that suits you best.
Here are the best Dansko Knockoffs:
Sanita Women's Professional PU clog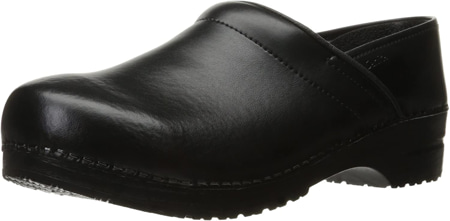 Women's PU clogs from Sanita are perfect for Women searching for comfortable footwear for active work hours without any sort of discomfort.
Sanita used to make clogs for Dansko from the early '90s to around 2007. Those were the glory days for  Dansko, according to clog lovers. I hope you realized that Sanita has a wealth of experience along with credibility in this field.
So, who better to buy from other than Sanita? These professional clogs come with a bundle of exciting features to make your working hours a whole lot better.
The upper consists of fine quality polyurethane leather with the exceptional build quality. The dependable quality of the leather means they last longer and are easy to maintain.
It's also water-resistant to a great degree which ensures a long life span.
The comfort of the user was of paramount priority during the construction of this footwear.
A plush inner lining combined with the padded instep collar makes your walking a whole lot smoother. The anatomically designed footbed provides proper arch support, while the contoured heel counter stabilizes your foot laterally.
The PU outsole has been integrated with a rocker bottom to give you proper traction and all-day support.
Pros
»

Comfortable,

»

Water-resistant

»

Durable

»

Provides arch support
Final Verdict: Sanita has a wealth of experience in the clog industry. Along with experience, they have proper credentials. These professional clogs are well made to provide you with comfort and arch support. They are usable in almost all weather and are quite affordable. They have everything to be a great bargain.
Crocs Women's Neria Pro Slip-Resistant Work Shoes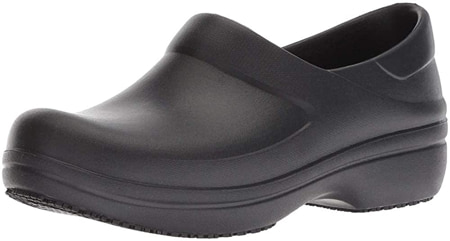 Women's Neria Work shoes from Crocs is dependable footwear for all you are hard working out there. You'll love the Features these clogs have on offer.
If you're looking for a pair of dependable work shoes to provide you with comfort and support during your gruesome work hours, then you've stumbled upon the right clogs.
Built from quality materials, they have enough in their locker to support you throughout the day.
The upper consists of 100% synthetic material to ensure a good life span. The toe box is roomy enough to support all types of feet and thick enough to provide plush cushioning.
Women's Neria work shoes are fully ASTM F2413-11 tested; they are also CE certified and meet the EN 150 20347 (safety standard) requirements. These shoes have antistatic, fully enclosed, and energy-absorbing heels.
They are penetration resistant too. What I really like about these clogs is their way of dealing with water. They offer decent water resistance, and their water absorption is quite efficient.
A well-engineered construction means maintaining them is very easy. If you ever feel like cleaning them, just moisten a rag in detergent water and wipe them clean.
They'll dry up quite easily without any hiccups. If you're a fan of variations, then you'll love the fact that these guys are available in 13 different color combinations.
The outsoles provide more than enough traction, while the removable inserts provide extra comfort.
Pros
»

Slip-resistant

»

Penetration resistant

»

Comfortable

»

Available in different color combinations
Cons
»

It can make your feet sweat at times
Final verdict: Women's Neria Slip-Resistant work shoes have all the necessary features to be the perfect partner to provide you with comfort and safety during your work hours. Having met all the requirements of a safety shoe, the price they command is within range.
SR Max Geneva Women's Slip-Resistant Clogs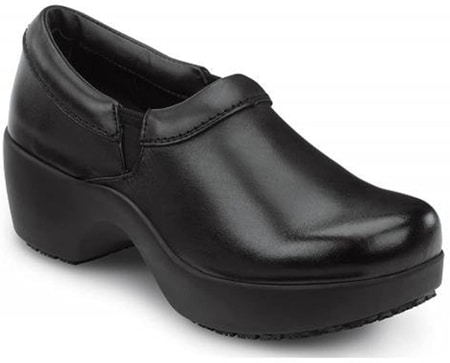 Are you looking For pair of clogs to Jazz up your Feet during work? If yes, then look no further. Women's Geneva Clogs From SR Max is full of flair.
Quite striking, aren't they? Well, it's not only the appearance they're good at; they're excellent when it comes to functionality as well.
They have a chic appearance and all the features in the world to provide you support and comfort during intense work hours.
The upper consists of good quality full-grain leather that's good enough to last a long time. The materials including the whole shoe are lightweight in nature which makes it easy for you to move around without any hiccups.
The upper is breathable enough to ensure proper air circulation, and they also boast tricot linings along with suede counter pockets. As for comfort?
Well, the innovative engineering behind the construction and the materials ensure that. You can rest assured, knowing that you'll have it when it matters. The clogs are also equipped with goring panels on either side for a smooth transition.
And, the contoured heel counter stabilizes your feet during movement.
The EVA footbed offers decent shock absorption for less stressful landings. In contrast, the padded arch provides an extra layer of comfort.
As for traction, the company's Max Trax slip-resistant outsole does an exceptional job of providing that. You'll also love the exciting colors SR Max has on offer.
Pros
»

Fine quality material

»

Well-engineered construction

»

Slip-resistant

»

Comfortable
Cons
»

The height of the shoes may be an issue.
Final Verdict: If you are looking for a stylish pair of clogs to wear at work, then Women's Genevas is your best option. Equipped with exciting features and backed by well-engineered construction, these shoes are everything you could ever ask for. The price is an added bonus.
Scholl's Women's Dynamo Work Shoes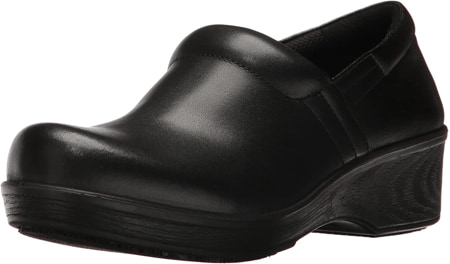 Women's Dynamo Work shoes from DR.Scholl's are fine quality clogs with intricate details at the sole from the ever-reliable Dr. Scholl's
Dr. Scholl's has been an over dependable name when it comes to healthy foot life. All of their footwear is built on proper research and utmost precision. And, the Dynamo Work Shoes are no different.
These clogs were tailor-made to provide you with the best working experience possible. And how's that? By providing comfort and safety, of course.
These clogs have passed through various safety requirements to be at your feet.
The upper consists of 100% leather of the finest quality. They are also equipped with Dri-Lex moisture wick lining that vents out any type of moisture or odors to keep your feet fresh and dry during intense hours of work.
The clogs are equipped with memory foam cool fit and anti compression insoles to provide you with all-around comfort.
There's also a convenient goring panel to help you slide in and out of these babies with utmost ease. What I love the most about these shoes is the butter-smooth texture of the leather.
If you're a fan of sophistication, then you'll love the intricate details on the soles. For your much-needed safety, these lovely soles have met SATRA TM 63 and TM144 standards.
This means they are resistant to oils or any other liquids that could possibly lead to trouble at your workplace.
Pros
»

Breathable upper

»

Slip-resistant soles

»

Padded insoles

»

Padded collars
Cons
»

Some have found issues with size.
Final Verdict: Dr. Scholl's is all about safety and foot health. Staying true to their motto, they came up with the Dynamo Work Shoes. These shoes are comfortable, made of good quality material, and have passed various safety requirements. All in one, they're an excellent option at a really affordable price.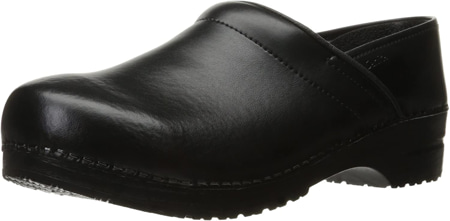 Featuring at the fifth spot in the Men's PU Mule from, you guessed who! That's right; we have another pair of clogs from Sanita. But this time, it's for all the hard-working men out there.
I guess there's no need for me to repeat Sanita's glorious background. These clogs are an excellent choice for men who are looking for plush cushioning and security at demanding workplaces.
Stylish in nature and suitable for all-weather, these shoes are suitable for any working environment.
The upper consists of good quality PU leather for long-lasting years of service. The overall weight of the shoe is quite light which makes it easy for you to walk around in them.
Like the women's clogs, these too feature an inner plush lining. And the combination of the plush lining with the anatomically designed footbed gives you arch support and boundless comfort.
Thanks to Sanita's innovative engineering backed up by reinforced stitchings these shoes last and that too for a very long time.
These clogs feature contoured midsoles that result in efficient shock absorption. Also, thanks to rocker bottom you get ample amounts of support throughout the day.
As for traction, you get that in abundance thanks to the polyurethane outsoles. They are durable and suitable on any walking surface.
Pros
»

Durable

»

Comfortable

»

Slip-resistant

»

Good quality upper
Cons
»

Some have found issues with the sizing.
Final verdict: By now, I think you know of Sanita's credibility and experience when it comes to quality clogs. PU Mules are a good choice for men who are looking for affordable working shoes. They are slip-resistant and are equipped with arch support.
How can you care for your Dansko knockoffs?
I think we can all agree to the fact that anything that is well maintained lasts for a long time to come depending on their vigor. The same is the case for Dansko or its alternatives.
To ensure proper maintenance there are certain Dos and Don'ts. Following them will be beneficial for both parties.
Here are Dos and Don'ts to ensure proper maintenance:
Dos: First of all, let's start with the things you should do. Shoe maintenance is all about cleaning and drying them in a proper way.
If you think the time has come to clean them, then moisten a soft microfiber cloth in a mixture of shampoo/mild detergent with water and wipe clean your clogs. It's that simple! You can also use wax or other polish to revive their lost shine.
Don'ts: When it comes to clogs there are certain things you should definitely avoid. And one of them is using strong detergent. Their complex formula ruins the texture of the materials and aids the wearing-down process. Another thing you should avoid is the use of any kind of toothbrush.
How Can You Stretch Your Clogs if They Are Tight?
Sanita or other clogs are built to provide you with a comfortable fit. However, there is an odd chance you'll experience discomfort or a tight fit. What can you do if you are in such a situation? With the following methods, you can easily get out of such situations
Here are the techniques you should use:
Keep on wearing
If you feel a bit light in your new pair of clogs, then there's a good chance your shoes need to be broken into.
In this case, there are two things you can do. First of all, you can continue wearing them to work until they loosen up. If you find that to be difficult to execute then you can Your new pair of clogs at your home for let's say around 20 to 30 minutes until they loosen up (as the second step).
Shoe Stretchers
A shoe stretcher is a tool that is basically used to free up the vamp of shoes so that you don't have to go through the painful process of breaking into them.
You just have to place the tool inside your shoes and leave it for a specific amount of time. You can keep on repeating the process until you get your desired fit.
Shoe Stretching solution
Using shoe stretching solution is a way of loosening up your shoes without going through any break-in period. You just have to get yourself a good quality solution from the market and use it on your clogs.
The process is really simple, all you have to do is pour the solution onto your footwear and leave to do their magic. It's a safe and simple process.
Common Questions People Ask
Are Dansko knockoffs comfortable?
Yes, apart from a few, almost all the Dansko knockoffs will provide you with comfort in your workplace. You'll also be happy to know, the ones featured in this catalog are all comfortable.
Is Sanita the Same as Dansko?
NO, they are not the same. However, they used to be! But it all fell apart in 2007 when the two companies went their separate ways. Dansko clogs are now made in China while Santia gets their clogs made from Europe.
Do you wear Danskos with socks?
It's better not to. The dye From Dansko can rub onto your socks, especially if the socks are brand new. As for white socks? I think you know the answer. You can wear black socks though.
Why do Nurses wear Danskos?
The rule of thumb for workers in a hospital is to wear closed shoes for complete protection. Therefore nurses wear Dansko to comply with the rules, by allowing their toes and feet to work while staying protected from injuries.
Does Dansko run big or small?
If you're someone with a half size then it is recommended for you to go up to the nearest full size as these famous clogs run slightly smaller than many brands.
Conclusion
I salute all you hardworking people out there. I know the hours of hard work you guys put in, to provide us with the best service possible.
Danskos are the benchmark when it comes to work shoes. But, the price is hefty. Therefore I compiled this catalog to ease the burden on your pockets. I hope I came to some use. Do let me know down in the comment section below. I'd love to hear from you.