If you are keen on outdoor sandals so that your feet can breathe and enjoy as much as you do, then I'm sure you have already heard of Luna sandals and Bedrock sandals.
They both are quite popular for a variety of reasons. But, which brand is better? Which one should you get?
Well, if you are finding it difficult to pick the right brand for yourself, then you are in the right place because I have the answer for you.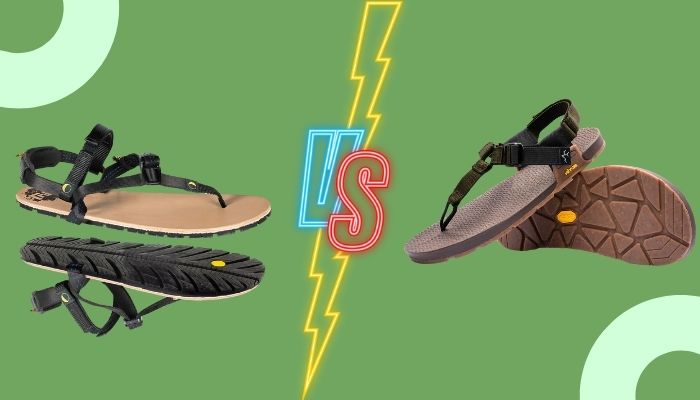 Bedrock and Luna sandals are great outdoor sandals that can be worn as per your needs, the best brand for you depends on your needs. If you are looking for activewear sandals for outdoor activities then Bedrock is the best, but if you have any foot ailments then Luna sandals are the better choice.
To know all the differences between Bedrock and Luna, and make an informed decision, read this article till the end.
Luna Vs Bedrock Sandals| How Do The Brands Compare?
Outdoor sandals, primarily those for adventurous activities, should be bought smartly, keeping a lot of factors in mind.
You can't simply choose one brand over another because you like the way their sandals look (well, you can, but that's not going to be very wise).
Instead, you have to look into the details regarding their sandals' durability, comfort, support, and convenience.
This is because you will be walking and spending long hours in these sandals – hence, it is important to know the different aspects of these sandals in greater detail.
So, keeping all these factors in mind, I will be giving you a breakdown of the similarities and differences between the sandals by Luna and Bedrock.
Check out our separate post: Chacos Vs Bedrock
Brief History Of Bedrock Sandals
Bedrock sandals were first handmade in 2011 by the founders, Nick and Dan, while they were working in river restoration jobs.
Their primary goal was to produce outdoor sandals that were open, airy, and lightweight. They wanted to make sandals that could be worn every day, for any and all kinds of outdoor activities, however adventurous they are.
They hugely succeeded in building reliable, durable, comfortable, and adjustable sandals, and are now a very popular brand in this sector.
Brief History Of Luna Sandals
Luna sandals started their journey back in 2003 when the founder, Ted, went on a quest to develop the simplest form of footwear – sandals – for all kinds of activities.
Then he met Manuel Luna, the namesake, who made the first pair of huarache sandals for him in 2006, officially setting the journey of the brand in motion.
After experimenting with huarache sandals, which are traditional, handmade Colombian sandals, he jet started the business in 2010 after meeting his business partners Scott and Bookis.
Ever since then they have been designing, developing, and manufacturing minimalist, light-weight, huarache-style sandals. They are perfect for different activities and terrains.
Follow our guide on how to Clean Rainbow Sandals
Bedrock Vs Luna Sandals| Similarities
When it comes to picking the better one between two brands, knowing the differences is important, but knowing the similarities is also very important.
So, how are the sandals manufactured by Bedrock and Luna common? I've listed them all down for you. No need to thank me, it's my duty.
Here are the similarities between Bedrock and Luna Sandals:
High-Quality Sandals
The sandals produced by Luna and Bedrock are made using high quality materials, which adds to the comfortable experience that they provide the customer with.
Due to the high quality materials, they can be used in different environments, even if they are relatively harsh, adding to the durability of the sandals.
You may also like Can You Use Shoe Cream On Nubuck Boots
Simple and Convenient Design
The design of Luna and Bedrock sandals is very clean and simple. This makes them very convenient to clean and keep clean. You can wash and dry them very easily, and they'll look good as new.
Their simple and chic design makes them suitable for any outfit, season, and location. So, even if you are not going to do any outdoor activities but just want to run some errands or walk around, they are still a good choice.
Moreover, they are very lightweight as well, which makes them easy to wear and carry.
Support
Despite being sandals, they provide good arch support – hence, promoting better foot health and posture.
While hiking, proper arch support is very important, so these sandals are great for hiking.
Go through our epic guide on How To Break In Timberland Boots
Very Comfortable
Both Bedrock and Luna sandals are very comfortable, and you can wear them for hours without feeling uncomfortable.
Their comfort is something you can count on regardless of the type of terrain you are going to. So, however adventurous your outdoor activity is, Luna and Bedrock will be your comfortable company throughout.
Great Durability
The shoes produced by Luna and Bedrock are highly durable. They will last you for many years without having to get any work done on them.
So, they are very reliable and durable, and you can definitely count on them.
Excellent For Outdoor Activities
Since they were both designed to be fit for outdoor activities, this is given.
Bedrock and Luna sandals are excellent for outdoor activities. Whatever the activity is – whether it is trekking, hiking, walking, traveling, or simply walking – they serve the purpose!
They are very travel-friendly and convenient to pack, so you can easily carry them around anywhere you go.
Follow our guide to know Do Timberlands Stretch
Bedrock Vs Luna| Differences
Now that you know the similarities between sandals by the two brands, what are the differences between them? I've listed them for you as well.
Here are the differences between Bedrock and Luna sandals:
Their Footbed and Soles Are Different
The soles and footbeds of sandals manufactured by Luna and Bedrock are very different.
While Luna sandals have a sleek footbed, Bedrock sandals have footbeds made of the granite grip material.
The footbeds of Luna sandals have extra padding for maximum cushioning and comfort, along with the synthetic leather lining which renders them waterproof.
On the other hand, the material used to make footbeds for Bedrock sandals, called granite grip, provides support and comfort to the wearer as well.
The thickness of their soles is also different. Luna sandals have much thinner soles while Bedrock sandals have both thick and thin soles available.
In this case, the thick soles of Bedrock provide an advantage over the thinner soles because they provide extra grip, especially if you are in rocky terrain.
Also read, What Does TD Stand For In Shoes
Their Designs Are Different
Their designs are quite different from each other.
While Luna sandals have a tech strap system, Bedrock sandals have a thong-like strap system.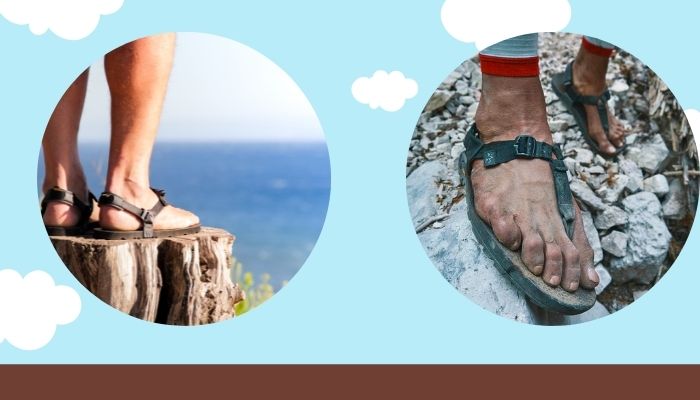 The thong-style system is very comfortable and secure – but the tech strap provides more protection to the feet of the wearer.
However, despite the different styles, they are both adjustable and give the wearer a firm grip and prevent the sandals from slipping off.
Bedrock Vs Luna Sands| Which One Is The Better Option?
While both the brands produce excellent quality sandals for outdoor adventures, which one you should get depends on your preferences.
If you are traveling to more rocky and uneven terrain, then Bedrock would be the better option for you.
On the other hand, if you are looking for more support, protection, and lightweight feature, then Luna sandals are going to be the better choice for you.
However, whichever brand you choose to opt for, I am sure you will have a wonderful experience in these sandals because of their excellent quality and finesse.
You may also like to read: Red Wing VS Caterpillar
Conclusion
When purchasing sandals for outdoor activities like hiking, running, and all, comfort should be given the maximum priority – and in that sector, both these brands are excellent.
However, if you want more grip, you should opt for Bedrock, and if you want more support, you should opt for Luna.
Whichever you pick, they are both very durable, comfortable, and high-quality.
So, which one did you decide to buy? Let me know your experience with sandals for outdoor activities in the comments below.