Do you know if you should apply shoe cream on nubuck boots?
If not, you've come to the right place.
As a result of extensive research and careful trials, I am ready to disclose if shoe cream enhances the beauty of nubuck boots or detracts from their look.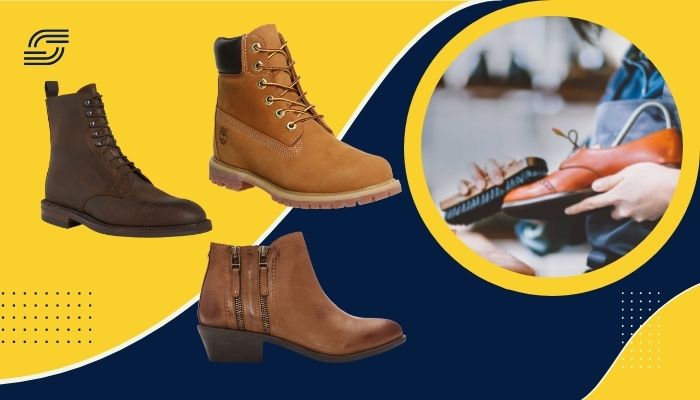 So, first and foremost, can shoe cream be used on nubuck boots?
Yes, you can use shoe cream on nubuck boots. Shoe cream moisturizes and nourishes the leather while also improving the appearance of nubuck boots. Choose a shoe cream color that is as similar to the color of the nubuck boots as possible for the best results.
Make sure to read the article till the end, if you want to know more about shoe cream and its usage on nubuck boots.
Can You Use Shoe Cream On Nubuck Boots?
There is a myth among most people that shoe cream cannot be used on nubuck boots.
But let me bust out the myth right away!
The shoe cream is safe to use on nubuck boots. Not only is it safe, but it also helps to preserve the boots in good condition, as shoe cream has all of the ingredients required to keep the boots moist and avoid drying.
However, shoe cream does not provide the same glossy sheen on nubuck boots as it does on leather boots.
To get the most out of your shoe cream, use the same tint as your nubuck boots. Using a different color shoe cream can discolor your boots and make them seem weird.
Related content you should read Can You Polish Nubuck Shoes.
How To Use Shoe Cream On Nubuck Boots? [Easy Steps]
You can't just spread shoe cream randomly on nubuck boots; instead, you must understand how to use it correctly. Because a minor error in the application of the shoe cream might result in the loss of your nubuck boots.
Here are the steps for using shoe cream on nubuck boots:
Take any of your selected shoe creams; the color of the shoe cream should match the color of your boots. If you can't locate the exact shade, use the color that is closest to your boots.
Take a newspaper and lay the boots on top of it to prevent a mess.
Always clean your boots before applying any cream or wax. Remove any dirt and debris from the surface of the boots using a moist cloth or a horsehair brush, using short strokes.
Apply a thin coating of shoe cream all over the boots in small circular strokes using a brush or cloth. If you apply too much cream on the shoes, the surface will become striped, and the cream will pile up in the folds.
You can condition the boots with a leather conditioner before using the cream to hydrate the leather.
Allow 5 minutes for the cream to dry once you've finished applying it to both boots.
Using a towel or a horsehair brush, wipe the cream clean. You'll see that the boots have a pretty low sheen to them.
You may also like to read: Do Nubuck Shoes Stretch.
Can You Use Normal Shoe Polish On Nubuck Boots?
Nubuck boots shouldn't be polished with shoe polish. Shoe polish is designed to give leather boots a beautiful sheen; however, applying it on nubuck may stain and discolor the boots. Furthermore, if the shoe polish does not match the color of the nubuck boots, you have to say goodbye to your boots.
Other than applying shoe polish on nubuck boots, there are numerous polishing ways.
A suede eraser may be used to remove any watermarks or stains. Suede erasers are excellent for erasing any type of stain on nubuck footwear.
You may also clean and polish the nubuck boots using saddle soap. Saddle soap does not degrade the quality of the nubuck; thus, it is safe to use.
Check out our separate post Can I Dye Nubuck Leather.
Why Is Polishing Nubuck Boots Important?
Polishing nubuck boots with shoe cream not only improves the appearance of the boots but also delivers a few benefits.
Here is why polishing nubuck boots are necessary:
Polishing your boots with shoe cream retains the original color of your boots and makes them seem new.
Your boots will have a natural sheen thanks to a combination of wax and natural oils in the shoe cream.
Polishing nubuck boots extend their lifespan.
The ingredients in shoe cream keep the nubuck hydrated and prevent the boots from cracking.
Polishing the boots makes them water-resistant to some extent.
The coating of shoe cream acts as a barrier, preventing the accumulation of dirt in the boots.
Read more on How To Repair Torn Nubuck Shoes.
How To Restore Nubuck Boots?
Your nubuck shoes will inevitably age and degrade over time. However, with proper care and upkeep, you may undoubtedly delay the beginning of aging.
It's not difficult to take care of nubuck shoes. If you follow a few simple maintenance instructions, you may extend the life of your nubuck shoes by many years.
Here are the easy ways to restore nubuck boots:
To keep dirt and debris from gathering, brush the nubuck shoes after each use because trapped filth is quite challenging to remove.
Make sure your boots are thoroughly dry before putting them on.
If you use a heat source to dry your boots, the leather will crack and tear. Instead, let the boots air dry or set them out in the sun to dry.
To preserve your nubuck boots from water stains and spills, spray them with a nubuck leather protector.
To remove stains off nubuck boots, wipe them down with an eraser before brushing them with a shoe brush to nap down the fibers.
Brush the bottoms of your boots after a long day in the dirt since this is the time when the majority of the dirt gathers.
After cleaning the boots, don't forget to polish them with shoe cream or wax as polishing retains their moisture.
Also read, Shoe Cream vs Shoe Polish | Find Out the Difference.
Conclusion
Let's answer the actual question one more time, can you use shoe cream on nubuck boots? Of course, you can use shoe cream on nubuck boots.
Nubuck is a delicate textile, just like suede. As a result, the majority of people believe that shoe creams can discolor nubuck. Yes, if you don't choose the appropriate color of shoe cream, it might stain the nubuck.
However, choosing the right color of shoe cream will rejuvenate your nubuck boots, extend their life, and protect them from water and grime.
Keep in mind even a small mistake while applying shoe polish might destroy your nubuck boots, so be sure you know how to use it correctly.
That's all I have got for today. If you have any queries about this topic, then leave your question in the comment box. Till then, goodbye.