Haven't you learned to condition nubuck shoes the right way?
No problem. Since I researched and tested 3 extremely effective methods that work every time.
Keep on reading to learn these awesome methods.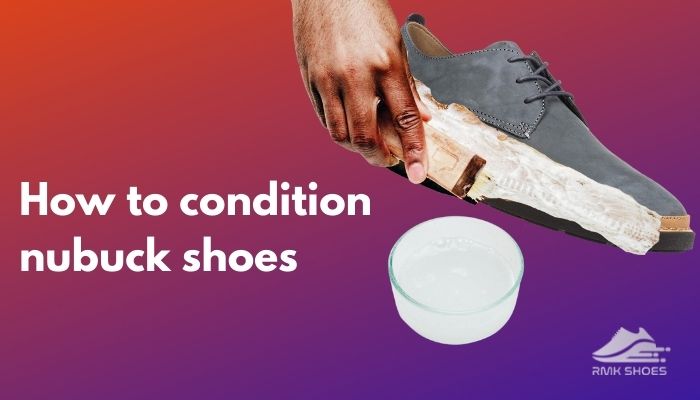 Top 3 methods to condition your Nubuck shoes
Conditioning your shoe is a must. Whether it's after a heavy cleaning or light.
After all, if you don't lock your shoe from further damages, then cleaning will not be much of a help. It will only bring a temporary change to your shoe.
Now that you know the need to condition. Then can you guess what you should do next?
You guessed it right. You need to know the right ways to condition your nubuck shoes.  There is no absolute way to condition. So after testing multiple hacks to do the job.
Here are the top 3 methods I found very effective and can be done pretty fast.
Related content you should read Can You Polish Nubuck Shoes.
1. Waterproofing/leather sprays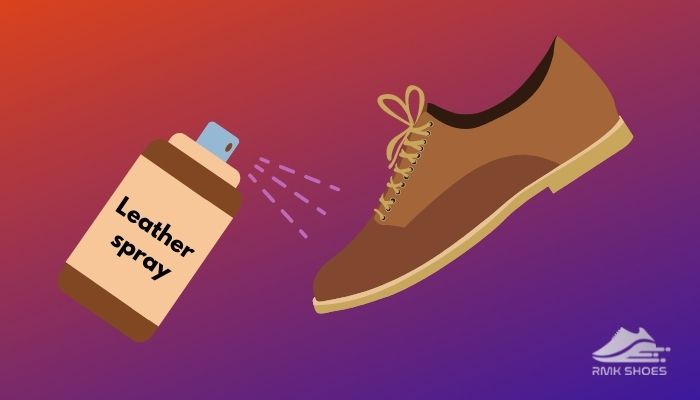 When it is about conditioning, sprays are pretty popular.
Almost all experts use sprays to protect their nubuck shoes. Not just for better protection but also to save time as well.
 The steps that you need to follow:
The first step is to always clean your shoe. To know how to clean nubuck, you can check my article on step-by-step ways to clean nubuck shoes.
After a thorough cleaning, comes conditioning. Before you use the spray, it's best to wear goggles and gloves. For protection against the harmful spray.
Now, hold the spray close to the shoe and spray around every exposed area on the nubuck.
Finally, allow the nubuck to dry overnight for further use.
2. Nubuck conditioners
Nubuck conditioners are the gel version of Nubuck protector sprays. Unlike spraying all over the shoe, you coat the shoe with the gel conditioner evenly.
Once coated well, they protect your shoe from all the factors that damage your nubuck pretty badly. Factors may include water, excessive heat, or dust in general.
What do you need to start conditioning?
A clean towel or rug
The nubuck conditioner(list provided above)
The two simple steps that you need to follow are:
(Make sure to brush or clean the shoe before you follow the steps.)
Use the dry towel to gently coat the shoe with a layer of conditioner.
Finally, allow the shoe to dry completely before you start wearing it again.
Check out our separate post Can I Dye Nubuck Leather.
3. Natural drying method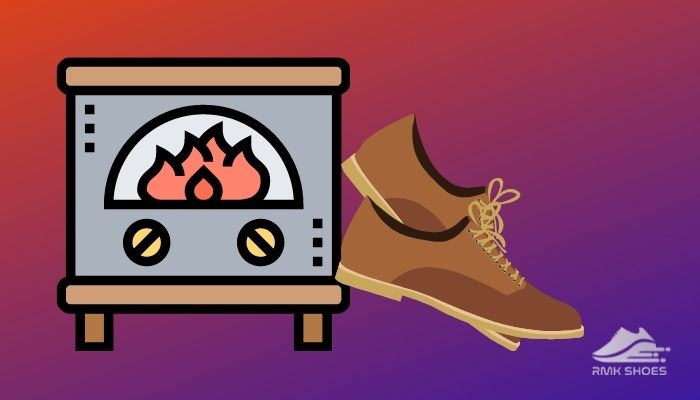 When you have neither a spray nor a conditioner, then this method is perfect for you. However, using a spray or conditioner is definitely better for long-term use.
But in case, you have an urgency to protect your shoe. Especially before buying a conditioning spray.
This method will be your best friend.
Things you need to start following this method:
Special Suede Brush(or a toothbrush)
Hair Dryer
The 3 simple step drying method is:
Make sure to clean your nubuck thoroughly.
On medium heat, dry the suede brush using your hairdryer.
Finally, use the brush gently to scrub all over the shoe. After you are done, allow the shoe to dry in a dry place with no stove or heat around.
Which method is best for you?
From my point of view, three of the methods are best for different situations. So it's really hard to recommend one among all of them.
However, I surely can tell you on what conditions which method would be best for you and why.
Condition-1(Saves time, so in need of effective protection)
In city areas, we all are busy most of the time. And spending hours of our free time conditioning isn't relaxing at all.
This is why the spraying method is the best one to rely on.
So instead of spending hours, all you have to do is spray all over for better protection.
Condition-2(In need of effective long term protection plus an extra layer coverage)
Sprays are temporary protection. They surely are very effective and easy to use. But when it is about durability, using conditioners is the best.
With a layer of coating on your shoe, it can last pretty long.
You don't even need to clean heavily on a regular basis.
Condition-3(In need of protecting nubuck without the use of spray or conditioners)
It's not completely impossible to condition your nubuck if you are short of sprays or conditioners.
With this easy method, you can easily protect nubuck for a week or two.
However, you might still have to go through the cleaning process. Especially on rainy days or days where nubuck comes in contact with water quite often.
Can I revive Nubuck shoes?
Reviving nubuck shoes is easy only when it's revivable.
In some cases, due to lack of conditioning or proper care, the shoes reach a condition that can't be treated at all.
And even if it's possible, with the cost of buying all the tools, you might be able to buy another shoe.
So in which cases can I revive my nubuck shoe?
If your shoe has its color faded
If the shoe has a layer of mud, dust, or oil stain covered
If the shoe stretched way too much
If the fibers from the upper are coming off
And in which cases can I not revive my shoes?
If your shoe is torn
If your shoe has its sole coming off
If your shoe has too many deep scratches
If the texture got completely worn down
The best way to revive is to follow expert-recommended tips(explained below) and to clean and condition the right way.
With patience, you will see your nubuck shoes getting recovered in no time.
Also related: Do Nubuck Shoes Get Ruined in The Rain
Expert tips to care for your nubuck daily(Must-read)
Nubuck, from its origin, is a very sensitive material.
Due to the absence of the smooth wax layer, nubuck is always advised to keep in check.
That leads me to a question, "How do I check them?"
An interesting question indeed. And to know the answer, you need to follow the simple but very effective tips explained below.
So what are they?
Keep your nubuck away from extreme heat.
Never soak nubuck in deep water.
Always dab wet cloth to clean your shoe. Better not rub or brush too hard on the upper.
Make sure to condition after you clean your shoe well
Never use a hairdryer to dry your shoe directly.
Spray the shoe before wearing it on rainy days.
Best recommended using a special suede brush to remove the extra fibers on your shoe.
Use glasses or goggles to protect your eyes while spraying.
Make sure to spray in a neat and clean space.
Always check whether the suede brush or eraser is clean to start the cleaning process. Otherwise, a dirty brush will only make your shoe dirtier.
Best of Luck Conditioning
Conditioning your shoe is not an option, it's a must work to do.
After all, no matter how well you decorate your house, if you don't lock your house then decorating is pointless.
The same case applies, when you condition your nubuck shoes. It protects you from water, heat, and dust allowing no further damage.
Now that you know the 3 best ways for conditioning, you can begin right away.  Do let me know your experience in the comments below. And share it among your friends who love nubuck as much as you do.