Worried whether your nubuck shoes will get ruined in the rain?
Relax. Your worries can have a full stop here. After researching for hours, I finally found the answer you have been looking for.
So what is it? Will your nubuck shoes get ruined in the rain?
No, nubuck shoes never get ruined in the rain. But that doesn't mean it's absolutely fine to let them get wet. The water does affect your shoe on some scale. But if you can follow proper methods and expert tips, your shoe will stay protected and intact forever.
Keep on scrolling to know more about the methods and tips.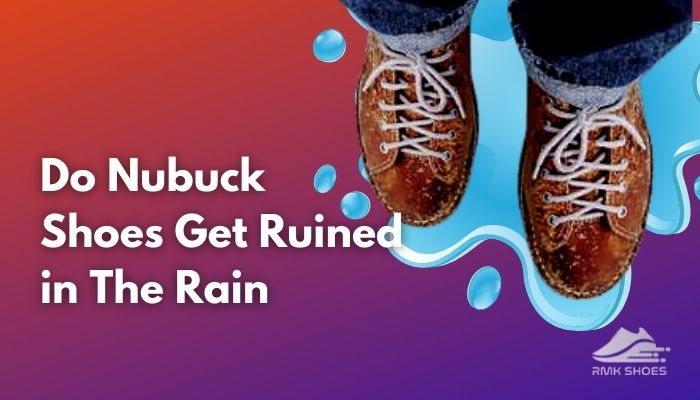 What happens to nubuck when it's wet?
Nubuck is basically leather in nature, but it's not smooth nor is it protected. Which makes it vulnerable around rain and even snow.
The material absorbs the rain and gets damaged heavily.
This leads to a few different types of damages on your shoe.
So far, I came across three types of damages.
Nubuck dye washing away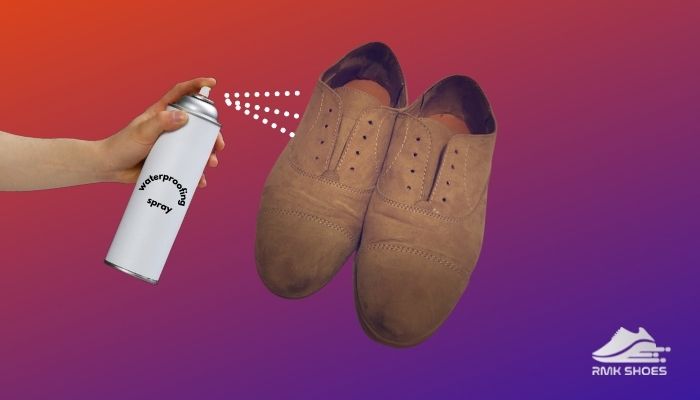 As I said earlier, nubuck is made from leather hide. The soft skin makes the nubuck very sensitive to water. So sensitive that a big chunk of dye keeps coming off. Which results, nubucks dye fading away fast when it's wet.
The good news is, by using a long-lasting waterproofing spray, you can avoid experiencing this in the first place.
Read more on How To Repair Torn Nubuck Shoes.
The unrecognizable nubuck fibers
The water not just affects the dye, but the nubuck fibers too.
They completely lose their originality. Making the shoe look fuzzy and completely unrecognizable.
But no worries, you can treat the fibers too. All you have to do is give a few touches using a nubuck/suede brush.
Shapeless Nubuck Shoe
Yes, first dye, then fiber, and now the entire shoe. The water damages it all.
The water compresses the skin to an extent where your shoe might look like a completely different shoe.
It's not about a slight bit of water rubbed on your shoe. I am talking about heavy rain or being soaked in deep water.
Don't worry. With a few simple steps(explained below), you can deal with your wet shoe before it stretches too far.
Follow our guide on how to Condition Nubuck Shoes.
Is it okay to wear nubuck shoes on a rainy day?
Yes, of course you can. Simply by taking some preventive measures, you can easily wear nubuck shoes on a rainy day. Among all the measures you need to follow, the most important one is patience.
It's true, nubuck shoes get damaged pretty easily when wet. But that's not the case when it's protected.
Protection? How can I do that?
Easy. All you have to do is follow a few simple steps before and after your shoe gets drenched in rain. Only then you can wear them without checking the weather broadcast every now and then.
The simple steps and tips are explained in detail below. Keep on reading to know what they are.
Can you fix damaged suede shoes?
Yes, you can fix damaged suede shoes.
Fixing damaged suede is easy. But not fast.
You need to understand the more time you give, the better the suede will recover.
However, in some conditions fixing suede at home is almost impossible. For example, if the suede is torn, or scratched.
Then it's better to take them to a shoe expert or buy another pair.
But in other cases, by cleaning in the right method and taking extra care(steps explained below), you can definitely fix your damaged suede in no time.
Check out our separate post: Can You Use Suede and Nubuck Protector on UGGs.
6 helpful ways to deal with your wet nubuck shoe(works every time!)
By now, you already know the damages water can do to your nubuck shoes.
But knowing them isn't enough. You must also know the right ways to treat them.
Before they turn into shoes that you fail to wear completely.
So, after testing out various new methods, I shortlisted the 6 most helpful ways to treat your wet nubuck shoe.
Continue soaking until dry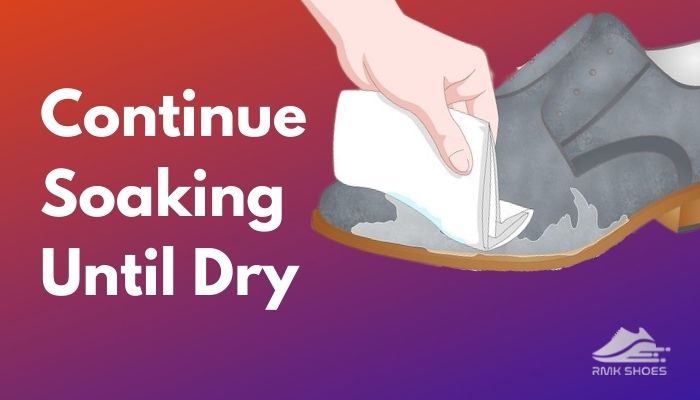 It's best to not rush with a wet shoe. Try keeping it over a dry towel or cloth. So that the entire area doesn't get wet as well.
Then grab anything dry around you. For example a bunch of tissue papers, old clothes, towels, old newspapers, etc.
Now start soaking all the extra water in your shoe, until you find no water dripping.
And the best way to soak is to dab all areas wet. The more you dab, the more water it can soak in.
You may also like Can You Wax Nubuck Boots.
Heat your brush
The heating brush is really important. But not heating the nubuck shoe.
Bringing direct contact with a heater or hairdryer can cause serious damage to your shoe.
This is why heating the brush before brushing nubuck helps speed up the drying process in general.
Now, start brushing your nubuck
Yes, now you are ready! Ready to start brushing off the unwanted fibers of your nubuck smoothly.
Use the warm brush(you heated beforehand) to gently scrub all the exposed areas of the shoe.
Hurrying or exerting too much pressure will not help.
It's highly recommended that you go slow(and gentle) while brushing the already soft wet nubuck.
Otherwise, you might end up scrubbing off excess fibers that will only cause further damage.
Also, follow our guide to know Are Nubuck Boots Good for Snow.
Clean stains, mud, or just any dirt left
Now your nubuck is almost dry. And "Now allow your shoes to dry overnight" are the kind of words you might be expecting.
But what's the point, when mud and stains are still there?
No worries. Just use saddle soap, suede eraser, or even shampoo, to remove the stain.
In the case of saddle soap or shampoo, use a clean rug and lukewarm water to gently dab where the stain is.
Slowly, you would see the stains magically vanishing away. Wonderful, right?
Brush again
Not so quick. After all the rubbing process your shoe has gone through. It's best to warm your brush and scrub off the excess fibers again.
Apply protector spray
Finally, you are done with all the steps. Now spray the nubuck protector spray(the best ones are recommended below) thoroughly all over the shoe and allow it to dry overnight.
Bonus Tips to prevent further damage(For Nubuck shoe users only)
You might know the steps to treat your wet nubuck shoe. But isn't it better to prevent it beforehand as well?
After gathering expert opinions and experiences from previous nubuck shoe users.
I found a few special tips that are easy and very effective to follow on a regular basis.
Bonus tips to care nubuck shoes:
Every night clean or soak your nubuck shoe thoroughly.
Keep your shoe away from the direct heat source(like a stove, hairdryer, or fire)
Make sure to never soak your shoe in deep water.
Always gently scrub off the fibers using a suede brush
Weekly(or after cleaning) apply Nubuck Protector Spray for protection against water or excess heat.
Refrain from rubbing or whipping or scrubbing your shoe harshly. Always dab on those areas.
Best to not avoid wet nubuck shoes at all. Try as fast as possible to follow the steps (explained above) to treat your shoe before it gets damaged.
What do you think?
Drying wet nubuck or protecting nubuck from getting damaged is surely lengthy but a very easy process.
If you are patient and calmly follow the instructions(given here), your shoe will look fresh and clean all the time.
I really mean "all the time". Whether it's rainy or sunny, windy or stormy, nothing can ever stop you from wearing your favorite nubuck shoe.
So, did you find my article useful? Let me know your experience in the comments below.