I know finding information on nubuck can be tricky. Especially when it comes to dyeing or cleaning?
Well, your search for the correct answer ends here, as I researched and tested all kinds of nubucks for the past couple of days.
Let's get back to the question, Can you Dye Nubuck Leather?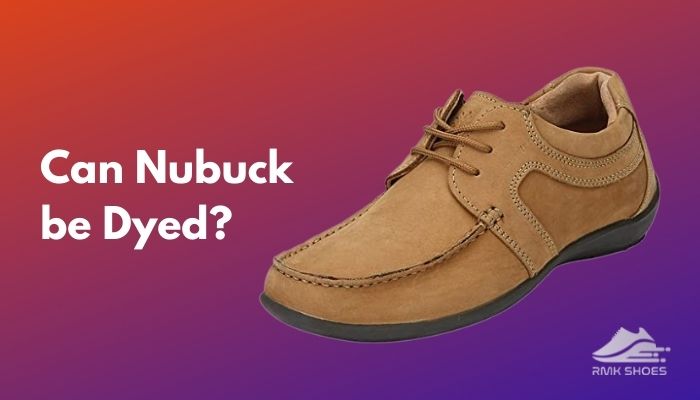 Yes, you can definitely dye nubuck. You can easily find products to dye nubuck like a pro. In fact, these products are readily available and come in a wide range of price points. However, you should read the instructions manual carefully before dyeing your nubuck products.
To discover more about dyeing this material, keep on scrolling.
Can I Dye Any Nubuck Product?
Yes. As long as you have the right dye product, it's possible to dye any Nubuck belongings you have in your home. Whether they include shoes, boots, bags, or even covers as well.
Dyeing nubuck is easy when you know how?
The material is very sensitive. So the dyes are specially made to allow the color to settle well on the upper layer.
The color settling feature is surely a piece of good news.
However, you still have to be careful in protecting the unwanted places from getting dyed.
How so? Simple, all you have to do is cover them with scotch tapes or sticky papers.
Only then, with no worries, you can easily spray or paint wherever you want.
You may also like Can You Wax Nubuck Boots.
Is Dyeing Nubuck Leather Necessary?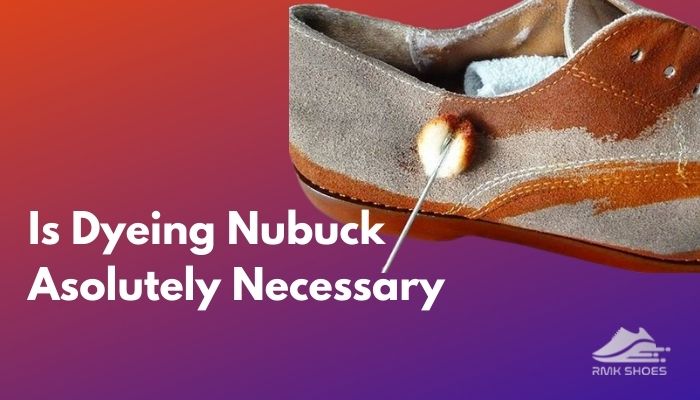 Nubuck is a pretty popular material on the market.
A material you may have come across in many forms. Starting from bags, shoes, boots, and many more.
With every light, there is a shadow. Even with so much popularity, nubuck also has its own set of drawbacks that you would face eventually.
A few of the drawbacks, most commonly seen are color fading away, cracks, and minor scratches.
But don't worry! Drawbacks like these have nothing to do with their quality. It's mainly due to nubuck being a very soft and sensitive material, nothing else.
You might be wondering ways to get away from these troubles? And guess what? That's where Dyeing saves you a big deal.
With the right and effective methods of dyeing, you can solve your nubuck issue in one go.
That's not all. You can also transform your old nubuck into a completely brand new one.
Also, follow our guide to know Are Nubuck Boots Good for Snow.
Difference Between Nubuck & Suede Shoes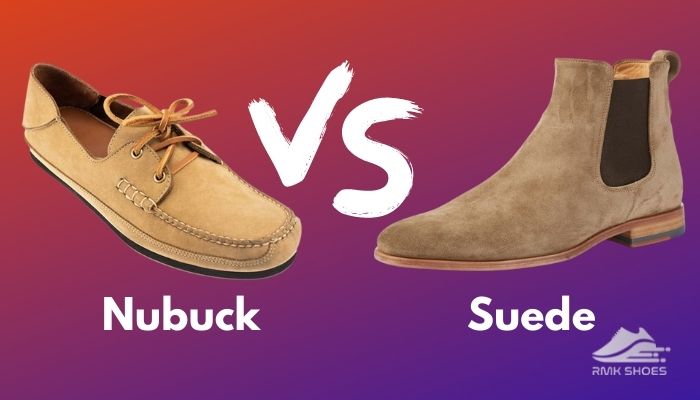 Nubuck and suede are like twin brothers. They both are crafted by scrubbing off the upper layer of the leather hide.
You may have noticed, nubuck is slightly thicker than suede.
This is because nubuck is made by removing the outer layer of the hide, whereas the suede is crafted from the inner layer.
Related content you should read Can You Polish Nubuck Shoes.
Can I Use Suede Dyes to Color nubuck?
Yes, you definitely can. Nubuck and suede have very slight differences. So, all products you buy for suede can also be used on nubuck as well.
The products can also include various types of dye products. So, if you ever come across a dye product that has only suede written on it and not nubuck, don't get confused.
You can still buy it for dyeing nubuck smoothly.
Nevertheless, if the dye product is only applicable to leather materials, then you have to avoid it at all costs.
If you are assuming, the leather dye will make your nubuck smooth and perfect, then you are on the wrong boat. These leather dyes will only worsen your nubuck material.
After all, the ingredients of leather dye are very different from the nubuck dye.
The sensitive nubuck might react to the leather dye, and as a result, will get swollen or cracked in various places.
This is why it's best if you can avoid leather dyes at all costs.
You may also like to read: Do Nubuck Shoes Stretch.
Can I Dye Nubuck Black?
Yes, you can dye nubuck black. In fact, you can dye nubuck materials into any color.
As mentioned above, dyeing nubuck is 100% possible. That includes dyeing them black as well.
However, you should make sure the dyeing materials are especially made for suede or nubuck leather.
Otherwise, the color won't settle well on the upper. The worst case might even ruin the skin. Which is worse than the color your shoe currently has.
This is why it's best to read the product details. As long as the product doesn't specify "Suede and Nubuck use only". It's best to not buy such dye products.
Also if the current color is lighter compared to black, then better think twice before dyeing it black. Why?
Because once it's black, you won't be able to change it into a lighter color. You either have to stick to black, or dye into an even darker color.
Also related: How To Dye Ugg Boots.
DIY Ways To Dye Nubuck
You can Dye your nubuck leather product at home by yourself but if you are expecting to use all household items to dye your nubuck accessories, then it's not the DIY you are looking for.
Because to dye nubuck, you have to buy dye products anyways.
However, other than the dye product itself. There are surely a few household items you can use to color completely.
Like, for instance, you can use a paintbrush to color the nubuck if the dye product is liquid that is.
Or use an eraser to brush off the dirty upper layer or use scotch tape to cover areas that you don't want your paints to reach.
How to Dye Nubuck Leather
Dyeing Nubuck is very easy if you know the right method. And here I'm going to share the most effective method which will take you less than 20 minutes to complete.
Things you'll need for dyeing nubuck leather:
Buy the nubuck dye product. Which can be a spray, liquid, or gel.
Gather some scotch tape.
A few paintbrushes
A suede brush.
Here are the steps to dye nubuck leather:
Clean the frizzly upper of your nubuck shoe or bag, with the suede brush.
Cover the areas you don't want the paint to reach, with tiny pieces of scotch tape.
Use your paintbrush and paint the entire nubuck product, or if the dye product is a spray, just spray it all over the material.
Keep the nubuck product in a warm place to dry.
Remove the scotch tapes to see the final result of your hard work.
Conclusion
By now, you clearly know dyeing nubuck is possible. With my recommended dye products and effective methods, you can easily dye nubuck like an expert.
After every application, you would be surprised to experience the ultimate transformation of your faded nubuck into a brand new one.
Hope my article answers what you have been looking for. Let me know in the comments below what you think about dyeing nubuck.
These five consecutive paragraph consists of 2 lines which seems too boring.
Bring some variation in constructing the number of lines of each paragraph.