It was my 24th birthday, after a fantastic party, it was time to open the presents. Some of the gifts were top notch. But this one present stood head and shoulders above the rest.
It was a pair of Brown Chelsea boots from Grenson. They were a thing of beauty, I tell you. Being a shoe enthusiast, it was everything I could ever ask for!
I knew about regular shoe protectors, but I needed something else, something tailor-made for leather boots. That's when my best friend and fellow shoe enthusiast came to my rescue.
After intense research and long-term usage, two works stood out among the rest. I'm sure you've guessed the ones.
In this article, I'll tell all you need to know about the two brands. Pros, cons, differences, and everything else related. So without further ado, let's get straight into our Sno Seal vs. Obenhauf's comparison guide.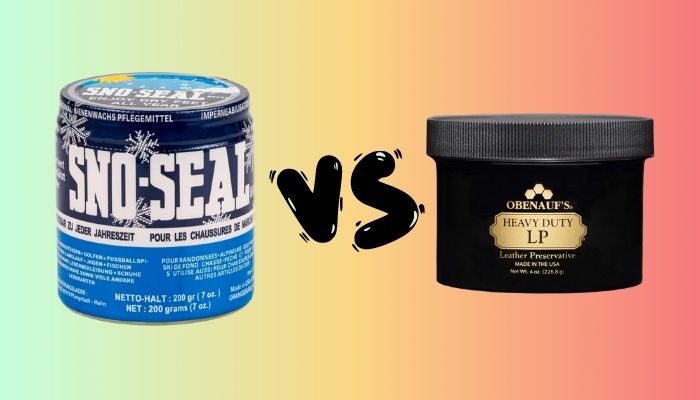 All About Sno Seal
An ever-present product in the market, it has made a name for itself for its reliability. A gentleman named Ome Daiber came up with this evergreen product in the mid-1930s. Like you and me, he only had one goal, which was to protect his beloved leather boots.
Sno Seal prevents water from getting into your boots, allowing the leather and your feet to breathe without softening the leather. Ome used beeswax as a vital ingredient due to its high melting point.
The high melting allowed the beeswax to be more durable, along with having lots of waterproofing properties. It adds just the required amount of moisture to the leather, allowing the boot to remain supple without becoming too saturated.
What makes it stand out was its longevity. The product wears off after a considerable amount of trips, and as a result, the boot remains pretty much unchanged.
It doesn't matter which activity you perform, be it mountaineering, hiking, or skiing Sno Seal has got you covered. Plus, it's relatively easy to apply.
Check out our separate post: Sno-Seal vs. Mink Oil
The natural formula of Sno Seal provides the leather with a certain degree of conditioning. What this does is that it helps the leather from drying out and cracking. It also prevents watermark stains and stops the sweating process.
Some leather treatments tend to make your boots so soft that the boot losses its natural ability to support your feet. However, this is not the case with Sno Seal. It does not affect the leathers' natural ability and allows your boot to maintain its natural shape that supports your feet 'needs.
Its longevity depends on how you preserve it. Once you've opened a container and have failed to seal it properly, there's an excellent chance it may dry out. If you plan to use it regularly on various leather items, you can buy the larger ones; if not, it makes more sense buying the smaller one.
In recent times new leather treatments have been manufactured which use aqueous wax or silicon. Compared to Sno Seal, the new ones are a tad bit easier to apply and more breathable (according to many consumers). I found the breathability to be pretty much the same.
One problem you may face is, it darkens the shade of your leather boots upon misuse. You may also want to keep it away from more sensitive leather like suede or nubuck.
Nonetheless, Sno Seal is a reliable product that delivers what it promises. Its time-span in the market speaks for itself.
Follow our guide to know Kiwi Conditioning Oil vs Mink Oil
Everything You Need To Know About Obenauf's
Marv Obenauf was an Idaho based wildland firefighter. He ruined quite a few expensive boots before they had a chance to wear out on his endeavors. He searched for products that would protect his shoes from heat, retardant, and lye (which formed from wet ashes).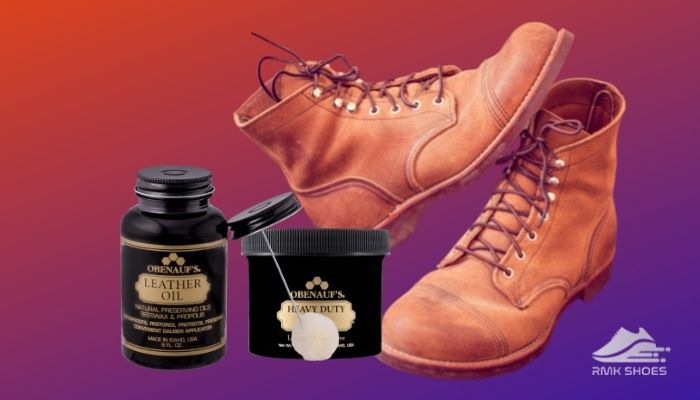 He was unsuccessful in his effort to find that desired preservative. Most of the leather preservatives available on the market prevent water and soften the leather. Their effects are temporary and would dissipate upon heat and scuffing.
Also read, Shoe Cream vs Shoe Polish
Other preservatives that were available used chemicals that would cause irreparable damage to the leather fibers. The only way to protect boots against such an element was to stay clear of them. Obenauf experimented with different formulas until he had the "one" that worked.
Obenauf created his leather preservative from beeswax and propolis mixed with natural oils. Propolis is a tree resin with anti-bacterial properties that prevent fungal infections. The formula provides a long-lasting and robust barrier against chemicals and prevents mildew.
Obenauf's LP is excellent for all sorts of leather items. It's also great for canvas, oilskin and has even been used to condition leather washers in pumps. The formula does not contain any sort of harmful silicone, solvents, or petroleum, and most importantly, it's odorless once applied.
Along with the Heavy Duty LP, Obenauf's offers leather oil as well. It's consists of the same proven formula. You can use it on smooth or any type of full-grain leather. It also softens new leather boots reducing the break-in period in the process.
Remember that it (both the heavy-duty LP and the oil) can also change your leather boots' complexion. It may not be suitable if you want your shoes' face to remain the same. According to many consumers, the oil has quite a smell to it, as well. You should avoid using it on nubuck and suede leather.
Check out our separate post on How Often Should You Apply Mink Oil To Leather Boots
So, Where's The Difference?
The differences lie in their composition and ingredients. Both brands use ingredients that set them apart from each other and gives them their own identity.
Sno Seal is mainly beeswax combined with an evaporating solvent to make it easier to apply. Its main feature is that it prevents water from penetrating your boots yet allowing your feet and the leather to breathe.
It also provides a certain level of conditioning for leather, which prevents it from drying out and cracking.
Obenhauf's use beeswax and propolis infused with natural oils to make the LP. The beeswax works as a water repellent while the natural oils seep out of the formula and provide extra conditioning for your leather boots/shoes.
Follow our guide to know Tennis Shoes Vs Sneakers
Obenhauf's signature formula makes it odorless after applying and helps to repel salt, chemicals, and petroleum. It also aids in reviving and restoring sun-faded, dried, and cracked leather. It also helps to stop stitching breaking, leather cracking, and scuffs forming.
In the case of Obenhauf's leather oil, there are differences from the LP. Both contain beeswax, but the formula of the oil is more in a liquid form. While it does provide waterproofing, what it does differently from the LP is that it allows for extra conditioning and preservation.
The oils' formula is more versatile and is suitable for different kinds of leather items. I hope you'll have no problem in differentiating between the products now.
Also related: Dansko Vs Klogs
Sno Seal VS Obenhauf's My Personal Experience
I love leather boots and, not so surprisingly, own a few pairs as a result. When I first started using leather preservatives, I experimented with a few, and these two stood out, as I mentioned earlier.
Now it was time to pit them against each other. I used Sno Seal on two pairs and Obenhauf's LP on the other two. Upon this usage, both performed well in terms of waterproofing, but in terms of conditioning, the leather Obenhauf's slightly edged out Sno Seal with its additional oils.
Obenhauf's seemed to do a better job when it came to conditioning and preserving the leather. But hey! Take nothing away from Sno Seal. When it comes to caring for your boots, using any of these products is better than using nothing at all.
You may also like Bobs Shoes VS Toms
Frequently Asked Questions
Can you rehydrate leather?
Yes, Stiffened leather can rejuvenate. As a normal part of the aging process, leather can stiffen. Leather can also harden when it routinely becomes wet or dry. Worry not, as leather responds well to treatments.
It is in every way possible to revitalize a piece of leather and make it look as good as new. Once the stiff leather is treated, it's imperative to continue to take care of it so it doesn't stiffen up again. With proper care regularly, it is very much possible for leather to last for years to come.
What household items can you use to condition leather?
Add one part vinegar with two parts linseed oil. Mix the ingredients in a lidded jar, then shake them vigorously with the lid closed.
Once mixed nicely, apply this solution to your leather item with a clean cloth and let it sit overnight. For the final finish, buff your leather item with a clean cloth.
Keep in mind that it is always best to clean your leather item before you condition it. I recommended that you do not use this homemade conditioner on suede leather or split leather.
Can you use coconut oil as a leather conditioner?
You can, but that may not be a good idea. While some say coconut oil has worked in favor of the leather goods, others have simply voted against it.
When you apply coconut oil to leather, what the leather does is absorb the oil, and after some time, the oil resurfaces, which sometimes leads to the appearance of oil spots in some places. It's for the better if you use authentic leather oil to maintain the shine.
Will mink oil darken your leather boots?
Yes, mink oil tends to darken the leather's color and should be used on dark leather tones. Applying mink oil will prevent absorption from salt, water, snow, etc.
The darkening of leather upon the usage of mink oil is that mink oil seeps through the leather deeply and clogs the pores forming a sort of weather-resistant layer on the outside.
Conclusion
Leather boots are stylish and classy, to maintain that gist and class, you need to take proper care of them. To take adequate care of them, you need reliable products. Obenahauf's and Sno Seal are two of the best out there.
With the Sno Seal vs. Obenhauf's comparison guide, hopefully, I've made your job of choosing either of the two easier.
So, let me know about your experience in the comment box below. Take care.