People often tend to mix up between Tennis Shoes and Sneakers as a result they end up in slight confusion. But hey! It's completely fine as I've been among those who had this confusion in the first place.
After thorough research and careful analysis, I came up with this article to clear your confusion.
What's the primary difference between Tennis Shoes and Sneakers?
In short, all tennis shoes are sneakers, but not all sneakers are tennis shoes. Sneakers are rubber-soled shoes, usually with a canvas or synthetic upper, worn for athletic activity or casually. In contrast, tennis shoes are designed with distinct features, meant for the game of tennis only.
Now that you know the primary difference, keep reading to know it all.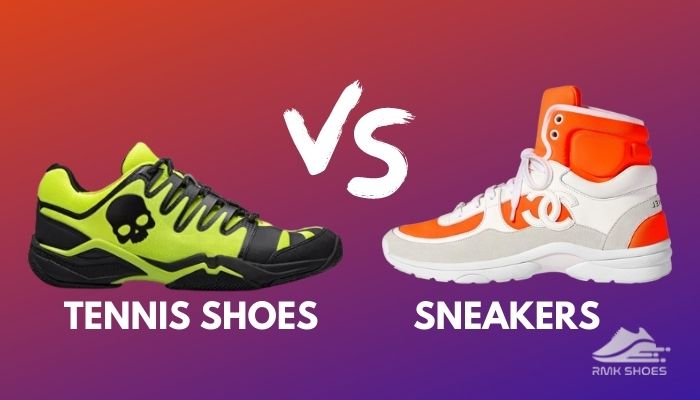 Follow our guide to know how to Prevent Acrylic Paint From Cracking On Shoes
WHAT EXACTLY ARE TENNIS SHOES?
As you can guess, the name Tennis Shoes refers to the type of shoes designed to play Tennis. It's specifically designed to give the players adequate comfort, maximum grip, and optimum lateral support during a match.
There're different tennis shoes for different courts. Mainly there're three different courts. Grass court, clay court, and hard court. Tennis shoes vary for each court.
The game consists of brisk and swift movements that demand the shoes to be comfortable while providing proper lateral support to your feet. For this reason, regular sneakers aren't up to the task.
They're made with special materials that reduce friction in the joints while moving around the court and absorb shock. The toe area in tennis shoes tends to wear out quickly as a result they're bolstered with rubber or other durable materials. The soles are non-scuffing as well so they do not leave black marks and damage the court.
In a hurry? Check out my new post on Clean White Mesh Shoes
All You Need To Know About Sneakers
The term SNEAKER is mainly used to address athletic footwear, most of which aren't actually meant for any specific sports. Sneakers are trendy among people of all ages for their unmatched variety: these particular footwear compliments casual, leisure, and not to mention sportswear.
The first rubber-soled shoes were called plimsolls or felony shoes even. The name sneaker referred to how quiet the shoes were. One could wear the boots and "sneak up" on somebody without being noticed. Hence the name sneakers.
In modern-day American English, sneakers are referred to as trainers, gym shoes, tennis shoes,runners. The sneaker is even called "kicks" in some urban areas in the United States. Sneakers are available in a whole range; there're low-end and high-end sneakers. It all depends on how much you're willing to spend.
Celebrities and famous sports personalities have collaborated with high-end brands and have created their lines of sneakers. One such example is the AIR JORDAN, which is very well renowned.
Do check our latest post on the how to Clean Velvet Shoe
TYPES OF SNEAKERS
As mentioned earlier, sneakers are available in great variety. Let's take a look at the ones, which are quite popular among shoe lovers across the globe.
Plimsoll Or Low Top Sneaker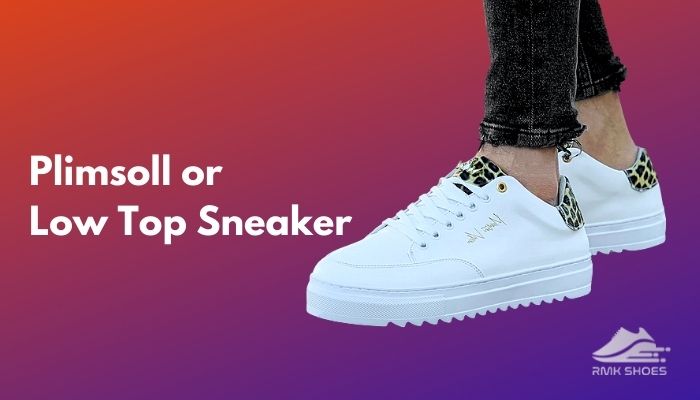 Arguably the most popular and available of the lot, you'll find these bad boys in almost anyone's shoe wardrobe. They're more commonly known as low top sneakers among people. These shoes come in different styles, color, and design that complement every individual's unique taste.
You can wear them with rolled-up jeans, skinny jeans and some chinos go well with them too. The leading fashion statement with these reveals your naked ankle; just wear "no show sock" with them, and you're ready to roll.
Follow our guide to know how Should Your Basketball Shoes Fit
Athletic Sneaker
The stylish athletic sneakers are also considered "sport sneakers." Popular among people for their versatility, these guys are the best combination of style and functionality. We've been blessed with some fantastic sneakers as a result of the competition between Adidas and Nike.
Not only can you walk or do light running with them, but you can also rock any casual or leisure attire. Do whatever you want, just do yourself a favor and get a pair of these. Trust me, they won't disappoint.
Check out our separate post on 7 Best Shoes for Delivery Drivers 
High Top Sneaker
High top sneakers have been a part of fashion for a very long time. They give you the edge over others in certain areas. One, you can have them as your "heavy-duty" sneakers. Two, you can wear long socks without having to worry about them peeking above your shoe top. Three, they're always good looking.
They go well with basketball shorts and tight fitted jeans. Take good care of them, and they won't let you down.
You may also like to read about Duck Boots vs Snow Boots.
Vans Sneaker
A must-have for any sneakerhead. There was a time when everyone wanted to wear these particular sneakers. Its' simplicity and comfortability complimented almost any outfit. As a result, they're so trendy. Many tried to copy them, but none could match their success.
But before that, go through our epic guide how to Clean The Soles of Dance Shoes
Slip-On Sneaker
Considered to be the CLASSICS in the sneaker line, you can put them on effortlessly as they do not have any shoelaces among them. They're available in different color patterns and designs and are comfortable as ever.
Very comfortable and casual, you can slide into them and head for your closest destination as their low-rise sneakers do wear "no show socks," as long socks will do nothing but kill the looks of the shoes.
Check out our separate post on Adidas Shoes Fitting Guide
Leather Sneaker
Arguably the most trending in the sneaker line is the leather sneakers. A sneaker in the high end, but it's well worth the money. With these, you'll be getting a pair of shoes for the long term as they do not lose their appeal much quickly, not to mention the durability.
Made using top-end materials, they combine well with formal and business attires. You'll be surprised to know that these are a good option for specific sports as they're softer compared to other options. They mold to your feet effortlessly and provides you with unmatched comfort. Make sure and wear a pair of socks that go with the looks.
Related contents you should read about Kamik VS Sorel.
Canvas Sneaker
Canvas sneakers are conventional and comfortable and are a low rise in structure. A famous brand for these is the CONVERSE ALL STARS. Combines brilliantly with casual outfits; these are ones that sparked the rolled-up jeans trend amongst the people of the 21st century.
Designer Sneaker
As you can guess by the name, designer sneakers are released by designer brands. These sneakers are ultra-comfortable, exclusive, and expensive, which makes any ordinary outfit look extraordinary. Balenciaga, Gucci, Grenson, and other designer brands release high-end designer sneakers. Want to make a fashion statement? Get yourself a pair of designer sneakers.
Some more guides on Shoe Cream vs Shoe Polish
Synthetic Sneaker
least popular of the sneakers line. They're appealing, cost less, but they make your feet smell bad, and there's a high chance you might have to discard them immediately. The material used is not breathable and tend to absorb all sorts of smell. They're also uncomfortable and will make your feet feel hot.
POPULAR SNEAKER BRANDS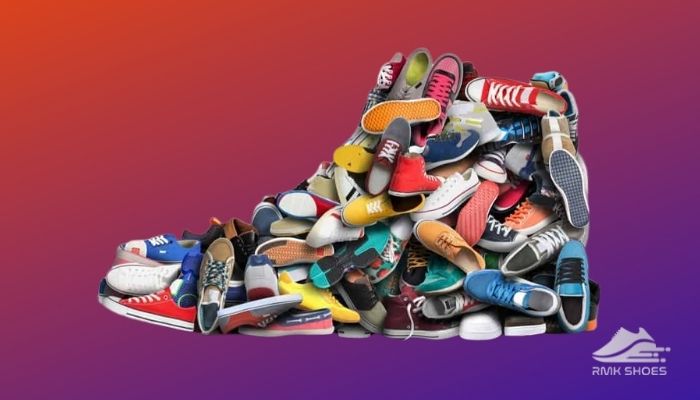 There're lots of brands that offer their line of sneakers. It's pretty much impossible to name every brand; therefore, I've mentioned the ones that are well known for their quality.
Nike
Nike is one of the most popular brands of sneakers because of their quality and appealing designs. They have got a pair of sneakers to match almost everyone's unique taste. The AIR JORDAN by Nike is one of the most successful lines of basketball sneakers.
Check out the easiest way to know about Tennis Shoes Vs Sneakers.
Adidas
Nike's biggest competition, the Adidas line of sneakers, is fashionable and appealing.; A vast number of people appreciate Adidas sneakers.
They are incredibly popular among individuals that are into retro fashion and streetwear.
Balenciaga
Minimalism is paving the way for sneaker lines, and Balenciaga is in the frontline of providing such sneakers. With Gvasalia at the helm, the silky and minimalist speed sock was the label's first standout sneaker.
Converse
Converse classic sneakers were released nearly a century ago, and these are still used globally; speak volumes about their popularity, doesn't make it?
New Balance
New Balance is one such brand that never compromises on quality. This approach has made them such a reliable brand to turn to when it comes to quality sneakers.
Follow our guide about Timberland Vs Caterpillar Boots.
Puma
Puma usually doesn't make much noise as some of its other counterparts, but they're always working in the background trying to come up with something new and perfecting the classics line of sneakers
Vans
As I've mentioned above, there was a time when almost everyone wanted to own a pair of Vans sneakers. This does not mean their demands have deteriorated. Vans sneakers still hold a special place amongst shoe enthusiasts.
Reebok
Reebok is putting RETRO on the maps once again, and they're doing it quite efficiently. The Club, Classics, and Workout lines of sneakers are nothing short of iconic.
Gucci
The Italian brand has set a new standard when it comes to luxury sneakers. With its clean lines and eye-catching embroidery, they've made a special place amongst fashion enthusiasts.
Also, check out our separate post on Levis vs Timberlands Boots.
Frequently Asked Questions
What was the first sneaker?
The first rubber-soled sneaker was made in the 1860s for croquet when shoes of durability and flexible soles were necessary to withstand grass stains and damage to the lawn.
Can you wear running shoes for tennis?
No. They lack the necessary features required for the game. If you're occasionally playing or just casually hitting the ball with the racquet, then you might be okay. You have to keep in mind whether your running shoes are durable enough to withstand the stress of light Tennis.
What makes tennis shoes different?
Tennis shoes are flatter, with specifically designed patterns on the sole, all depending on which type of court you're generally playing on. Other shoes have thicker and softer heels that decrease the weight and cushioning. Tennis shoes are built sturdier to lessen impacts.
Conclusion
The variety that sneakers offer has made them a staple among shoe and fashion enthusiasts alike. Now, you can find sneakers for almost any kind of outfit. They come in a wide range of categories depending on your taste and how much you're willing to pay.
With this article, I hope the confusing topic has become more transparent to you. Do let us know of what you think, down in the comment box below . Take good care of yourself and your footwear. Cheers!