As humans, we love to compare stuff to find which one's better. And, that's exactly what I'm going to do.
After endless hours of intense research, I'll compare Dansko and Klogs from all possible angles to tell you which one's better for the two brands.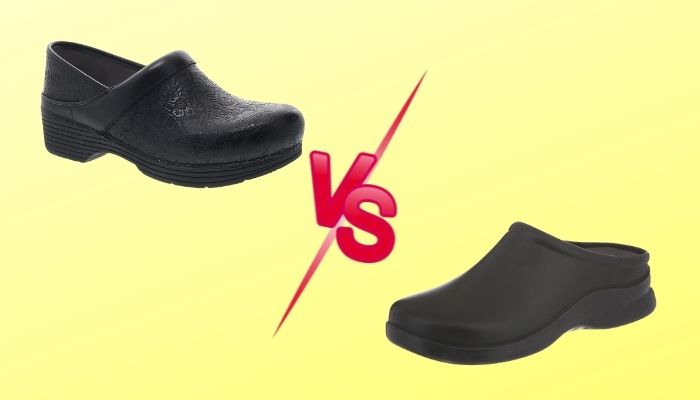 So, sit tight take your time and read each line carefully. And, I can assure you that by the end of this post you'll have all the necessary knowledge to make a smart purchasing decision.
Dansko Vs Klogs| Which Is Better?
Dansko is arguably the most popular brand when it comes to comfortable clogs but Klogs aren't that far behind. They too are doing quite well. Hence, all the debate.
But, don't you worry! By the end, you'll know which Brand offers the better package. So, let's see how they fare against each other.
Material
When people go footwear shopping, the first thing they look at is the material. The material plays an important part as it decides whether the footwear will be comfortable or durable.
I've seen many people veto a fixed purchasing decision after looking at the material, and can you blame them? No, cause either you or I would've done the same if the material was not up to the standards required.
Fortunately, both Dansko and Klogs use high-quality materials to construct their footwear. Both the companies use leather to make their clogs. But, the quality of the leather of Dansko's clogs has been found to be a tad bit better.
It's no coincidence that both companies use leather, as it provides durability, comfort, waterproofing, and many other beneficial properties for our feet.
Result: Dansko Wins
Follow our guide to know the best Dansko Knockoffs.
Construction
Construction is another aspect we look at carefully. It too can affect a purchasing decision.
Dansko clogs have a compact construction with raised up heels, sturdy soles and the famous rocker bottom. All of which combine to keep your foot inside the shoes and a comfy experience.
In short, they combine to prevent your feet from slipping out of the footwear as they don't have any back straps.
On the other hand, Klogs has a similar construction to support your foot from every angle possible. They too are embedded with some modern innovations like PUR Grip Traction technology,  TRU Base Outsole, TRU Comfort Insole.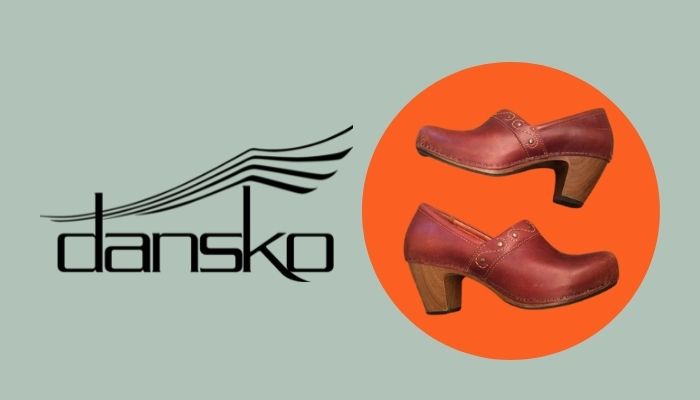 While the innovations sound all fancy and exciting, ultimately they have one purpose; to keep your feet inside the footwear in the best way possible. And, this is a battle that Dansko wins.
Result: Dansko Wins
You may also like to read: Are Dansko Good For Flat Feet.
Heel
The heel design and the heel height play a significant role in the comfort aspect of any kind of footwear, and it's no exception in terms of this two footwear.
Both the companies offer 2-inch heels in this aspect. Why 2 inches? Because it's neither too tall nor too short. It doesn't overwhelm or give you any kind of uncomfortable experience when staying standing.
Result: Draw
Comfort
Now, this is very very crucial. Both the brands came into the fray for this feature, especially for professionals.
Dansko has provided you with exceptional arch support, a padded instep collar, a PU Foam footbed, and the famous rocker bottom to give you the best comfort possible while you're on duty.
As for Klogs, they provide you with TRU Comfort Insole and TRU Base Outsole (which are lightweight and flexible) to provide you with an overall comfortable experience.
While Klogs did their best to give you excellent comfort, it is Dansko that edges Klogs in this category. Danko's technology and implementation are just better. But, that doesn't make Klogs's bad.
Result: Dansko Wins
Also read, Dansko Vs Crocs.
Break-In Period
Break-in period, that too in clogs? I mean these are slip-on footwear, not any kind of boots. These are some of the thoughts that may be coming to your mind, and rightly so! Why would any slip-on footwear need a break-in period?
Yes, it's true. You should be able to use this type of footwear right out of the box, and this is where Klogs edges Danskos.
That's right! Dansko clogs need a break-in period before you can experience them in their full potential. As for Klogs, you can use their shoes right out of the box.
Result: Klogs Wins
Toe Box
The toe box is something for your toes. It's basically the place where your toes are placed. The roomier the toe box the better the wiggle room for your toes. And, no cramped feelings.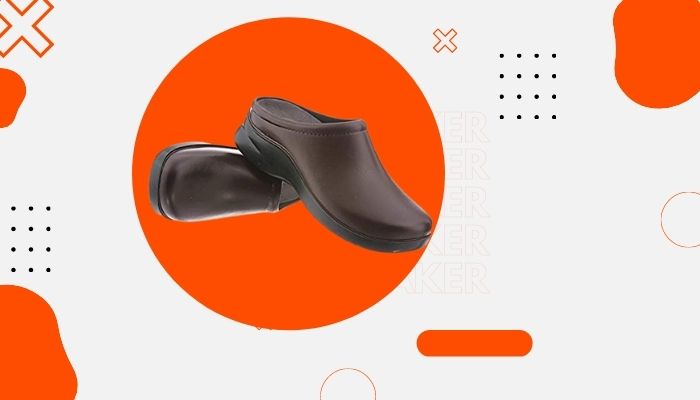 Upon critical investigation, it has been found that Klogs offers roomier toe boxes. Unexpected, right? Even I had the same feeling when I came across this information.
But, as they say; it is what it is! Therefore, Klogs wins this round of clash of the clogs.
Result: Klogs Wins
Go through our epic guide on How Often To Replace Danskos.
Insole
The importance of an insole is often underappreciated, people tend to forget how important this part of the footwear is! Keeping this in mind, both brands have worked really hard to provide you with the best insole possible.
Dansko has brought to you breathable PU Foam insoles which offer excellent ventilation.
On the other hand, Klogs have for you the TRUComfort Insoles, which are quite breathable as well
The insoles from both brands are removable as well, so you won't have to worry if you want to replace them with your customized orthotics.
Result: Draw
Outsole
The outsole is another factor that plays a key role in the performance of the footwear. And, the material is determined by the purpose of the footwear.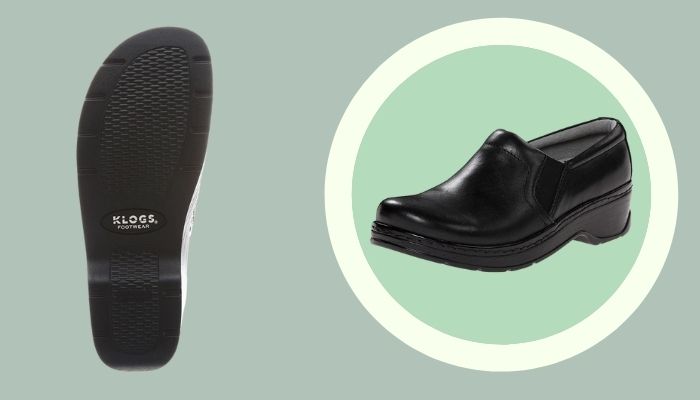 Dansko clogs are equipped with PU outsoles, which performs brilliantly on various surface.
Klogs equip their shoes with TRU Base Outsoles which are embedded with PUR Grip Traction technology which is an extra layer on the outsoles, it's renowned to prevent people from slipping on floors that have just been wiped clean.
Result: Klogs Wins
Arch Support
People with flat feet know, how important this innovation is! It helps them feel much better in their footwear.
Dansko is well renowned for its superior arch support. And to tell you the truth, no other clogs come near Dansko in terms of arch support.
Klogs too have done an excellent job of providing their clogs with proper arch support. While many appreciate them, Dansko prevails in this round.
Result: Dansko Wins
Traction
I think you may have some idea about who's going to win this round!
Dansko provides brilliant traction across all surfaces with their PU outsoles. But, Klogs have the edge in this round thanks to their  PUR Grip Traction technology; it's really effective on wet floors.
Result: Klogs Wins
Durability
I'm sure you were looking forward to this one, weren't you? Well, I'd do the same if I were you; so it's cool. Both Dansko and Klogs use leather as the main material.
Dansko comes with better quality materials and has a sturdier construction in contrast to Klogs. So, no prize for guessing who wins this one.
Result: Dansko Wins
Weight:
Weight can be a big obstacle sometimes. It affects your mobility and performance.
Dansko clogs have a sturdy construction as a result they're kind of heavy. Don't worry this footwear isn't the heaviest. But, if you compare them to Klogs's then they're heavier. Klogs are relatively lighter in comparison.
Result: Klogs Wins
Price
Should've put this one upper in the list. Anyways, price is something that affects a purchasing decision heavily. I'm sure you're aware of it as well.
In comparison to Klogs, Dankos are more expensive. I'm guessing it's the higher-end materials that make the difference.
So, if you've no budget issues you can go with Danskos and if you're looking for a more economical option then you can go with Klogs.
Result: Klogs Wins
Fashionability
Who says you can't be fashionable at your workplace? If you do it right then it's all good.
Thanks to the vast array of different color options, Dansko clogs are more fashionable. It's not that, Klogs don't offer different color variants, they do! But, Dansko's collection is larger, which means more options for you to choose from.
Result: Dansko Wins
Final Verdict
If you take the entire comparison into consideration, then you'll notice Dansko makes better clogs. It's mainly due to crucial factors like durability, higher-quality material, and superior arch support.
But, Klogs aren't that bad either. They're well and truly worthy contenders for the number one spot.
That's all on the Dansko vs Klogs comparison. You should make a decision that suits you best. And, if I've missed something do let me know down in the comment section below. It's a wrap for today. Take care.