Since the 80s Nike Air Force 1 stole people's hearts with its unique feature and outlook. Now you are thinking about purchasing this iconic pair, but you have flat feet.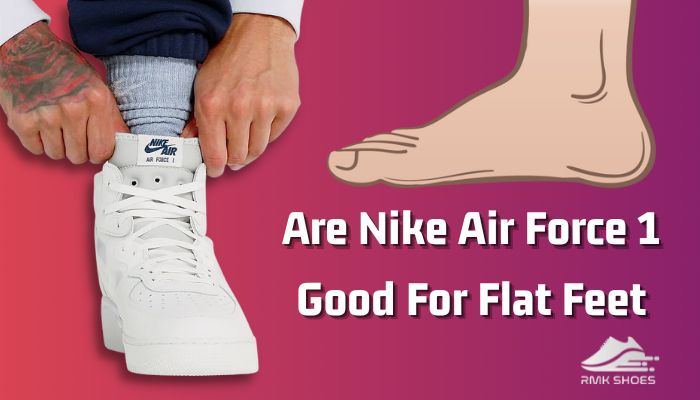 So if AF1 is suitable for your flat feet or not is your big concern. I am here to help by giving you some information that will guide you in take the ultimate decision.
Don't delay, Let's resolve your issue through this article.
Are Air Force 1 Good For Flat Feet?
Yes, Air Force 1 is good for flat feet. It has some great feature that makes it suitable for flat feet. It provides good cushioning and is super comfortable, which is good for all types of feet. Besides, AF1 has a spacious toe box and good arch support, which is essential for flat feet.
Generally, people with flat feet try to wear lifted-heel shoes and a good grip outsole. As AF1 is a basketball sneaker, it has sufficient traction on its outsole. Also, the outsole is robust enough, which is a good feature for flat feet.
AF1 is one of the famous shoes of Nike. The first air technology is used in this pair, which makes this shoe unique.
Before, AF1 sneakers used to be heavy for extra cushioning. But the Air technology makes the sneakers more lightweight and comfortable.
Follow our guide on how to break in Nike Air Force 1.
4 Reasons That Makes Air Force 1 Good For Flat Feet
Flat feet people like me get confused before purchasing any shoe thinking if it will be comfortable for their feet or not. Even some famous brands of shoes are also not suitable for flat feet. But AF1 does justice for every type of foot person.
Let's know 4 reasons that make this legendary AF1 good for flat feet.
1. Wide Forefoot
Flat feet people need large toe boxes in their shoes. Normal or arch feet people's weight shifts on their toes but in the case of flat feet people, the body weight shifts on their mid-foot. So a spacious toe box is essential. Otherwise, it might be the reason for serious injury.
Nike Air Force 1 has a wide-toe box. As AF1 is basketball sneakers, this sport put pressure on the forefoot the most. So to provide comfort in the forefoot, they offer pointed forefoot and rounded design. So a flat feet person can wear AF1 without worrying about pain.
2. Robust Heel Support
Heel support gives flat feet people relief, especially when they walk or work all day long on their feet. AF1 has fantastic heel support with proper cushioning which gives full comfort.
I also have flat feet like you, I suffered a lot for wearing the wrong type of shoes. But AF1 impresses me by giving me full comfort and support on the heel.
Another good feature of AF1 is it has a removable insole, so if you have foot pain, you can add an orthotic insole.
Read more on how to stretch Air Force 1.
3. Laces
The lacing system is a blessing for flat and wide-leg feet. You can adjust your shoe fitting by those laces. As most sports shoe has lacing option AF1 also have this. And it makes the shoe more comfortable for people with flat feet.
4. Adjustable Strap
For ankle support, AF1 has an adjustable strap, which ensures stability and flexibility, which is important for flat feet people. But not all AF1 Have adjustable straps. Mainly mid to high ankle.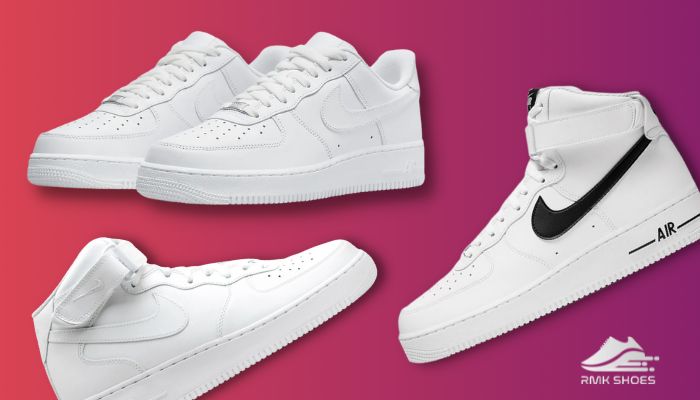 The ankle strap adjusts the ankle gap, which gives comfort to the forefoot and keeps your flat feet happy.
Are Air Force 1s Good For Feet?
Yes, Air Force 1 is good for feet. Air Force 1 is Nike's one of best-selling sneakers for having cool looking and amazing features. People with all types of feet can wear this iconic pair because it has such fantastic features which are suitable for all.
Nike AF1 are lightweight sneakers, and their air cushioning gives you comfort without giving an extra weighty feel. Nike Air Force 1 is good for walking and casual outing. Its outlook is super cool that goes with any outfit easily.
Having a robust sole area offers sufficient traction on surfaces. This shoe comes in three different models: the low, mid, and high top. The adjustable strap and lacing system make this shoe super supportive.
So it is obvious this Nike pair is not just a sports shoe, the Air Force 1 is also super comfortable, fashionable, and good for our feet.
Conclusion
Nike Air Force One is a legendary shoe that became a fashion staple. This retro pair is still the most popular Nike shoe.
This AF1 has all features that make it suitable for flat feet. So your flat feet can't be an obstacle to wearing this amazing sneaker. Without any worry, you can buy it and style it with your outfit.
If you have any queries, leave a comment below.
Peace!