When I say a black sheep, what's the first image that pops up in your mind? Something that has a different character and is a bit hard to accept, right?
Demonia is exactly that. Different and out of the box!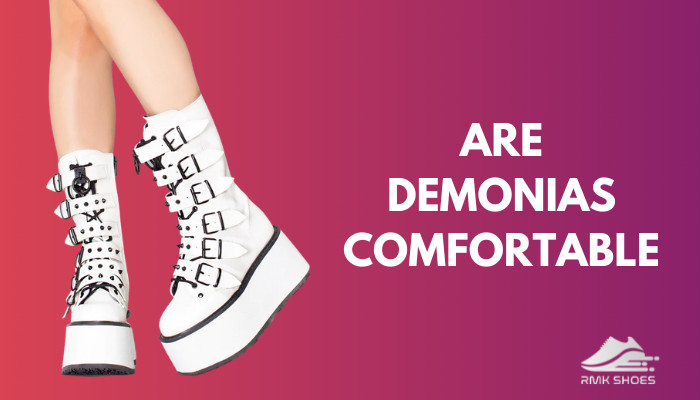 But are they comfy enough to invest in?
With exaggerated and spooky looks, you can't exactly tell if they will be comfortable or not.
Well, This is where my expertise will come in handy to answer your question, can you comfortably wear these bad boys or not?
So, stay tuned.
Are Demonias Comfortable?
Yes, a few models of Demona shoes are comfortable enough to walk a few miles and attend parties. The high platform is quite comforting for many users but not everyone. Comforting criteria depend on preferences, so I am leaving that to you.
The outlooks of Demonia shoes are a head-turner for sure.
But when you are also thinking of comfort along with a badass look, it's more than normal to have this thought.
However, I have seen my cute shorter friends urging for platform shoes and boots.
To me, shorter people are cuter than average people. But still, it's my own opinion, yours can be different than mine!
Ok, let's get to the point.
Platform Demonia is a way to level up your look and height too. But as I said, there is no certain guarantee of comfort however, if you can manage, it's good for you.
To speak of specific models, Trashville 502s are recently getting popular for being comfortable.
I saw some Reddit comments where users said they were comfortable wearing this model while they attended parties and even went for walks.
The main drawback of this particular design is they are comfy but not durable.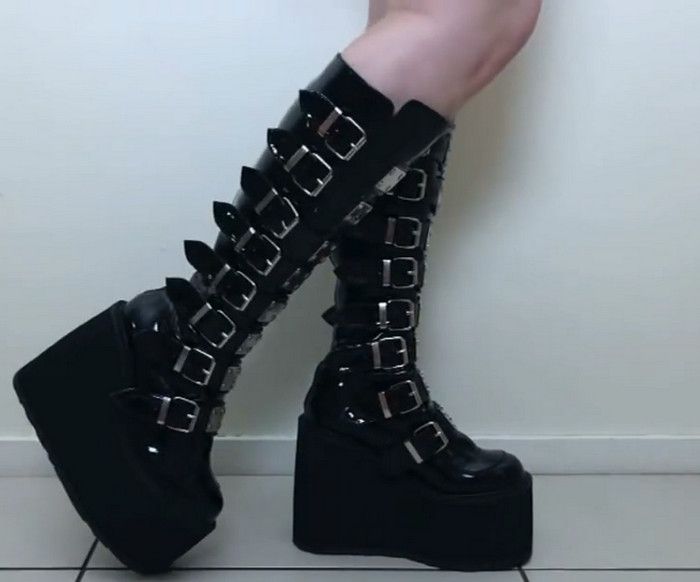 As you know, Demonia shoes run small, so if you buy your exact size, they are not going to be comfortable. To solve it, try sizing up your shoe.
However, It fell apart very quickly, and the soles were not that well made to last longer. So much to find comfort!
Check out to know are feiyue shoes comfortable.
Do Demonias Offer Good Quality?
After the looks, the main concern for any kind of footwear begins with the quality. And by quality, I mean the material, the sewing technique, longevity and comfort comes one after another.
So, yes, the qualities of Demonia are not up to the mark, and these shoes will serve you only for a few months, to be more exact!
While researching, I noticed that Demonia is mainly focused on launching different models of its product rather than improving the quality.
Let me elaborate a bit more for you:
Leather Quality
The leather they use to construct the shoe upper is somewhere in the middle of usable.
They tend to wrinkle up super fast. The quality, stability, and smoothness of full-grain leather are lost in these shoes. Your Demonia shoes are gonna last up to seven months.
Getting concerned? Don't be.
Sewing
If you are a person who takes good care of her belongings like me, your boot will last a year. Take good care of them.
Because Demonia boots have poor sewing, most of the buckles are glued rather than sewn. Even the sole is glued together, and that makes them so fragile.
Building Quality
The building quality of Demonia boots is also questionable. As I said earlier, they are glued together. You can rip off the buckles in one go.
The soles are mainly foam materials which tend to get damaged sooner.
Follow our guide to know are vans comfortable.
Are Demonias Good For Walking?
The Halloween vibe just passed, and I can't tell you how many people I saw rocking Demonia platform boots, especially the black ones.
As I never wore such statement shoes, I asked my neighbor how she walked so naturally in those boots. Her answer got me curious.
And it's true.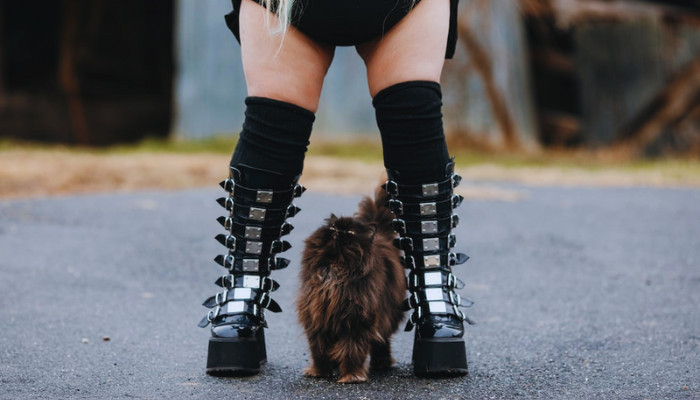 Walking is quite easy in Demonia's shoes. You just need to get the hang of them, and you are good to go.
The high platform can cause anxiety, but the truth is it's not. Those chunky soles make it easy to move and walk for a few hours. But a reminder, avoid using these platforms two days in a row.
Go through our epic guide to know are keds comfortable.
Do You Think Demonias Are Suitable For Wide Feet?
Previously, Demonisas didn't have suitable shoes for wide legs, which caused problems because this brand became popular among plus-sized models who are mainly Gothic, and on-demand, they launched several pairs.
On that count, Demonias are pretty suitable for wide feet. You will find most of the demanded models in this wide-feet version.
You remember my neighbor from Halloween right?  Well, she is a plus-sized sweetheart. She wore the Camel-300WC boots, and gosh, she was looking bomb.
Here are some wide-leg Demonia versions for your clear idea:
Camel- 300 WC
With extra long lacing and ultra-stretch materials, Camel- 300WC is the new best friend for thicker thighs.
Those who are not a fan of buckles should try this model.
These faux leather made boots come in a variety of shapes, from size 6 to 12, to be exact. So if you are in the upper numbers, try them and see for yourself.
Swing- 815WC Black Faux Leather
Swing- 815 Black Faux Leather is the most wanted Demonia shoe model ever. The metal buckles are the main reason behind the craze.
This shoe has the typical Demonia flame pattern on the back of the sole.
Not to mention the buckles that scream goth style but are not actually sewn on the shoe. The sole is made of foam materials and isn't that grippy.
Be careful on wet surfaces.
The chain is on the back of the boot, which helps plus-size people wear them off and on easily.
Shaker-100 Black Vegan Leather
This is another plus-size boot model that is quite on the trend. For a minimalist look, this model is perfect.
According to users, this boot is comfortable to walk into, and they are happy to style them with different outfits. As it doesn't have any buckles, it kinda gives a casual look.
Again, it's available in sizes 6 to 12.
You may also like to read: are TOMS comfortable shoes.
Should You Wear Demonia Boots Every day?
If you are recently into Demonia boots and shoes and try something out of your comfort zone, you must remember that, like every other footwear, you can't wear your Demonias regularly.
Hey, don't get so disheartened. Let me clear up the point.
You know or seen in the pictures or videos that these shoes are far, far away from being flat.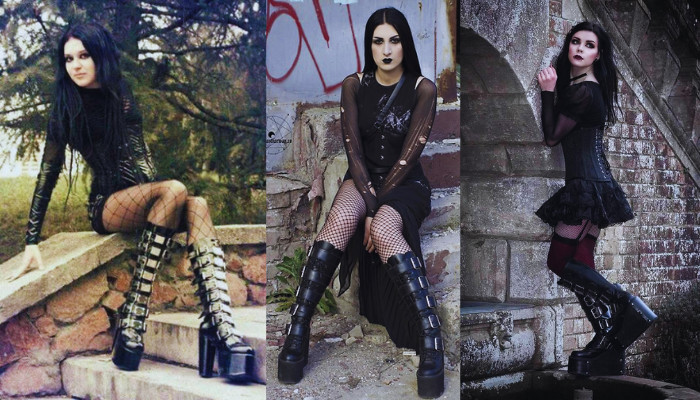 Even some models are higher compared to platform boots.
So, you see, you can wear them from time to time. But if you try to wear them regularly, they are going to hurt your feet and even cause imbalance issues.
Your ankle can get twisted by accidents and boots with such a higher platform; it's not a surprise.
Practice wearing them by taking a few breaks. Don't go way ahead of yourself.
Also, check out our separate post: are ultra boosts comfortable.
Parting Thoughts
Demonia boots are making their way among rebellious souls, and the acceptance of this brand is sky-rocking even more than their comfort!
They feel connected and seen wearing this Goth-inspired brand.
Some users think their boots are comfortable enough, and others have the exact opposite reaction. This brand is more focused on fashion than function.
Though the comfort level is improving, it is quite not there yet. The manufacturer needs to pay more attention to this particular sector.
That's all for today. For more information, comment in the comment section below.
Till then, happy surfing!