Vans shoes are popular for their casual and cool look as well as their ergonomic designs.
While there is no question about the versatility of Vans in terms of appearance, some may wonder about their function.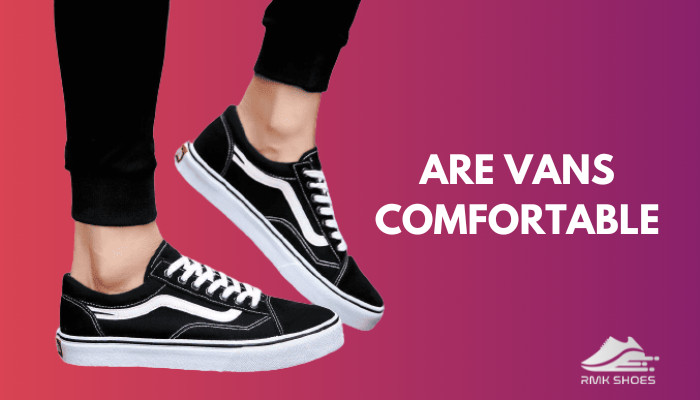 And if you don't want to compromise comfort over any fashion, you must know such information before purchasing a pair of Vans.
Read ahead, and it'll open your eyes to all the info on whether Vans are comfortable or not!
Are Vans Really Comfortable Shoes?
The answer is both yes and no!
Vans are really comfortable shoes for daily wear and you can wear them smoothly to your regular walk. But if you want to run or cross a really long distance, you should rethink about wearing sneakers like vans.
There are really better options than Vans for running, hiking and heavy duty activities.
However, sneakers are not originally made for heavy running or athletic purposes. And obviously you won't run a marathon wearing vans, right?
So, you need not to worry much about it.
Just know that Vans are really comfortable for light walking and roam around all the day long!
Follow our guide to know Are Vans Good for Lifting
What Makes Vans a Comfortable Shoe?
Fashion and function both go pretty well with Vans shoes. These are trendy designed sneakers. And people, specially the youth are loving wearing them to look really cool.
Keep appearance aside, Vans shoes are comfortable enough to match the need of every wearers.
The materials they used to build Vans are really supportive for feet. Unlike others, Vans used thin layer of fabric that made them super easy and less struggling to break-in.
Also the rubber sole and canvas construction made vans sturdy yet cushy.
Let's explore the reasons thoroughly why Vans are comfortable shoes:
Comfort
Obviously, the materials that bring comfort made Vans a comfort!
The founder of Vans crafted the deck style shoes to minimize the discomfort in the first place.
So there was no doubt that I'll find Vans comfortable while wearing. And I did find the same in case you wanna know!
However, Vans are really supportive and comfortable for walking all day long. The thin layer of fabric will help you break-in easily and let you avoid the trouble like getting blisters.
Moreover, I've compared Vans with some other brands and found that Vans exceed the performance in terms of comfort and durability.
These shoes are not that bulky looking yet they're capable enough to provide maximum cushioning for your feet. That is something shoes like Vans keep themselves well-ahead from others!
Soft Cushioning
Despite of being comfortable, some Vans user started complaining about their cushioning. They claimed that Vans shoes are hard to break-in due to its hard sole building.
The company then immediately took action and launched their ComfyCush sneakers.
Vans re-engineered all of their shoes models and introduced their stylish yet soft cushy soles.
This soft cushioning and rubber sole construction made Vans more reliable while walking. And the foamy midsole with padded insole will give you an amazing feeling while riding on Vans.
Quickly check out our separate post to know What Is The Return Policy For Vans
Increased Breathability
The fabrics used to make Vans sneakers made them super breathable. Because of the breathable technology, you can easily feel the difference while wearing a Vans pair.
Such addition will allow you wear the shoes all day long without having any dull feeling in your foot.
Moreover, the soft cushioning around the sole and upper made them homely.
And the water-resistant feature will let you wash them easily.
Flexibility
When you don't need to bend over to get on your shoes, I call it comfort and flexibility!
Vans shoes are really flexible both in terms of design and function. You'll find a lot of design and color variety while choosing vans. And the list of functionality is never-ending!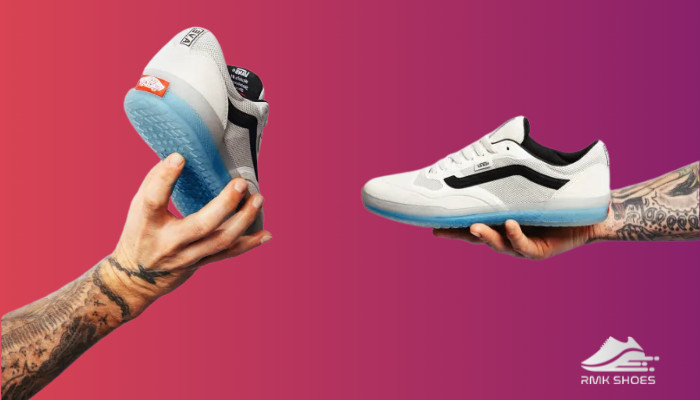 The deck style shoes are very light by its nature. And the slip-on vans are really flexible. That's the main reason I'd always recommend Vans!
There's no complexity. You just slip on and fly with your vans!
Such simplicity in design will make your life easier and comfortable. Moreover, you need not to worry about the sizing of Vans shoes. They'll fit your feet as Vans have size varierty as well!
The Perfect Fitting
Vans shoes will be a perfect fit for most of the occasions whether its for walking, light running or casual party. You can wear them with jeans, shorts, formal pants, skirts and even with party dresses!
The stylish designs will blend perfectly with your attire. Moreover, it'll add some cool vibes to your fashion.
And of course, you'll have the utmost comfort in addition!
Arch Support
Arch support is something every comfort-lover will look for in their shoes. This feature also provides the support that every feet should get to stay healthy and comfy.
Vans are flat sneakes with zero drops shoes which may rise the question in terms of arch support.
But you'll be delighted to know that Vans have a wafflecup sole construction with high cushioning that is really good for high arches.
Their maximized cushioning is well capable of compensate the flat soles to the feet!
You may also like to read: Vans Doheny Vs Authentic
Are Vans Comfortable For Everyday Wear?
As I mentioned it earlier, I've tried multiple canvas shoes from different brands and found Vans performing better.
I wore the ComfyCush Old Skool Vans to work, went shopping, and even walked for a longer period in the morning around my neighbourhood. And then, I tried playing basketball wearing Vans.
Most of the times, my shoes performed well and gave me the comfort I was looking for in such a deck shoes!
So yes, Vans are comfortable for everyday wear. And I'll recommend them everytime you'll ask.
To me, Vans are multi-purpose sneakers as it went smoothly on my feet while using.
Are Vans Comfortable for Work?
As Vans are super flexible and well-suited for any kind of attire, your office outfits will go perfectly with them.
There is a wide variety of designs you can pick from when choosing Vans for work. But appearance is not everything when it comes to the place where you need to concentrate and put your whole attention.
Comfort and support is all you need in a workplace which Vans certainly does provide.
Also, the need of functionality can vary place to place. Some of you may need to stand all day long, some may need to walk or some are just sit at their office desk!
Based on where you work, you need to pick your shoes! And whatever you desire for to be in your sneakers, Vans got all covered. They have such versatility in terms of both fashion and function, you can easily choose your pair from their broad range of variety.
Also, learn Are Vans Non Slip Shoes
Are Vans Good for standing all day?
Compromising comfort for fashion was a common thing while buying a pair of canvas shoe.
But this is no longer an issue for Vans!
Vans shoes were re-engineered to be the best comfy sneakers of all. Their ComfyCush addition to build cushioned sole made Vans one of the best functional canvas shoes.
Thus, you can easily stand all the day long wearing Vans.
Is it Better to Run in Vans?
Though Vans are often paired with skateboarding, other sports can also be coupled with such sturdy pairs!
You can go Surfing, Snowboarding or Skydiving wearing any of the Vans models. I tried ComfyCush Old Skools to play Basketball and it was smooth and really felt cozy in my feet!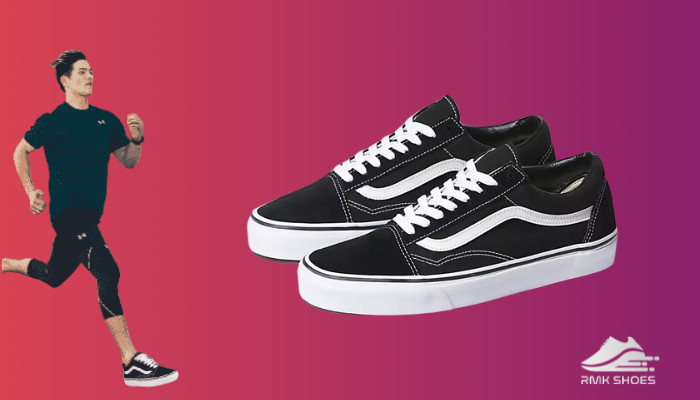 But while running a little longer wearing the same pair, I think there are better options than Vans.
After using Vans for a while and considering all the factors, I won't recommend to buy them for runnning.
Vans are comfortable and cushy, but not for the regular runner!
Do Vans Comfortable for Flat Feet?
Vans are zero drop, flat shoes which are well-suited for those who have flat feet.
These are the least arched shoes that may not be good for achilles tendonities but will feel heavenly for flat feet person!
Moreover, the rubbery yet foamy cushion quality will provide the utmost comfort during walking on Vans.
Related content you should read: Vans Authentic Vs. Old Skool
What are the Most Comfortable Vans Shoes?
There are a lot of varieties in Vans shoes you can find at their store. Not every model is as comfortable or as functional as you may desire. So, it's important to know which one is aligned with your need.
Let's uncover the 5 Vans shoes in terms of comfort and flexibility:
ComfyCush Old Skool: Vans re-engineered their build to add more cushion to their sole. Thus, these sneakers became one of the best casual shoes that offer maximum comfort. The ComfyCush Old Skool is the model I tried recently and found enormously perfect. You can go for this model if you want to get such comfortable cushioning and support while walk around.
Vans Slip-On Pro: Vans Slip-On Pro is the upgraded model of Slip-ons. This model is reviewed as way better than the previous one. As the name indicate, it's very easy to slip-on and super casual to wear. The sock liner with UltraCushHD technology will provide the cozy support that will save you from bruises. Moreover, the waffle pattern outside and suede tops will add some extra elegant look to your attire!
Vans Authentic: Vans Authentic is the first ever deck shoes model they've ever introduced. Vans Authentic was made and became very popular for skating. It's also very durable yet comfortable. The signature waffle sole from the Vans brands made this Authentic slip-resistence.
Sk8 Hi Van Shoes: this is the ankle high sneaker from Vans which is perfect for the winter. Sk8 Hi Vans have padded collar to maximize the cushioning. Moreover, the addition of toe cap added more durable build to the shoes. Overall, this model is a really good option for those who want to have Vans with ankle covering style.
Kyle Walker Pro 2: Vans Kyle Walker Pro 2 is really a good looking and well-functioned model of Vans. they can provide both style and comfort. If the fashion is your concern and don't want to drop out the comfort, this model is definitely for you!
Break in the Vans
While breaking-in such fashionable shoes are not easy, Vans are really a good options as they used thick layer of fabric to construct the upper.
They've also added extra cushioning all around the sides, the soles, and the ankles. So the break-in period will be less stressful in terms of Vans.
However, Vans sneakers will stretch out over time and fit your feet perfectly in no time. Unlike other sneakers, Vans will not give you blisters as they have padded collar with sock liner.
Check out our epic comparison between Vans Classic Slip-Ons Vs Asher
Final Thoughts
Sneakers are often considered as uncomfortable and non-functional because of their stylish build. But Vans have changed this notion altogether with their upgraded build quality.
In fact, some called Vans the multipurpose shoes!
However, all of their features and designs have made them very comfortable and functional yet stylish. You can wear Vans maintaining both fashion and function that'll fit nearly anywhere.