Vans appeared as a savior to the skateboarders as they had no other option in fashion with proper grip.
But almost all pairs of vans look the same. Among them, I mostly got confused between Doheny and Authentic. So, I got both pairs and used them for several months to clear up my confusion.
Now I will show you a detailed comparison. After going through this article, you must be confident about the final winner between Doheny and Authentic.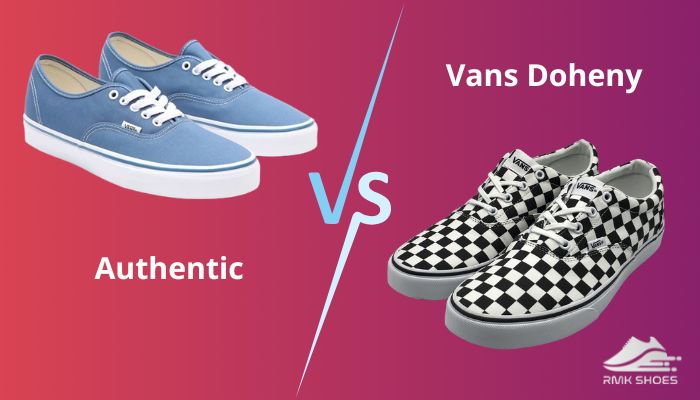 Why Do People Like Vans Doheny?
As a sneakerhead, you must love Vans. Every pair from Vans is equally comfortable and appealing. It would hardly become a loss project to invest in a Vans pair.
Vans Doheny is mainly similar to Vans authentic. The technology of Vans makes Doheny so adorable to the sneaker lover community, especially for people who are into sports like skateboarding, basketball and so on.
Doheny offers the basic waffle sole and rubber grip, which circles around the shoe's sole.
For people who like the grip of Vans and are not interested in any sports, Doheny is the best choice for them. Doheny is more suitable as casual wear rather than a sports sneaker.
However, the motto of Vans was to gather the casual and sporty features together. But Doheny is more akin to this philosophy.
Why Do People Like Vans Authentic?
Vans Authentic originally refers to its name, 'Authentic.' It is still the same in design and performance from the beginning of Vans.
Vans authentic is enriched with a rubber vulcanized sole unit with a canvas vamp and upper.
In the new edition of Authentic, you can find a suede vamp that adds more wear. Authentic offers basic color options like black, maroon and a few more. The basic checkerboard model is a famous pair of Authentic. The canvas fabric of the vamp breathes so well and makes your feet happy.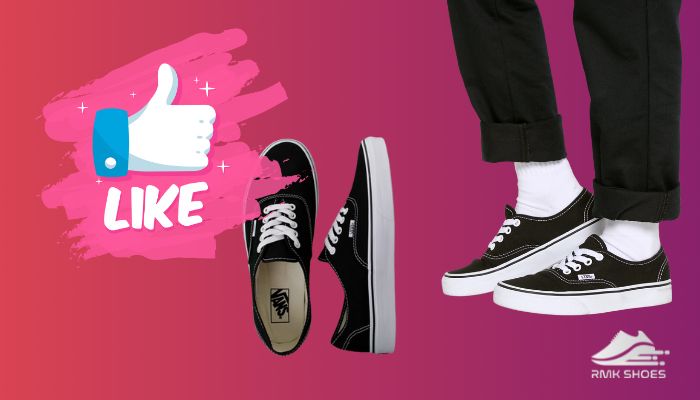 The padding of Authentic is not so thick. Nevertheless, you can't complain about the comfort and usability of Vans Authentic.
What Are The Differences Between Vans Doheny and Authentic?
You can use one pair of Vans for various purposes if you are into them. They will serve you as onboard sports shoes along with a fashion pair.
In that context, the debate between Authentic and Doheny has become a hot topic.
There are some aspects like material, building method, and appearance that are identical in Authentic and Doheny.
As they are almost similar, you must carefully look for the differences.
Here are the differences between Vans Authentic and Doheny:
Upper vamp
Authentic is made of sturdy suede and canvas. On the other hand, Doheny is made of canvas only.
You can use Authentic for rougher use, but Doheny is unsuitable. Authentic hardly perform well in beach water. Doney acts better than Authentic in this perspective.
Weight
The weight of Authentic is lighter than Doheny. As a result, you will find Authentic more appropriate for hiking or prolonged walking. Authentic allows you more extended travel with it.
As Doheny is heavier, it will be perfect for daily use or any rock party.
Shape
The shape of Authentic and Doheny is not so identical. The bulky appearance of Doheny makes a clear difference between the two.
Authentic has a narrow view, and Doheny is bigger than Authentic.
If you see the side view of Doheny and Authentic, you can differentiate between them easily.
Padding
There is no padding added in Doheny for extra cushioning and comfort.
But in Authentic, you will enjoy a high padded collar.
This collar of Authentic prevents blisters in the breaking period. But as I have sensitive skin, it creates marks on my feet. So I don't like the fat padding of the Authentic pair.
Leather heel cap
Doheny has no leather cap on the heel.
On the contrary, Authentic has a leather heel cap. This cap makes Authentic less water resistant, as leather is naturally porous to water.
Design
You will find a basic design pattern for all the pairs of Vans, an angular stitching pattern added in front of the authentic Vans.
But for the Doheny, you can't find this stitching.
The without-stitching look makes Doheny more casual and all-purpose usable. But if you like the pure Vans design, you should stick to Authentic.
Application
The look of Doheny reflects an outgoing pair. You may choose them for casual daily wear. But Authentic has a classical look, and skateboarders are very fond of them.
Eventually, I liked Doheny for my campus use and Authentic for my onboard use.
If you are on a budget, you should buy Authentic because they can be used both ways, whereas Doheny will perform moderately.
What Are The Similarities Between Doheny And Authentic?
Doheny and Authentic are similar in many aspects. It is hard to separate them from one another at a glance. But for you, I will light upon the identical properties of Doheny and Authentic here.
Let's discuss the similarities between Vans Doheny and Authentic:
Design
Doheny and Authentic are the same in design. The eyelets are mostly identical. The lace is fixed. You will love this pair if you're not a pro at tying lace. The heel and toe box design also resembled both pairs.
Along with the lace-up design, you will find similarities in the heel and lace-up combination.
For light-colored pairs, the heel and lace will be the same by color. This combination of dark color pairs will remain the same.
Leather
The leather of both pairs is similar to see. You can understand their classic leather quality on a closure view.
The leather quality of the vans is excellent. In Authentic, the leather creates harmony while collaborating with canvas and suede. Even the Doheny will serve you the same taste.
Slip Resistance
As vans are staged as skateboarding, you can't complain about the slip resistance of Authentic or Doheny.
The waffle-shaped rubber outsole is the identical feature for all Vans pairs and Authentic and Doheny. The waffle outsole is the reason behind the beautiful traction of Vans Authentic and Doheny.
Sizing
Authentic and Doheny both have a wide range of sizing. So you can find your preferred size from Vans.
Sizing plays a vital role when you want to buy a sneaker for sporting purposes. If the pair is not true to size, it will cause a significant problem. But in Vans Authentic and Doheny, you don't have to face this issue.
Water Resistance
The upper of both pairs are water resistant. The material of the vamp can repel water. But I must tip you off about the sole. The sole is not water-repellent.
So you can't walk on water or beach with your Vans. Authentic and Doheny will save you from getting wet while you drop your coffee on the sneakers. Remember, sneakers are not water-resistant at all.
Comfortability
The comfortability of Doheny and Authentic sneakers is so renowned. You can use them for running, skating, even for daily life fashion.
Breathability is another key for both pairs. You can't keep one aside in the question of Comfort.
Pros And Cons of Vans Doheny and Authentic
Generally, people love all the pairs of vans and the Doheny and Authentic. I have already explained the similarities and differences between them before the discussion.
Above all, you need to know the pros and cons of both Authentic and Doheny. I will explain of them to you what I learned after a long try.
Here are the pros and cons listed below:
Pros
»

Pros of Vans Doheny

»

Incredible flexibility.

»

A wide range of sizing is suitable for all sized and shaped feet.

»

Slip resistance

»

Water resistance vamp.

»

Flexible outsole.

»

The breathability of mesh insert technique.

»

Cons of Doheny

»

A more extended breaking period.

»

Less appropriate for hiking and athletics.

»

Less padding.

»

Slightly heavier in weight.

»

Non-stitching looks decrease the aesthetic.
Cons
»

Pros of Authentic

»

Incredibly comfortable for prolonged walking and running.

»

Laces are lesser than other shoes.

»

Canvas allows breathing.

»

Slip resistance.

»

A vast number of color and pattern options are available.

»

ComfyCush technology support for the higher arch.

»

Cons of Authentic

»

Not actually for casual use.

»

Take some hours to break in.
Vans Doheny vs Authentic: Which is Better to Choose?
Vans is a name of trust from a very early age of sneaker sensation. It is because of its construction, product quality and casual look.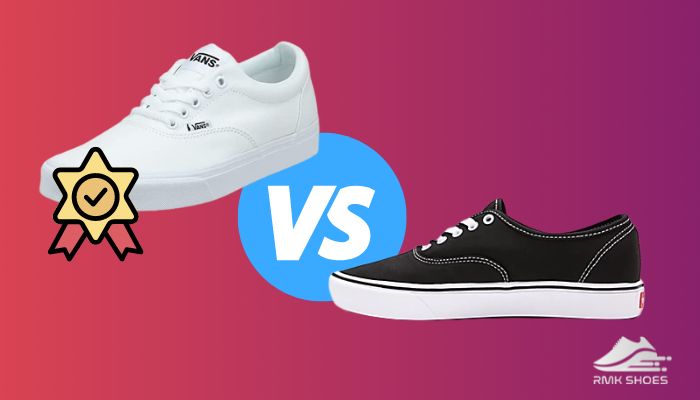 The slim, solid pair of Vans are my favorite sneaker in the crowd of bulky sneakers. Every pair of vans is enriched with a rubber outsole, EVA technology for extra cushioning, and ComfyCush style for rebound and comfort.
But the battle between Vans Authentic and Doheny occurs in people's minds nowadays because they are primarily similar to see.
Vans Authentic is the classic pair from Vans. You can answer the question, 'what are Vans?' after using a pair from the Authentic range. It is perfect for athletic use, and they have an exhaustive choice list for sports lovers.
Besides, you should choose Doheny if you want a casual summer vacation pair. Doheny will support you in everyday use, running or walking around the beach.
So identify your preference and pick your pair.
Overview of Vans Shoes
Vans is a crop of two brothers Vans in 1966. House of Van gets popular within one day. When Vans launched its first product, the skateboarder community of California grabbed them with a warm welcome. The manufacturing technique and coping with the new technology keep Vans alive till now.
From the beginning till now, Vans collaborated with many other sporting companies and TV channels. In such a way, Vans can avail a great shout-out to build its brand.
In 2013 Vans made a vital appearance at the gathering of Disney. They were displayed with their own color of joy. Disney characters like Mickey Mouse, Winnie the Pooh, and Donald Duck wear Vans sneakers in their fall celebration.
With time, Vans launched a diverse variety of onboarding shoes. You will find some timeless pairs from them.
Old skool, Ski8 Hi, Authentic, and Era will entertain you with their different properties and look.
Some popular technology like Duracap, popCush, Ultra cash, and waffle cap make Vans unbeatable in the community of staking shoes.
FAQ
Are Vans Doheny unisex?
Yes, Doheny is Unisex. But this is more popular than women's sneakers. Though Vans men's and women's shoes are different in size, shape and style, the athletic range is unisex.
Are original Vans made in China?
Yes, they are. From the beginning, Vans were made in California, but in the 90s' the factory shifted to china.
Are Vans true to size?
Vans have a wide size range to fit all types of feet. So you can find your pair ideally. However, Vans are true to size.
Are Vans Doheny available now?
Only the women's collection of Doheny is available in the market nowadays.
Does Nike still own vans?
No, Vans is a different brand. Nike never owns vans. You can call them hard rivals.
Verdict
To sum up, I will say that all the Vans products are equally quality full. They are popular, like hot chocolate, among the people.
Authentic and Doheny can both be called signature products of  Vans. So you can pick one of them without any hesitation. If you want only a Casual pair, Doheny should be your first choice.
But for athletic and casual purposes, you should depend on Authentic.
But in today's market, the Vans Doheny is not available that much. So getting a Doheny pair will depend on fate only if you are obsessed with it.
Comment below and let me know which one you like most, Authentic or Doheny.