Whether a shoe is good or bad depends on its quality, comfort level, support, craftsmanship and the type of work which the shoes will be used for.
And when it comes to branded boots like Caterpillar, a common query may arise – whether the shoes are good or which purposes they're good for.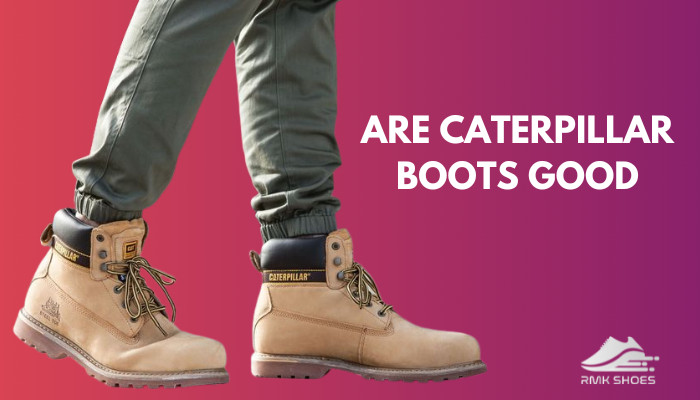 Being a wearer of Caterpillar boots for almost 5 years, I have experienced their pros and cons.
In this article, I noted which phases the boots are good and which is not based on my experience. If you're considering buying a set of Caterpillar boots, you better check this article for once.
So, let's dive right into the topic!
Are Caterpillar Boots Good?
The combination of high-quality leather and composite toe box, including SRX outsole, made the Caterpillar boots a good companion for feet.
Caterpillar boots are made with full-grain or synthetic leather, nubuck, and mesh. The workers stock the materials from certified suppliers of  Leather Working GroupTM, which vision is to make a sustainable future with responsible leather.
So, there's no scope to worry about the quality and sustainability of the ingredients.
Great products come at a great price! Likewise, you might be thinking that Caterpillar boots' finest materials and craftsmanship come with a high price tag!
But surprisingly, the boots are quite affordable. You can get them for 135 to 300 US dollars.
For a fully-functional working boot with many industry-proven features, such a price range isn't that costly, right?
And when we look at the features, the composite toe box is another advantage. It prevents compression or impact.
The manufacturers recently replaced the steel toe with carbon to bring more comfort and softness. So you'll get maximum safety with the utmost touch of comfort!
Moreover, the slip-resistant outsole minimizes the risk of sudden slipping and injuries.
The upper is strong and breathable to provide your feet with adequate protection and airflow. So, when you're in Caterpillar boots, you don't have to worry about the safety of your feet!
You've certainly got the idea that the shoes are good. Now it's time to focus on the features and specific platforms where the boots are good.
So, let's move forward!
Check out our separate post: Red Wing VS Caterpillar.
What Makes Caterpillars A Good Working Boot?
Caterpillar boots are suitable for workers like electricians, carpenters, plumbers, delivery men, and those involved in heavy physical work. Some worth-mentioning inherent features and technology make the boots preferable to the workers.
Here're the notable features of Caterpillar Work Boots:
Sturdy and Durable Upper
The upper layer of Caterpillar boots is prepared from full-grain or synthetic leather or nubuck. These materials are rough as they originate from the outermost layer of animal skin.
Moreover, the processing develops the strength of the materials to a higher extent, increasing their durability.
Stable and Slip- Resistant Outsole
SRX- denotes Extreme Slip Resistance. The boots have SRX rubber outsole that makes them extremely slip-resistant, enhances stability and ensures good grip.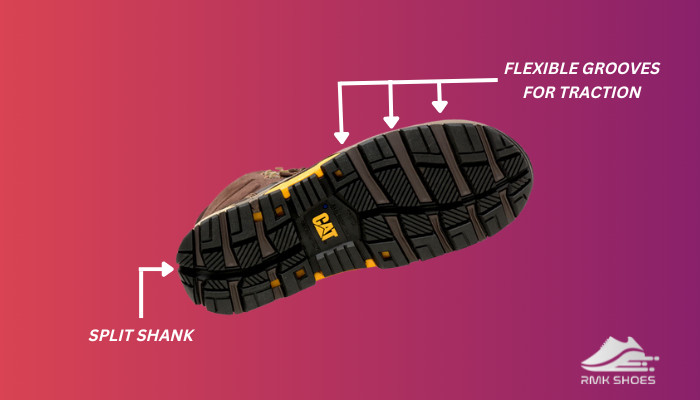 Some shoes outsole also possess protection against electrical hazards.
As a result, you won't get any chance to complain about the traction and safety of the boots.
You may also like to read: Timberland Vs Caterpillar Boots.
Shank In The Midsole
Do you know what's the benefit of shank in the sole?
It gives ultra support to the wearer. A bouncy and fluffy midsole isn't preferable in work boots because it won't be supportive enough.
The nylon or wooden shank in the chunky midsole will wrap the bottom of your feet with ample arch support for long hours.
Composite Toe Structure
In the construction area, it's common to get injured from something falling on your feet. A composite toe design can reduce this risk.
Caterpillar uses steel or carbon for building the toe area of the boots.
Steel toes are heavier than carbon made toes. That's why the manufacturers shifted towards non-metallic carbon materials. And this made the boots lightweight yet protective.
Breathability And Odor-Resistant
Generally, the workers work for long periods in any kind of challenging environment. So, breathability is one of the demanding features of workers.
The Caterpillar work boots have a mesh sock liner to ensure sufficient breathability. This mesh lining also prevents malodor and helps to keep feet dry all day long.
Some boots include CLEANSPORT NXT technology for malodor control.
Follow our guide to know are ariat boots good.
Top 3 Work Boots from Caterpillar
Usually, workers spend the whole day busy. It's quite difficult for them to look for good feature-enriched work boots in such a busy schedule.
So, I mentioned some working boots from Caterpillars that are fashionable, well-functional, and come at reasonable prices.
Here're the excellent Caterpillar Work Boots:
1. Excavator Superlite Waterproof Carbon Composite Toe Work Boot
In this boots, you will get an SRX rubber outsole that is slip and abrasion-resistant. The lightweight Ease foam midsole and mesh lining offer cushion and airflow.
Likewise, the other Cats boots, this pair also contain a hard upper and offers protection against compression.
As a worker, you can add this boot to your cart for $170 only!
2. Men's Invader Met Steel Toe Work Boot
One unique advantage of this boot is its Metatarsal guard for personal protection.
This pair offers durability, a chunkier look, a cozy EVA midsole and a good gripping outsole and defense against 600 volts in dry conditions.
Consequently, this boot is useful for electricians and engineers in the power sector. I saw my carpenter working for 8 to 10 hours wearing this Invader steel toe work boot. He has been using this pair for almost 3 years.
So, if you're looking for a long-lasting work boot at a reasonable price, you can purchase this.
This pair will take only $135 from your wallet.
3. Cat Footwear x Nigel Cabourn Utah Boot
Wanna buy slightly expensive work boots?
If so, then this boot should be on your choice list. It is built in collaboration with Caterpillar & Nigel Cabourn.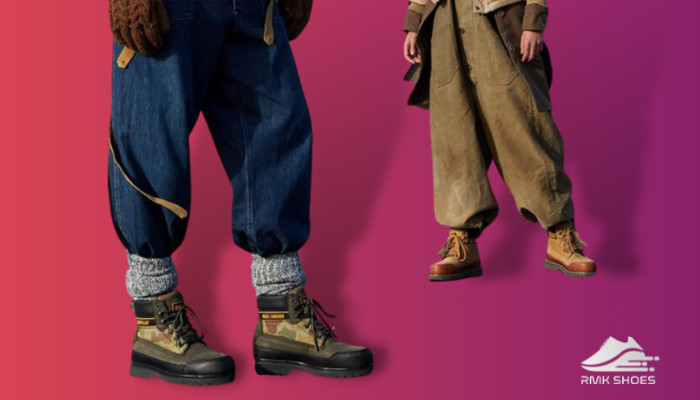 This steel toe and Goodyear welt construction-based boot cost $300.
Cat Footwear x Nigel Cabourn Utah contains a blend of full-grain leather, canvas and suede. It's highly enriched with a comfy cushioned footbed, probiotic odor control from CLEANSPORT NXT technology, and a durable rubber outsole for excellent traction on the surface.
These are my top 3 recommendations for working Cat boots.
Now, it's your turn to choose any one among these three. If you have your own list of good working boots, do share it with us and help others!
Go through our epic guide to know are Timberland boots good for winter.
Are Caterpillar Boots Good for Hiking?
Caterpillar boots are good for hiking as they have slip-preventing, traction-friendly outsole, cushioning & lightweight midsole, and robust upper.
When I went hiking in the Grand Canyon of North America, I wore Impact Hiker Waterproof Thinsulate Boot from Caterpillar.
See what benefits I got from this pair-
The sturdy upper, carbon composite toe and non-slip sole worked like a safeguard against insect bites, slipping and wound.
I continuously hiked for almost 5 hours in these boots. During that time, I didn't feel any discomfort because of the cushioned interior of the boots.
This shock-absorbing and hiking-friendly set cost me $180.
And I'm not regretting it at all. If you're looking for mid-budget hiking boots, you can grab this pair.
Related content you should read: are Sorel boots good for hiking.
Do Caterpillar Boots Run True to size?
Yes, Caterpillar boots are exactly true to size; most do not even need breaking period. These boots aren't loose or tight fitting. So, there's no chance of facing any negative consequences resulting from inaccurate footwear sizing.
Loose or tight fitting shoes can lead to blisters and unwanted stumbling.
Additionally, it's an irritating feeling to wear improper sized shoes. You won't experience something like this in Caterpillars as they run in exact sizes.
Moreover, half sizes, mid and wide fits are available in the Caterpillar boots collection.
So, you just have to purchase the right size to give your feet a relaxed and comfortable feeling.
Are Caterpillar Boots Waterproof?
Yes, Caterpillar offers a wide range of waterproof boots. But some boots are water-resistant only, so you must check the specifications of the boots before buying.
When I worked part-time at a restaurant during my student life, I used to wear CAT Covert Mid Waterproof Boot.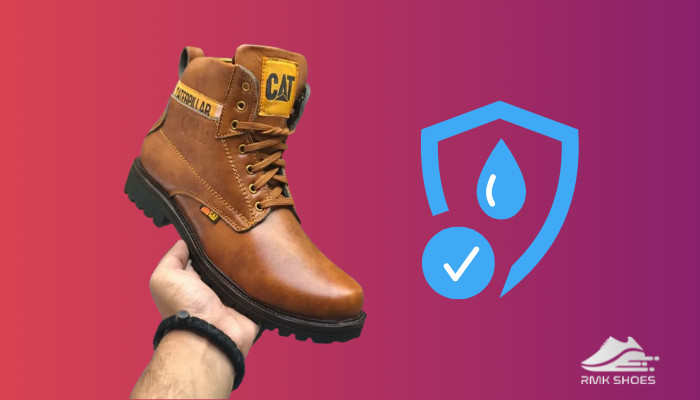 I had to pay $135 for this stunning designed footwear. This boot contains 4 eyelets and comes in elegant solid shades.
The pair saved my feet from water and oil without any damage. I used to wear this waterproof pair even in the rainy season without any hesitation.
Furthermore, this boot protected me against the restaurant's slippery surface with the SRX outsole.
Caterpillar Boots: Longevity Check
When it comes to longevity checks, I've found positive feedback from long-time Cats users.
Some people have been wearing Caterpillar boots for years and haven't complained about their durability. I myself exist among one of them!
As you already know that I bought two pairs of boots from Caterpillar. The first one was Impact Hiker Waterproof Thinsulate Boot, which made my hiking experience smooth.
I have been wearing these boots for the past 5 years while traveling and hiking in forest areas.
The shoe is still good enough. I just have to maintain a proper cleaning and brushing process to keep my boots shining!
However, CAT Covert Mid Waterproof Boot is one of the constant parts of my daily attire. This pair is suitable to use in any rough tough weather. Its simple yet stunning look makes me want to wear it frequently.
Made of durable materials, this pair has been serving me for the past 3 years. I'm a true fan of this pair, that's why I wipe them with a dry cloth instantly after wearing and store them in my shoe rack.
Leaving shoes unattended might cause sole cracks and thus reduce their longevity. So, take care of your favorite pairs!
Wrapping Up!
Caterpillar boots are good for working, hiking and adventures because of their outstanding features.
The strength of these branded boots lies in their well-made outsole, defensive upper and composite toe design. They're definitely worth trying.
So, why are you delaying?
Purchase Caterpillar boots if you like their designs, and share your experience with me in the comment section.
Thanks for being with me this long!